25+ Bollywood blockbusters which were actually inspired or copied from Indian films
Today I watched 'Mera Gaon Mera Desh' for the first time, and got indeed surprised to see its plot's similarity with Bollywood's one of the biggest hits ever, 'Sholay'. Mera Gaon Mera Desh was released in 1971 and Sholay in 1975, and both the movies registered success as well. Needless to say, Sholay is heavily inspired from Mera Gaon Mera Desh and the main plot of both the movies remains the same. Sholay is believed to be inspired from so many Hollywood films, but we can't deny the fact that many of its scenes are heavily inspired from Dharmendra-Asha Parekh starrer, and more surprising facts are villains' screen names are almost the same and Dharmendra plays lead role in both, that too a naughty avatar teasing the heroine. Amputee Thakur, an ex-prisoner as hero and village belle heroine – there are many striking similarities between the two.
A thought strike in my mind – how many Bollywood blockbusters have born which were inspired copied from Indian and foreign films! A few of them were credited, while majority never, though they truly deserve. So let us try to find some of such blockbusters. I have excluded inspirations drawn from Hollywood and other foreign language films, kindly excuse.
1. Sholay vs. Mera Gaon Mera Desh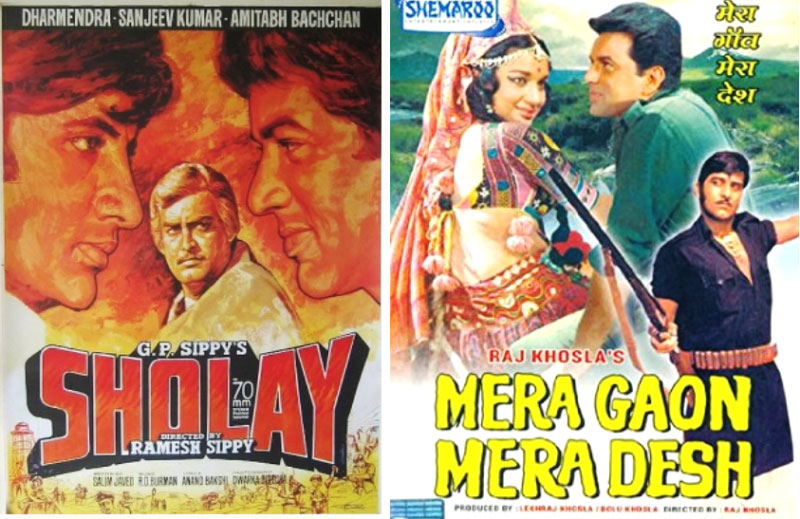 I would like to begin with Sholay, perhaps the most popular movie among Indian audiences. Mera Gaon Mera Desh was directed by Raj Khosla, and starred Dharmendra, Asha Parekh and Vinod Khanna in lead roles. Only a few actors have started off playing negative roles and later earned success playing leading roles, and Vinod Khanna is the leading name among all. The success of the movie gave him an early break, though his antagonist character Jabbar Singh can never be matched with Gabbar Singh, played by Amjad Khan for Sholay. Gabbar Singh of Sholay is the most celebrated villain Bollywood screen has ever witnessed, no doubt.
Dharmendra played the lead role in both films, and owns almost same shade in both. A petty-thief who spends in jail, he was hired by a Thakur to work in village. Only difference is Amitabh Bachchan plays parallel lead in Sholay. Dacoits looting and killing villagers and how hero/heroes manage to kill the antagonist form the crux of the story. Teasing the village belle heroine, teaching her how to use gun, killing of a boy, tossing a coin to take decision, abduction of its heroine and the iconic "Kitne Atmi The" scenes of Sholay were inspired or copied from Mera Gaon Mera Desh. There are many more inspirations which can be tagged 'direct lift'.
The plot has inspired many Bollywood productions ventures later, either direct lift or true inspiration. Shah Rukh Khan-Sridevi starrer Army, a revenge drama released in 1996 too was reported to be inspired from Sholay. But the film flopped at box office.
2. Mother India vs. Aurat
Both the movies were directed by Mehboob Khan. Made for the first time in 1940, the director was not satisfied in its making and he gave a second try. Mother India starring Nargis Dutt became more successful than its predecessor and also bagged a nomination at Academy awards. Needless to say, Mother India (1957) is widely regarded as one of the finest films ever made on Indian screen, and it became more successful than Aurat.
3. Rab Ne Bana Di Jodi vs Choti Se Mulaqat
Choti Se Mulaqat is a forgettable movie, except one party song. The movie starred Uttam Singh and Vyjayantimala. Only a few have noticed that Shah Rukh Khan's blockbuster Rab Ne Bana Di Jodi is actually inspired from this less-known movie. Read more to know a few more interesting facts behind the remake.
4. Ghajini vs. Ghajini
Aamir Khan's Ghajini is inspired from Tamil film with the same name, the movie broke all box office records once got released. Both the movies were directed by A.R. Murugadoss. Asin played female lead in both, while Aamir reprised the role played by Suriya. The movie is inspired from Hollywood thriller, Memento (2000), and also used plot from Happy Go Lovely (1951). In fact the plot of Happy Go Lovely has been experimented several times in Bollywood cinema, Sajan, Jhoota Kahin Ka and Pasand Apni Apni. I have posted one detailed article before. Click here to read.
5. Hum Apke Hain Kaun vs. Nadiya Ke Paar
After Sholay, Hum Apke Hain Kaun remains the most successful remake ever witnessed on Bollywood screen (if inflation figures are adjusted). Hum Apke Hain Kaun is one of the biggest hits ever, and still loved by millions of Madhuri & Salman fans. It's indeed strange to know that it's a remake of Rajshri Productions' their own hit film of 1982, Nadiya Ke Paar. The remake was a treated in a new way giving a fresh look, and is the most successful remake of the production house. Since 1990s, they have remade their old classic hits, but none can beat the remake of Nadiya Ke Paar. Mein Prem Ki Diwani Hoon from Chitchor and Ek Vivaah… Aisa Bhi from Tapasya couldn't repeat the success streak.
6. Hera Pheri vs. Ramji Rao Speaking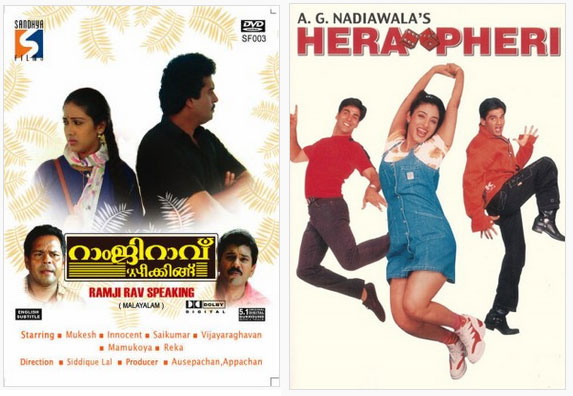 Priyadarshan's Hera Pheri was not a huge blockbuster when it got released in 2000, but was a box office hit, and revived the careers of Akshay Kumar and Paresh Rawel. But this comedy film achieved cult status in the following year. The movie is the official remake of Malayalam film, Ramji Rao Speaking – the debut film of duo directors, Siddique-Lal. Akshay Kumar has played lead hero in many remakes of south Indian films, and I would like to mention their names. As of now, Akshay Kumar appeared in 9 remakes from Malayalam films of which Heyy Baby, Garam Masala, Houseful 2, Bhool Bhulayya and De Dana Dan were box office hits. Click here to read the post in detail.
7. Bodyguard vs. Bodyguard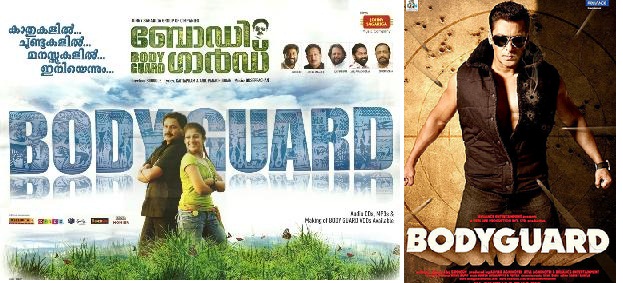 Bodyguard is one of the major hits of Salman Khan, though it received negative reviews from critics. Originally a Malayalam film with the same title starring Dileep, the movie has been remade to all south Indian languages and Hindi, and most successful in Hindi version. The story was very much altered for Hindi audience, and both the versions were directed by Siddique. Also read: Top 10 Bollywood remakes of Malayalam films. Hungama, Hulchul, Chup Chupke etc a few more successful remakes from Malayalam films, all directed by Priyadarshan.
8. Holiday: A Soldier Is Never off Duty vs. Thuppakki
Both the movies were written and directed by A. R. Murugadoss, and were box office hits. Vijay starrer Thupakki was a major box office hit, and Akshay Kumar starrer too repeated the success. Akshay was well praised for his physique and action sequences he displayed. South Indian remakes have played a major role in the successful career of Akshay Kumar since 2000. Rowdy Rathod (official remake of 2006 Telugu film Vikramarkudu) and Gabbar Is Back (a remake of the 2002 Tamil film Ramanaa) are other major hits.
9. Drishyam vs. Drishyam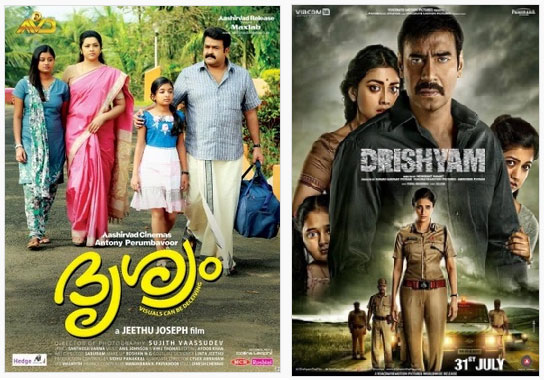 A few Malayalam films with powerful scripts have been made to different languages and all of them registered box office success too. Bodyguard, Drishyam and Manichitrathazhu (Bhool Bhulayya in Hindi) are major Malayalam films which were remade to rest three south Indian languages, Hindi and many other languages too. Drishyam starring Mohanlal was remade to Hindi in 2015 and directed by Nishant Kamat. Similar to original version, the film was well received by family audience.
10. The Train vs. Cochin Express
The Train was released in 1970, an era when Rajesh Khanna magic has just begun. It is the remake of the 1967 Malayalam movie Cochin Express starring Prem Nazir, and the movie has been remade to rest three south Indian languages before it got released in Hindi. Aap Ki Kasam is yet another Rajesh Khanna film, inspired from Malayalam film – Vazhvemayam.
11. Tere Naam vs. Sethu
The Tamil film and its Hindi remake proved to be breakthrough roles of Vikram and Salman Khan respectively, and both the films were huge box office hits. Original version, released in 1999 was directed by Bala, and its remake version by Satish Kaushik.
12. Om Shanti Om vs Madhumati/Karz
Though Farah Khan's Om Shanti Om was not a remake of both, many of its elements were heavily inspired from these iconic films. In fact, film's climax is fully copied from Dilip Kumar's classic hit. I have posted one article earlier in detail. Click here to read.
13. Kaho Na Pyar Hai vs. Ratha Sapthami
The debut flick – Kaho Na Pyar Hai made Hrithik a star overnight, and the movie was the biggest hit of the year 2000. Its idea was mainly inspired from Kannada flick, Ratha Sapthami (1986), and the same plot was used for Tamil flick, Love Birds (1996) starring Prabhudeva and Nagma. This movie was also released in Hindi dubbed version, and songs composed by Rahman got noticed. While Hrithik played a dual role in Kaho Na Pyar Hai, Prabhudeva played a single role in Tamil version and suspense remains till end. That's the main difference, and everything remains the same. The hero plays the role of an aspiring singer belonging to a poor family and the heroine from a rich family in all these three versions.
14. Saathiya vs. Alaippayuthey

Saathiya is a milestone movie of Rani Mukerji's career, and also gave Vivek Oberoi a major break. The movie is an official remake of Mani Ratnam's Alaippayuthey released in 2000. The movie gave breakthrough role to Madhavan, who went on to become a popular actor of Tamil cinema. A. R. Rahman's music was the highlight of both the versions, and was well received. Also read: Top 10 movies of Rani Mukerji.
15. No Entry vs. Charlie Chaplin
2002 Tamil comedy film – Charlie Chaplin directed by Sakthi Chidambaram was later made to all south Indian languages, Bengali, Hindi and Marathi of which Bollywood version was most successful among all. In fact No Entry was Bollywood's biggest hit of 2005. The movie starred Anil Kapoor, Salman Khan, Fardeen Khan, Bipasha Basu, Lara Dutta, Esha Deol and Celina Jaitley in key roles.
16. Virasat vs. Thevan Magan
Anil Kapoor has starred in successful remakes from south Indian films, of which Virasat was highly appreciated. He reprised the memorable role played by Kamal Hassan for Tamil. My Wife's Murder is yet another highly acclaimed film – remake of Madhyanam Hathya, a Telugu film, but a box office failure. Anil Kapoor's Judai, Nayak (for which he earned National award), Ladla, Beta, Andaz, Jamai Raja, Bewafa (average hit), Biwi No: 1 and No Entry are remakes of south Indian films. Badhai Ho Badhai, Gharwali Baharwali, Bulandi etc were flops made from south Indian flicks.
17. Chachi 420 vs. Avvai Shanmugi
Kamal Hassan starred in the titular role in both Tamil and Hindi versions, and his role as an old woman in the comedy film received a warm welcome from critics and audience alike. Tabu played his female lead in Hindi version, while Meena in Tamil version. Actually the plot is inspired from Hollywood film Mrs. Doubtfire (1993). The movie also marked directorial debut of this legendary actor.
18. Biwi No: 1 vs. Sathi Leelavathi
Salman-Karishma starrer Biwi No: 1 released during 1999 Cricket World Cup was the biggest blockbuster of the year. Anil Kapoor and Tabu played extended cameo roles. Biwi No: 1 is the remake of Tamil film, Sathi Leelavathi. Kamal Hassan played a cameo role in the original version, later reprised by Anil Kapoor.
19. Judwa vs. Hello Brother
Hindi flick Hello Brother starred three Khan brothers including Salman Khan. But it's not the same film I am talking about. There was one Telugu film titled Hello Brother starring Nagarjuna, and the movie was remade to David Dhawan with Salman Khan playing dual roles. The movie was a smash hit in the late-1990s. Most recently David Dhawan remade the film titled Judwaa-2 in 2017, and his son Varun Dhawan reprised Salman Khan's role as twin brothers. The movie surpassed the success of Telugu and Salman's Hindi version.
20. Ek Duuje Ke Liye vs. Maro Charitra
Both Telugu and Hindi versions were directed by K. Balachander, and Kamal Hassan played lead roles in both. Kamal marked his Bollywood debut with this tragic love story, and movie's huge success gave him a big break to Bollywood. Kamal Hassan went on to star yet another popular love story, Saagar costarring Rishi Kapoor and Dimple Kapadia. Soon after the success of Saagar, though there were speculations that he will become the top actor of Bollywood, he concentrated his acting career towards south language films.
21. Devdas vs. Devdas
Based on Bengali novel, authored by Sharat Chandra Chattopadhyay, Devdas has been explored by different language directors multiple times, perhaps a record on Indian screen. This celebrated novel has fascinated filmmakers for decades, and owns more than 14 remakes since 1928. Among Hindi versions, Dilip Kumar starrer is regarded as timeless classic, while Shah Rukh's version is the highest grosser among all. Whenever a debate on Devdas is made, comparisons are drawn between the performances of Dilip Kumar and Shah Rukh in the respective versions, and Dilip Kumar's version has an upper hand. Its modern version, Dev D also met with critical and commercial success.
22. Beta vs. Enga Chinna Rasa
Anil Kapoor's version is a remake of Tamil flick, Enga Chinna Rasa. Directed by Indra Kumar, the film went on to become the highest grosser of 1992. The sizzling chemistry between Anil Kapoor and Madhuri Dixit was highly appreciated. The movie remade to several languages has yet another version released in the 1960s – 1969 Kannada movie – Mallammana Pavaada, 1955 Telugu movie Ardhangi, and Hindi versions – Bahurani in 1963 and Jyoti in 1981.
23. Kick vs. Kick
This Salman starrer was an official remake of 2009 Telugu movie with the same name. The film received favourable reviews and was a huge blockbuster. Salman Khan appeared in several successful remakes of south Indian films in the recent times – Bodyguard, Wanted, Tere Naam, Ready, Jai Ho etc to mention a few.
24. Don – The Chase Begins Again vs. Don
Amitabh starrer Don is an iconic film and regarded as one of the best movies of actor's career. Though Shah Rukh version never managed to achieve the cult classic status owned by Big B's version, the modern version with changed climax received praises from critics and also Big B. The film's success prompted its director Farhan Akhtar to make its sequel, and was released in 2011. But it couldn't repeat the success of its prequel. Also read: Interesting facts of Amitabh starrer Don.
25. Julie vs. Chattakari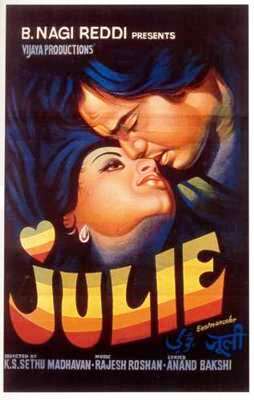 Julie is one of the early successful remakes from Malayalam cinema. The movie also grabbed the attention of many for its bold subject (pregnancy before marriage) which was a taboo in the 1970s. The original movie with the title – Chattakari (based on a novel with the same name authored by Pamman, known for writing soft porn stories) was repeatedly made to several languages including Hindi version. Lakshmi reprised the titular role in most of the remakes including Hindi, and was one of the bold themes explored in Indian cinema till then. Despite getting a major break in Bollywood, Lakshmi continued with south Indian movies, and only made a re-entry to Bollywood with Priyadarshan's Hulchul, where she reprised the iconic role of Philomina played in the original.
26. Agneepath vs. Agneepath
Amitabh Bachchan starrer was not a huge hit when it got released, but earned critical acclaim and cult status later. The actor, who currently holds the maximum National awards in the best male actor category, won his maiden award for essaying the memorable Vijay Deenanath Chauhan for the movie in 1991. Though Hrithik did a pretty good job in its remark and the movie registered box office success, it's nowhere comparable with its original.
27. Woh Saat Din vs. Hum Dil De Chuke Sanam and Manmarziyan
Woh Saat Din released in 1983 gave a major break to the acting career of newcomer Anil Kapoor. He was paired with Padmini Kolhapuri for this romantic triangle, which closes with Naseeruddin Shah, who played the husband. The movie was not an original one, but a remake of 1981 hit film, Andha Ezhu Naalkal, which literally translates as Woh Saat Din. The movie later inspired the main plot of 1990s modern classic love story, Hum Dil De Chuke Sanam. Both movies were commercial hits, yet Hum Dil De Chuke Sanam has an upper hand over the original, where the roles were reprised by Salman Khan, Aishwarya Rai and Ajay Devgan respectively. Almost two decades later, Manmarziyan starring Vicky Kaushal, Tapsee Pannu and Abhishek Bachchan also shared the same plot, and the movie was critically acclaimed.
28. Ram Aur Shyam vs. Seeta Aur Geeta & Chaalbaaz
There are a series of movies which fall in this line. Dilip Kumar starrer Ram Aur Shyam was a blockbuster, and so are its remakes with gender reversals – Seeta Aur Geeta & Chaalbaaz, which gave major breaks and the first Filmfare awards to both Hema Malini and Sridevi. All these movies have lead actor playing twins, one being so silent and scary while the second one being arrogant, bold and funny character too. Anil Kapoor starrer Kishen Kanhaya also belongs to the same tag, and was a commercial hit.
29. Raja Hindustani vs. Jab Jab Phool Khile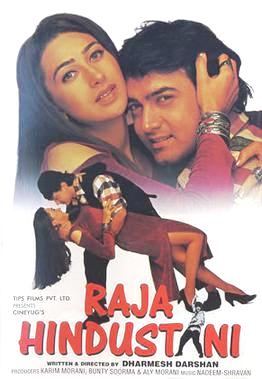 And last but not the least, the biggest blockbuster of the year 1996, and a milestone movie in the respective careers of Aamir Khan and Karishma Kapoor – Raja Hindustani. Only a few star kids actors have got the opportunity to star in the remakes of classic hits done by elder members of their family, and Karishma got it for the movie which made her granduncle Shashi Kapoor a rising star of Bollywood – Jab Jab Phool Khile. She reprised the role played by Nanda while Shashi's role was played by Aamir Khan in the remake. It's not surprising that both the movies became huge hits at box office.
Top 5 Bollywood remakes which became immensely popular
In the above list, I have mentioned some of the top blockbusters which were actually inspired or remakes. Among all, Sholay remains the most popular and successful movie ever, followed by Hum Aapke Hain Kaun. Mother India could be critics' choice for the best movie among remakes. I would like to add Gajini and Kaho Na Pyar Hai as rest two as the most popular movies. All these movies also managed to stand at position no: 1 in terms of box office collection in the respective years. Hera Pheri, Ek Duje Ke Liye, Tere Naam etc were also highly praised for film making.
A few flops but need special mention
Some remakes were pretty good, but couldn't gain at box office. A few more noted but flop films include – Shah Rukh starrer Paheli from Duvidha, Anil Kapoor's My Wife's Murder from Madhyanam Hathya, Madhavan's Rehna Hai Tere Dil Mein remade from his own Tamil film Minnale, Vinod Khanna starrer Dayavan from Nayagan, Ayesha Takia starrer Sunday from Telugu flick – Anukokunda Oka Roju, Main, Meri Patni Aur Woh from Malayalam cult classic Vadakkunokki Yenthram etc.
Other Bollywood inspirations from old Hindi classics
Aag from Sholay, Kishen Kanhaiya from Ram Aur Shyam (Seeta Aur Geeta, Chaalbaaz etc also fall in lines with the same film plot), Chashme Baddoor from the old classic of the same name, Laaga Chunari Mein Daag from Aina starring Mumtaz, Himmatwala from the movie with the same title, Karzzz from Karz, Bol Bachchan from Golmaal, Imtihaan from Humraaz, Saheb Biwi Aur Gangster from Saheb Biwi Aur Ghulam, Aatish: Feel The Fire from Deewar, Mein Prem Ki Diwani Hoon from Chitchor, Ek Vivaah… Aisa Bhi from Tapasya, Paying Guest from Biwi Aur Makaan, Zanjeer from the movie with same name and the most recent Itefaq from Rajesh Khanna thriller with the same name – The list is not ending here…..
In 1948 Prem Narayan Arora produced one movie – Pugree starring Kamani Kaushal. In 1972, he remade the same movie and directed it as well. The movie titled Dil Daulat Ka, starred the biggest star of that time, Rajesh Khanna and he was paired for the first and last time with Bollywood diva, Sadhana. Prem Narayan Arora was Helen's first husband, and she also appeared in the movie reprising the role of Sasikala played in the original. Actually the plot of the script was lifted from one Hollywood film titled, Happened on Fifth Avenue.
I would like to mention one special here. It's not a film script based on which several movies were plotted. It's the real life story of Naval commander Nanavati which fascinated many filmmakers of yesterdays and today, who drew inspirations to make some interesting stories onscreen. First one of this kind was Yeh Raste Hai Pyar Ke in 1963, followed by Achanak in 1973 and most recent, Rustom starring Akshay Kumar. All the movies share the same plot. You can read a few more Bollywood films based on real-life incidents.
Inspirations from South
Some of the successful/limited success remakes from south (not mentioned above) include – Ajay Devgan starrer Singham from Suriya starrer Tamil flick Singam, Amitabh Bachchan's Sooryavamsham from Tamil film with the same title; Nayak from Arjun's Tamil flick, Mudhalvan, Judai from Telugu flick – Shubhalagnam, Jamai Raja from Telugu film Attaku Yamudu Ammayiki Mogudu, Hamara Dil Aapke Paas Hai from Telugu film Pellichesukundam, Woh Saat Din from Anta Ezhu Naalkal (Tamil film), Ladla from Telugu flick – Anuraga Aralithu – all starring Anil Kapoor in the new version, Muche Kuch Kehna Hai from Telugu flick – Tholi Prema, Son of Sardar from Maryada Ramanna, John Abraham's Force from Tamil film Kaakha Kaakha, Har Dil Jo Pyar Karega from Malayalam flick Chandralekha etc.
Madhavan's Rehna Hai Tere Dil Mein remade from his own Tamil musical Minnale was a Bollywood flop. But the movie earned a cult classic status among youth very soon. There is a series of Priyardarshan movies inspired from Malayalam movies. Some of them managed to become huge hits while a few others terribly failed – Muskurahat, Kyon Ki, Khatta Meeta, Gardish, Billu, Rangrezz, Kamaal Dhamaal Maalamaal, Saat Rang Ke Sapne etc. Priyadarshan's Hera Pheri is one of the best comedy films ever made on Bollywood screen. Malamal Lottery, Bhool Bhulayya, Hulchul, Hungama, Chup Chupke, Bhagam Bhag etc are a few more. Click here to get the complete list of Malayalam movies remade to Hindi.
Read the stories of a few more inspirations and copies of Bollywood. Here is the page link. Click on the images to read.
(Visited 1,123 times, 1 visits today)