Successful Bollywood Remakes of Malayalam Movies belong to Comedy genre
In the past 15 years or so, a trend has started in Bollywood to remake successful south Indian hits to Hindi. Though mostly action and romantic movies are remade to Hindi from Telugu and Tamil films, comedy genre movies are selected from Malayalam cinema. The trend was started by Priyadarshan in the year 2000 with the comedy film – Hera Pheri which achieved a cult classic status. Though Priyadarshan has earlier remade Malayalam blockbuster 'Kilukkam' to Hindi in the early 1990s as Muskurahat, it met with disaster. He later moved to serious movies. However with the success of Hera Pheri in the year 2000, he started a new trend to remake some of the popular comedy films of Malayalam to Hindi.
Priyadarshan got initial success through serious themes before he moved to comedy genres
Priyadarshan started his Bollywood journey in 1992 with the film, Muskurahat– a remake of his own blockbuster comedy released one year earlier, Kilukkam. Actress Revathy reprised her lead role in the original. Mohanlal played lead role in the original. However the movie sank without any trace. Next time he handled a serious subject. He remade Mohanlal's critically acclaimed film, Kireedam to Hindi. The movie titled Gardish starred Jackie Shroff in the lead role, and met with limited success.
His next Bollywood release was Virasat, a remake of Kamal Hassan's Tamil hit film Thevar Magan, which became a huge hit and he rose to the premier league of Bollywood directors. After that he tried with different genres of film making – from romantic to comedies, and finally settled with comedies.
Priyadarshan – The real master of comedy remakes
After the huge success of Virasat (1997), he made some unsuccessful attempts in Bollywood by using scripts of some of the popular films of Malayalam cinema. Saat Rang Ke Sapne (1998) was his second straight comedy film which met with failure at box office. It was a remake of Mohanlal's mega blockbuster Thenmavin Kombath released in 1994, directed by Priyan himself. He released two more movies the same year – Kabhi Na Kabhi (his first original script Bollywood film) and Doli Saja Ke Rakhna (remake of Malayalam blockbuster of 1997 – Aniyathipravu) to meet with the same fate of his previous release.
After three consecutive flops in a year, he returned in a bang with his masterpiece comedy Hera Pheri in 2000. The story originally inspired from English TV movie, See The Man Run, it's the remake of 1989 classic comedy – Ramji Rao Speaking, the debut film of director duo, Siddique-Lal. The movie achieved cult classic status, and regarded as one of the best comedy films ever made in Bollywood. Since then he maintained a steady record of comedy remakes of several Malayalam hits.
Till now, Hera Pheri remains the most popular Priyadarshan film among Bollywood cine-goers. The movie too revived the careers of Akshay Kumar and Paresh Rawal, who featured in many of his movies later.
A series of comedy hits of Priyan after Hera Pheri
In 2001, Priyadarshan picked another comedy film of Mohanlal, Sanmanasullavarkku Samaadhanam and remade to Hindi as Yeh Tera Ghar Yeh Mera Ghar, which failed miserably at box office. But after that he delivered a series of hits with his popular stars like Akshay Kumar, Suniel Shetty, Amrish Puri, Om Puri, Rajpal Yadav and above all – Paresh Rawal, who regularly appeared in his films.
Hungama was an adaption of his debut Malayalam film, Poochakkoru Mookkuthi, which starred Mohanlal in parallel lead role. Hulchul was an adaption of longest running Malayalam film, Godfather (1993) and it was his second remake of a Siddique-Lal film after Hera Pheri. Fresh pairing of Akshay Khanna and Kareena Kapoor was well received by audience. Both these movies fared well at box office.
Garam Masala (2005) based on his own film Boeing Boeing and Bhagam Bhag based on Siddique-Lal's Mannar Mathai Speaking also met with commercial success. In fact Mannar Mathai Speaking is the sequel of Ramji Rao Speaking, which was remade to Hindi by Priyadarshan as Hera Pheri. That's why the movie looks similar to Hera Pheri. He also used sub-plots of his cult classic Malayalam film, Nadodikaattu also. Nadodikaattu and its two sequels are among the rare Malayalam movies of Priyadarshan, which are yet to be remade to Hindi. He also used some subplots of his Malayalam-Tamil bilingual, Raakkilippaatt (Snegithiye – dubbed into Hindi as 'Friendship') for the film, which itself is a remake of Marathi film, Bindhaast.
In between he directed one Malayalam movie, Vettam (2004), which is inspired from the Bollywood film, Pyar To Hona Hi Tha starring Ajay Devgan and Kajol. Later he used the climax sequences of Vettam for the comedy hit film, De Dana Dan (2009) starring Akshay Kumar and Suniel Shetty in pivot roles. Malamaal Weekly is his first comedy hit not inspired from any Malayalam film, but it was based on English film, Waking Ned.
He also attempted one serious topic, and remade Mohanlal's cult classic and megahit film, Thalavattom to Hindi, with a few modifications in the script. The movie was titled Kyon Ki (2005) and worked with Salman Khan only once in his career. There were speculations that it was a movie similar to Salman's previous hit – Tere Naam. But the movie failed at box office, and Priyan resumed to comedy remakes. In fact the movie was heavily inspired from Bollywood classic, Khamoshi. Garam Masala released on the same day as Diwali release became a huge hit. It was Akshay Kumar's second association with Priyadarshan after Hera Pheri, and Priyadarshan continued with comedy genre of remakes mostly with Akshay Kumar who reprised Mohanlal's roles in many Hindi remakes. Garam Masala was the first movie of this kind.
Post Garam Masala, Bhool Bhulaiyaa (2007) is the most popular film made by Priyadarshan with Akshay Kumar in lead role. It was a remake of Malayalam's most popular film – Manichitrathazhu which gave Sobana her first National award. Made to several languages, Akshay Kumar reprised the lead role of Mohanlal in the original, and the movie helped him to establish as the new superstar of Bollywood. His next two movies with Akshay, Khatta Meetha (remake of Malayalam cult classic Vellanakalude Naadu starring Mohanlal) and De Dana Dan

met with moderate success.
Chup Chup Ke (2006) was a successful remake of Malayalam comedy Punjabi House (1998) and Dhol (2007) was the third comedy film inspired from Siddique-Lal's creations and received moderate success. The movie was inspired from comedy action thriller – In Harihar Nagar, which has been earlier remade to Hindi as Parda Hai Parda (1992), a box office hit.
Kamaal Dhamaal Malamaal is a comedy film which failed at box office. The movie was a remake of top Malayalam film of 2011, Marykkundoru Kunjadu. After Mohanlal he remade several comedy movies of Dileep such as Punjabi House, Vettam and Marykkundoru Kunjadu. In a brief note, Priyadarshan is the true showman of comedy remakes in Bollywood.
Priyadarshan met with commercial failures when attempted serious topics
Virasat is one of those rare Priyan serious films which achieved commercial success. Otherwise, he always failed in movies based on romance and social issues, though he adapted many powerful scripts. Doli Sajake Rakhna, Yeh Teraa Ghar Yeh Meraa Ghar (comedy-drama film), Khatta Meeta, Kyon Ki, Mere Baap Pehle Aap (remake of Malayalam hit Ishtam) and Billu (remake of Malayalam cult classic – Katha Parayumbol) belong to this genre of movies. Despite getting good reviews, his film, Saza E Kaalapani (dubbed version of Kaalapani) too failed to collect from box office. Later many of Priyan's original scripts based on serious subjects and remakes of Tamil films too failed to make an impact on cine-goers. He even tried action thrillers, which he failed miserably.
Currently Priyan has taken a long break from Bollywood and concentrating on to Malayalam and Tamil movies. He is to mark his Bollywood comeback through the remake of his recent Malayalam blockbuster, Oppam – a crime thriller, a first film of his kind. A movie starring Akshay Kumar in the lead role is also in pipeline.
Priyadarshan's Malayalam movies remade to Hindi by other directors
Har Dil Jo Pyar Karega – Chandralekha released in 1997 was the biggest Malayalam hit of the year, and the movie starring Mohanlal in the lead was directed by Priyadarshan. The comedy love triangle was later remade to Hindi by Raj Kanwar titled Har Dil Jo Pyar Karega. The movie starred Salman Khan, Rani Mukerji and Preity Zinta in lead roles and met with commercial success. Sukanya and Pooja Bhatra played the lead roles in original version.
Golmaal: Fun Unlimited – The first part of Golmaal series has a plot similar to Priyadarshan's Malayalam hit, Kaakkakuyil (2001) starring Mohanlal and Mukesh in lead role. Though Malayalam version too can't be claimed to be an original, it shares close resemblance with Golmaal directed by Rohit Shetty. Mohanlal and Mukesh have regularly appeared in several Priyadarshan movies such as Boeing Boeing (later made as Garam Masala), Arabeem Ottakom P. Madhavan Nayarum and Hello My Dear Wrong Number.
Other successful remakes of Malayalam hits
Bodyguard – The movie was originally made in Malayalam with the same name with Dileep and Nayanthara playing the lead roles. The movie was later remade to rest three south Indian languages and Hindi. Siddique who helmed the original version also directed Hindi version starring Salman Khan and Kareena Kapoor. The script was changed very much by adding action sequences to please Salman fans, and emerged as an all-time blockbuster of Bollywood. Yet the movie failed to please critics.
Drishyam – Drishyam was originally made in Malayalam with Mohanlal playing the lead role. The movie is highest grosser Malayalam film up-to-date. The movie was later made to all south Indian languages and Hindi. Hindi version starring Ajay Devgan and Tabu in lead roles also fared well at box office.
Julie – Chattakari is the original Malayalam version of the bold movie, Julie. Lakshmi played the role of Julie in the original version, and later its Tamil and Hindi remakes too. In fact she got married to Mohan, the hero of the original version, though they got separated later. The movie based on soft porn novel Chattakari written by Pamman was a major hit in all the versions. The movie was regarded as bold in the early 1970s, when it was made in different languages.
Housefull 2 – It's an unofficial remake of Mukesh starrer comedy hit film, Mattupetti Machan. After Mohanlal, Mukesh is one of the most popular comedy heroes of Mollywood, who often play the sidekick of Mohanlal, and many of his hit films have been remade to Hindi, mostly by Priyadarshan.
Main, Meri Patni Aur Woh – A successful remake of Malayalam's popular and nostalgic, Vadakkunokki Yantram starring Sreenivasan in the lead role. The film met with critical appreciation also, and is considered as one of the finest performances of Rajpal Yadav up-to-date.
Heyy Baby – Inspired from Malayalam classic – Thoovalsparsham directed by Kamal, its plots are originally taken from foreign language films – Three Men and a Baby and Three Men and a Cradle of 1980s. Similar to several successful comedy remakes of Akshay Kumar, Heyy Baby too met with commercial success.
Phool Aur Kaante – The movie launched the Bollywood career of Ajay Devgan and Madhoo, and the remake was a huge hit. The movie was originally inspired from Malayalam hit, Parampara starring Mammootty, playing the double role of father and son. Amrish Puri reprised the role of father in the remake.
Hatya – It's one of the early hits of Govinda. This film is a remake of Malayalam film Poovinu Puthiya Poonthennal starring Mammootty.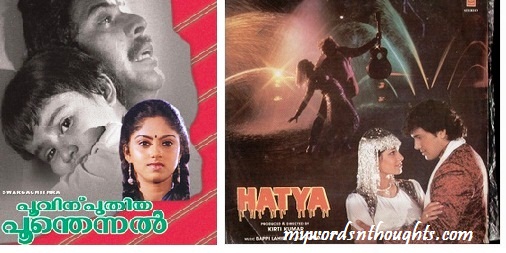 Aap Ki Kasam – It's a remake of Malayalam classic, Vaazvemaayam (1970) starring Satyan with a few modifications in the climax. Satyan passed away the following year. The movie starring Rajesh Khanna and Mumtaz was critically acclaimed, and regarded as one of the best movies of Khanna's career.
The Train – This suspense thriller is a remake of Malayalam hit film, Cochin Express released in the year 1967. Rajesh Khanna and Nanda played lead roles in the remake, and met with box office success. Gulabi Aankhen sung by Mohd. Rafi for the movie became extremely popular.
Amar Deep – A successful remake of Malayalam hit, Theekkanal, it was Rajesh Khanna's hit film after a long low phase career of almost 5 years. The movie was released in 1979, and later many hit remakes followed.
Anokhe Rishtey – This movie of 1980s starring Rajesh Khanna was a remake of Mammootty-Shobana starrer Kaanamarayath. The movie later inspired several Bollywood films such as Lamhe, Nishabd and Joggers' Park which discussed the romantic bonding of a senior hero with a much younger heroine.
Babu – This Rajesh Khanna movie is a remake of Malayalam classic hit, Odayail Ninnu starring Satyan. This heart touching film is a screen adaptation of Malayalam writer P. Kesavadev's acclaimed novel of the same title.
Dharm Aur Qanoon – A remake of Malayalam hit Umaanilayam, the film met with moderate success. Rajesh Khanna, Dharmendra

and Asha Parekh appeared in the lead roles.
Majority of remakes of 1970s and 1980s starred Rajesh Khanna in the lead role, and many of them met with moderate success. Though early trend was to remake some of the social dramas and serious stories, with the late 1990s, a new trend to remake classic comedies of Malayalam made in the 1980s and 1990s began in Bollywood, a trend that is successful till now.
Malayalam Movies which flopped in Hindi version
Boss – It was a remake of Malayalam action masala Pokkiri Raja starring Mammootty and Prithviraj in the lead roles. There was so much speculation before the release of Pokkiri Raja as two stars were casted together in a single film. Unlike the original, Hindi version starring Akshay Kumar couldn't meet with audience's expectations.
Traffic – The movie was directed by Rajesh Pillai, who directed its original version too. The movie (with the same name) in hyperlink format was marked as a trendsetter in Malayalam film making in the year 2011. It was later remade to Tamil and Hindi. Hindi version got a delayed release in 2016 after the death of its director. The Hindi version starring Manoj Vajpayee in key role couldn't repeat the success of its original.
Dor – This critically acclaimed film of Nagesh Kukunoor was inspired from Kamal's Perumazha Kaalam. Though both the movies met with critical acclaim, couldn't meet with box office success. Ayesha Takia and Gul Panag reprised the iconic roles of Kavya Madhavan and Meera Jasmin played in the original.
Shortkut : The Con Is On –

A horrible remake of Mohanlal's Malayalam blockbuster,

Udayananu Tharam (2005). Needless to say, horrible star casting was one of the major drawbacks, which resulted in the huge flop of the movie. Udayananu Tharam was originally inspired from Bowfinger (1999).
Pyar Hua Chori Chori – It's a remake of Mohanlal's super blockbuster film, Chitram which established him as a lead actor of Mollywood. The romantic comedy had a positive climax unlike the original. Mithun Chakraborty and Gouthami reprised the roles of Mohanlal and Ranjini in the remake.
Beti No.1 – A remake of Malayalam super hit, Aadyathe Kanmani starring Jayaram. The remake starring Govinda and Ramba was not accepted by audience.
Zameer: The Fire Within – It marked the Hindi debut of Malayalam's popular director Kamal. He remade his own film, Mazhayethum Mumpe starring Mammootty, Shobana and Annie. Ajay Devgan, Ameesha Patel and Mahima Chaudhry played the lead roles in the new version of this love triangle.
Tujhe Meri Kasam – This movie marked the acting debut of Ritesh Deshmukh and Genelia D'Souza, who later got married. This story of friendship turned love is a remake of Malayalam Blockbuster Niram directed by Kamal. The movie starred the popular young pair of Malayalam cinema – Kunchakko Boban and Shalini, who were launched in a similar fashion through Aniyathipravu (made to Doli Sajake Rakhna later).
New Delhi – An unsuccessful remake of Malayalam super hit with the same name, which established Mammootty as the leading actor of Mollywood. The director casted Malayalam actors as supporting cast unknown to Hindi audience and it resulted in the failure of the film.
Chal Chala Chal – A remake of Malayalam classic of 1980s, Varavelppu starring Mohanlal, the movie also included some of the scenes of Malayalam comedy entertainer Ee Parakkum Thalika. The movie starred Govinda, Rajpal Yadav and Reema Sen in the lead roles.
Krodh – A remake of Mammootty's super hit film, Hitler. Rambha has been a part of several Hindi remakes of south Indian films, and she reprised Shobana's role in the remake. Suniel Shetty played male lead.
Dus Tola from Sreenivasan starrer classic comedy Ponmuttayidunna Tharavu, Satyamev Jayate from Mammootty starrer action film – Aavanazhy, Samaj Ko Badal Dalo from National award winning Thulabharam (1968) starring Sharada, Kushti from Mutharam Kunnu P. O starring Mukesh in the original, Teesra Kaun from No.20 Madras Mail starring Mohanlal and Mammootty, Police Public from Oru CBI Diary Kurippu starring Mammootty, Jai Shiv Shankar from Vartha starring Mammootty, Insaaf Main Karoonga from Thusharam starring Ratheesh, Tahqiqaat (1993) from Post Mortem starring Prem Nazir, Kanwarlal from iconic film – Rajavinte Makan starring Mohanlal etc are a few more. Obviously majority of these flops belong to action, romance and other serious genres of movies. So it can be concluded that Bollywood has accepted classic comedy films of Mollywood rather than other genres of movies, and language or culture doesn't form any barrier to 'Laugh Out Loud'. LOL!!!!
Read the stories of a few more inspirations and copies of Bollywood. Here is the page link. Click on the images to read.
(Visited 4,191 times, 1 visits today)