How can a fictional script turn so hyper realistic? Sushant Singh Rajput's 'Dil Bechara' has scripted a similar story
24th July, 2020. It was definitely not an easy day for me like any other Sushant fan when Dil Bechara gets released. Was I really a Sushant fan till June 2020, I don't know. After all we didn't get enough time to explore his talents, and he portrayed only a very few roles on screen. But ever since I watched PK and biopic of Dhoni, I had already marked him as the next superstar of coming decade, because he owned each and every quality of a superstar. I think, he is the most popular Youth Icon among all young generation actors who marked their screen debuts in the decade of 2010s.
I have always liked Sushant's calm nature, humbleness, cute looks and killing smiles, which are not common in new age heroes nowadays. He also owned extraordinary dance skills, and he never repeated his roles on screen, except the role of cricketer twice with two entirely different kinds of roles, which make him different from other heroes (never repeated his heroines too!). Closeness to him grew only after…. I don't want to complete it, because only a very people whom we never met in life influence us this much, make us restless and cry, and such persons will never die in our hearts!
Ok, let me come to my topic. I have written reviews for a few movies before. But when it comes to 'Dil Bechara', my 'dil' really turns 'bechara' and I can never review it. How helpless am I! When we review films, we watch with eyes and review using brains. But this time true emotions have overpowered me, and I think, this film is to celebrate someone's life so special to heart, where we can't think logically! Yet I need to point one important thing, not as a reviewer, but as an SSR fan who is fully engaged in solving Sushant mystery.
Let me add, it's for the first time I post such an article, and it's only because my thoughts should reach more people, and they should think more in this angle to solve the puzzle or get a few details which can really help the investigation. After all we have only a few proofs left! When celebrated journalists are being paid to write blind articles, why couldn't I write something derived based on my investigations in this case for a noble cause, because I am one among those millions who want justice to be served for a poor soul.
The musical drama with 1 hour 41 minutes is too short. Isn't it weird?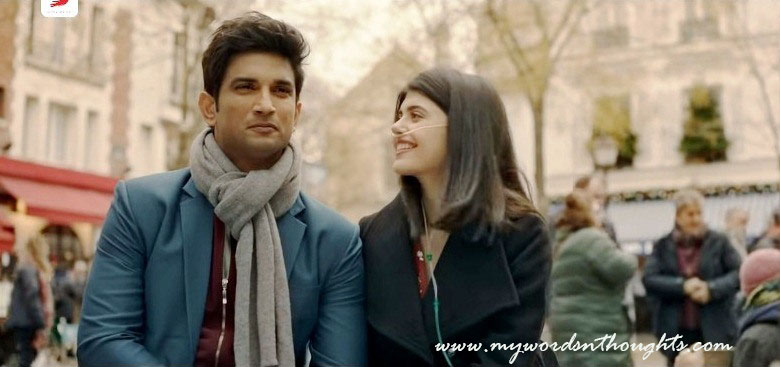 I have read reviews of some leading critics who stated that most characters are underdeveloped, including the lead character Manny alias Immanuel Rajkumar Junior, and I think it's very much true. Most of them shared same opinions. The movie runs in medium pace, filled with fun till first half, looks like a beautiful musical note, yet why all characters as well as scenes were not fully developed? Please remember, I am not here to criticise the film, but to expose a few very important points which many people fail to notice.
I have watched Bollywood films of length 1 hour 30 minutes or 1 hour 40 minutes. But all those films mostly belong to thriller genres and without songs. But Dil Bechara is an A. R. Rahman musical with 9 tracks in the original album, and I think 5 full-length songs pictured in the movie. These songs along with intro, opening and closing credits may take a major portion of the total running time, may be around 20-25 minutes. Now what remains for telling the story is around 1 hour 20 minutes, which looks weird for a commercial Hindi film with a leading actor. Though Hollywood films are bit short comparing Indian movies, the original version, The Fault in Our Stars based on the popular book with the same title had better running time!
Now let me come to my own conclusions. But these are only my theories, which may not be true! When I get proofs to prove me wrong, I shall correct them, definitely. Like Sushant's unsolved mysteries, let them too remain so, till everything is unfolded! Let me list my points one by one.
–> The movie launched in October 2017 and started its production long back in 2018. After almost 3 years, the director managed to shot only 1 hour 41 minutes. It's very hard to digest.
–> How can a debut director shoot such a short film for his directorial debut and turn so irresponsible? Impossible! Is it not better to shoot a short film? When he shoots his debut film with an established star, it should be at least 2 hours. Right?
–> Characters are not well explained. Romantic scenes between the lead pair are only a few. Usually in Hindi films, it takes a little time to develop the love story. Is it because scenes were not shot or is it because they were edited before the release? Yes, it is! The movie has been edited by the director and scenes have been cut shot for his convenience for a sudden release on OTT platform or to hide something? That's exactly the same thing missing in the movie. (Even after such irregular cuts, the movie is watchable and appealing. How it would have been, if the movie was of 2 hours or 2 hours 15 minutes length! Definitely, one of the best romantic films in the recent times!)
–> It looks like the film has been edited. Is it to hide something? When the whole movie is very much related to Sushant's life, is there any depression story originally shot earlier been deleted? Or anything else which directly links to Sushant's mystery? (I shall explain each and every point. Keep patience or scroll down.)
–> Was post-production work not completed because of lockdown and hence the producer/director was forced to edit a few shots? If so why he was so haste in releasing the movie now? He could have waited till lockdown ends, complete the post-production work and release the movie on some festival season. Fans have already told many times, even begged to give the actor true honour which he actually deserves. Why such repeated requests got ignored?
–> Definitely this movie would have made 1000-crore business, and would have given huge profits to producers if released in theatres. When such a film was to get a bumper opening at box office, what forced filmmakers to release it on OTT platform, disheartening fans? After all, the director cannot give an excuse that the movie release would be delayed, especially because the movie was already delayed for 2 years and was almost shelved.
–> Was filmmaker threatened by lobbies to release Dil Bechara in OTT platform, as the film's huge success at box office may hurt the egos of megastars? Or was he paid huge sums, compensating the loss of production?
–> After the stories of murder mystery started circulating in online platforms, was the filmmaker scared of something like disclosure of some secret through his film or did he feel his movie may perhaps never get released for many reasons, better known to him?
–> Was the movie edited, reduced post-production work and released suddenly by the filmmakers to milk the emotions of people and gain popularity and fame taking Sushant's name and playing with people's emotions? Did they assume, people will forget Sushant soon (which didn't happen), and it may not be easy to sell the movie later, and hence better to release now and gain profits during lockdown? After all everyone is short of funds now and Bollywood industry is fully stuck.
–> Soon after I watched Dil Bechara premier I checked Wikipedia page and found Javed Jaffrey among the cast. But he was not in the movie. But now his name has been removed. Length of the movie suggests that his role has been chopped off. Why? I cross checked with another site, which had Milind Gunaji also in supporting cast. But he too was not a part of the film. How can a Sushant musical be less than 1.45 hours?
To end this point – If there is no foul play, after lockdown the movie should be released in full-length version, and people will throng into the theatres just to watch him once more. After all, people will die for each and every Sushant scene added. It's a request from millions of SSRians. (It seems my post is lengthier than the total duration of the released version of the movie.)
How can be a fictional script turn so hyper realistic? Was Sushant's life scripted 2 years ago?
Here I post a few important questions which will definitely force you to think Sushant Rajput Singh's real life was scripted by someone almost two years ago. In fact it's weird to think, an established and healthy actor dies on screen in the film climax, and before the theatre release, it happens in reality so unexpected. Yes, I doubt if such a thing has ever happened in world cinema when fate played so cruel with a young actor who was only in his 20s or 30s.
Many scenes and dialogues in the film written in 2018 or before happened in Sushant's life later, as if an irony. Here I list a few of them which I observed while watching the film.
Bengali girlfriend in reel and real life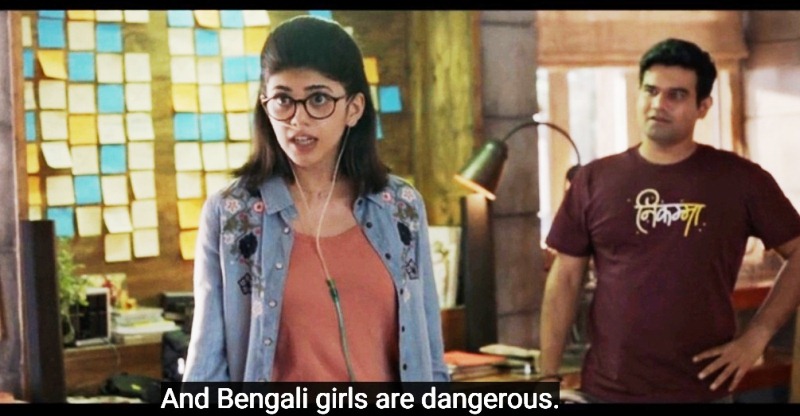 First of all, film's heroine Sanjana Sanghi plays a Bengali girl in the movie. Co-incidentally Rhea Chakraborty, his rumoured girlfriend is also of Bengali origin, and she entered Sushant's life only in 2019, almost 1 year after the movie was scripted and shooting started. The dialogue – "Bengali Ladkiyaan Bahut Khatarnaak Hoti Hai" (which literally means – 'Bengali girls are very dangerous') delivered by Sanjana Sanghi to Sushant on screen is really shocking! How could the screenwriter script the movie with a Bengali girl long before Rhea became Sushant's girlfriend?
This is the most shocking point of this whole post, which forced me to write this
In Dil Bechara Sushant's character Manny agrees to act as hero in a Bhojpuri film to fulfil his friend's dreams to become a film director. He offers the lead role of heroine to Sanjana, who has never done any movie before. When the movie gets released, the hero is no more & heroine watches it. How can a movie be so co-incidental? Just like shown in the film, both the director and lead heroine are alive, while the hero vanished.
In real life too, director Mukesh Chhabra was a close friend to Sushant, and Sushant accepted the film because he had promised earlier, he will sign Chhabra's first film. Just like the film, it is Sanjana's debut movie too, and Sushant played a better role in completing the film, exactly as shown in the film when Manny's health was deteriorating and his days were numbered. Yes, it was the debut film of both director and lead actress.
Thread of directing a film is not in original book or English version movie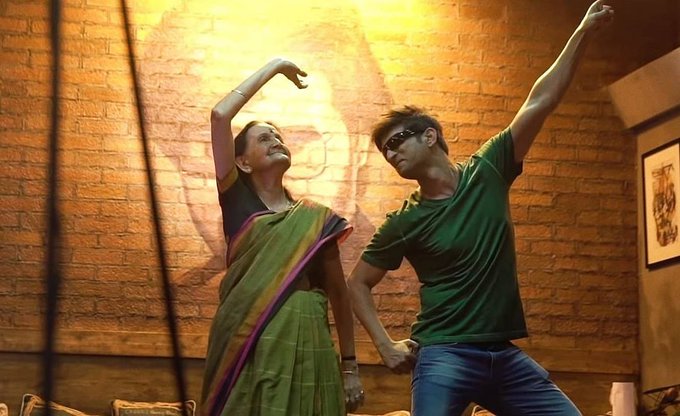 Most surprising part is that – the plot of directing a film is not in original book or English version film. How the director incorporated this thread in the movie, and how this fiction turned to reality! How the screenwriter could predict it earlier? No idea. Was it added later and when? Who gave the idea and when? Actually, who added this part to the film script which proved fatal to the actor? Many incidents which occurred in the climax later happened in Sus' life, including the climax scene where the heroine watches his film after his demise and listens to the dialogues he delivers about life and death, and how to celebrate short-lived life. How can everything be ruled off as mere coincidence?
Looks like 50% of incidents are directly taken from Sus' life or added to his life by someone. Short-lived life, Bengali GF and what to say about the shocking climax! Felt like the climax was modified at the time of release. Very much matching!!! Or is it a mere co-incidence? It is totally heart breaking how the reality and the ending of the movie coincided.
Except the terminal cancer story in the movie, each and every scene has a direct connection to Sushant's last days. Except the depression story, rift with Sooraj Pancholi in Salman Khan's birthday bash in December 2017 and how Bollywood politics influenced his career later, almost every major event of his life in the recent past has been added somewhere in the script. And what to say about the climax! It forced me to write this topic, and the filmmakers should answer all these questions.
Was it a 'biopic' of Sushant made much earlier?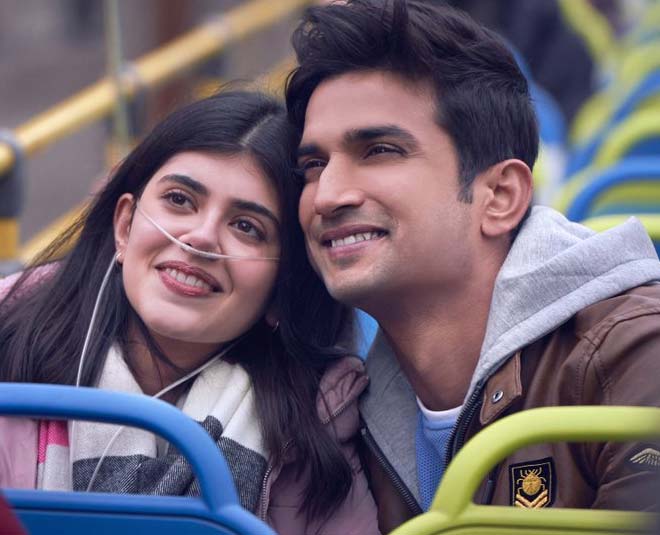 Lead actor decides to fulfil his dearest friend's biggest dream to make a film, and performs as the lead actor. They choose a newcomer as film's heroine, and start shooting. Shooting gets delayed due to the deteriorating health of the lead actor. Though his days are numbered, with the support of that actress he completes the film. However, hero passed away before the film gets released, and he surprises everyone with some ill-fated dialogues of life and death, and heroine and rest crew watch it with filled eyes. Isn't it exactly the same thing which happened in Rajput's life? But this plot was not in the original book or movie, but scripted for Sushant's version only. Why? Any answer? Was he made to act in his own story?
Yes, most of the points I have explained before. The movie very much resembles the last phase of the talented actor, but scripted and made much before, much like a metaphor. Looks like 50% of incidents are directly taken from Sus' life. Short-lived life, Bengali GF and what to say about the climax! Felt like the climax was modified at the time of release. Very much matching!!! Or is it a mere co-incidence? What about film's title? Earlier named as Kizie and Manny, why was its title changed to Dil Bechara? Does it mean, heart is helpless or Sushant is helpless? Yes, every time we think about the film, its title makes us believe, Sushant was 'Bechara' or Helpless'. Remember the T-shirt with imprinted writings, 'HELP'?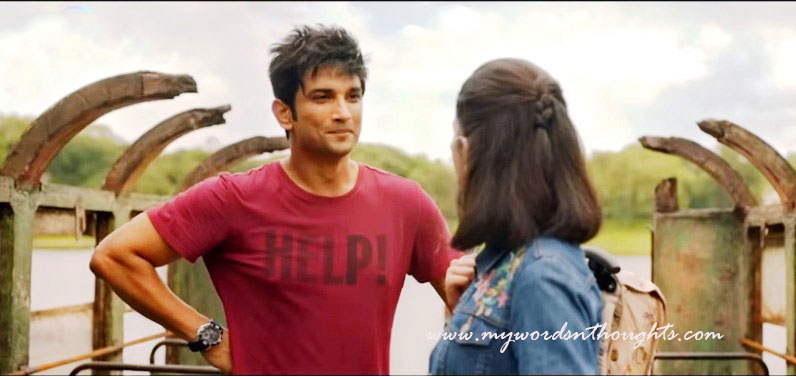 Doesn't it look sadly strange for you when Manny says, he want to attend his own funeral? What about dialogues like 'I am a fighter', 'I don't want to die' (He has once told in an interview, "I fear death", when asked, what you fear most), "Yeh Raja Toh Mar Gaya" (This king has died), "Dilliwalo Ne Tujhe Bhaga Diya Kya?" etc. He also shares some real life dreams through his movie, career as an astronaut, being one among several co-incidences. His passion towards Shah Rukh Khan as an actor is shown in one of the scenes through iconic train scenes of DDLJ, pictured as a part of Bhojpuri film in which he plays lead hero. Several times he has told in interviews, Shah Rukh Khan inspired him to become an actor, and will remain his screen idol always.
There is one highly emotional scene in the film, almost at the interval when he talks to Kiezy's father. The scene shockingly includes many dialogues, which we compare with his diary and 50 dreams in bucket list. He says "Main Bahut Bade Bade Sapne Dekhta Hoon, Par Sab Kuch Poora Nahin Karta. Kiezy Ke Dreams Poora Karna Chahta Hoon" (I can't clearly say that dialogue, and I can't watch it once more to correct it. Please someone help me.) Yes, now only we know he dreamt a lot, and most of them were not personal ones, but for the happiness of others. Shocking, very much shocking! Did filmmakers ask him to share his dreams, desires and passions so that they script the movie more realistic? Innocent person with pure heart, Sushant might have agreed to it without knowing hidden intentions. There is one line in the title song, 'Tu Mujhe Miss Bhi Na Kare', which Manny sings to his dear friend. How is it possible? When i heard the song for the first time, I felt like Sushant telling the same thing to his fans, and got soaked in deep emotions.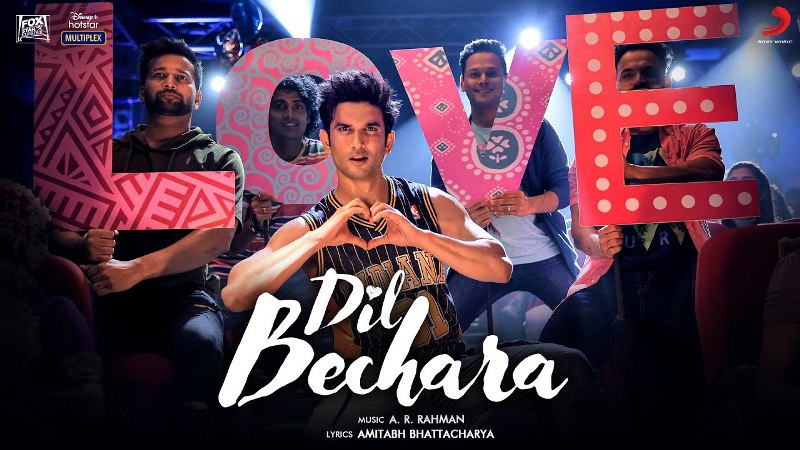 So many uncanny coincidences and only a thin layer between fiction and real, the movie makes everyone feel that someone scripted Sush' life in the last 2 years or so. Who knows if Rhea has entered his life as a part of planned conspiracy! Crippled lead character in the film and broken leg in the viral photo, same as stomach stained in blood in movie as well as photo (though not reached the conclusion yet), hero dies in film as well as reality, film's delay (MeToo allegation in reality and terminal disease in movie) – co-incidences are non-ending! Is it possible to decode more?
Don't you think the crew of this movie are bound to answer all these questions? When Fox Star Studios wanted to remake The Fault in Our Stars in Hindi, Dharma Productions was a part of this project, but backed from it after sometime. The adapted screenplay was co-scripted by Shashank Khaitan (his single movie as a screenwriter), who has been associated with Dharma Productions for many years. He has directed three super hit films – Humpty Sharma Ki Dulhania in 2014, Badrinath Ki Dulhania in 2017 and Dhadak in 2018. In fact he was launched as director by the same production house, who financed all these films and also the upcoming movie, Mr. Lele.
He was given only scripts based on life and death post Dhoni?
His theatre releases after Dhoni's big success include – Raabta, Sonchariya, Kedarnath, Chhithhore, Dil Bechara and Drive. Except Drive, all movies have one thing in common. Themes of all these movies are life, death, depression, suicide etc. A strange co-incidence, of these six films, his character dies in four – Raabta, Sonchariya, Kedarnath and Dil Bechara, while the movie – Chhithhore was purely based on the theme of depression and suicide, though his character was not a victim of it. Raabta too had a depression story in sublime. Since 1950s, Bollywood heroes rarely die on screen, and most of the movies have happy end. But why Sushant's character repeatedly dies on screen, right from debut? After 2016, it became a rare sight to watch Sushant's character survives on screen. Why he received only similar kind of scripts in the past 4 years? Unlike other movies of Sushant, why the movie 'Dil Bechara' had a delayed release? Why the movie originally planned to hit theatres in 2019, got released only now?
Conclusion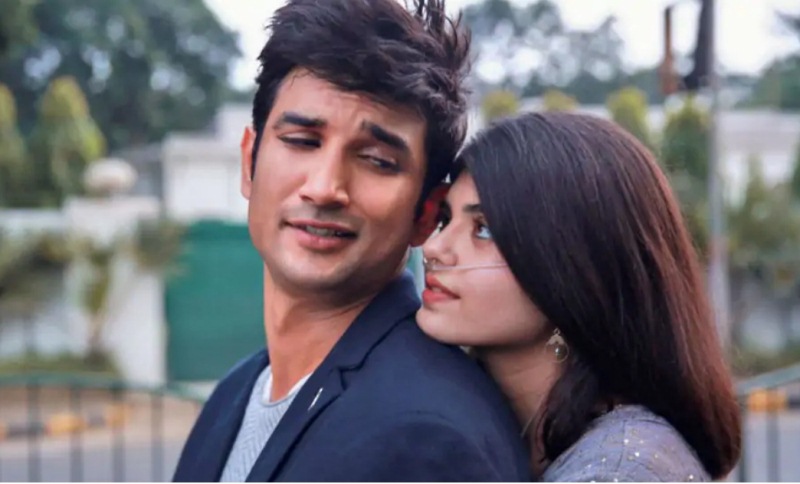 Before the movie release, I assumed it will be a tear jerking film from beginning to end. But it was not so, except a few spikes towards the end. It was filled with so much fun till interval, and slowly moved to sad end. Sushant, as usual, in a new look and appearance, and style mesmerized us all. Kal Ho Na Ho is one such film which deeply touched our soul emotionally in the recent past. Every time the movie is over, we feel like, it's just a film & SRK is Ok. But the same thing didn't happen with Dil Bechara. Film's climax turned to be a metaphor of real life, which no one expected. If your eyes don't fill with tears at least once while watching the film, I will say, 'You are a heart-less person".
The movie 'Dil Bechara' is a real tribute to Rajinikanth. If it has been dubbed & released in Tamil, this version is enough to make the movie a super hit. At this point of time, I really wish Rajinikanth sir say a few words about him, and demand government for a proper investigation. Whole Bollywood is silent, you know. How sad! The film is about an unfinished song too, just like Sushant (which I never watched in Bollywood films) and Rahman has promised to complete it later.
Soon after release, Dil Bechara created history becoming the top rated Indian film on IMDb. Audience got emotionally linked the film, perhaps never like before in Indian cinema. Reality is much more moving than fiction and no words can fully capture it, no doubt. No other Indian actor even megastars have received such a grand departure from fans, and never will be. Eyes are still moist, though 45 days gone! Since June 14, I never witnessed at least one day on twitter without 'Sushant' tags trending. Sushant once again proved that people with pure mind & golden soul will never be forgotten, as moments pass by, as years pass by. Thank you Sushant, we will always stand with you, even if you are with us or not!
Quoting something special: "I would like to make a biopic on myself and I would like to act in it. Something should happen in my life and a biopic should be made on me and that film should break Baahubali's record also" – Sushant during Raabta's promotions in 2017. Yes, in true sense, Dil Bechara broke Baahubali's records. Nothing more to say.
After Salam Namaste, Shuddh Desi Romance was one of the early Bollywood films which explored the theme of live-in relationships. Just like his frequent deaths onscreen which repeated in his life, live-in also happened in his life, that too… twice! Surprised! Really hope, Raabta also happens!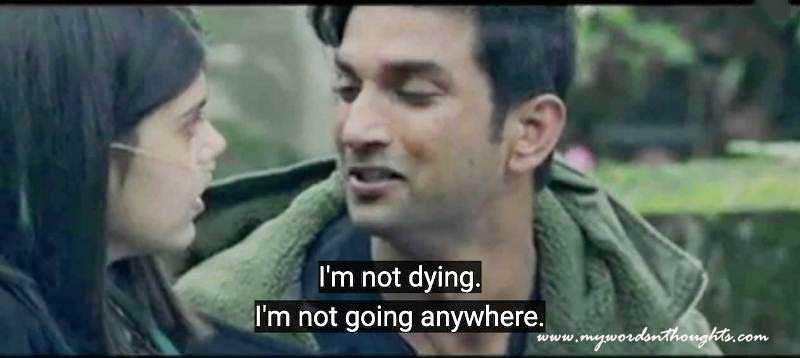 Yes dear, you said it right. You are not going anywhere…. You are captured in our hearts forever
Disclaimer: This post is not to personally blame or harass anyone. Not just me, many people shared few similar kind of doubts after watching this movie, and all want a little clarification in it. That's only, because the movie looks too similar to Sushant's tragedy. Hope it's OK.