Do you know Sushant Singh Rajput was more successful than Shah Rukh Khan in the past 5 years?
Yes, you heard it right. Let me explain. Shah Rukh Khan is the King Khan of Bollywood. But when we come into the records of his last few years, it's not so great. When his career track is compared with newcomer Sushant Singh Rajput, he is far behind, when it comes to box office collection.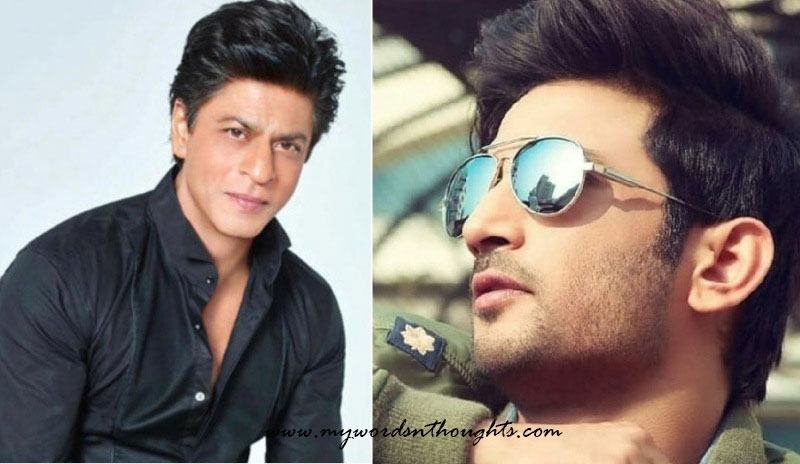 SRK and SSR – Only a few artists in Bollywood have the privilege to get such nicknames from fans, and both these extremely talented actors are blessed with it. While it took many years for Shah Rukh Khan to get the title – SRK, it took only a short span for Sushant Singh Rajput to earn the nickname – SSR. Both actors have many things in common. We can also call SSR as Junior Khan (who is exactly 20 years junior to Khan), as he was the next superstar in making, and among the most successful young actors who successfully made transition from small screen to big screen. Also Sushant has told in many platforms that Shah Rukh is his screen idol, who inspired him to become an actor. People have also idolized him as the next superstar. Also, both came from non-filmy background and created a niche of their own, where nepotism rules Bollywood.
Let us compare SRK's career record with SSR's in the past 5 years
Do you know, in the past 5 years, Sushant was more successful than SRK? SRK had 5 theatre releases in lead role, 2 hits and 3 flops. Among those 2 successful films, one was a cameo role in Alia's film. If we check Sushant's career, he had 5 theatre releases in lead role since 2016, of which 2 were blockbusters, 1 hit and 2 flops. Of those 2 flops, Sonchiriya was highly acclaimed, while his role in Raabta, songs and dance steps were loved by young audiences a lot. He received a huge fan following crowd after the release of the film. Now tell me who was more successful, and who is the real super star.
Shah Rukh Khan gave a blockbuster 'Chennai Express' long back in 2012, and his movies like Happy New Year, Dilwale and Raees, though fared well at box office, could not bring back his old charm. His work in Fan was well appreciated, but the movie post interval was panned by critics. Movie was not a commercial hit too. But I would say, it's his finest performance in the decade of 2010s. His extended cameo in Dear Zindagi was pleasant, and I loved it. Really wished, SRK do similar kind of simple roles in future. Comparing his big-budget films, this mid-capper was good one and easily connected with audiences. In the past 5 years, only Dear Zindagi and Raees registered success for King Khan. Fan, Jab Harry Met Sejal and Zero were his flops. He couldn't register even a single super hit or blockbuster in the past 5 years.
Now let me give the professional record of Sushant. We know it well, after giving a hit through Kedarnath and a blockbuster through Chhichhore, his later two releases – Drive and Dil Bechara were directly released on OTT platform. Since 2016, he had 5 theatre releases of which M.S. Dhoni: The Untold Story and Chhichhore were blockbusters, while Kedarnath was a box office hit. Raabta and Sonchiriya were flops. Let me add, his last release, Dil Bechara currently owns highest rating of 9.3 in IMDb, and shares the record with The Shawshank Redemption (which may be altered). But currently it's the highest rated film in world cinema. When 35K votes were polled, it held the unbeaten record of 10 and later the ratings went down. Its OTT release, music, trailer and social media trends also shattered several Indian and world records!
Let us compare Sushant's career with other Khans of Bollywood
Same is the case of Salman and Aamir, if we check the records of past 5 years. If we track Salman Khan's career record of past 5 years, he had 6 theatre releases in a lead role, with success rate 50%. His hit films are Sultan, Bharat and Tiger Zinda Hai, while his big budget films like Race 3, Dabangg 3 and Tubelight terribly flopped.
Aamir Khan had only three releases in the past 5 years – which include 1 blockbuster, 1 hit and 1 flop. Dangal is the biggest blockbuster of his career. Similar to SRK in Dear Zindagi, his extended cameo role in Secret Superstar was well received, and both the movies were huge hits in Chinese box office, breaking several records. His last release – Thugs of Hindostan terribly flopped at box office. Interestingly Katrina Kaif gave 2 flops with two leading superstars in 2018 – Zero and Thugs of Hindostan, while she registered hit with Salman Khan next year through Bharat. Among three Khans, Sushant worked only with Aamir Khan. In PK, they never shared any scene together, which is interesting. Thus Sushant never shared big screen with any Khan, except Saif Ali Khan in his last release, Dil Bechara.
Remember Khan's movies are always produced by big production houses and widely promoted, while Sush's movies are of average budgets. Though he played only fewer roles on screen, he connected with audiences easily because of his realistic performance, simpleton look and cute smile. Definitely he is the next SRK of Bollywood.
His immense success only distanced him from the big gangs of Bollywood, who tagged him and occasionally humiliated as an outsider. Most sad part is, public came to know about it very late and became heartbroken. He created a huge fan following club within a few years because of his acting skills, humbleness, intelligence, dancing skills, good physique and goods, which made established actors jealous – that's true! After all, many were not willing to accept him, as he has danced behind superstars as a background dancer. Also, Bollywood has always distanced from actors with TV background and also artists from Bihar, except for a few instances.
Comparing his career record with other leading actors
Akshay Kumar is definitely the most successful actor of the decade, and can't be compared with career record of Sushant. Among young actors, only Ayushmann Khurrana can match his acting talents along with professional success. Both have a similar kind of story to tell. Both belonged to non-filmy families, and reached cine buzz after gaining recognition through television almost at the same time and both made impressive debuts. They chose different kind of roles, and hence can't be compared. Also Khurrana received more films, while Rajput's most films were snatched, mostly done by Ranveer Singh later, which established his career too.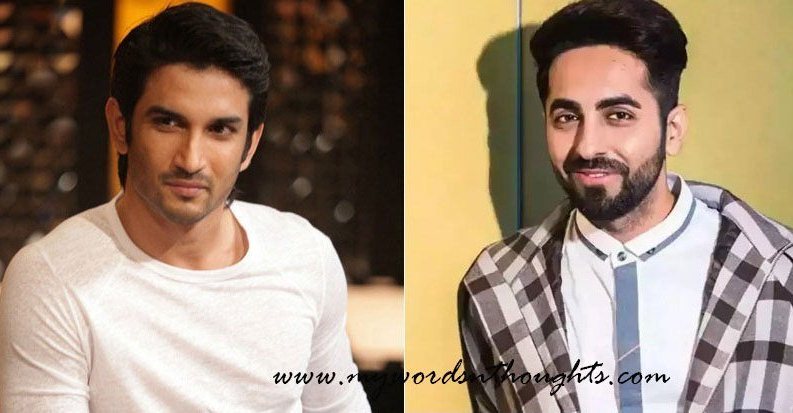 Since 2016 Ayushmann Khurrana had 9 theatre releases and Gulabo Sitabo as OTT release. Of those 9 films, 7 films were immensely successful. Wow! What a record! Definitely, after Akshay Kumar, he is the most successful actor of the decade. In fact he won a National award too. Since 2012, till 2015 he had 5 releases of which only Bewakoofiyaan was panned by critics. He had no release in 2016, but went on to sign more than 10 films in a row. We can say only Meri Pyaari Bindu flopped at box office, while his 2020 release, Shubh Mangal Zyada Saavdhan didn't run for a long time because of lockdown. Yet it fared average at box office.
Hrithik Roshan had 4 releases since 2016. While his 2016 release, Mohenjo Daro flopped, his rest three releases, Kaabil, Super 30 and War became box office hits. Yes, his career record is good. Ranveer Singh had 4 releases in the past 5 years. After the commercial failure of Befikre (the role was originally meant for Sushant), his movies – Padmaavat, Simmba and Gully Boy became commercial hits. Since 2016, Kapoor & Sons is the only commercial hit of Sidharth Malhotra, his work in Ittefaq was appreciated, and he registered 5 flops too.
Varun Dhawan owns a great career record of 11 hits in a row since debut, and his releases later – Kalank and Street Dancer failed to keep that record alive. Since 2016 Tiger Shroff had 7 releases of which 3 were hits – Baagi 1 and 2, and War. Rajkummar Rao and Vicky Kaushal are rest two successful newcomers of the decade, and both own a string of hits, and also National film award for best actor. Also read: 10 Best newcomers of the decade of 2010s.
Is it the falling of Khan's era?
I have explained before, Sushant was far ahead of Shah Rukh Khan, and was enjoying his career peak when the tragedy changed everything. In fact it changed the whole equation of Bollywood, which used to be run by big gangs, and filmy families. Audience has also started to realize, it's the right time to promote the real talent and small budget films, and boycott big banners. In Sushant's words, we have reached that extreme tip where the whole structure is shattering. Yes, it's the huge transformation of Bollywood, definitely for a better tomorrow. Comparing the huge promotion and big budget enjoyed by Khan's films, I should say, Sushant was more successful, definitely without any godfathers in Bollywood. It definitely makes his short career glorious. That's why we cry a lot now. Yes, he will definitely be missed.
Waiting for your comeback.