Sushant Singh Rajput & South Indian Musician Balabhaskar – Are both these cases connected?
Lakshmi was left all alone.
How could they completely destroy a beautiful family?
We want justice for our dearest Balabhaskar and his one-year old baby, who god gifted him after 16 years of his marriage!! Who is Balabaskar, the magician of violin? Why we demand justice for him. A few words about him.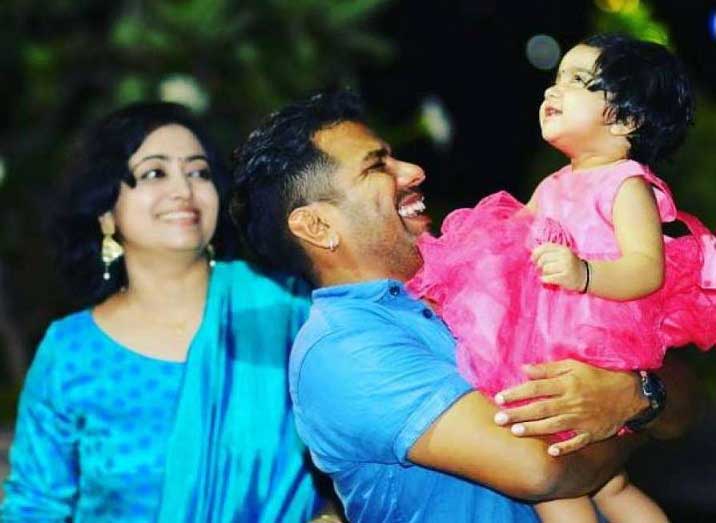 Balabhaskar – Malayalis' own Balu
Balabhaskar who created magic using violin belonged to d capital city of Kerala. Best known for introducing fusion & Indi-pop to Malayalam scene in the late 1990s and early 2000s, he also popularized fusion music in South India. A trained Carnatic singer & ardent fan of A. R. Rahman, he was a gifted artist who started his professional life at the age of 14. A child prodigy, he was the youngest composer of Mollywood when he composed songs for one movie at the age of 17. Though he got many offers after that, he preferred to stay connected with audiences through live musical shows, & through his flair he conquered our hearts. He was married to his longtime girlfriend Lakshmi in year 2000, when he was not settled with professional life. He was only 22 then, and parents never accepted this relationship till his death in 2018 aged 40. I am not updated to the latest status. Their single daughter born in 2017.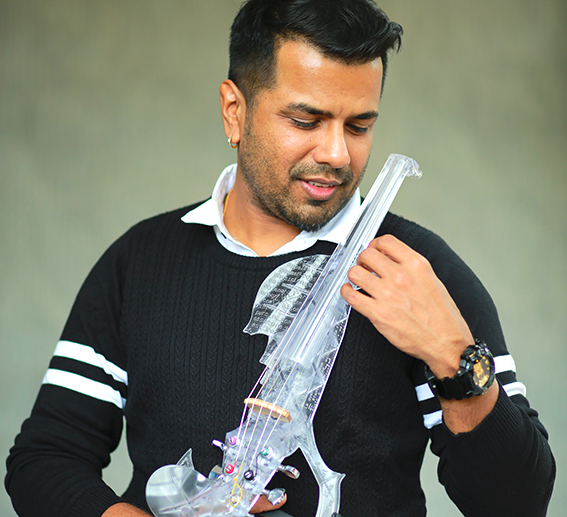 In that fatal night on 24 Sep 2018, he prayed at d most famous Siva temple of Kerala – Vadakkunnathan at Thrissur. As per plan, he was to stay there at night. Suddenly he changed plan & started to Thiruvananthapuram at night. Why he changed plan, still unknown. Apart from driver Arjun, Balu, his wife & 1.5 year old kid were seated in the car. Mishap occurred when he was just 15 kms away from main city of Thiruvananthapuram. Balu's daughter Tejaswini Bala was declared dead when brought to hospital while the rest three were injured & admitted to hospital.
Bala was on life support since September 25 & died on 2 Oct 2018, due to cardiac arrest at Ananthapuri hosp. His wife had major injuries, bt survived. Driver had only minor injuries. He first gave statement,Bala drove car at the time of accident, which he changed later. Driver's first statement matched with that of a KSRTC Driver, the prime witness who reached the spot. He also said, Bala was in driver seat. Lakshmi who was sleeping at backseat said, last time when she saw Bala, he was in front left seat. Contradictory statements.Nobody doubted fowl play at first. After a few weeks of silence, Bala's father submitted a complaint to DCP on 23rd Nov, 2018. Though there were contradictory statements, investigation reached nowhere & closed. Case was reopened by CBI in last week of July, 2020.
Some happenings occurred related to ongoing gold smuggling case in Kerala, which opened doors to re-investigate the case. Prakash Thampi, a coordinator of Balu's live concerts gt arrested for this case, & another coordinator Vishnu Somasundaram came under scanner. Former Minister Kodiyeri Balakrishnan's son Bineesh Kodiyeri was also taken into custody by ED for interrogation.
A closed case, now suddenly re-opened 22 months after Balu's death, in July 2020 while people were demanding for CBI investigation of Sushant. Any connection? People demanding justice for whom? For only Sush or all those poor souls who lost the battle? Have a look at this post. Yes, looks like everything is linked; Gold smuggling case of Kerala, drug mafia of Sandalwood and Bollywood and many more. Why everything started suddenly with Sush's mystery of June 14? Don't u think it's a valid question? Why everything all of a sudden before assembly elections of Kerala in 2021?
Now let me try to connect Balabhaskar with Sush based on my hypothetical theories
Yes, I am doing it based on my theories & research works. U can take it in hypothetical sense if you have not followed my recent updates of last couple of months. You may or may not agree. In this pic, doesn't he resemble Sush? Let me add as points.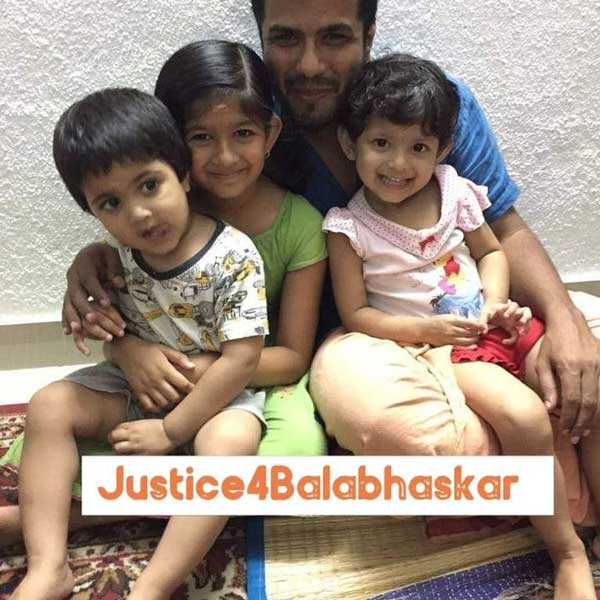 ->> When Bala met with accident in 2018, the emotional trauma we Malayalis faced those 7 days & later, can't be explained in words. We have never reacted to any celebrity death like this in past few decades. Looks like same emotions have been recreated & shown before us. Are you not deeply hurt with Sush's incident? Has any celebrity connected with you like this before he has gone?
->> The stand took by both state governments – Maharastra & Kerala look so resembling. Why both state governments opposed CBI investigation at first? It makes me remember Sush's movie Raabta, where events repeat again 🔥. Now investigation of both going just like hand in hand, everything started with June episode, as a chain reaction.
->> Bala married Lakshmi in year 2000 against his parents' wish and till 2018 they have not accepted her (I am not aware of recent updates). Also fingers were pointed against both Rhea and Lakshmi. In Sush's case too, his family never accepted Rhea, and same drama occurred again.
->> Lakshmi was accused of selling Bala's violins & Rhea for Sush's furniture. Lakshmi was accused of giving Balu's car keys and credit cards to culprits. We heard about credit cards in Sush's case as well. Rhea was also accused of stealing gold, money, laptop, credit card etc.
->> Lakshmi was present in crime scene of Bala (she was also badly injured) & Mittu was present in the crime scene of Sush. Though families of both came forward demanding investigation, silence of both these ladies got noticed. Public fully support both.
->> "Some people are alleging that I sold his violins…..
Just because Balu is no more, people have the nerve to make up stories on our relationship," said an emotional Lakshmi hitting back. Rhea also gave similar statements, when whole public stood against her.
->> "Those who have been raising the finger against me, should answer this question – Why would I do it?…" Lakshmi's statement to the media. Didn't those events repeat with Rhea since June in Sush's absence?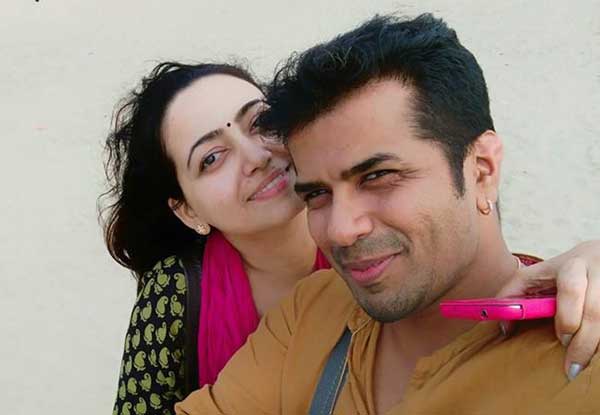 ->> Bala holds the record of the youngest composer of Malayalam film industry. After a few works, he left film industry forever because of bad experiences & embarked on a journey in fusion music, as he was not willing to compromise. Hope u can connect it easily with Sush.
->> There are videos of police moving things from car which include 44 sovereigns gold & money. But Lakshmi told, she has less than 25 sovereigns of gold. Rhea was accused of taking Sush's money, laptop & ornaments. Remember? Were these scenes recreated after almost 2 years? Why? For what purpose?
->> Bala – 2 October 2018
His father filed case – 23rd November
51 days of silence.
Sush – 14th June 2020
His father filed case – 25th July
40 days of silence.
Why both these families took a lot of time to demand for investigation?
->> All of us know, length of body taken from flat was longer. Some believed it to be a minor while a few others thought, it might be Fudge, Sush's dog. Why can't we think, those 2 were Bala & his baby recreated on June 14? Visualized before our eyes! (If you have followed my previous posts, you can definitely connect. Read: My theories on Photon's Double Slit Experiment & Duality concepts of Shiv Sakthi.
->> Here also, I got a number '7' connection. I have tried to connect events with this number and its multiples, say 14, 21 etc. Bala died on the 7th day he was admitted in hospital.
->> Bala got his child after years of prayers. Same was heard in Sushant's case too, when the family lost their single son. Sush has 4 elder sisters, and no brothers. Hope you know family longed for a boy. Mittu lost her single brother and Lakshmi lost her single child. Elder sister is equivalent to mother, right?
->> In leaked video of Sushant, we could see fingers moving & slight signs of breathing. When Balu was taken to hospital, he was very much alive. Many believe, Sush was alive when taken to hospital & something happened to him after that. Hope you have watched a few videos on Youtube. I am not taking any name specifically. Such rumors heard about Balu too. Connect the dots.
->> I strongly believe, whatever shown to us represent something and pass some message. Earlier i assumed, this pic represented Jiah's unborn baby. Some thoughts now flash in my mind – Did they show Bala & his 1-year old daughter? Or is it a representation of both these cases together? Again duality playing the game. Minors common in both cases. But people misinterpreted as some minor hidden in Sush's home, who also got killed. Yes, it's true, they depicted two deaths – a senior male and a minor child. In fact the baby was seated in Bala's lap at the time of accident (as per first reports, though changed later), and it was shown like this.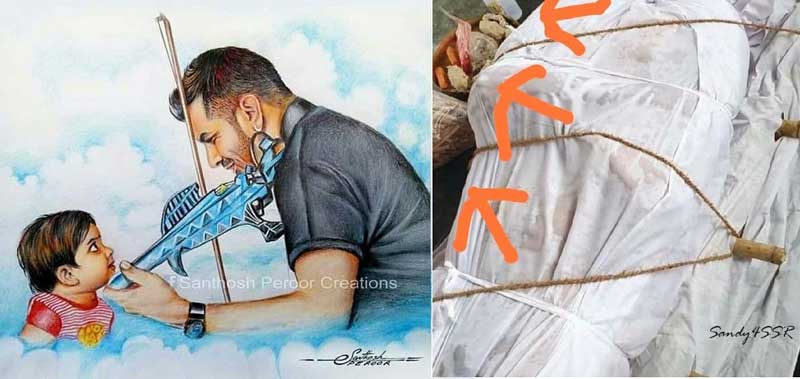 ->> Concept of duality and Artha Nareeswar playing!!
Male & Female together!
Kunal Singh & Jiah Khan
Balabhaskar & Tejaswini Bala
Also the number '7' game.
Bala succumbed after 7 days of accident & his daughter on 25th (2+5 = 7)
Read about no: 7 game. I shall post more
->> Drug mafia, political links and Dubai Connections. Are they not common in both these cases?
->> As per rumours Bala came to know about gold smuggling done during his shows outside India, & he was to expose it. When it comes to Sush, many people believe, he was to expose something related to child trafficking and minors. Events recreated? Illusion?
->> Changed statements and narrations are common in both cases.
->> Bala's incident shocked Kerala soon after the flood disaster of 2018. Sushant's incident took place during Covid Pandemic of 2020. Just like shown in Raabta about a celestial body which appears after many years, disaster also strikes twice. Is universe also helping the team for a better cause?
->> Balu was first taken to Medical College, far away from accident spot after half hour or more. A doctor later told media, he was conscious. Later he was shifted to the leading hospital of Thiruvananthapuram – Ananthapuri, where he succumbed on the 7th day. Sush was also taken to a hospital before Cooper. Also voices were heard, someone saying, Babha hospital.
->> Balu's treatment was carried out in Ananthapuri, city's most expensive hospital and the favourite spot of celebrities for treatment, mostly from entertainment industry. As far as I know, it's more expensive than KIMS hospital, another leading hospital in Kerala. Correct me if I am wrong. Cooper Hospital is also associated with Bollywood celebrities, right?
->> Though help was offered from AIIMS for Balu, someone blocked it. AIIMS was heard in Sush's case too. Balu asked about his wife when he became conscious. But what happened later?
->> The people who first saw Bala dead said that it was not heart attack, but asphyxia. Forensic report not available for both these cases till now.
->> Bala's accident recreated by crime branch on June 15, 2019 to collect evidence and remember, whole events of Sush unfolded on June 14 & 15 the following year. Right?
->> What's the role of Ankita in the plan? One of my friends – Aditi Chaudhury who got interested in my theories added a few more points by connecting dots. She suggested that she played Bala's widow. Sounds nice too; because she herself called widow after the incident. She was not present at cremation; Lakshmi too, as she was still admitted in hospital. Dipesh's role as driver Arjun (Dipesh is close to Rhea & her doctor family same like Driver Arjun who is close to a doctor family), who shares good relation with Bala's family, Pithani as Bala's friend Vishnu who is an accused too, Sooraj Singh playing the role of witness (and also Devassy who visited Bala in ICU), Kalabhavan Soby as Ganesh who claimed to saw some suspicious men outside SSR house (Soby claimed he saw suspicious people near Bala's car at the accident spot), Smita Parikh as Bala's relative Priya Venugopal who put a post on FB alleging foul play & also nearly pointing fingers at Lakshmi and Pranav as Mahesh shetty, who accompanied police all the time – Yes, everyone fit into the script, perfectly. Thank you Aditi for connecting the remaining dots. Fudge as Balu's daughter. Now how many characters left to map for Sush's biopic, one among his dreams?
->> Prakash Thampi was one of the co-ordinates of stage shows of Balu. He took care of everything when Balu and his wife's treatment was going on at Ananthapuri. Later he got arrested in connection to gold smuggling. Doesn't he resemble Sandeep who took care of all procedures in Cooper, even while Mittu was present? Now he is the prime suspect too. Lakshmi was also undergoing treatment at hospital, right? So Mittu was brought to hospital to show her presence there. Also, in Sandeep's version, when he reached the place, only Mittu was there. Same is the case of Prakash too, as Lakshmi was admitted there. May be he reached there in early morning before other family members reached. Lakshmi lost her child and Mittu lost her younger brother which literally means son. They recreated everything much before Thampi's arrest. It means everything was full planned before June 14. Otherwise how can Sandeep recreate the role of Thampi in June, when his arrest was made in July only? Looks like only final procedures remaining.
->>
Balabhaskar's wife Lakshmi in a Facebook post said that Thampi and Vishnu were not her late husband's staff members. They

Prakash Thampi was one of the co-ordinates of stage shows of Balu, & he was never Bala's manager

, she said. Sandeep was also not in touch with Sushant for many months. Yet he was the first person to reach the spot and take control of everything. In Sush's case Mittu never knew Sandeep before, same told by family & family also slammed him. Interestingly in both cases, Thampi & Sandeep took whole control of events in the presence of family.
->> Money laundering is common in both cases. Bala's family claimed that there were suspicious financial transactions in his bank account after his death. In Sushant's case, such accusations were against Rhea and her family, though it was done before June 14.
->> On June 14, we have seen a lot of people coming out of crime scene so relaxed. Everyone blamed – they are culprits roaming around. Right? When Balu was admitted in hospital, he was in ICU. Yet many people were allowed to enter the room and see him. Looks like events recreated. Yes, Balu's friends betrayed him. Exactly the same was recreated in Sushant's case too.
->>

Why different narrations by different people regarding where Bala was seated & was he driving car?
In Sush's case too, just like that hanging body seen by who & who brought it down, there are so many contradictory statements & confusions. Also, there were confusions on dupatta.
Adding a few online news bits of Bala
here.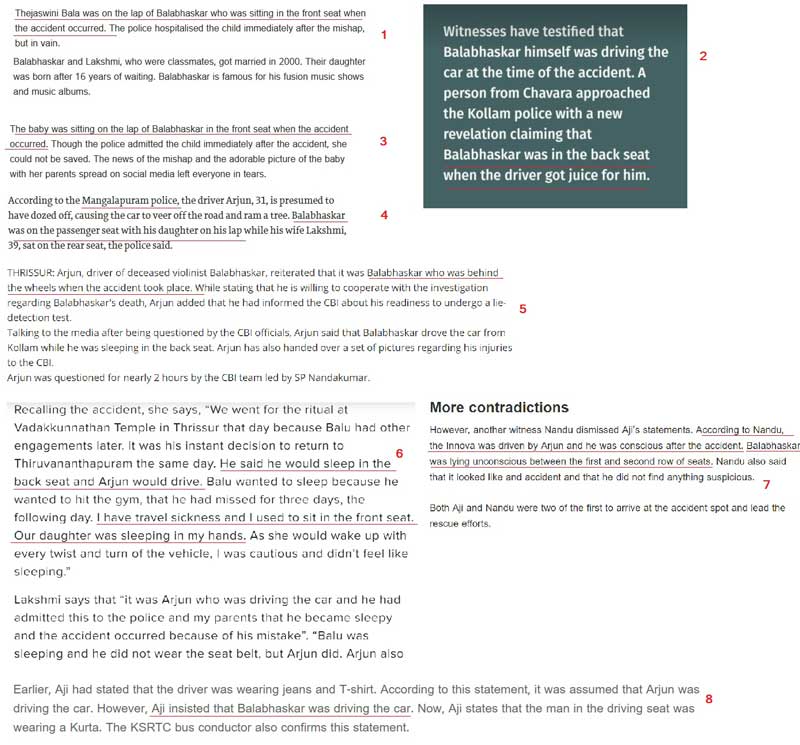 ->> Bala's accident happened in NH road, Pallipuram in the outskirts of TVM city. The injured family was taken 1st to medical college. His daughter was declared dead. But later the couple was taken to Ananthapuri. Most accident cases of TVM city are taken to Govt. Medical College. Many expert doctors of the country. But why at such a risky condition, Bala & Lakshmi were taken to Ananthapuri private hospital a few kms away in bypass road? It was under whose instruction? Let me connect Balu, Sush & hospital incident. Sush was taken to Cooper far away,instead of the nearby Lilavati. Similarly why Bala was taken to Ananthapuri far away when all facilities available in Medical College? Was Sush taken to Bhabha hospital first or a narration? Why so many confusions about hospitals & ambulances used for this purpose?
Again one question is troubling me. There are some good hospitals at Kaniyapuram, near to accident spot Pallipuram. Balu could have given first aide before taking to Medical college 11 kms away. Just like Sush's confusing ambulance tale & Leelavati, everything is mystery. Balu was brought to city, again taken back to a hospital at Bypass road. Strange! Family accused of delaying his treatment for hours. While Taking Balu & wife in ambulances to different places, what happened is still a mystery. Without knowing it Sush's ambulance puzzle can't be solved. 2 ambulances brought at the crime site. Is it simply to show duality? Or is it because two ambulances might have used for Bala while taking him to 2 hospitals?
->> Bala greeted Thampi (the prime accused) on his birthday on Sep 24, 2018. The following day Bala's accident happened in the early morning. Aditya Thackeray celebrated his birthday on June 13, 2020. The following day, we heard about the unfortunate news. How can 2 cases be so similar? There is a slight difference in my character mapping. I mapped Thampi with Sandeep & Bineesh Kodiyeri with Aditya Thackerey. Both are in custody now. Yet the fact remains same – Birthday of the suspect one day prior to the incident. 'See you soon' message for someone deceased looks so strange for me.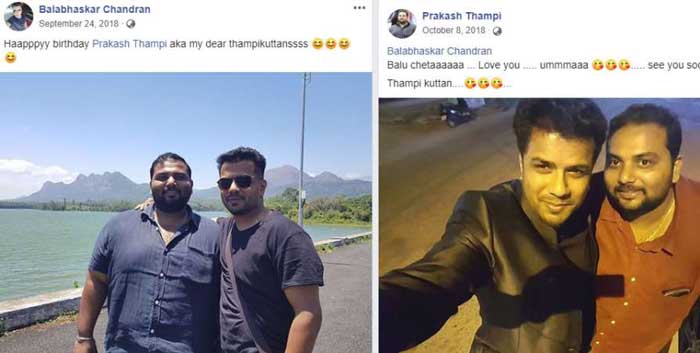 ->>
There were rumours that gold smuggling was done during foreign shows of Bala. Is it true or not, I don't know. Let CBI investigate the matter. But the same matter was recreated in Sushant's case. His meeting with a drug peddler and videos where he was seen as a drug addict – I strongly believe those scenes were recreated as short videos to show Bala's episode.
->>

In 2019, 2 men of Bala's team were arrested for gold smuggling from Dubai. Sunil Kumar was caught as he was rushing out with a bagful of gold at TVM airport. In Bala's car gold & money were found & as per rumours, it caused his death too. Hope u remember videos, where Dipesh was seen running away from crime scene with a black bag.
->> Eyewitness told, a white swift car followed Balabhaskar's car. Prime witness KSRTC driver gave statement that both the cars overtook his bus at Attingal. But after the accident that white car was not seen. When ambulance carrying Sushant's 'body' departed the apartment, a white car followed it. Yes, the same scene recreated and shown before our eyes.
->> Bala had serious injuries in neck, apart from spine injuries & fractures on legs, and his wife also had leg fractures. Remember Sushant's leaked pics? It took more than a year for Lakshmi to recover from leg injury.
->> Though it's said to be a heart attack, Bala's family who saw body first said that his body turned pale like asphyxia. They accused Thampi to switch off oxygen cylinder, while pretending to kiss him. Same as the case of Sush – pale body and asphyxia.
->> One of the shareholders of Ananthapuri hospital is among the accused of ongoing gold smuggling case of Kerala, which connects with Bala's mysterious death. Thackeray family's association with Cooper Hospital is not a secret.
->>

I was wondering why an ambulance was used to shift Sushant's 'body' to PM centre within hospital premises at night.
Bala died at late night before 1 am at Anathapuri & in the morning after 9 am his body was taken to Govt Medical College for PM. Events shown repeated in Sush. Only confusion is why it was shot twice at night. Just to represent duality?
->>

After a friend's death, who will post weird messages like 'I see you again' & 'See you soon'. Main accused Thampi's post says, "Balu brother…. Love U… Kisses….. See You Soon… Thampi Kuttan" Kuttan -> Someone we call fondly.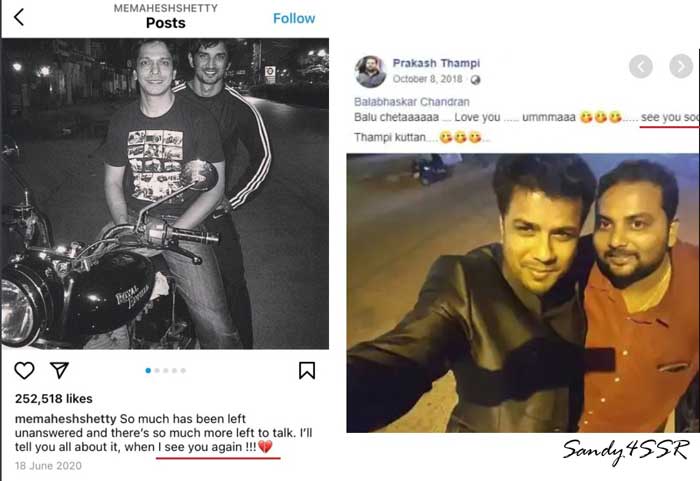 ->> Juice puzzle decoded. At around 2.30 am, a few hours before accident, Bala stopped at a juice shop & had juice. We heard juice story about Sush also – Pomegranate/Orange in morning, Coconut juice at late night. Changed narrations! What else! Scenes recreated! I got 1 video of emotional breakdown of musician Stephen Devassy at a public function 1 day after Bala's death (he visited Bala a few hours before death). He says, Bala had breakfast in morning & later had juice. Nothing told about food after that. Before accident too, Bala had juice from a shop. Same juice theory for Sush??
->> Juice theory of Bala has different narrations same as Sush. First – Arjun got out of car at Kollam, bought juice & shared with Bala. Second – Bala got out of car, drank coconut juice. When shopkeeper asked if wife wants it, he replied, she is sleeping. Third. Both Bala & Arjun got out of car to drink coffee (Lakshmi's statement).
->> When Bala stopped at juice shop in early morning at around 2.30 am, CCTV camera captured his visuals. Shop owner 1st gave statement that Thampi collected CCTV footage & hard disk was returned without footage. Later he denied this statement. We heard the same thing about Sushant too. As per narration, Bala himself went to a fruit shop and drank juice while his wife was sleeping inside car. Same heard about Sush also, who locked himself inside the room after that. When journalists visited shop owner Shamnad's house, he hesitated to see anyone and locked himself inside the room. 'Locked himself inside the room' looks striking to me. Later this juice owner too changed statements. CCTV footage of both Sush's residence & juice shop deleted. Police didn't check footage in both cases too. Why?
->> The day of ash immersing ceremony of Bala, there were issues between relatives which ended in clashes. Later his parents were taken by a relative. When relatives came at his home, the door was closed. In Sush's case too, his father left Patna soon after final rituals and went to his daughter's home.
->> One day after Bala's accident, several people declared him dead & offered him condolences through social media. An online portal was one among those. Looks similar to several suspicious condolence messages posted before Sush's tragedy declared & mischief with his Wikipedia pages.
->> When DRI seized three mobiles of Prakash Thampi, one among them belonged to deceased Bala. The phones were later sent for detailed analysis. Remember? Sandeep was accused of using Sushant's phone and social media accounts after June 14.
->>

A lot is talked about Dubai links in both cases.
Bala's associates Thampi & Vishnu made several trips to Dubai related to gold smuggling, after Bala's death.
Sandeep renewed passport & applied for visa while investigation was going on. He visited Dubai in October after 2nd death anniversary of Bala.
->>

In 2016 when Bala completed 25 yrs, he organized an event at TVM Engineering college, where 100 orphans were invited & given opportunity to 1 kid to sing. Promoting budding talents remained only a dream for Bala. Sush also wanted to promote such artists from Bihar. Bala & Sush have so many similarities when it comes to humanity.
->>

Balabhaskar did not have any financial liabilities, says wife Lekshmi. In Sush's case also when it was rumored that he was in short of film offers & money, family came in support.
->>

After discharging from hospital, Lakshmi shifted to new home built by Bala. CCTV cameras were newly installed & access given to main accused Thampi's mobile.
When it comes to Sush case, there was a controversy over EMI payment of the combined flat, which Sush left in 2016 & Anki gave her EMI
details only.
->> There is one mysterious woman in Bala's case. I read somewhere it was she who alerted him not to stay at Thrissur at night. That's why he started late night. It makes me remember Disha's night calls to Sushant, alerting him about something. Those night phone calls of Sushant?? Did Bala made phone calls to someone before he started journey? There was one mysterious woman seen at hospital also, but not sure if both ladies are same. Also I am not sure, if the role of the lady is positive or negative. May be Disha played a few shots too, because we never saw her alive, but only through videos and images surfaced later.
->> A lot was talked about a mystery girl seen in the crime spot on June 14th. The puzzle is still unsolved! In Bala's case too, there was one mystery woman who was seen at hospital who disappeared suddenly after Bala's demise. Is it the same lady who alerted him & asked to start at night from Thrissur?
->>

This point is my assumption only. I have no claims or proofs.
We have seen a mysterious person live recording the crime spot of Sush. There are claims about dark web theory for Sush.
Is it possible someone recorded live whole events of Bala & some people watched live the torture? May the events at accident spot, at hospital or both?
->> Balu's father demanded to probe the financial dealings of his son. Same happened in Sushant's case also. Right from the moment Bihar police came into action, they looked into bank statements and financial dealings of Sushant, more than probing murder angle. Balu had huge investment in Palakkad, even the family has no clear idea. Looks like the companies registered in the name of Rhea & brother done to recreate these scenes. Interestingly the family filed abitment to suicide though had original photos to prove it was a murder. In Bala's case too, accident angle was first investigated, though family was suspicious of murder angle.
->> Just before the accident, Balabhaskar had received several calls asking for his location, his father alleged. Threatening calls and changing 50 sims in Sushant's case. How can two cases be so similar? Balu spent that night in car. In Sushant's case, there is a narration that he spent nights in car fearing threats.
->> Kalabhavan Soby claimed that 5-6-member team reached in car attacked Bala's car at Mangalore-Pallipuram road, followed by another group who came in another car. (Later he failed in lie detection test). A few changed cars & all 3 cars moved towards city. Suspicious people near parked cars looks like events recreated for Sush. I have a few doubts regarding this pic also. Who clicked this photo? Looks like a professional photographer. Otherwise who got permission to enter inside the premises & take this close-up photo? As I have already caught many such 'professional' photos which are not a part of videos, I doubt if it is specially done for a purpose. Otherwise let me know if you come across any video, where all these people are spotted coming out together.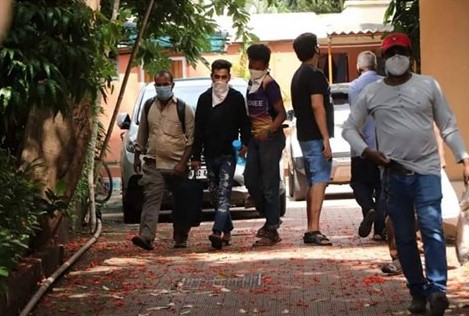 ->> The door of the car was fully jammed following the collision. As they couldn't open the door, they used a metal rod to break open & take Bala out from rear seat. Lakshmi & child were seated in front seat & Bala sleeping at back. Connect to locked door of Sush which was later broken.
->> Bala's father stated that he was not satisfied with any one of the two investigations done prior. Kerala police department had already concluded it as an accident. Same was heard about Sushant's case too, where family stated that they were not satisfied with investigation of Mumbai police. I connected the role of Bihar police with Crime branch in Bala's case.
->> 6 months before death, Balu took an insurance policy worth 82 lakh. Later his relatives accused that his signature was forged for documents. In Sush's case Rhea was accused of forging his signature for cheques & moving funds. Now, in both cases, CBI is clueless to confirm it murder. Let us wait and see.
->> After Bala's demise Lakshmi didn't attend his father's phone calls or console the parents. In 18 yrs of marriage, she never visited Bala's parents. In Sush's case too, father accused Rhea of not attending his calls, before the tragedy. After that too, they never contacted each other. Instead it was projected as a battle between family and Rhea, just as the case of Bala, mostly related to money matters & strained relationship of the couple.
->> After Bala's accident, there was an open battle between his family and his wife's family, better projected as a family court issue. Balu's relatives pointed fingers against Lakshmi & family regarding his mysterious death, money transactions & her closeness to culprits. Same events recreated in Sush.
->>

Lakshmi's silence has been noticed right from beginning & still continues. In 2019 she released an audio clip & her words were non-emotional as claimed by public & Bala's family. Rhea too was silent, later came with a social media post, claiming to be Sush's GF & released a video for which she was bashed severely.
->> During June-July 2018 Bala was going thru depression, as per cousin's statement. He was fully offline from social media those days. During his last b'day in July, he didn't even attend birthday calls. Exactly the same happened in Sush's case, where he was fully off from social media & was going through depression during last few months. I have watched one video, when Bala tells about his over weight during depression days, when he less cared for body figure.
->> Sush's deleted tweets of June 14 decoded. Bala who was fully absent from social media came live after a stage show in Hyderabad. He was crying in the FB video live, stating that he is to stop all & end all stage shows. But the video gt deleted immediately. Can't u relate it to Sush's last fake tweets which got deleted very soon after posting? Sush also wanted to leave acting and take organic farming, as per family version.
->>

As per prime witness Aji-bus driver's statement, the person in the driver's seat was wearing green T-shirt & shorts, while the person in the back seat wore dhoti. Just remembered that leaked photo! Sush's dress & hanging green dupatta! We saw
Dipesh changing clothes & wearing pants in one of the videos. Can uyou help with facts? I watched it long back.
->>

Bala was giving final touches to a huge Fusion show in New Zealand, one week before his accident. It was one among his ambitious projects, which had a fantastic line up of upcoming Indian musicians. His biggest dream to promote budding talents by celebrating his 25 years went unfinished. Now Sush's family is chasing all his unfinished dreams. He was to act in 2 films & give music for one. Sush was busy with his IT & Covid projects. A lot is talked about his projects during lock down. But proof?
->>

Singer Chithra told, whoever close to Bala could identify the changes appeared in him last few days.
Bala had many unfinished works which went missing. One of his close friends stole Bala's hard disc from studio, while he was at hospital.
A lot is heard about Sush's hard disc & d
eleted data, and also his stolen Covid & game projects, which were publically released a few months later.
->>

Musician Stephen Devassy visited Bala in ICU on 2nd Oct 2018, & spent 43 minutes. He claimed to talk to him, prayed & kiss forehead. In the evening Bala died. A few days later he called Bala's father to tell not to drag Bala's name in gold smuggling.
Rhea & Surjeet Singh visited PM centre on June 15, 2020 and spent 45 minutes. Why 45
minutes again?
->>

Bala's official fb handle is still active & so are Sush's social media a/c s. Check this post. Through Bala's fb ac, family & office staff mentioned that they are not liable for payments made in the name of charity. Hope u remember Ekta Kapoor was trolled for raising funds in Sush's name, cooking depression tales. Thanks to my FB friend, Aditi Choudhury for connecting me to Ekta Kapoor. Also if we check Bala's official twitter handle, looks like someone manipulated his following list. Why should a south Indian musician with no connection to B'wood follow B'wood celebrities more than south Indian artists? Most of them are actors! Doesn't it look strange?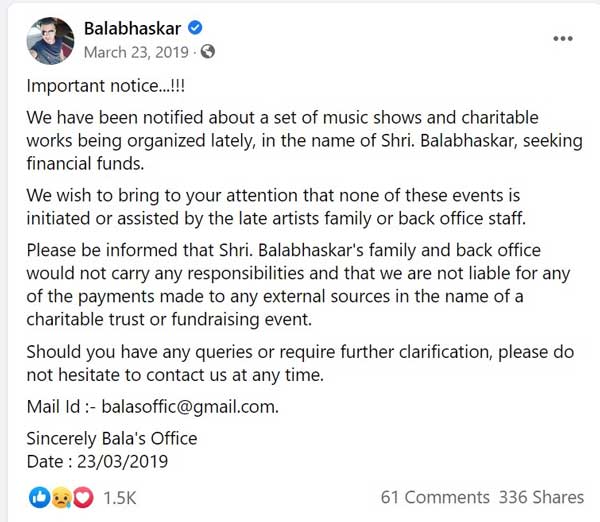 Bala's official FB id is still active & handled by his team/family. Posts have appeared in Sush's official FB page after June 14 too. Change of following lists in both cases look like events recreated. Posts have not appeared in insta & twitter pages of both. While checking Bala's recent liked posts in twitter, he liked Zakir Hussain, a few others which he doesn't follow and also fan posts; but not even a single post of these actors in following list.
->>

One year after Bala's death, 1 celebrity claimed that just 2 days before his journey to Thrissur, Bala visited him, sat quiet for a long time, silent & depressed. Bala also asked, if he was wrong. In Sushant's case Mahesh Bhatt cooked similar depression stories soon after June 14.
->>

A lot of mystery is surrounding the farm house in Sush's case. In Bala's case too, there is one Ayurveda Resort in Palakkad coming into talks always. Bala's father alleged that his late son had made investments in resort. But the friend doctor has claimed that he returned the amount. Investigation is still going on.
->>

Bala's relatives alleged that he wanted separation from his wife as she was too demanding. In SSR case same is heard; he wanted to separate from Rhea because she was spending a lot. Lakshmi wanted to finish incomplete work of Bala & Anki is to give tribute SSR through stage performance.
->>

Bala's relatives say is that he & his wife encouraged or entertained a lot of unwelcome elements into their home. That included the likes of Thampi. Rhea & family were accused of drugging Sush & party at his house, when he would sleep. Also many people stayed at Mount Blanc.
->>

Who is this Bala mentioned in the chat of Smita Parikh? I am trying to decode this chat. I felt like they are mentioning Balabhaskar, not Bal Thackeray. Definitely a dead person. So I can't connect with any other Bala Saheb. I got one strong reason to believe so. Thackeray's birth anniversary is on 23rd Jan & Balabhaskar's on 10th July. And this chat on 11th July, Sat & which falls on 2020. Bala's father says he invested money in this resort, but the doctor couple who owns
it denied saying, they have repaid the money given by Bala.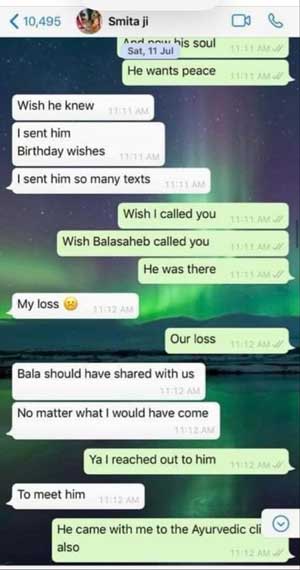 Continuing with the above chat between Smita Parikh & Rhea. I mapped Smita with Bala's cousin & Rhea with Bala's wife in my hypothesis. If we assume it as a fictional chat, 1 day after Bala's birth anniversary they are chatting like this, expressing their sadness about his loss. I have already told you, Bala was going through depression during his last b'day & didn't attend any calls. His cousin might have called him, which he didn't respond. She wishes if he had shared with them his personal agonies. Wife responds, both visited Ayurveda resort run by doctor couple. Phrases like 'Our loss' & 'He wants peace' clearly suggest this person is no more & his soul wants justice. Is it possible Bala has met or missed meeting with a few at Ayurvedic resort, Palakkad, which can be mapped as farm house of Sush. (But I have no claims, just assuming).
->> Emotional bonding between Bala & his daughter. Was it recreated through Sush & Fudge? We also got emotional attachment to Fudge soon as the accident, when we heard about his death rumours. Right? Rumours of presence of Fudge at crime scene makes me think so. Bala used to play hide and seek with his daughter when he comes home. She used to hide behind door. A hide-and-seek video of Sush and Fudge was also released.
->> Most important. Bineesh Kodiyeri, son of influential politician Kodiyeri Balakrishnan has been taken into custody by ED for interrogation related to ongoing gold smuggling case in Kerala (arrested later), which connects to Bala's case too. Needless to say, Kodiyeri is a powerful politician. The stand of Kerala police and state politics in Bala's case have been controversial. A lady from Bihar claimed that Binoy sexually abused her after giving a fake marriage promise and they have a child in this relationship, and she demanded for a DNA test. How does it look too similar to Sushant's case, when we take Disha's name? In the crime spot, fakes of Pancholis were fixed. Was it to misguide the investigation? Is it a metaphor of Kodiyeri father & son duo?
->> In both cases, father filed complaint about suspicious financial dealings. Bala's father also stated, police had never recorded family's statement, same repeated in Sush's too. Kerala CM had to intervene & transfer the case to the crime branch. Patna police filed FIR on Bihar CM's insistence.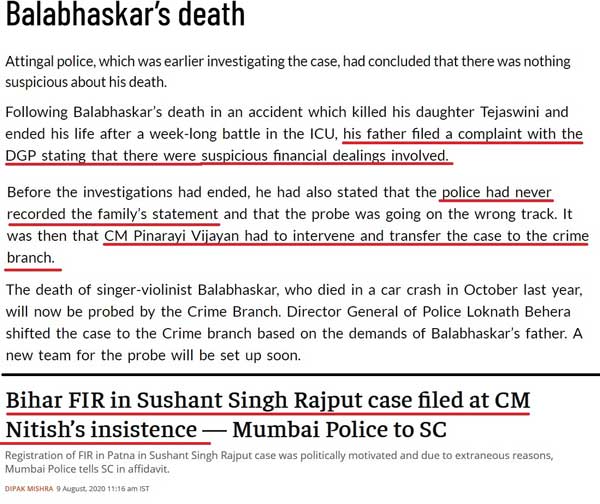 ->> In major departmental reshuffle in Feb 2019, after death probe of Bala began, Anilkumar T, District SB, Alappuzha, was promoted as DySP of Attingal who later carried out investigation. Sush's brother-in-law appointed as Faridabad Police commissioner this July.
->> Thampi took control of everything not allowing family to involve & took injured Bala frm MC to Ananthapuri. As I have mapped Thampi with Sandeep, Sandeep showing 'Thumbs Up' shows Thampi's closeness with hospital & staff. Also a lady staff touching him was shown, indicating closeness. Everything shown to us through media.
->> In an FB post given by Bala's relative Priya Venugopal, she indirectly points fingers to Lakshmi and accused her of keeping Bala away from his family for many years. Sushant's family also accused Rhea for breaking his ties with family. Bala has one elder sister Meera suffering from prolonged illness long before Bala's marriage in 2000. As per Priya's FB post, Bala & Meera shared a unique bond, she was shattered with Bala's sudden marriage and they talked after many years, just a few days before Bala's death. They talked for a long time clearing indifference. Sushant's cousin's wife Sudha Devi who was suffering from prolonged illness died soon after listening to Sushant's tragic news. They shared bonding of siblings. May have brought slight changes to the script! If you have any dead pics or other information to share, please let me know. That FB post looks too similar to Sushant's story, I don't know why. It's also told in that FB post, Balu has visited a doctor because of depression. In fact, Balu has told about his mood swings in interviews. Except that FB post, I am in search of some authentic links to prove this fact, because depression story & doctors' visit have been retold in Sushant's case. To add, in February, Sush met sister Rani and brother-in-law OP Singh at a Mumbai cafe – their last meeting together. Looks like Bala's last meeting with his elder sis recreated.
->> It was alleged that Lakshmi was involved in arranging gold smuggling and Bala tried to bring restrictions. Exactly the same was heard about Rhea. It was alleged that she arranged drugs for Sush and others & a few drug chats were also released.
->> Lakshmi belonged to a poor family, while Bala's father retired as postal master in the city. Bala's family accused that she was greedy & Bala had to afford extra expenses. Bala bought a Benz car & paid 25K rent for his apartment in the city 12 yrs back. Same was told about Rhea also.
->> Pooja & black magic have been mentioned in Sush's case. Bala's family had a ritual at Vadakkumnatha Siva temple – a Koothu offering, for which they reached Thrissur. Bala's accident happened in return journey.Though I couldn't find any black magic link, Pooja for Shiva is similar.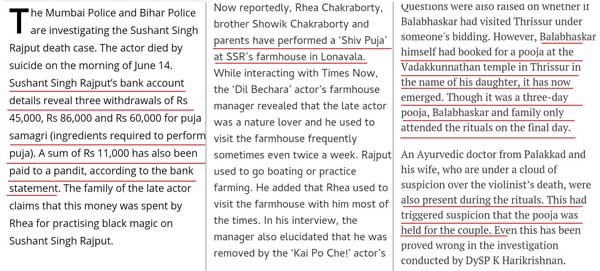 ->>

Bala's relatives accused that culprits used his income as capital to start gold smuggling business. After his death, Lakshmi told his father never to look into financial angle & can look into other matters. As per rumours, Sush invested whole capital for companies started in name of he, Rhea & Showik.
->> On an interview, Rhea said she was struggling to pay EMI of ₹17k for her flat! Always she has been compared with the superstardom & lifestyle of Sush, as if dating a rich man is wrong. Lakshmi was born into poor family. She is accused for her over expenses, as if being Bala's wife, she can't do so, because she came from a middle/lower class background.
->>

After Bala's death, CCTV camera was fixed in Lakshmi's home. She gave CCTV control to Thampi's mobile. Why? Also, while Bala was admitted in hospital, she gave his car key, mobile, laptop everything to his friends. Was she threatened?
In Sush's case, who got control of CCTV
footage and others?
->>

When Bala was fighting for his life in ICU, some posted dirty jokes in social media. Double meaning jokes like, he can have kids when he comes out of hospital. Many jokes, I cant say in public. I went fully upset reading a few. Same, Sperm theory of Sush, how some people made it a joke! Credits – My FB friend, Aditi Choudhury.
->>

Do u remember a painting mentioned by Rhea, a man eating his own children, after which SSR developed mental illness as claimed by Rhea. Does this painting indicate Lakshmi? Destroy her own family? We already know, Bala's family accuses Lakshmi for the crime.
Credits – My FB friend, Aditi Choudhury.
->> Bala's car was attacked at around 3.30 am near a petrol bunk, before all cars headed towards city. In Sush's case there are rumours, he was attacked by people at late night, tortured & later dragged to upstairs. Samuel Mirinda at crime spot – Does he represent PS Sarith, as told by eye witness Soby?
->>

Why a diamond ring in the script?
In an interview given by Sush in 2018, he told, he want to steal Ekta Kapoor's diamond ring. And we knw, they shared an amazing relationship.
Bala's relation with Ayurveda doctor has been in scanner. Reportedly the doctor gifted him a diamon
d ring.
->>

In Bala's case, the doctor took lakhs of money for his hospital construction & son's studies abroad, thus financially exploiting him.
Rhea's father is also a doctor. As per rumors Rhea's family financially exploited him for Showik'
s education and tuition fees too.
->>

Driver Arjun claimed that he had to bear a expense of over Rs. 1.21 crore for treatment & filed a petition, demanding 1 crore as compensation. Dipesh Sawant filed petition against NCB, demanding Rs 10 lakh as compensation. Remember, in my theory, I mapped Arjun with Dipesh.
->>

20 lakhs was transferred to Vishnu's ac after Bala's death in Oct/Nov from a Bangalore-based company a/c. 20 or 22 lakhs was found with Dipesh – a close friend of Sush's family said in June. Kindly note, I mapped Vishnu with Pithani. Need to work more on money transactions. Will post more.
->>

Musician Devassy delivered an emotional speech in a public function, one day after Bala's death. 3 months later, he gave a musical tribute, in presence of Bala's father in the capital city & also performed Bala's signature tune which he tuned for Soorya Musical Festival. It was the first public function attended by Bala's father. Adhyayan Suman paid a musical tribute to Sush thru the cover version of 'Jab Tak' song. Interestingly, both chose the most popular song of the artist.
->>

As told before, Bala was to perform at his biggest international event a few months later in New Zealand & was planning for his international debut. Winning a Grammy was Balabhaskar's ultimate dream. It connects with Sush's Hollywood dream debut in 2021, as noted in his diary.
->>

Last person to whom Balu talked over phone was his pgm coordinator Thampi, rumoured to be his manager. Last call attended by Sush was from a talent manager.
->> Balabhaskar's case was taken over by CBI on July 30, 2020 and the same scene was recreated in Mumbai the following month. CBI took over Sushant's case on Aug 19. Most scenes from ongoing investigation in south India have been recreated in Mumbai later. Let us hope shooting will end soon and Sush returns back. Yes, sometimes visualization/recreation is essential to make public feel the pain. Yes, why are we silent always? What we didn't do for Bala, we did for Sush. Perhaps Sush wants to teach us, this simple lesson – Our responsibility to respond. This pic says a lot. Actually, it's the fight of justice for Bala, but given an illusion of Sush. Duality again!! As per November 2nd week updates, Bala's case and Sush's case going in same direction now. CBI saying Bala's is accident. About sush too, nothing to prove murder angle. A little scared. Praying for his safe return.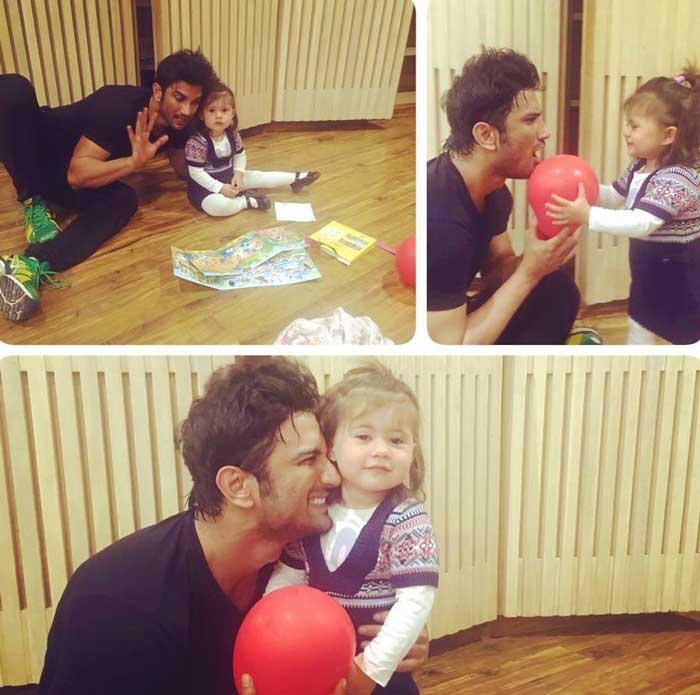 I decoded these pics uploaded by ambulance driver Akshay Bandgar
All these pics appeared in two Facebook accounts of the ambulance driver. His accounts are genuine or fake, I don't know. But many people have been trying to decode these pics based on their knowledge. I am also trying from my side. And I am 100% sure, I am the first person to connect these pics with violinist Bala whose accidental death in 2018 is still a mystery. Also, I believe I am the first person to find connection between Sush and Bala. (Connecting Sush's organic farming in Kerala & Karnataka). Being a Malayali definitely helped me to find links easily.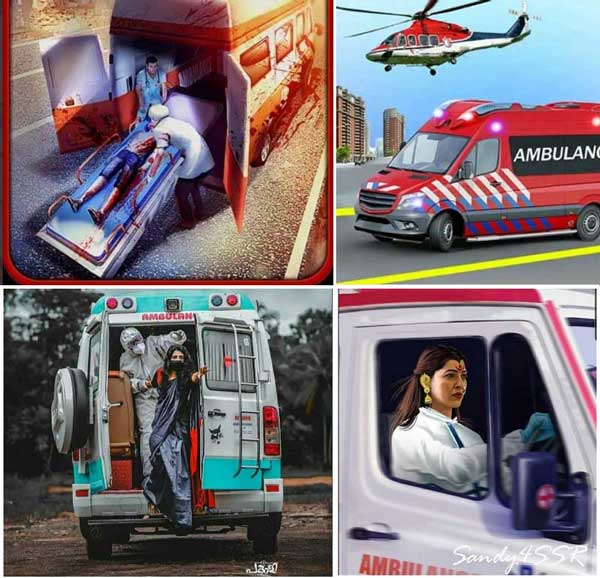 Finally I decoded these pics. Everyone tried to connect the pics with Sushant. That's why they failed. Being a Keralite, I decoded it easily, after finding the link of Sush with Kerala gold smuggling & Bala. It's not Sushant. Four pics in short words. I shall describe it below.
1. Balabhaskar, soaked in blood taken to hospital from accident spot
2. They are observing him throughout the journey. Yes, everything is under their control and they are aware of everything.
3. Devastated wife Lakshmi who lost her husband & only child. Malayalam word Pankaali – PARTNER gives Kerala links.
4. Gold smuggling's prime accused Swapna in driver's seat wearing gold.
Let us take the first pic.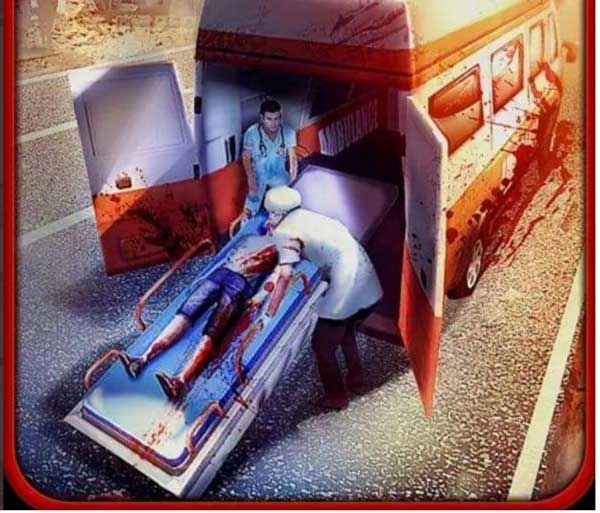 Doesn't it resemble the accident spot of Balu? The artist is fully in blood and being taken to hospital. Check the background. Accident took place in outskirts of TVM city on NH road when Balu was returning. As I belong to same city, I can easily connect with the place shown in the pic. Look the place looks isolated. But in the last few years, a lot of construction in going on in bypass road leading to Kovalam. Looks like the same pic also depicts some ongoing construction. I can check facts and add later. There was a black car shown near Sushant's flat too, with broken glass. Hope you remember. May be to show link with Bala's car accident!
Now let us move to this pic – Masked lady in black dress.
A 19-yr old Covid patient was raped by 108-ambulance driver in Kerala on Sep 7, 2020. This pic was clicked & used for campaign in Kerala. Ambulance driver Akshay uploaded this pic on 19th Sep, indicating the age of girl? Why should he support a protest against woman abuses in Kerala? His public image is not good right now, right? Again no: 7. Doesn't it resemble this ambulance of Kerala? (Colour code of 108-Ambulance is red). It could be a representation of Bala's wife Lakshmi & her situation, where she was silenced like this by culprits. If the picture not connected with the unfortunate rape case of Kerala, it can be a metaphor showing Sushant case's link with Balabhaskar & Gold smuggling case. Background with coconut trees and caption in Malayalam (decoded as companion or partner) is sufficient. We saw many people dressed in black on June 14. Right? Black always depicts sadness & death. Lakshmi shown in black, not in white. Yes, Bala was alive then.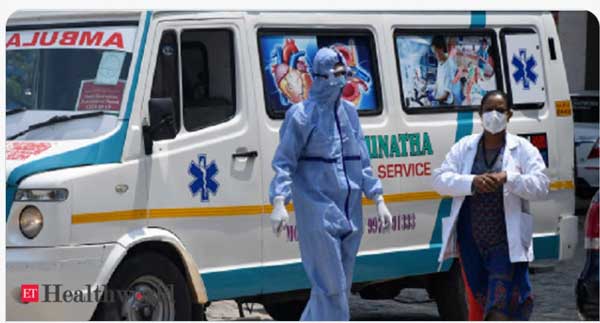 Akshay Bangar was seen wearing gold chains in one pic. If it's believed to be his original account, why should he post these photos? How can a culprit behave so strange, giving such clues? Logically he should hide. Right? I repeat. Everything shown before eyes on June 14 & 15 is just Drishyam unfolding. A shooting using a script taking inspirations from crimes happened before. Jiah & Kunal Singh's plots used to create scenes, room etc & events before it. Read those connections too, which I decoded – Kunal Singh & Jiah Khan. Bala & his daughter's deaths were shown to us on June 14 and 15.
Decoding this 'helicopter' pic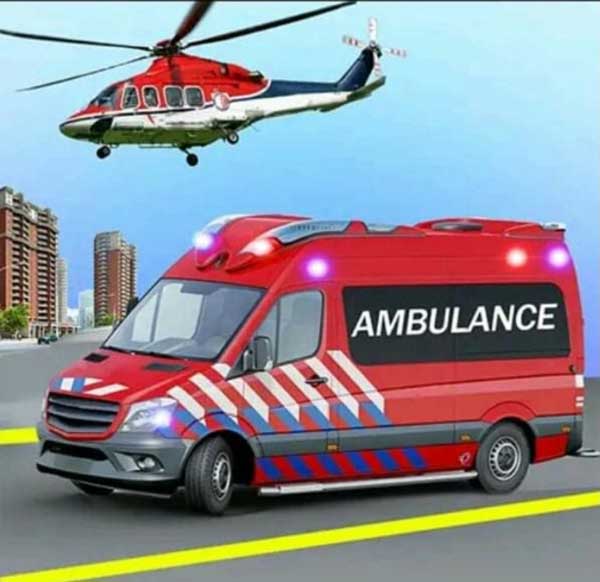 Yes, everything happened in those 7 days was under someone's observation, perhaps right from the moment he started journey from Thrissur at night. Even while taking injured Balabhaskar to hospital, he was under someone's observation, who controlled whole events. Background suggests city, and it's Thiruvananthapuram. Flats in the background hint TVM city. Some people tried to connect Sushant with air lifting. But it's not true, because all these events shown happened two years ago in the capital city of Kerala. Like Balu I also belong to Thiruvananthapuram, and he started his last journey from Thrissur, where I have been living for last few years. It hurts more. Also the colour code of vehicles indicate Dubai & gold mafia connection.
In Sushant's video on June 14, we can see a photographer inside the frame everywhere, both during day and night shooting. Logically he should be out of frame, but he is inside. Why? Does he symbolize eye witness of the whole event of Balu? Interestingly he was not present at funeral on June 15. Why? Because he was an eye witness present at the location, perhaps he has some strong video evidences. So, I assume, he is also an actor who took the role of a photographer.
The lady in driving seat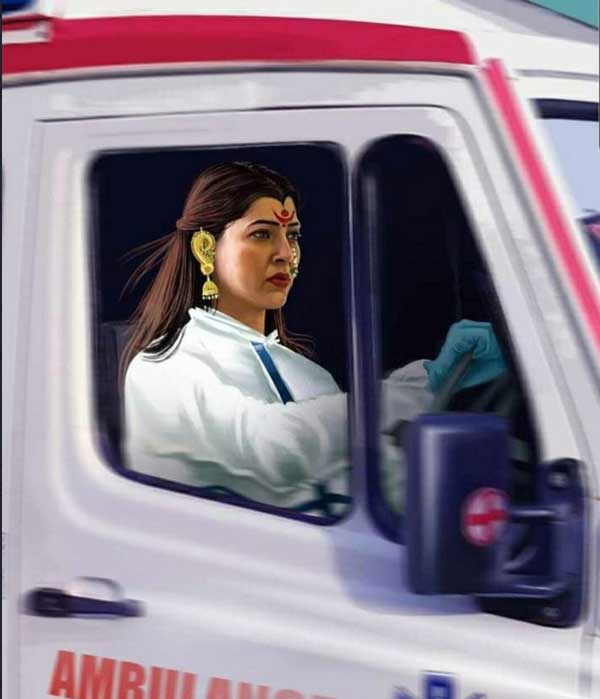 Bala's case was reopened by CBI when one person present at crime scene became an accused of gold smuggling case. See the lady in the pic, wearing ornaments & in the driver's seat of ambulance. I believe it's Swapna Suresh who fully controlled gold smuggling chain within Kerala and with neighbouring states. She is in driver's seat. It means she is in full control of everything, even while the ambulance took injured Bala to hospital. She is wearing heavy ornaments, which symbolizes gold smuggling (may be in vehicles also). Her Bindi looks different. Someone told me she uses Maharastrian attire. The Real Tai? We heard it in the leaked video of Rhea. Right? Representing the evil!! Did Rhea depict this evil Tai who controls the entire mafia? Remember that video & dialogues? (It seems like Rhea portrayed all evils combined – Swapna & evil side of Lakshmi as accused by family, and Ankita portrayed the positive side of Lakshmi).
In Sush's case too, ambulance & its driver played an important role & under public scanner (looks like he represented evil). Yes, everything started from Kerala, then moved to Karnataka and finally to Maharashtra and Bollywood; Yes, she is currently driving. Yes, strong connections and everything is linked – Tagline of Sushant's film, Raabta. Did Swapna visit hospital after PM of Balu was done? Did she tell the dialogue, 'Sorry Balu'? Was it recreated through Rhea, where she told, 'Sorry Babu'? Rhea used to call Sushant as Babu. Was it representing Balu? That change in letter – 'b' can represent Balabhaskar also. As Rhea is of Bengal origin, no one picked the clue. Babu is a common word to address males in Bengal. I read somewhere, though Balu was in ICU, many people were allowed to enter it. Possible, Swapna visited him before or after death.
A few more thoughts coming to my mind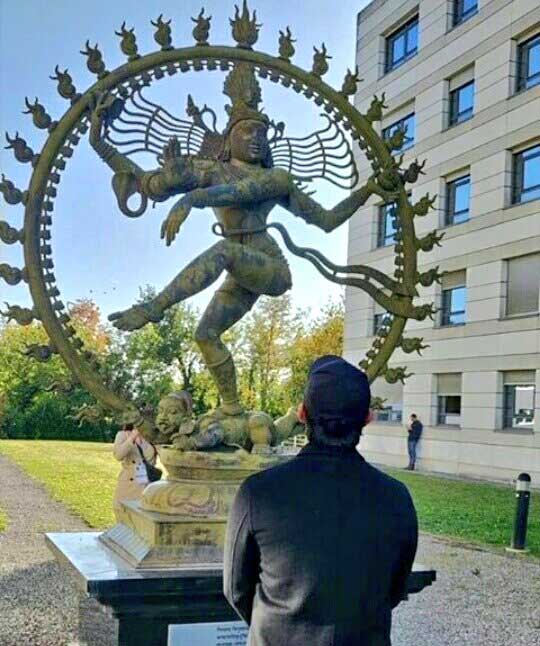 Fake Mittu puzzle has been most confusing for me. I have been trying to decode it, last few months. I was sure, the day this puzzle is solved, I will get answers to most of my questions. Why they used a duplicate sister at crime spot? After I found very strong connection with Bala, I have reached certain conclusions. They are my speculations and may not be true. Yet, I put forward my hypothesis.

When we saw emotionless sister at crime spot, at least a few might have thought, why she is not crying? How can a sister be so emotionless? Is she involved in the crime? Suddenly a thought arises in our mind, 'No, No, How can it be true? Sushant is the single brother of 4 sisters, and they got him after a lot of prayers.' When it comes to Lakshmi, many people pointed fingers towards her. Yet if we think logically, 'How can a mother kill her single child? The child which she got after 17 years of prayers! Impossible!'. Everyone of us can only ask this question. Looks like same scene recreated. And to make people more suspicious and recreate Lakshmi, a fake sister was planted in the crime scene. Interestingly both remained silent throughout and public supported both. Also in both cases, it was not highlighted much. At first I thought, to plant a non-emotional sister was a failed mission. But now only I could connect Mittu with Lakshmi. Yes, it was scripted and done per plan to create doubts purposefully.
In the third week of August, I decoded the basic logic of the puzzle, though things like duality, similarities with Dil Bechara & Raabta, Drishyam plot, and taking inspirations from crimes happened before, such as Kunal Singh & Jiah Khan were decoded later. Now only I got the connection with Kerala's political scenario and connections to upcoming state assembly elections in 2021. I have told in my previous posts too, many crimes occurred before in India have been created and visualized before the public. Same emotional trauma has been recreated as well, which we failed to give to less-popular artists before. When it happened with popular actor Sushant, it directly connected with hearts. But why it never happened before in Bollywood, when dozens of pour souls lost their lives? Was it purposefully shown before us so that our hearts also face similar emotions?
If all scenes are recreated, definitely it needs a strong script, actors and other crew. Everything done was a shooting as far as I believe. If my logic is correct, the whole people, who media and public blamed till now – Rhea, Sandeep, Pittani, Dipesh and others worked for Sush only, to complete his mission for a big operation in association with central government. I decoded Rhea (and other crew including Sandeep) puzzle in 3rd week of August, though I never told in any public platform. Expressing my thoughts for the first time in a public platform. It's up to you only to believe or not! Also, though dead news of many people associated with Sush were heard, none of their dead photos are available in public domain including Disha Salian. Why? Are they all a part of a big mission? Will they appear in public along with Sush, when the mission is complete?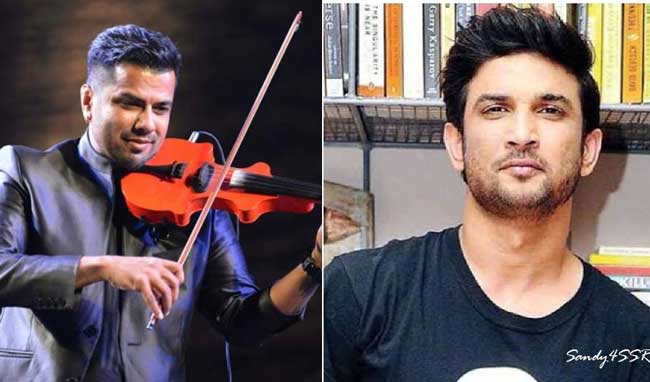 It's for the first time, I am fully expressing my views, which is contradictory to public's view. I have been carrying these thoughts since last week of August. I know, it's hard to digest. Yet a very few logical questions. Why did Sush leave his favourite telescope at his farm house? Why didn't he bring his other favourite and expensive items to his rental home? Why he chose a shooting location as new home? Why he rented one more apartment for star gazing? Why four apartments were taken together at Mont Blanc for just two people? Also, everyone believe, Sushant was fully busy with his projects during Covid season and he set up a team too. If he was into drugs and under the control of Rhea and family, how is it possible? In the pic, you can see Sush's expensive telescope & the one shown in 'paper plane' video. Why he brought such a cheap one to his rental apartment?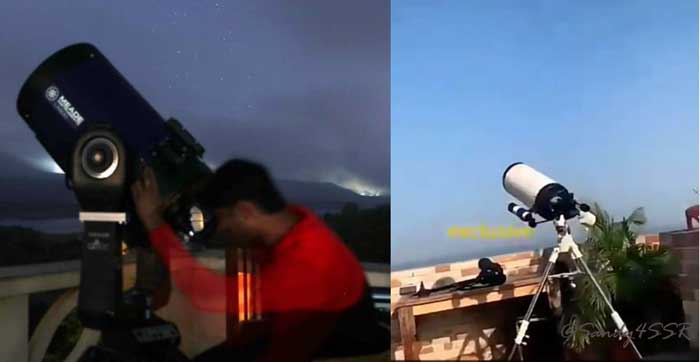 Some people believe in 'Alive theory', but never believe, Rhea actually helped him. How is it possible to execute such a big plan and escape, when Rhea was fully controlling him? Is such a shooting possible for two days? (I missed June 14 Shooting – Rhea's post). If you believe it's not a film shooting at all, why events repeatedly shown and shot, and photos appeared in public domain look different from videos? Sush is a very intelligent person, a true genius. Is it easy to dupe an intelligent person, give him drugs and take away his money so easily? There are many influential persons in his family. One of his sisters is in Mumbai. So, it's hard to believe, none of them come to his rescue, after complaint to Mumbai police was not taken care off. Check the body language of people who appeared in funeral. Why are they so cool? Why family brought huge baggage for cremation?
If you still believe Rhea never helped Sushant, give me one reasonable answer to this question – Why didn't she expose fake Mittu? They have together attended a meditation course early that year. Yet she couldn't recognize Mittu in the mask? Unbelievable! Some people may argue, Rhea didn't see Mittu on both days. But she has seen Mittu's pictures with Sandeep, right? Yet she couldn't notice the difference? People believe she is a fake girl who lies a lot. If she has at least a simple doubt she can take chance and raise finger against Mittu. Now science is so advanced that faces can be decoded from masks as well. Yet Rhea didn't do it. It gives only one conclusion – She is with family only, acting her part in drama for a very big task. She has faced so much humiliation, yet she did it. Rani of Dil Bechara? She is the daughter of an army personal, and how can she be in wrong side? Looks strange! She was brought up in a military background, as a courageous girl & she represented all the women evils combined!!!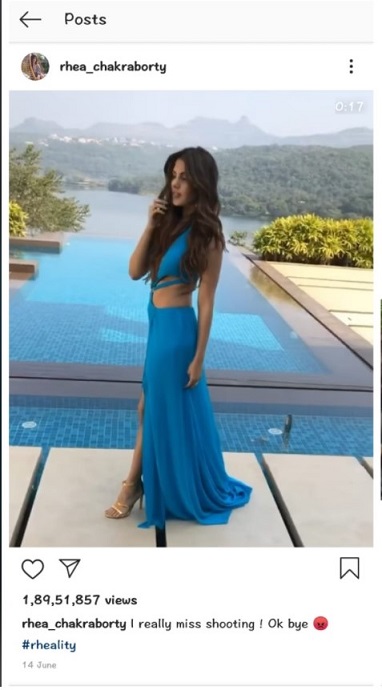 Do you believe the person appeared in cremation video is Sush? If you believe in alive theory, try to connect all these points. You will get an answer. If you reach another conclusion, please let me know. I shall work on it. Sure. Yet there are a few thoughts which disturb me. How, the political story of Kerala recreated exactly the same in Maharashtra, without the knowledge of government and Mumbai police? Was Mumbai police not aware of shooting of June 14 & 15 with dupe police? Were they made memes? Also, how Mahesh Bhatt served depression story soon after the news broke up? Was it scripted? He is close to Rhea, which makes me confusing. I need to find reliable answers with logic. Another confusion is with Karan Johar, who released movie Drive on Netflix on November 1, 2019, state's origin day of both Kerala and Karnataka. His dupe with mask also surfaced online, and he came with statements similar to RGV (in Jiah's case) following June 14. Was it scripted or mere co-incidence? I failed to decode this mismatch too.
Is everything a Drishyam or visualization of events?
If everything shown before us is a visualization of events happened before, whatever happening in Mumbai right now is a scripted drama? On Aug 25, fire broke out at govt secretariat of Kerala & Opposition alleged that it was purposefully done to destroy evidences of gold smuggling. On Sep 21, fire erupted at Exchange Mumbai's Exchange building that housed NCB office investigating drugs case. Interestingly second floor caught fire in both these cases, and none was injured. Why events are repeating like this, one after another? Again the number game – 7, 14, 21. If such an event happened in Kerala/South India can be repeatedly shown in Mumbai, it's possible, everything shown before our eyes is a recreation of events happening now also.
Year 2018 Oct 28, Rahul Eswar who spearhead Sabarimala movement to protect culture was arrested by Kerala police for the second time. Year 2020 Nov 4, Arnab Goswamy who spearhead media movement demanding justice for Sushant was arrested by Mumbai police Oct 28 – Nov 4. 7 days, why no: 7 game again? Arnab was released exactly after 7 days too. BJP Kerala General Secretary K Surendran was taken into preventive custody on Nov 17, 2018 & released on Dec 7. Surendran alleged that he was assaulted by police, not given water, food and medicines. He charged that arrest was politically motivated & a retaliatory action by state govt. We heard similar dialogues by Arnab too. On Jan 2, 2019 Kerala police with the support of State government, took two women in their mid 40s inside Sabarimala temple in the early morning. They also captured the video in mobile phones & released later. Armed police was in full uniform though it's not a common inside sanctum. Though devotees did peaceful protests chanting 'Swamiye Saranamayyappa', they were welcomed with arms and lattis by Kerala police, and many were taken to custody including several prominent BJP leaders. Even children were harmed. Full chaos in the state like Emergency period. We heard Arnab saying, they harmed my child. Looks like Raabta & Drishyam combined., How can events happen the same? Arnab was arrested after 7 am. Again duality and no: 7 playing together, just like he released after 7 days. Arnab arrested in connection with a 2018 case; the same year of Sabarimala agitation. Police van's windows were covered with black screens. 2 years back when Rahul Easwar was taken into custody they put him in a tractor & covered him with a tarpaulin, claimed his wife in FB Live. A twitter friend Nisha decoded this Arnab puzzle, linking to Sabarimala. I just connected with my theory of number 7.
In my theory, everyone present at crematorium is a part of this mission for a better cause. Links to Bollywood happened through Vivek Oberoi. Are you 100% sure it was not scripted? Was drug mafia of Sandalwood shown through Bollywood celebrities? Why Malayalam entertainment industry and Bollywood turned silent after the death of these two celebrities, though came up with crocodile tears? Two Kannada heroines were arrested related to drug mafia, and many Bollywood heroines were interrogated by CBI related to drugs, Right? Was it a recreation of scenes only? Is it possible whole Bollywood is shooting happenings of south Indian film industry because we know it well, I believe, whatever shown in front of our eyes since June is Drishyam, a visualization of events happened before. Swapna Suresh and many of her associates have been arrested, also related to drug mafia. Is it shown through Rhea, her brother and others? Swapna was granted bail first on October 5, though not released. Rhea was given bail & released on October 7. Swapna finally received bailed on 13th. She hid in many places before arrest, and the same was heard about Rhea too, before arrest. Now nothing is heard about drug mafia of Bollywood, looks like shooting is over.
Disclaimer: I have prepared this post based on my research work and theories. I just put my facts and made a few theories, which are subjected to change once investigation completes. It's my personal opinion only, and nothing to do with ongoing investigation. It's up to you to decide, to believe or not. Just try to connect the dots and reach your own conclusions please. Just I am trying to find more solid proofs to prove his existence. When everyone fight for his justice, I fight for his existence, which make me different from others. And I know it well, it's very hard to fight for a living person, than for someone who is no more. May Lord Shiva who connected me with Sush, guide me.