The theme of Incarnation – These Bollywood movies can be connected by a single string
Karz, Khudrat and Om Shanti Om – three movies are connected to a single film in many ways – Madhumati! Bimal Roy's Madhumati can easily be tagged as 'Mother of all incarnation movies of Indian Cinema'. Not only did it influence many Indian film directors to make movies in this genre, it also influenced West to make many movies and TV dramas based on same theme.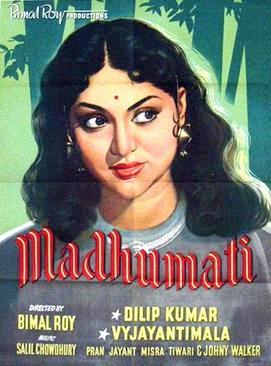 How many Indian films have drawn plots from this iconic movie starring Dilip Kumar and Vyjayanthimala? How many direct remakes have been made for this film? Infinite – could be the answer! Yes it is. The idea of rebirth has always created curiosity among readers and it's very often successfully show on big screen as well. Mix of fantasy, romance and revenge saga with good script and music showcased Madhumati as one of the biggest hits of Bimal Roy. Also, though dozens of Indian films have made on the subject of incarnation, no movie can beat Bimal Roy's Madhumati, and I am dedicating this column to the mastermind behind this iconic film whose 50th death anniversary is being celebrated in 2016.
From Karz and Khudrat to Om Shanti Om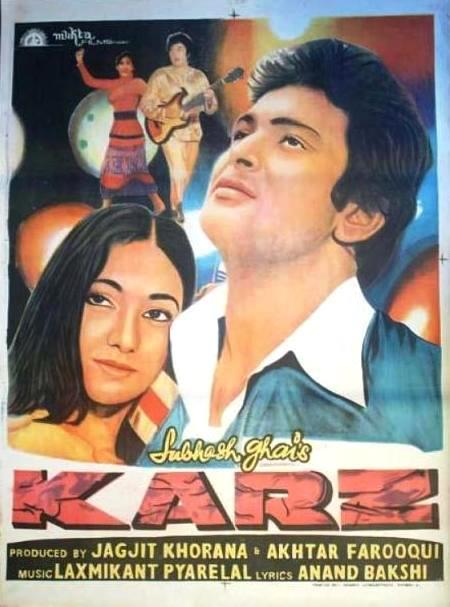 Many discussions have already been made about Om Shanti Om and its second half 'inspired' from classic Madhumati. Though the original plot was taken from Bimal Roy's classic, the film producers and the director Farah Khan didn't give credits to original screenwriter. In fact there are some striking scenes in Om Shanti Om that can be tagged as 'direct lift' or 'true inspiration from past'. Helping hand given by the look-alike of the lead heroine to trap the culprit, disturbances done by the ghost so that she cannot reach the site in time and the ghost taking revenge are among the different colours of 'true inspiration'. Ghost flees off the scene after letting know the hero who she is. Also the incarnation of lead heroine played a theatre actress/film actress in both these movies; Vyjayanthimala – a theatre artist and Deepika – a film actress.
Karz took the plot of revenge saga through incarnation from Madhumati. That's how both the movies are linked to one another. But the movie made some risky attempts such as new face for second birth which is definitely a fresh idea, and this single idea carried the movie script with ease throughout the film. Though the movie inspired from Madhumati in story idea, everything has been rebuilt and presented in a new way such as female antagonist, and that's why the movie became extremely popular among movie buffs and still watched repeatedly on television.
But I feel Khudrat is Madhumati rewritten with a few changes. From rural village set up to climax scene and the suicide of the lead heroine, I got strong shades of Madhumati. All these four films had romance as main theme also.
Khudrat– The movie best inspired from Madhumati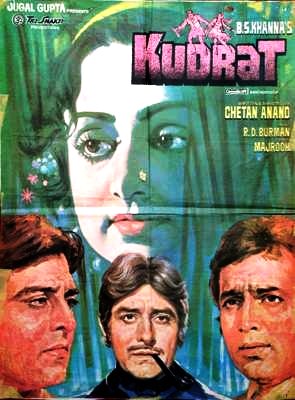 There are many scenes of Khudrat which closely resembled Madhumati. Heroine of first birth played a village belle in both these versions, and whole story revolves around the disappearance of her, a crooked landlord/employer who has a bad eye on heroine, hero's tireless search for his beloved and both the lead actress characters too commit suicide from a building after assault. Climax scene is very much inspired from Madhumati. Khudrat takes a few plots from Karz also.
Apart from traces of Madhumati, Om Shanti Om too takes a few scenes from Khudrat such as hiding of heroine's corpse inside building which gets retrieved in the film climax. Same scene is the climax of Madhumati as well.
Lead actors played double role in Madhumati, Khudrat and Om Shanti Om
In all three revenge sagas, lead pair takes rebirth. In Madhumati, Vyjayanthimala played three roles, while Hema Malini and Deepika Padukone played double roles in Khudrat and Om Shanti Om respectively. In Madhumati, Khudrat and Om Shanti Om, heroes too play double roles. Dilip Kumar, Rajesh Khanna and Shah Rukh Khan – all-time three great stars of Bollywood played these three roles respectively. In Karz, hero takes rebirth and both roles are played by two distinct actors – Rishi Kapoor and Raj Kiran. The movie was also treated in a new way. While male actors portrayed antagonists in Madhumati, Khudrat and Om Shanti Om, the female artist Simi Garewal played the antagonist.
Striking similarities in antagonists of Karz, Khudrat and Om Shanti Om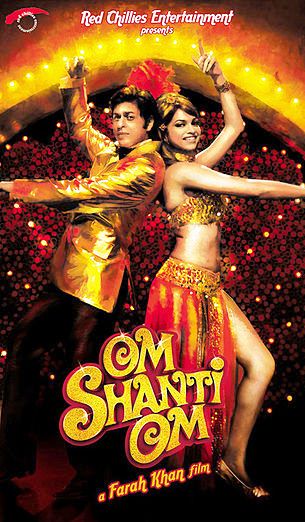 Though these three films are inspired from Madhumati, there lies a major difference from original. In Madhumati the lead actor remembers his previous birth and revenge saga story and identifies that his wife is indeed an incarnation of his lover of previous birth. But in rest three movies – Karz, Khudrat and Om Shanti Om the revenge is completed only with second birth when lead actor/pair takes birth again, while antagonist grows old – Simi Garewal in Karz, Raj Kumar in Khudrat and Arjun Rampal in Om Shanti Om. Isn't it interesting? Movie Hameshaa of 1990s can also be tagged under same distinction of aging antagonist. Lead pair takes rebirth in all the three versions except Karz, where lead hero only takes rebirth, that too with a new face.

Karz also differs from Madhumati, Khudrat and Om Shanti Om in the fact that lover betrays lead hero in Karz, and there is a solid male villain in the rest three films. In Karz, the lover turns real villain, that too a female. In Madhumati, Khudrat and Om Shanti Om, leading antagonist roles are played by male actors. Definitely all these movies can be connected by a single string, of course.
Remakes of Madhumati
The movie which shattered all records in Filmfare awards has been remade to several languages including Hindi. Apart from Karz, Rishi Kapoor has played lead role in one Bollywood movie based on incarnation theme – Janam Janam in 1988 which itself is a remake of Madhumati. In 1975, a Malayalam movie titled Picnic was made. This remake version starred Prem Nazir and Lakshmi (of Julie fame) in lead roles.
Other popular Bollywood movies with incarnation as main theme
Mahal
released in 1949 starring Ashok Kumar and Madhubala was the first Indian movie based on the theme of incarnation. The haunting solo – Ayegaa Ayegaa sung by Lata established her as a leading female voice in the early 1950s.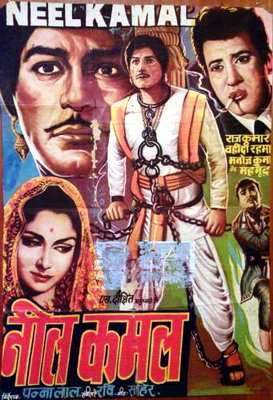 Milan
starring Nutan and Sunil Dutt is a successful movie based on incarnation. Neel Kamal starring Raaj Kumar, Waheeda Rehman and Manoj Kumar is one of the finest movies of incarnation in the 1960s. Jhuk Gaya Aasman starring Rajendra Kumar was a fresh theme – entering of soul to another person's body, though it's not a movie on rebirth.
Mehbooba
starring Rajesh Khanna and Hema Malini couldn't achieve box office success though met with critical acclaim. They also worked together in Khudrat, which fared well at box office, and Rajesh Khanna's acting skills were appreciated.

Hameshaa

and

Karan Arjun

are noted re-incarnation movies of 1990s, and Kajol played lead roles in both. Hameshaa is a love saga while Karan Arjun can be categorized under action thriller with romance as sub-plot. Hameshaa also shares some plots with romantic stories such as Karz, Khudrat and later Om Shanti Om etc where Aditya Pancholi who plays the villain grows old. His character waits for Kajol's character for her rebirth.
Prem Shakti
–

a bit different plot based on the subject of incarnation, and was an average hit at box office. The movie started the successful association of Govinda with Karishma Kapoor in the 1990s.
Karzzzz
– A remake of Karz was made in 2008 starring Himesh Reshammiya, Urmila Matondkar, Dino Morea and Shweta Kumar. The movie was a huge flop. Love Story 2050,
Dangerous Ishhq,

Suryavanshi,

Mr. Ya Miss, Suryavanshi,

Jaani Dushman 2,

Teri Meri Kahaani,

Ab Ke Baras, Prem, Ek Paheli Leela
etc are a few more. Ek Paheli Leela was an average performer at box office while the rest failed. There is one Karishma Kapoor movie released in 2000 or 2001 opposite Bobby Deol – Aashiq or Hum To Mohabbat Karega, based on the same subject. I am still confused which one.
Eaga, Magadheera and Dasavatharam
are south Indian movies on incarnation dubbed to Hindi as well.
Best Bollywood movies based on incarnation which worth a watch
I would like to list the movies based on its quality and fresh theme, and Madhumati always tops the list followed by Karz and Mahal. You can assign numbers – 2 and 3 to both these classics as you wish. Next three places belong to Neel Kamal, Khudrat and Karan Arjun. You can also watch Om Shanti Om (a mixture of many incarnation movies repacked in a new fresh cover) only if it's for entertainment purpose only.
1. Madhumati
2. Karz
3. Mahal
4. Neel Kamal
5. Khudrat
6. Karan Arjun
7. Om Shanti Om
End Note: I would like to add a bit of information here. Most recently I happened to watch one classic movie of year 1966, Saaz Aur Awaz, starring Joy Mukherjee, Saira Banu and Padma Khanna. Movie was not so great, but hold a mystic beauty & poetry treatment and also resembled a symphony of love. Most interesting is the movie is inspired from the main plot of Madhumati, where the hero is in search of his lost lady love, who is not existing now, and there is one villain too, from whom she escapes by committing suicide (jumping from window to a pond). The suspense is revealed only in the film climax. The movie is definitely inspired from Madhumati.
Read the stories of a few more inspirations and copies of Bollywood. Here is the page link. Click on the images to read.
(Visited 889 times, 1 visits today)