Sadhana Shivdasani – The mystery girl of Bollywood
Sadhana Shivdasani (1941 – 2015) was one of the most beautiful Hindi actresses Bollywood screen has ever graced. She remained one of the top actresses of the classic era of 1960s and most of her films were box office hit. She was also highly regarded as a fashion quotient in those days, who brought great reformations to Bollywood's fashion concepts then. Tight churidar-kurtas and 'Sadhana hair cut', inspired by British actress Audrey Hepburn took fashion industry to storm way back in the 1960s. Marked her Bollywood debut with Love in Shimla in 1960s, she became a part of Raj Khosle's mystery trilogy in the 1960s, Arzoo, Waqt, Parakh, Hum Dono, Asli Naqli, Ek Musafir Ek Haseena, Mere Mehboob, Inteqam, Ek Phool Do Mali, Rajkumar, Dil Daulat Duniya etc being the biggest hits of her career.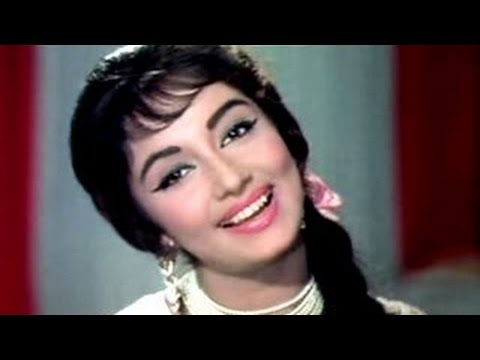 Timeless beauty, Sadhana Shivdasani was born in Karachi of present-day Pakistan in 1941. After partition her family got settled in Mumbai. As Sadhana Bose was her father's favourite actress, she was given the same name. With the help of her father, she got her first break to Bollywood films at the age of 14 where she was seen as a chorus girl in the popular "Mud mud ke na dekh" song from Shree 420. Her appearance in a college play gave her the first break to films in a supporting role through India's first Sindhi film – Abaana (1958).
When her photograph publicizing Shree 420 appeared in Screen film magazine, she was spotted by filmmaker Sashadhar Mukherjee who launched her as heroine in Bollywood through Love in Shimla. Thus this single photograph was enough to change her life. She was paired with Sashadhar's son Joy Mukherjee for her debut flick. Interestingly the film was directed by R. K. Nayyar who married her in 1966. Nayyar is also credited to give her the trademark 'Sadhana cut' hair style because fringes could easily hide her broad forehead. Love in Simla became a major hit and she went on to establish as one of the lead and beautiful actresses of 1960s.
Her association with Raj Khosle for three suspense thrillers gave her milestone movies of her career – Woh Kaun Thi, Mera Saaya and Anita, which also gave her the tag 'Mystery girl'. During her career peak she was diagnosed with thyroid problems for which she was forced to take breaks. It also damaged her eyes a lot, and hence she never wanted to appear before camera. She always preferred to stay in her fans' hearts with beautiful face and expressive eyes. After treatment she returned to films in the late 1960s and worked in a few hit films till mid-1970s before she retired from films. But that old Sadhana charm never returned.
Sadhana Shivdasani – Some interesting facts
1. As Sadhana was actress Babita's first maternal cousin (their fathers were siblings), she is linked to the famous Kapoor filmy family. Actor Hari Shivdasani (Babita's father) was her uncle.
2. She was inspired by actress Nutan to become an actress, and right from the childhood she dreamt so.
3. She has appeared as a child actress in 4 movies in the 1960s. During younger days she was allowed to watch two films.
4. She was a trendsetter when it comes to fashion, and was a fashion icon of 1960s.
5. Despite being known as one of the most talented actresses of 1960s, she never earned a Filmfare award. Her roles in Woh Kaun Thi? and Waqt earned her Filmfare nominations.
6. One of her scenes in 'Mere Mehboob' in which she encounters Rajendra Kumar and sees her eyes through Burqa is one of the iconic scenes of Bollywood cinema ever.
7. Initially Yash Chopra didn't agree to her idea of wearing her trademark tight churidars for the iconic movie, Waqt. But when he watched her through frame in this attire, he approved it.
8. Many evergreen romantic songs of 1960s were filmed on her. Nayana Barse and Lag Jaa Gale of Who Kaun Thi, O Sajna of Parakh, Abhi Na Jao Chodkar of Hum Do, Nainon Mein Badra Chaaye and Tu Jahan of Mera Saaya, Ajee Root Kar Ab of Arzoo and Aaya Aayi Bahar and Woh Dekho Mujhse Rootkar from Rajkumar are among those evergreen Bollywood songs of 1960s, still loved by music lovers.
9. She stayed away from public and limelight during her last phase of life and made one last appearance in 2014 for a ramp walk. She was also seen in her trademark 'Sadhana cut' which surprised everyone. Her appearance for this show remains memorable. She died on the Christmas day the following year. She was diagnosed with cancer.
10. She is best known for her expressive and captivating eyes, which ruled hearts in the 1960s. Her smile and often mysterious looking eyes for quite a few roles made everyone's favourite.
11. Because of her thyroid issues which damaged her eyes, she always stayed away from camera since mid-1970s. She refused to photographs. Hyperthyroidism gave her a lot of eye problems.
12. She fell in love with the director during her debut film, Love in Shimla. Their relationship was not initially approved by her parents as she was young. They got married in 1966 and it lasted for 30 years till Nayyar's death. They had no children.
13. Her hair fringe style known as 'Sadhana cut' is still copied by girls.
14. For her memorable role as a village girl in Bimal Roy's Parekh, she had to stick her fringe back and appear with broad forehead, which she accepted.
15. Her song 'Mujhe Maar Dalo' for the movie 'Mera Naam Geeta' produced under her family banner, marked the debut of choreographer Saroj Khan, who later went on to become very successful in the 1980s and 1990s. Interestingly Sadhana directed the film.
Also read: Your favourite Lata song featured which Bollywood actress?
(Visited 1,824 times, 1 visits today)