Ajay Kumar Mandavi – The teacher of Kanker jail inmates for more than a decade
Ajay Kumar Mandavi is an art teacher, popular for teaching Kanker jail inmates for more than a decade. Since 2010, he has been teaching them wooden calligraphy art. In 2023, Kumar Mandavi became one among the three persons chosen from Chhattisgarh for the Padma Shri awards. He earned this honour at the age of 55. So far, he taught around 400 inmates of Kanker jail, of whom approximately 250 allegedly had Naxalite-related links. The hands which once held guns at a time, Mandavi prompted them to hold weapons to make woodcraft – that transformation is really commendable!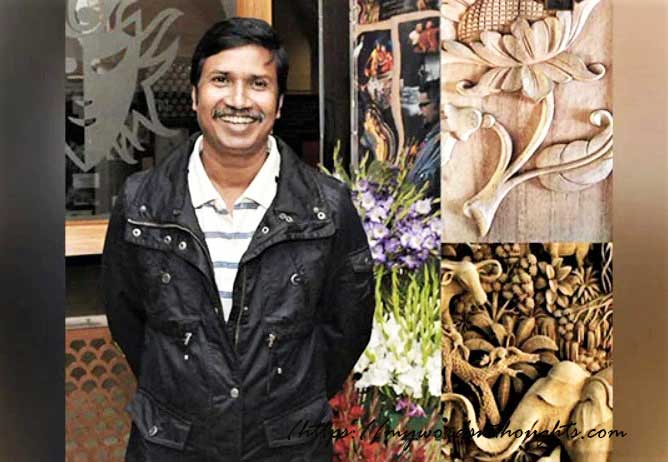 He loved art of toy making since childhood
Ajay Kumar Mandavi hails from Kanker district, in the state of Chhattisgarh. He was interested in making toys out of wood and clay since childhood, and later it became his livelihood. He inherited this art form from his ancestors. His father used to make statues from clay, while his mother used to paint them, to earn a living. His brother Vijay Kumar Mandavi is a stage actor.
In childhood he started off with making animals like horse, cat etc from wood. In 2010 he was asked by the then district collector to teach wood art to jail inmates. It was a time when Maoist activities were at peak.
Ajay Kumar Mandavi began his classes with a dozen of inmates
When Mandavi joined as an art teacher at Kanker jail, he began his classes with a dozen of inmates, all of them held for alleged Maoist links. From an art teacher, he turned their counsellor and the inmates started sharing their sufferings and pains with him. Ajay also started loving his new role as counsellor. Over the years he trained youth, several of them being victims of Naxalite violence from 2005 and motivated them to lead a peaceful life without violence.
Guruji to his students
Kumar Mandavi is fondly called 'Guruji' by his students. Most of his students have been released from jail after the completion of prison terms and a few of them on bail too. Many of them continued practising wooden calligraphy art after being released from jail, and a few took farming and other works too. Ajay Kumar Mandavi regards it to be the biggest achievement of his life to reform inmates and prompt them to live a normal citizen's life.
In 2015 he founded a self-help group 'Shanta Art' in remote Bhaisasur village in Kanker. One of the prison inmates Sanjeet Kumar Yadav, after completing his term lived in Mandavi's house for two years to acquire more knowledge in the art of woodcraft and toy making. According to him, who never imagined he would master an art, found a new purpose in life. 'Shanta Art' group thus includes several reformed Naxalites. He also sends his students at 'Shanta Art' group to fairs and exhibitions to earn revenue from their craft.
From toys to quotes from religious books
Apart from toys, craftwork and statues, Kumar Mandavi also makes religious quotes on wood. Bible, Bhagavat Gita, poetry and quotes of famous people – he inscribed all. Today his family members are connected with one or other forms of art. In 2023, he was honoured with Padma Shree under 'Art' category.