These Shah Rukh Movies derived Titles from Bollywood Songs
Dilwale Dulhaniya Le Jayenge – The most popular movie of Shah Rukh Khan. It currently holds the record of longest running Indian film which completed 1000 weeks in a film theatre at Mumbai. It's known to everybody the movie's title is derived from the very popular song of Shashi Kapoor – Le Jayenge Le Jayenge belonging to the movie – Chor Machaye Shor released in 1974. Also read:
Top 15 songs featuring Shashi Kapoor.
Interesting facts revolving the title of Dilwale Dulhaniya Le Jayenge
Do you know who suggested this popular song for the film title to Aditya Chopra who marked his Bollywood debut with the film? Anupam Kher's wife – Kiran Kher! Anupam Kher playing Shah Rukh's dotting father in the movie.
Dilwale Dulhaniya Le Jayenge turned to be an iconic movie of Bollywood, and many forgot the super success of Chor Machaye Shor whose top song was used as film's title. The key line – Le Jayenge Le Jayenge Dilwale Dulhaniya Le Jayenge also became the theme of Shah Rukh starrer. The song from Shor Machaya Shor was written by the celebrated poet Indrajeet Singh Tulsi who started his film career with the heart touching and haunting song of Shor – Ek Pyar Ka Nagma Hai. He wrote only fewer songs for Bollywood and passed away in 1984. But his written words – Le Jayenge Le Jayenge Dilwale Dulhaniya Le Jayenge is quite popular among music fan of today. It can be said that DDLJ's riding success started a new trend in Bollywood, i.e. to coin movie title from any hit song of yesterdays.
Through this column I would like to share a few more songs used as film titles for Shah Rukh and interesting facts related to those iconic songs. I have excluded films, where he played cameo roles. There are also many short film titles like Deewana, Dil Se, Paheli, Dilwale, Don (Remake), Anjaam, Chaahat, Pardes, Josh etc which regularly appear in Bollywood songs. There are countless songs in Bollywood which have been reused as film titles. Unfortunately in most cases, the original lyricist who penned the song is not mentioned or remembered. This column is a tribute to all such lyricists who are less-credited to the success of a film song.
Two SRK movies – Derived from film Chalte Chalte and the iconic song of Kishore Da
Chalte Chalte (1976) gave a big break to Bappi Lahiri's music career. But he later switched to disco and pop numbers. However Chalte Chalte is still counted among the best works of Bappi Da. It happens – A popular film song may be used as film title later. But the famous solo sung by Kishore Kumar is something special. Not only the film song with the film title was reused after almost 25 years for the title of a movie, three years later another phrase 'Kabhi Alvida Na Kehna' from the same song was used to coin the title for another Bollywood film. It is quite co-incidence both the movies starred Shah Rukh and Rani Mukerji as lead pair, and both the films remained successful at box office too.
Yes
Chalte Chalte and Kabhi Alvida Na Kehna
are two Bollywood films with Shah Rukh and Rani Mukerji as lead pair, and both the film titles were derived from a single song. The evergreen song – Chalte Chalte was written by Amit Khanna, known for his successful association with Bappi Lahiri. Quite co-incidence film title was also the same, for one of those movies. There is one famous song from Pakeezah too – Chalte Chalte, written by Kaifi Azmi and sung by Lata Mangeshkar. Also Shah Rukh starrer, Mohabbetein too included one song with same phrase – Chalte Chalte Yuhi Ruk Jata Hu Mein.
Mein Hoon Naa – Derived from a popular song of Shah Rukh Khan
It happens only rarely. The phrase of an actor's particular song may be reused to name an actor's film. The top solo track of Guide – Tere Mere Sapne was later reused for naming one Dev Anand's film in the early 1970s. The duet – 'Sona Nahi Na Sahi ' belongs to Shah Rukh's film '1 2 Ka 4' and the song composed by A. R. Rahman was sung by Udit Narayan and Alka Yagnik. Lyrics were written by Majrooh Sultanpuri. Later a phrase from the song, Mein Hoon Naa was used by Farah Khan for her debut film starring Shah Rukh Khan. Though Mein Hoon Naa is a common Hindi phrase, I would like to include it in my list.
The title One 2 Ka 4 itself is derived from a popular song of Anil Kapoor from the movie, Ram Lakhan. The song was written by great Anand Bakshi.
Karan Johar's movie titles are mostly coined from Bollywood film songs
Karan's debut movie – Kuch Kuch Hota Hai starred Shah Rukh Khan in lead role. The title was taken from a raunchy song of Kismat (1995) starring Govinda and Mamta Kulkarni. The song 'Mehboob Sanam Tujhe Meri Kasam' was penned by Sameer. Years earlier in the late 1960s, there was one Shammi Kapoor film, Tumse Accha Kaun Hai, which included one item song featuring Shammi Kapoor & Aruna Irani. The song was "Ankhon Mein Ankhein Na Dalo, Mujhe Kuch Hota Hai". The film's title could be inspired from this dance number too, originally sung by Lata Mangeshkar. The lyrics were penned by Hasrat Jaipuri and composed by Shankar – Jaikishen.
Karan's second film was Kabhi Khushi Kabhi Ghum starring Shah Rukh Khan and Kajol. The film title was coined from the inspiration song 'Yeh To Zindagi Hai Kabhi Khushi Hai Kabhi Ghum' from the action thriller, Qaid (1975) sung by Kishore Kumar. Music was composed by less-known composer, Nitin Mangesh, and featured Vinod Khanna and Leena Chandavarkar. The phrase was later used for 1979 film – Baton Baton Mein and the song is – Ude Sabke Kadam Tara Ram Pam. It's a misconception that K3G's title was coined from the inspirational song of Baton Baton Mein. 'Tara Ram Pam' has also been used in Bollywood to coin a movie starring Saif Ali Khan and Rani Mukerji. This song was written by Yogesh Gaur.
Kal Ho Na Ho was produced by Karan Johar and many believe to be a KJ film. This movie also starred Shah Rukh in lead role. The movie title was coined from yet another raunchy number belonging to the movie, Hamesha starring Saif Ali Khan and Kajol. The song – Aisa Milan Kal Ho Na Ho was written by Dev Kohli. So it's a Saif Ali Khan song too reused for his movie.
As told above, Karan Johar's Kabhi Alvida Na Kehna too was coined from an old hit song from the movie, Chalte Chalte. All these Karan movies had a 'K' factor in common. Johar's latest release is Ae Dil Hai Mushkil where Shah Rukh played a cameo role. The movie title too is derived from a hit song of Rafi from the movie, CID.
Popular movies co-starring Juhi Chawla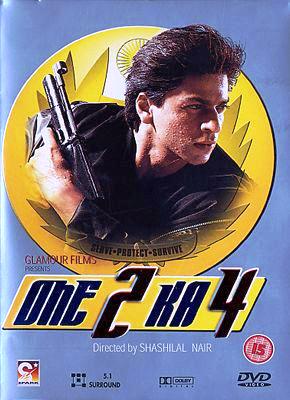 As told above, One 2 Ka 4 is derived from a peppy number of Ram Lakhan. Film title – Phir Phi Dil Hai Hindustani is derived from an extremely popular song starring Raj Kapoor. Phir Phi Dil Hai Hindustani is an iconic song belonging to Raj Kapoor film, Shree 420 starting as – Mere Joote Hain Japani. The lyrics were written by Shailendra.
Om Shanti Om – A plot inspired from Madhumati & Karz
Om Shanti Om is an iconic song belonging to Rishi Kapoor movie Karz penned by Anand Bakshi. When Farah Khan made a movie with theme – incarnation, she used the famous song sung by Kishore Kumar. Karz too was based on a subject of incarnation and revenge, and she used many of its screen ideas for her debut film while writing its script. Read to know
incarnation movies inspired from Madhumati
.
A couple of movies co-staring Anushka Sharma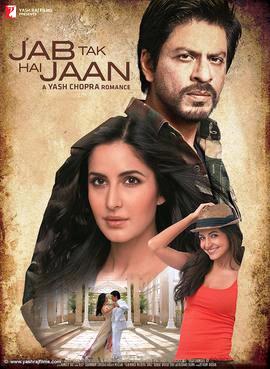 Anushka Sharma debut Bollywood opposite Shah Rukh Khan through Rab Ne Bana Di Jodi. The film title was derived from a popular song of Suhaag featuring Big B, Rekha, Shashi Kapoor and Parveen Babi. They were paired for the second time in Jab Tak Hai Jaan, and the movie title was derived from an iconic song featuring Hema Malini from the movie, Sholay. Both the original songs were penned by Anand Bakshi.
Conclusion
Before I conclude I would like to add one more film in this list. It's Yash Chopra's musical Dil To Pagal Hai. Priyadarshan's Gardish had one less-heard song, Yeh Mera Dil To Pagal Hai, sung by Asha Bhosle and S. P. Balasubrahmaniyam. The song featured Jackie Shroff, and south Indian actress Aishwarya. The movie title also make us remember the popular romantic duet sung by Kumar Sanu and Alka Yagnik – Mera Dil Bhi Kitna Pagal Hai.
Many songs overcome the test of time for its tune and rendering. But when a filmmaker choose a particular song to coin his upcoming movie, it's solely the powerful lyrics which does the job. But the sad part is we don't know most of those creators of those memorable songs we hum frequently. In this column, I have mentioned the lyricists of all the songs re-used as titles for Shah Rukh. But let me tell you, though most of these songs are extremely popular, I had to google a lot to find those names. If I have quoted any name wrong please let me know.
(Visited 871 times, 1 visits today)