Mere Sapnon Ki Rani of Aradhana was inspired from this English tune?
After recording half of the songs of the film, S. D. Burman fell ill and he assigned R. D to complete the project. Though Mohd Rafi was the first choice of S. D to record both these songs, his son chose Kishore's voice. This single decision definitely changed the course of journey of Hindi cinema and music paving way to 'Rajesh Khanna' magic and Kishore became the ghost voice of Bollywood's first super star after that. And the couple of songs were Mere Sapnon Ki Rani and Roop Tera Mastana, which redefined the equations of Bollywood music. Also read: Introduction to my filmy blog through Aradhana.
The movie also witnessed the resurgence of Kishore Kumar, and established R. D and Anand Bakshi as the leading names of Bollywood. It was for the first time Kishore's voice was used for only 5-film old Rajesh Khanna, and the three songs sung by Kishore Da became instrumental in establishing Khanna as the first superstar of Indian cinema. Also read: Top 10 movies of Rajesh Khanna. Also read about the toy train of Darjeeling on which this particular song was filmed 50 years ago.
Mere Sapnon Ki Rani, Kora Kaagaz and Roop Tera Mastana – Rumoured to be composed by R. D
It's not clear who has actually composed both these songs. But both these songs became the top songs of the album. There are speculations that some of its songs – especially Kora Kaagaz and the movie's background score with 'he he' romantic elements were composed by R. D himself (or given the finishing touch with change of orchestra), and he gave all these three songs to Kishore Kumar. It is also believed that Mere Sapnon Ki Rani and Roop Tera Mastana were inspired from Tequila by Daniel Flores (1957). The song was indeed popular in India, and many people knew it, though unaware of the composer/singer or what Tequila actually is.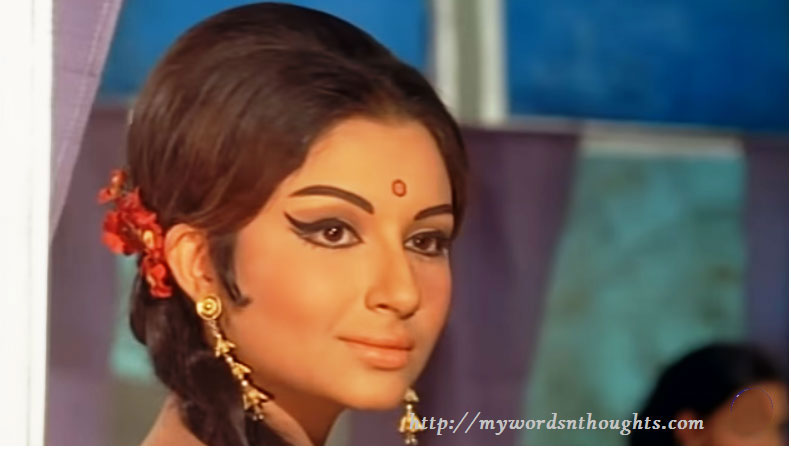 I can't draw striking similarities between Tequila and Roop Tera Mastana. However Mukhda of Mere Sapnon Ki Rani looks very similar to Tequila by Daniel Flores. It's rumoured that R. D used this tune as a sort of inspiration to compose Mere Sapnon Ki Rani, and geniuses are not caught easily. Definitely it's not a copied tune. Also read: Top combination songs of S.D and Kishore Kumar.
Other Bollywood songs inspired from Tequila
I got two songs which closely resemble Tequila. In fact the first one was released years before Aradhana got released. The same tune was lifted by Kishore Kumar and used by him for Ghumroo in 1961, the movie for which Kishore did all-in-one roles, including film direction and music composition. The song was Ae Baba Loo Baba, and later used for Aradhana (rumoured to be used by R.D, for two songs which became huge chartbusters – Mere Sapnon Ki Rani and Roop Tera Mastana).
Years later, it was used for the film Haqeeqat (1995). The song composed by Dilip Sen-Sameer Sen, and was sung by Alka Yagnik and Kumar Sanu, and the song is "Le Pappiyan Jhappiyan". The tune and musical instruments used look very similar to the original version, and anyone can easily point it to be a copied version. That's the case of Kishore Kumar's version in Jhumroo too.
When I heard Tequila, I felt that it closely resembles many popular tunes of 1960s, yet couldn't figure out which ones. If you come across any, let me know.
Read a few more topics on Rajesh Khanna

, the charismatic hero and the first super star of Indian cinema. Here is the page link. Click on the images to read.
(Visited 3,065 times, 1 visits today)