Kaagaz Ke Phool – movie & 'Waqt Ne Kiya' song celebrate 60 diamond years!
A lonely film studio floor without any noise; Orphaned arc lights, cranes and cameras; Empty chairs waiting someone who is never to arrive; silence creeps and conquers the whole atmosphere and surroundings; Dim atmosphere with darkness as background. A sad song in Geeta Dutt's voice slowly flows in…..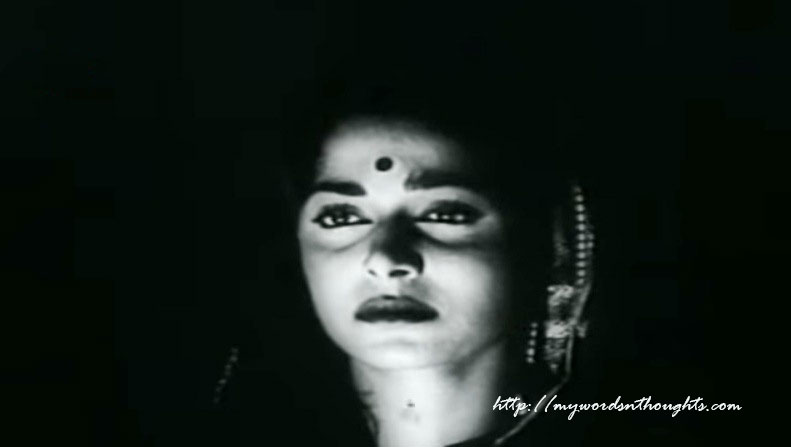 "Waqt Ne Kiya Kya Haseen Sitam…
Tum Rahe Na Tum……
Hum Rahe Na Hum……"
In the amazing camera frame of legendary V. K. Murthy, shadows and lights were combined beautifully to create the situation and sad mood of the scene, where director Suresh Sinha and film star Shanti meets. This iconic song belongs to India's first cinemascope movie, Kaagaz Ke Phool, released exactly 50 years back in 1959. The characters were portrayed onscreen by its director Guru Dutt and actress Waheeda Rehman, who were in a rumoured relationship then. (Pyaasa and Saheb Biwi Aur Ghulam are other iconic movies of Guru Dutt, where Waheeda played parallel lead role aside Mala Sinha and Meena Kumari respectively. In fact Guru Dutt introduced the south Indian dancer through CID and also worked with her in Chaudwin Ka Chand.)
In the song sequence, when both characters meet in an unexpected situation, where both are not seen pleasant. They have been separated by some unpredicted incidents and events of time. The intense lyrics with several deep layers penned by Kaifi Azmi (In 2019 we celebrate his 100th birth anniversary) have deep philosophical meaning, and needless to say, those meaning lyrics played an important role in making this tune immortal. The song relates to the lives of many human beings where certain events bring some unpleasant situations so unexpected, and that's why it gets easily connect to people. Yes, mischief of time can change a prosperous life to very much resembling a hell.
Kaagaz Ke Phool – Guru Dutt's dream project whose failure affected him personally
It was one of the first films of Bollywood which showed viewers many colours of real film world, behind glamour and big screen. It can be called Guru Dutt's masterpiece, which achieved cult status years after his death. The movie was very much related to film profession, his personal issues in family life and wife Geeta Dutt and also his alleged affair with Waheeda Rehman. After his death at a young age (believed to be suicide), many people connected the story with his real life, glorious days and downfall (The movie also flopped at box office leaving him in deep distress and financial troubles).
It looks bit surprising that both Guru Dutt and Waheeda Rehman breathed their lives on screen, while the meaningful song depicting the strange situation was sung by none other than Geeta Dutt, who had a troubled married life with Guru Dutt. It looks the song is deeply connected to their real lives too, and that's beyond fiction shown on celluloid.
The story of Kaagaz Ke Phool goes like this. The director Suresh Sinha had a tense relationship with his wife Bina (played by yesterday actress Veena on screen), and he finds solace in his new heroine Shanti, which slowly develops into a deep bonding, though not accepted by conservative society. This divine love is silent, soft and flows like a stream. But somehow it loses its flow and changes the drift, and separation is the ultimate truth. It's the situation where "Waqt Ne Kiya Kya Haseen Sitam" song was added.
Though melancholy is the mood of this iconic song composed by S. D. Burman, it gives a few hopes through a few lines written by Azmi.
"Jaayenge kahan soojhta nahi….
Chal pade magar rasta nahi….
Kya talash hai kuch pata nahi…
Bhun rahe hai dil khwaab dam-ba-dam…"
Interestingly this song was fitted later only
A situation for this song was not in the original film script. The story behind the song was told by Kaifi Azmi in a radio interview in the 1990s. 5 songs needed for Kaagaz Ke Phool were already composed by S. D. Burman. Azmi, Guru Dutt and Burman were seated for a casual talk when Burman Ji hummed a new tune; A light music bit with glimpses of sorrows. Guru Dutt got deeply touched with the tune and asked Azmi to write lyrics fitting to this tune. He also said that if Azmi is able to find suitable lyrics, they can use it for their next film. Literally the poet is against writing words adjusting to a particular tune. Yet he couldn't say 'no' on Guru Dutt's insistence.
Azmi started writing the opening lines (Mukda) of the tune. Dutt didn't like first two attempts, but got deeply impressed by the lines written for the third time. The lines were enough to bring tears to his eyes. Yes, 60 years have passed since the highly emotional "Waqt Ne Kiya Kya Haseen Sitam…" lines were born.
It was followed by two stanzas (anthara) and S. D. Burman beautifully tuned them. S. D. Burman strictly wanted Geeta Dutt to sing this song. He was the same composer who popularized Geeta Dutt's voice among music lovers through his wonderful song, "Mera Sundar Sapna Beet Gaya". It's quite strange that Geeta Dutt was going through the same stress in real life played by Veena onscreen (as director's wife). It was exactly the same time when relation between Guru Dutt and his heroine Waheeda Rahman also became hot topics for tabloids. For the same reason many people still believe that Azmi wrote this song, keeping in mind this real life situation. But the lyricist has always denied all such rumours.
In Kaifi Azmi's words, he never wrote those lines keeping in mind any particular or future situation. He just formulated a few lines fitting to the tune already composed by S. D. Burman, with romance as backdrop. Also when he wrote the lines, there was no guarantee that the song will be added to the movie. Needless to say, Waqt Ne Kiya song became the highlight of the film, and the most popular song of the entire album too.
A sad solo with some glimmer of hopes
Though Waqt Ne Kiya is best known as a sad song, it shares some glimpses of hopes of tomorrow also. So Guru Dutt wanted to film the song, keeping this point in mind. Within the technical limitations way back in the 1950s, he started thinking about new ways to film the song within Mehboob studio. While he was in deep thoughts at his studio, his eyes caught the leisure activities of a cameraman, who was sitting at a corner. The cameraman was using his lens to divert sunlight to a studio wall, which caught Guru Dutt's fascination. His fresh idea with a special light effect on how to film the song got already woven in his mind.
He contacted carpentry section and arranged two big mirrors. He fixed one of them in the ceiling of the studio, near to exhaust fan. He also made a special window and broke it for this particular scene, as he wanted a combination of natural sunlight and camera light to film a few shots of this song sequence. Second mirror was fixed on the floor, and when sunlight was reflected in a particular way with the help of both these mirrors, it gave a fabulous effect on screen when the movie was screened. Light falling to ground from the ceiling got mixed with the dust particles within the studio, adding it a meaningful song. Those unique moments were captured by V. N. Murthy through his camera lens, the first film technician to win the prestigious Dada Saheb Phalke Award. Murthy remained the most popular cameraman of Guru Dutt, throughout his career.
Kaifi Azmi's favourite song
Though the movie flopped at box office, after the death of Guru Dutt, many people started relating the movie with his real life, and it earned cult status too. When the movie had a theatre release in the late 1950s many celebrities opinioned that the story is a bit heavy and may not be enjoyed by normal filmgoers who seek entertainment most. It proved true too.
Apart from 'Waqt Ne Kiya', Rafi's sad rendition – 'Dekhi Zamane Ki Yaari' also became popular. Geeta Dutt's rendition of 'Waqt Ne Kiya' became the soul of the movie. During his last days, Kaifi Azmi used to frequently hum this song in loneliness – says his daughter and talented actress Shabana Azmi. It was one of his most favourite songs ever, among his works.
Guru Dutt initially wanted poet Sahir Ludhianvi to be the part of the project. But due to some personal indifference with S. D. Burman, he quit the project. That's how Sahir got replaced with Azmi, and it also marked the beginning of a successful association of Kaifi Azmi with many of Guru Dutt's projects. Except the song – Hum Tum Jise Kehta Hai Shadi penned by Shailendra, all the songs of Kaagaz Ke Phool were authored by Kaifi Azmi.
When Guru Dutt was found dead in his residence at Mumbai with an overdose of alcohol and sleeping pills on 1964 October 10, different stories were told about his death. While a few believe that it was a suicide (he had already made two attempts, and one day before his death, he had requested Geeta Dutt for his kids which she denied), a few believe it to be an accidental death. The mystery is still to be proved.
Deeply distressed in the death of Guru Dutt, Kaifi Azmi wrote the poem….
"Ek Baar Toh Khud Maut Bhi Khabaraa Gayi Hogi….
Yun Maut Ko Seene Se Lagata Nahin Koi……"
After the death of Guru Dutt, Geeta Dutt suffered a serious nervous breakdown and also faced financial troubles. But she turned more alcoholic which ruined her health and career. On 1972 July 20, she died of liver cirrhosis….. It has been reported several times, when she was not able to perform on stage for her live performances, because of alcohol overdoze.
"Waqt Ne Kiya Kya Haseen Sitam…
Tum Rahe Na Tum……
Hum Rahe Na Hum……"
Yes, from a glowing singing career to a pathetic end, yes, time played mischief with Geeta Dutt's life too, as it did with Guru Dutt's……
(Visited 750 times, 1 visits today)