Top 15 Yodelling Songs of Kishore Kumar
Yes, I am back with yet another top list of Kishore Kumar Songs. Earlier I have worked on Top 50 Kishore tracks, his top 50 solos, top 50 duets and top 10 duets aside Lata and Asha. You can go through those links if you are interested. Now, it's the list of Kishore's trademark, Yodeling! It's not this style of singing exclusively belongs to Kishore only. Rafi too has done a few Yodeling songs earlier. Yet no doubt, Kishore donned this style of singing than any other singer can. In this list, I have selected 15 of Kishore Yodeling songs and here it goes. Yodel-a-ae-eyay!!! Yodel-a-ae-eyay!!!
1. Chala Jaata Hoon from Mere Jeevan Saathi (1972) – When the trio R.D-Rajesh Khanna-Kishore Kumar works together for a single song, they set screen on fire. The song penned by Majrooh Sultanpuri was an instant chartbuster. The solo track also had Kishore da's signature yodeling and Rajesh Khanna's distinct ada. Among Kishore Yodelling numbers, this song is one among my top favourites.
2. Zindagi Ek Safar from Andaz (1971) – Rajesh Khanna played a cameo role in Andaaz, he was featured in a romantic style aside Hema Malini, and Kishore used his typical yodeling style to sing, Zindagi Ek Safar which became an instant chartbuster. It's one the rarest films composed by Shankar-Jaikishan for Rajesh Khanna, and same is the case of Hasrat Jaipuri too, who penned the lyrics. It's a rarest SJ composition that featured Rajesh Khanna too, perhaps the most popular yodeling song of Kishore da. Rafi's voice was used for all the tracks of Shammi Kapoor, while SJ recorded this single Khanna track with Kishore Kumar. In the era of superstardom of Khanna, Zindagi Ek Safar became the most popular song of Andaz, and still loved by Kishore fans.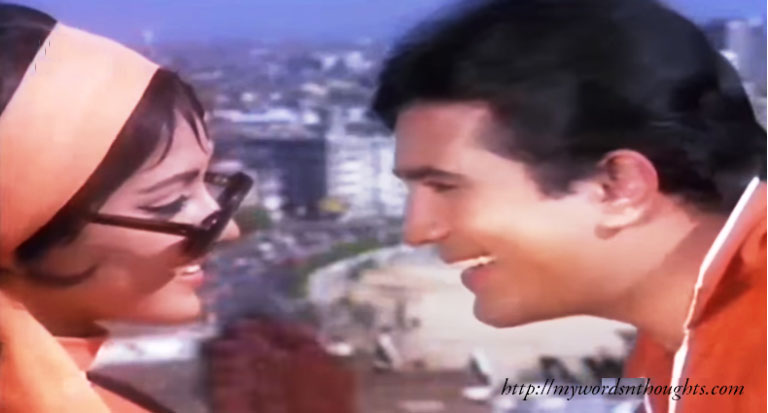 3. Yaar Tum Shaadi Mat Karo from Parivar (1956) – Salil Chowdhury composed the song, and Shailendra penned the lyrics, and Kishore Kumar played the male lead in this family drama. He was the performer in this stage song.
4. Nakrewali from New Delhi (1956) – One of the rarest tracks sung by Kishore Kumar in Shankar Jaikishen composition, the song included Kishore's trademark yodeling as well. Shailendra penned the lyrics.
5. Tum Bin Jaon Kaha from Pyar Ka Mausam (1969) – Very few songs in Bollywood has two versions in Rafi and Kishore's voice, and Tum Bin is one such very popular track. Rafi's version got released first and well received as well. Rafi's voice was used for Shashi Kapoor's version two times. Kishore's version featuring Bharat Bhushan was released later, and this one had an upper hand over Rafi's simply because of the yodeling Kishore incorporated in the song while recording. Rajesh Khanna's superstardom in the early 1970s also made Kishore's version most popular. But to be honest, I loved both versions and legends should never be compared.
6. Meri Pyari Bindu from Padosan (1968) – Yodelling appeared in just one or two bits, but this R. D. Burman track is still popular. The song was pictured on Kishore himself, and Sunil Dutt was also seen aside him. Its catchy and comic lyrics were written by Rajendra Krishan.
7. Mein Hoon Jhumroo from Jhumroo (1961) – Apart from Rajesh Khanna, Kishore yodeled for his own movies most. Kumar proved himself to be genius turning composer with Jhumroo. This song has Kishore Kumar at his yodelling best. A one-man show, this song was written, composed and sung by Kishore da. It's the opening song of the film featuring Madhubala, and almost a decade later one similar song appeared in Bollywood cinema starring Sharmila Tagore, 'Mere Sapnon Ki Rani', which changed the course of flow of Hindi cinema.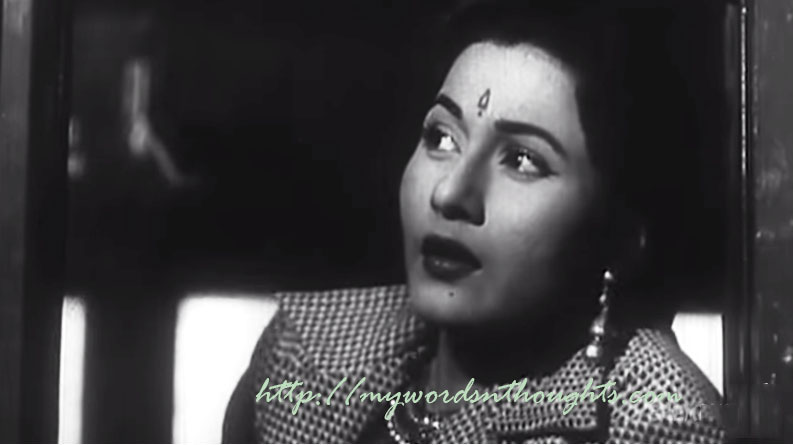 8. Yeh Dil Na Hote Bechara from Jewel Thief (1967) – S. D. Burman gave some memorable compositions to Kishore Kumar, long before he established as the leading male voice of the industry. This fun track featuring Dev Anand and Tanuja was an instant hit. Majrooh Sultanpuri penned the lyrics. Also read: Top S. D. Burman compositions sung by Kishore Kumar.
9. Yeh Shyam Mastani from Katti Patang (1971) – The song featuring Asha Parekh and Rajesh Khanna is one of the top romantic songs of early 1970s. R. D. Burman used Kishore Kumar's voice to record all Khanna songs except Jis Gali Mein Tera Ghar, and Kishore Kumar's yodelling and Rajesh Khanna's romantic style made this song so special. Anand Bakshi penned lyrics.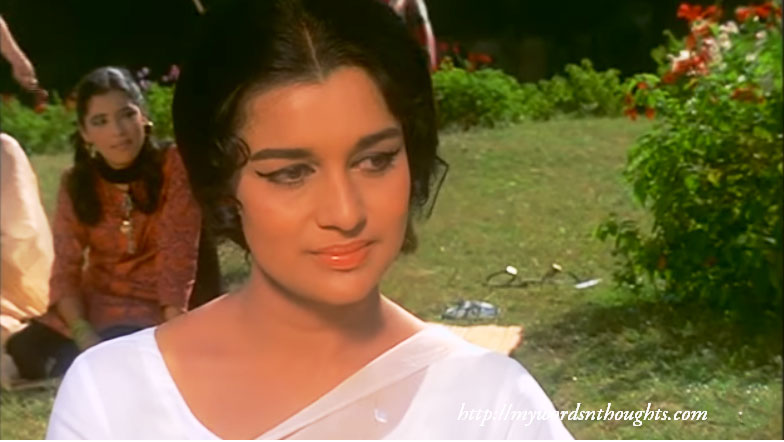 10. Haal Kaisa Hai Janab Ka from Chalti Ka Naam Gaadi (1958) – The song featuring real-life couple is cute to watch onscreen, and Kishore Kumar exhibited some of his distinct mannerisms throughout. The movie featured both his brothers, and his future wife then, Madhubala, with whom he shared amazing screen chemistry. Also read: Top 15 films featuring real-life couples. Music was composed by S. D. Burman and the lyrics were written by Majrooh Sultanpuri.
11. Bhor Aaye Gaye from Bawarchi (1972) – This track was filmed on Asrani, though Rajesh Khanna was the lead actor of this film. Lyrics were written by Kaifi Azmi and music composed by Madan Mohan.
12. Thodi Si Jo Pee Li Hai from Namak Halaal (1982) – Bappi Lahiri composed the song and Anjaan penned the lyrics. The song featured in a comic style also starred Om Prakash and Smita Patel.
13. Gussa Itna Haseen Hai To from Maryada (1971) – The song featured Rajesh Khanna and Mala Sinha. The film score was composed by Kalyanji–Anandji and lyrics were written by Anand Bakshi.
14. Tandi Hawa from Jhumroo (1961) – This popular solo version also included Kishore's yodelling, through the title song is most remembered for yodelling Kishore.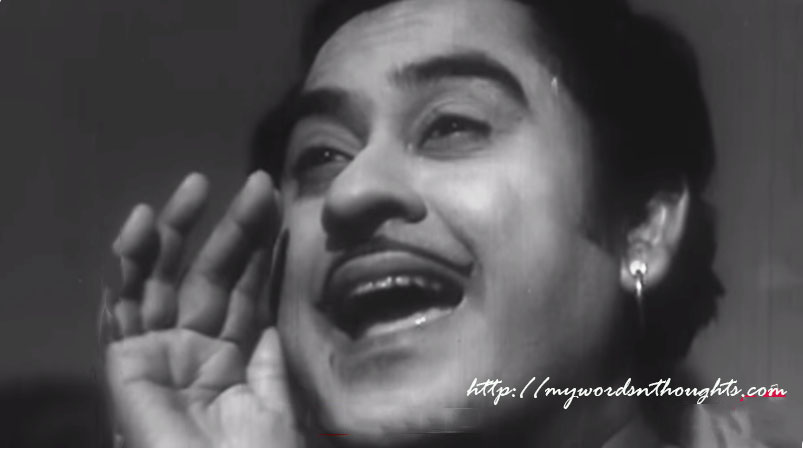 15. Ae Bhole Bhale Man Mera from Jhumroo (1961) – This track includes yodelling in the beginning, though it's not regularly listed among Kishore's yodelling songs. Asha Bhosle sang this duet with Kishore and the song featured Kishore aside his future wife Madhubala.
There are many more Kishore yodelling songs…..
Kishore used his yodelling style in fractions for many more Hindi songs though in glimpses. Paanch Rupaya from Chalti Ka Naam Gaadi, Aise Na Mujhe Tum from Darling Darling, Khwaab Ho Tum from Teen Deviyaan, Piya Piya Piya Mora Jiya from Baap Re Baap, Chand Raat from Half Ticket, Dekha Na from Bombay to Goa, Aao Jhoome Gaaye from Paraya Dhan, Chaayi Khata Bijlee Kadki from Apna Haath Jagannath, Kitne Sapne Kitne Arman from Mere Jeevan Saathi etc are a few more. Keep watching this space. I may add many more yodelling songs of Kishore da……
You can read a few more interesting topics on the legendary singer Kishore Kumar. Here is the page link. Click on the links to read.
(Visited 6,691 times, 1 visits today)