Two-Century Old Stories of Chalai Bazaar – The Major Commodity Market of Thiruvananthapuram City
From Bheemanagari village of Nagercoil, a bullock cart starts off during sunset. After giving poojas and offerings to Amman, the bullock cart starts its journey to Thiruvananthapuram. There is a hanging in Poojapura Jail. The executioner who has been assigned this job is sitting in this bullock cart. He wraps his whole body using a black cloth. A special bell has also been hung in the cart. Spectators who watch this sight at distance can easily recognize the person. They place lamps at the veranda, close the doors and pray in fear.
The cart will reach Thiruvananthapuram Chalai first. Then he worships Kazhukumaadan of Kottuval Street. After that he wears black dress and black cap. Later he reaches Poojapura jail. After 1979, hanging the prisoners has never happened in Poojapura. Velayudhan Perumal Pillai, the last executor of Travancore never reached Chalai to worship Kazhukumaadan. Things have changed a lot since then. But Chalai and its surrounding street still hold some of those old memories of glorious yesterdays.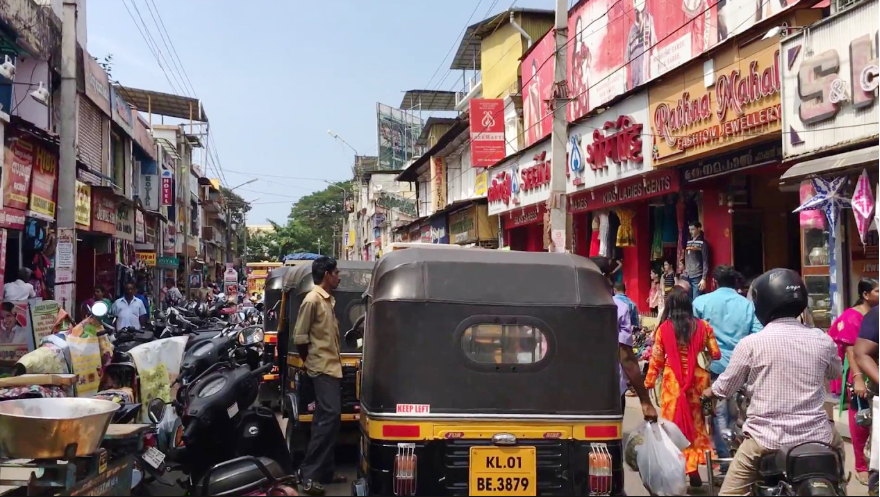 Chalai Market was established by Divan Raja Kesava Das in the late 18th century
During the late 18th century, Travancore kingdom had 1 lakh soldiers and 50,000 reserved army men. Most of them stayed in the areas surrounding state capital. Thus very soon Chalai bazar gained success when it started providing necessary commodities to army men. Chalai Market, started by Divan Raja Kesava Das today is the central nerve of the state capital's commodity market, even after 2 centuries.
In 1799, 8th of Malayalam Month Medam, on Arattu day after annual local temple festival collapsed and died in front of his relative's home at Sreevaraham. It was later revealed that his meals (he took as a part of temple festival) was poisoned, which resulted in his death. Though the founder of the bazaar passed away, the Chalai bazaar earned prosperity in the coming years, and now turned as the central hub of commodity market of Thiruvananthapuram. Chalai bazaar is locally called 'Chala'/'Chaala'.
Chalai was once a part of Kanthallursala, an old study centre. Kanthallur Siva temple still exists, giving some memories of that old era. A shop of Boli swamy is situated in front of temple right now, which is very famous for the sweet boli, an integral part of Thiruvananthapuram sadya. Read its recipe here.
The bazaar which still binds a lot of mysteries
If you look from front end or rear end, it doesn't give an illusion to be a land of mysteries. If you get inside it, you can see numerous paths and countless shops with common walls resembling match boxes, placed in busy streets. It's like a Padmavyuham of Mahabharata, where it's easy to enter and not so easy when you try to get out of it. There are more than 60 small passages in this market giving it a 'mysterious' touch. You need to be a little experienced if you want to travel freely through the streets, and if you have enough time to relax, you can walk through the streets enjoying those glorious yesterdays of royal rule.
Most of the buildings are old, not renovated in the recent times, and gives a vintage look of streets of king's rule. There are numerous streets with residents, apart from Amman Kovil, temples in Tamil Nadu style and their annual celebrations too resemble Tamil Nadu rituals. Villadichaan Paattu and Silver horse, which form an integral part of such celebrations, are some of the reminiscences of Tamil Nadu culture which prevailed in Thiruvananthapuram, a century back. Most of them are traders who came here for trade and later settled.
Chalai Bazar is an emotion which is passed forward to next generations by ancestors, and that's why it still holds most of its old flavours. Chalai culture still binds the flavour of those days and when you walk through the streets, you can feel the atmosphere of 18th or 19th century. Your each step forward leads you to an old era, centuries old, and it binds 2-century old memories with social life of present generation with ease.
A stream of people like a flood
For those who see Chalai from outside, it's only a market. It's the most reasonable place in Thiruvananthapuram city where you can buy groceries, fish, vegetables etc in cheap cost. When you enter through the main street of East Fort, you become a part of a huge herd of people.
Apart from busy people, the streets are filled with two-wheelers and four-wheelers and a One-way traffic is used to control the inflow of vehicles here. It's a very strange and rare place where the living area of a folk of people with inbuilt market co-exists. The local streets are filled with Kolams drawn using rice flour.
If you walk towards East Fort (Kizhakke Kotta) you can see the gopuram of Padmanabha Swamy Temple. Vigneswara temple of Pazhavangadi is nearby. Years back, Divan C. P. Ramaswamy Iyyer during his reign dreamt to build a straight road connecting Chalai and Kanyakumari, a time when Kanyakumari was a part of Travancore Kingdom. But he couldn't fulfill his dream.
The air filled with pleasant jasmine smell in the evenings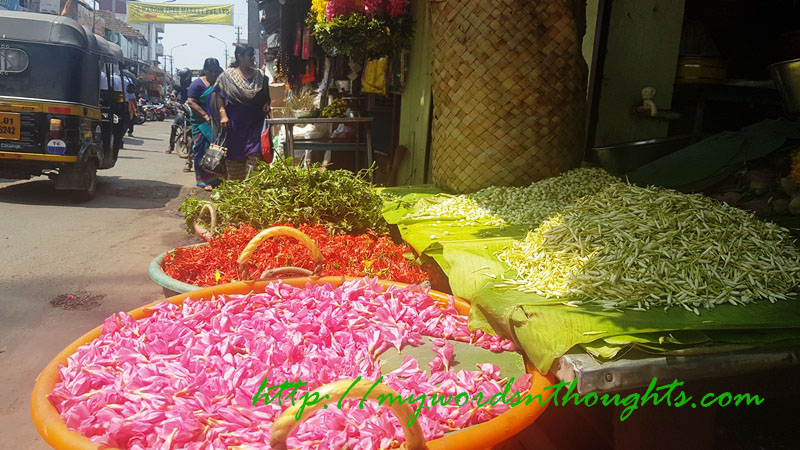 In the late evenings you can see old women making garlands of jasmine (pichi & mulla) and other flowers in the streets here. Pichi flower which is quite common in Tamil Nadu is popular in Thiruvananthapuram too, and used to decorate idols and for worship apart from being used by ladies to tie in hair. Pichi is a type of jasmine (also known as jasmine in English) with white colour, with pleasant smell, and uncommon in mid-Kerala and Malabar.
The flowers reach Chalai Bazaar from Thovala and Shankaran Kovil of Tamil Nadu. In the late nights, markets of Thovala are exclusively opened for Chalai Bazaar, one of the biggest flower markets of Kerala.
The famous Jama Masjid and shops of palm jaggery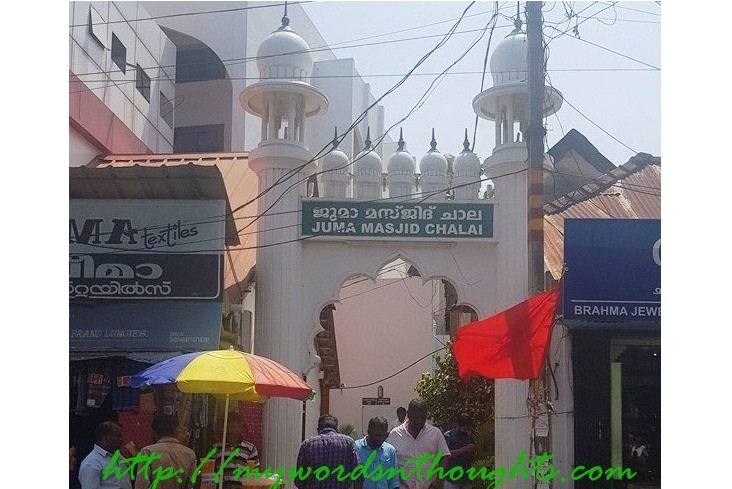 When Travancore kings shifted their state capital from Padmanabhapuram to Thiruvananthapuram, many traders got attracted to Chalai market. Thus Palm jaggery which had huge demand among Tamil people was popularized among Malayalam speaking people by some traders. Most of those traders were Muslims from Thiruvithankode, who later constructed a mosque inside the market, which later came to be known as Karupetti Kada Juma Masjid.
The construction of mosque in 32 cents was done under the supervision of Gulam Moideen Saheb of Travancore. The mosque is now under the control of Thiruvithankode Jama'ath Committee. There is a sub-committee at Chalai. The Kanji served as a part of iftar during Ramzan season is very special.
Kamaraj and Karunanidhi – Two great political figures, who stayed in Chalai years back
Kamaraj, the most influential politician from South India in the post-independent era worked as a cashier in the provision shop of his uncle in Chalai during his younger days. At the age of 20, he was sent to the woodshop of his uncle by his parents to divert his attention from social work. But he left his job and participated in Vaikkom Satyagraha, and turned a full-time politician. Karunanidhi has stayed in Chalai to write stories. One of his publishers belongs to one of the streets of Chalai.
How many famous politicians and celebrities belonging to entertainment industry have walked through the streets of Chalai; famous singers like Usha Uthup and Hariharan to name a few. Vijayakanth – the famous Tamil actor and politician used to run a gold covering shop in Chalai 40 years back. In 2004, he walked through the streets of Chalai and shared some of the breezy nostalgic moments he spent in Chalai years ago. He stayed in a house of Pillayar Kovil Lane in the late 1970s. His Jyoti Jewellery was located in the street, that lies between Pazhavangadi and Over bridge.
Writers from Chalai
Two Kendra Sahitya Academy winners from Tamil Nadu have stayed in Chalai years ago. A. Madhavan and Thoppil Mohammed Meeran are those celebrity writers. Meeran earned a living by selling chillies in Chalai market. He used to carry chillies from Tirunelveli for sale. He used to write Tamil stories during those days, but wrote in Malayalam script. He studied Malayalam, that's why. He was born in Thengapattanam of Kanya Kumari district, which was once a part of Travancore kingdom. Later he wrote several novels, deeply linked with history of Travancore. He seized his grocery business most recently only, yet continues relationship with many friends here.
A.Madhavan who has been a trader in Chalai for a long time became popular in the recent times. He won Kendra Sahitya Academy award in Tamil in 2015. He used to run Selvi store in Chalai. Through his works, he sealed the lives of local goon Sethu Patani, and also the daily life of Chalai streets. Currently he has sold the shop and is settled in the city. Famous Tamil writer Neela Padmabhanabhan resides in Aryasala located in Chalai Bazaar. He is an engineer by profession and still walks through the streets of Chalai wearing mundu. There is a special location for writers concentrating on to Tamil literature.
A fire mishap in Chalai in the 1980s
Though not many major accidents were reported in Chalai market, a fire mishap occurred in the 1980s. To loot the market, a few tried to bring uprising and splits among the locals of Chalai, by implanting the seeds of caste and religion. Many shops were plundered and later set to fire. Using that money, many new merchants came into existence in the same market. But they couldn't survive long, because those old traders returned back to the market and their business flourished once again. Yes, Chalai holds some sort of mystery and truths, not easy to unfold.
The streets of goldsmiths during those glorious yesterdays
Before the giants of gold and jewelry showrooms conquered the centre locations of gold trade, Chalai owned a glorious period of gold merchants and local goldsmiths. During old days, local thieves who steal gold ornaments used to reach Chalai to sell those items. When they got caught later, police reaches the particular shop along with the thief who explains the model of the stolen ornament. Goldsmiths used to prepare ornaments as per given model and returns to the policemen, which finally reaches the owner.
A few decades back, when you travel from Killipalam to Aryasala through the streets of Chalai, you could see numerous gold shops, where you can see goldsmiths fully engaged in gold work. When they blow gold using an instrument, tiny particles of gold come out. There were many families existed then, who used to carefully brush and collect those sand particles, and extract gold from sand to earn a living. In those days very poor people used to gather before go downs and fight with doves to pick the spit grains. Later they used to sell those grains to earn a living. There was a government office in that street, which doesn't exist now. Hundreds of such go downs are available in the streets of Chalai now.
The street filled with both Malayalam and Tamil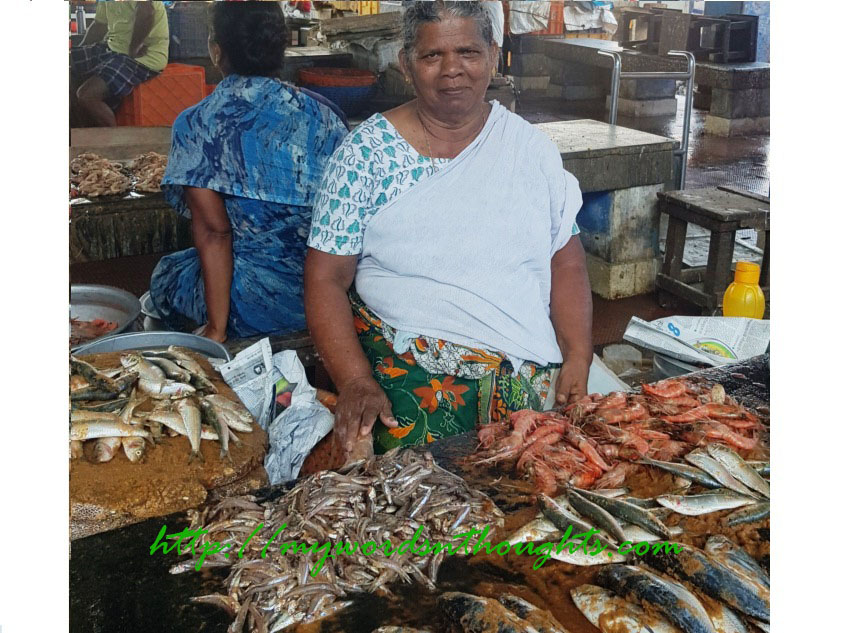 Time took along with it, many old things of Chalai market, and it retained a few as well. The famous Gandhi hotel doesn't exist now. But the famous Azad hotel started in the 1940s has now branched to many places of the capital city. Same is the case of Kethan's chicken of Chalai Bazaar. Still giving the combo of chapattis and tender chicken fry along with lemon juice, it's still popular among the masses, and Kethen's chicken has not lost its distinct taste as well. Its secret recipe is still an unfolded tale to outer world. Since then, till now, it's prepared using normal hearths and traditional methods, which keeps intact its flavour and unique taste.
Many workers who worked in crockery shops have already disappeared. They were very short during ancient days. Such people could easily travel through secret paths and doors to reach their go downs those days. Only a few such workers exist now, who still represent some of the old flavours of old shops of Chalai.
A language known as Chalai Tamil or Chalai Malayalam has been coded exclusively for the inhabitants of this local area and this language is known to people who reached there even from Tirunelveli of Tamil Nadu. Since ancient days, many local people have reached from different parts of Tamil Nadu including Madhurai and latter got settled here. The locals also include Malayalis belonging to Kanya Kumari district, with a hinge of Thiruvananthapuram Malayalam dialect. Thus this language uses words from both Tamil and Malayalam and a little lagging/slow dialect. It reaches a song fashion among goldsmiths of Aryasala. Thus the Chalai language has a few derivatives as well.
Today Chalai market is a hot spot for traders of Maldives. Thus a new language has also born in the streets of Chalai in the recent times. New salesmen who reach from Maldives are fluent in Dhivehi language also.
How many big shops and shopping malls can come to Thiruvananthapuram in the past few decades! Yet people of Thiruvananthapuram are not satisfied fully, until they purchase something from Chalai market for a special eve. There is a common saying, 'If you can't find a particular commodity in any shop of the city, search it in Chalai baazar. You will definitely find it here'; it's true also. Chalai has deeply influenced the social and cultural life of Thiruvananthapuram in true sense. Many of the buildings in the streets are connected to each other, not easy to demolish. Same is the case of 'Chalai thoughts' in the minds of Thiruvananthapuram locals.
You can read a few more articles related to Thiruvananthapuram- The capital city of Kerala, and the posts cover different topics. Here is the page link. Click on the images in the gallery to read
(Visited 1,199 times, 1 visits today)