Top 25 R. D. Burman compositions sung by Mohammed Rafi
Mohammed Rafi – the greatest male voice of Bollywood ever. Though he is best known for his successful association with Shankar-Jaikishen, Naushad, O. P. Nayyar, S. D. Burman etc, he has rendered some nice songs in R. D. Burman composition, though a few in number. It's not a hidden fact that R. D. Burman exclusively worked with Asha Bhosle and Kishore Kumar throughout 1970s and 1980s, and he was responsible to put an end of two-decade supremacy of Rafi in Bollywood.
His decision to give two of the tunes originally reserved by his father for him to Kishore (for the movie, Aradhana), turned everything upset down, and shook his throne. Yet we can't deny the fact that though Rafi's name is linked with great composers of 1960s, the only music director who managed to give a National award for Rafi throughout his career is R. D. Burman, through the song – Kya Hua Tera Waada.
Pancham has also given some of the finest tunes of Rafi's career belonging to Teesri Manzil, Yaadon Ki Baraat, Caravan, Hum Kisise Kum Naheen etc. Most of the memorable tracks sung by Rafi in Pancham's music were penned by Majrooh Sultanpuri. While Anand Bakshi remained the hot favourite of Rajesh Khanna while working with R. D. Burman, rest of his works was mostly done by Majrooh Sultanpuri. Also read: Top 100 chartbuster songs of R. D. Burman.
Through this column, I would like to list 25 of the best songs sung by Mohammed Rafi, tuned by R. D. Burman. I have sorted in the songs in alphabetic order. Hope you will like it.
1. Aaja Aaja Mein Hoon Pyar Tera from Teesri Manzil – What a lovely song to begin with! Despite spending more than 5 years in Bollywood, R. D got his first big break as a successful music composer through Teesri Manzil in 1966. It's one of his earliest associations with Rafi too, who recorded all its 6 tracks in his voice too. 4 of its songs include Asha Bhosle's voice too, who got a big break through the fast and cabaret songs composed by Burman. Aaja Aaja is a lovely club number sung by Rafi and Asha, and dance moves done by Asha Parekh and Shammi Kapoor. Majrooh Sultanpuri penned the lyrics.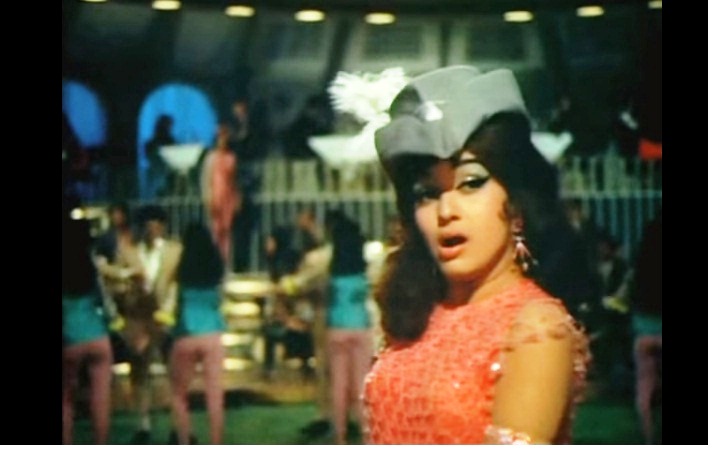 2. Chadti Jawani Meri from Caravan – This dance number featuring Jeetendra and Aruna Irani was a huge chartbuster when it got released in 1971. Caravan is one of the finest works of R. D. Burman and Rafi's works in the 1970s. Rafi sang this duet aside Lata Mangeshkar and Majrooh Sultanpuri penned its lyrics. A remixed version filmed on models as angels got released in mid-2000s, but was criticized for obscenity.
3. Chand Mera Dil Chandni Ho Tum from Hum Kisise Kum Naheen – Actually it's a medley of a string of peppy numbers, sung by Rafi, Asha Bhosle, Kishore Kumar and Burman himself. This medley, as a part of a singing competition begins with Chand Mera Dil Chandni Ho Tum sung by Rafi and Tariq Khan lip-synced to it. Rishi Kapoor and Kajal Kiran were also only featured in this song. Medley also included – Aa Kadamom Mein Aaya, Mil Gaya Hum Ko Saathi Mil Gaya and Tum Kya Jano Mohabbat Kya Hai, and all of them were extremely popular. Majrooh Sultanpuri penned its evergreen lyrics.
4. Chura Liya Hai from Yaadon Ki Baaraat – Definitely this romantic duet is included in the playlist of almost all ardent fans of old Hindi songs. This unforgettable tune was originally inspired from English song, If It's Tuesday, This Must Be Belgium from the soundtrack of the 1969 film of the same name. But Burman made his tune his own, by adding his own distinct elements. No doubt, it's one of the most popular and wonderful duets ever sung by Rafi and Asha, and the actors – Zeenat Aman and Vijay Arora too shined in its joyful picturization. In fact Vijay Arora is best remembered for this particular romantic song, than his appearance on big screen multiple times. Once again Majrooh Sultanpuri penned its lyrics, best known for his association with Nasir Hussain – R. D. Burman combination movies. Since 1966 the trio worked together for more than two decades continuously for all Hussain projects.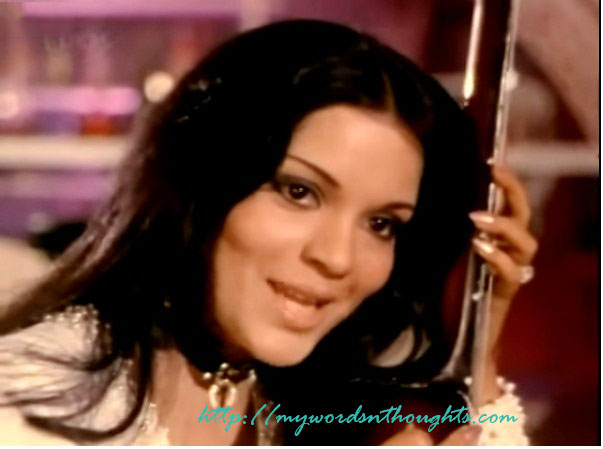 5. Deewana Mujhsa Nahin Iss Ambar from Teesri Manzil – Teesri Manzil definitely can be counted among the top 10 albums of R. D. Burman, no doubt! Music was the real strength of this musical hit, and it's not easy to exclude any Rafi song from the list. Despite being immensely popular, Teesri Manzil is the only work of R. D for Shammi Kapoor during his glorious years as a romantic hero, and Rafi's voice was exclusively used for it. This solo track featured Shammi and Asha Parekh and lyrics were penned by Majrooh. It was also the last Nassir Hussain film in which Mohammed Rafi sang all the songs, and by the era of 1970s Kishore dominated the scene.
6. Goria Kahan Tera Desh from Caravan – The movie featured some of the best songs of early 1970s. Though Goria Kahan Tera Desh is a weak track comparing the rest tunes, this Rafi song can never be excluded too. The song was picturized on Jeetendra and Aruna Irani, and sung by Rafi and Asha. Once again Majrooh Sultanpuri penned its lyrics.
7. Gulabi Aanken from The Train – The dance sequences featuring Rajesh Khanna and Nanda may look funny at present times. But the song was extremely popular when it got released, and still popular for the fast pace and the energy filled inside. It's one of the popular Burman tunes remixed frequently. One of the earliest associations of Anand Bakshi with Burman, it's one of the rarest songs sung by Rafi for Rajesh Khanna, that too in Pancham da's composition. Also read: Top songs of Rafi-Rajesh Khanna combination.
8. Hum Kisise Kum Naheen (Hai Agar Dushman Dushman) from Hum Kisise Kum Naheen – One of the finest Qawwalis ever filmed in Bollywood, it was beautifully pictured on Rishi Kapoor and Zeenat Aman. It's a jugalbandi between Rafi and Asha, and lyrics were penned by Majrooh Sultanpuri.
9. Jaanu Meri Jaan from Shaan – This popular song was sung by four legends of Hindi cinema, Mohammed Rafi, Kishore Kumar, Asha Bhosle and Usha Mangeshkar, and was filmed on Amitabh Bachchan, Shashi Kapoor, Parveen Babi and Rakhee Gulzar. Pehli Nazar Mein Humne from Burning Train, sung by these four singers was also recorded by Pancham the same year, and both songs got noticed. Anand Bakshi penned its lyrics. Pancham da used Mohammed Rafi's voice to record one more song, Yamma Yamma – a duet with composer himself.
10. Kitna Pyara Vaada from Caravan – It's the most popular duet featured in the album. The romantic song featured on Asha Parekh and Jeetendra was sung by Rafi and Lata Mangeshkar. Majrooh Sultanpuri wrote its lyrics.
11. Kya Hua Tera Wada from Hum Kisise Kum Naheen – One of the top songs of Rafi in the 1970s, it's the only song which earned him a National award. Rafi received his 6th and final Filmfare award for its rendition, and Sushma Shrestha too received a nomination for the same. It was his single Filmfare award in 1970s too, marking his strong comeback in the era dominated by Kishore songs. But unfortunately he passed away in 1980 at the age of only 55. It's one exceptional soft song of the album which consisted mostly of fast beat numbers, all written by Majrooh Sultanpuri. The song was lip synced by Tariq Khan who appeared as a stage performer for this song and Rishi Kapoor and Kaajal Kiran are also seen in the song.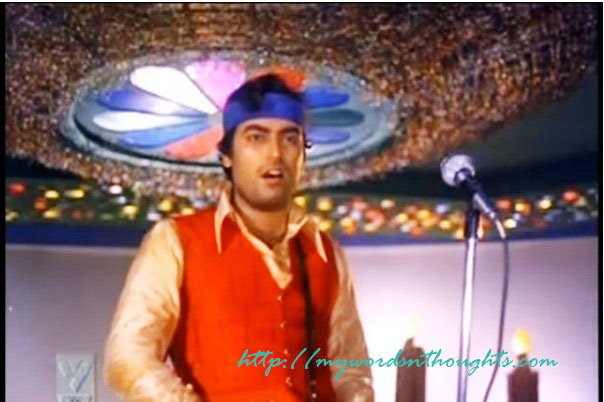 I still remember my early childhood days of mid-1980s and later. Many of my neighbours who worked in Mumbai that time (then called Bombay) and later settled here (in Kerala), used to sing this particular song frequently. It's one of the earliest Hindi songs I heard and learnt. This song was a huge rag across the nation when got released, and doesn't loss its charm or freshness even in the mid-1980s. That's the effort behind the song by R. D and also the effortless rendition by Mohammed Rafi. Hats off to two great geniuses of Hindi cinema! Majrooh Sultanpuri's heart touching lyrics also deserves special mention. Let me add one more interesting fact related to this song. There is one film Phir Kab Milogi (1974) starring Biswajit and Mala Sinha, music composed by Pancham da. It included a sad solo of Lata Mangeshkar – Tum Mujhe Roothe Ho filmed on the lead pair. Biswajit is seen playing a violin, and the intro tune is exactly the same – Kya Hua Tera Wada, which was later used the composer for Hum Kisise Kum Nahin.
12. Meine Poocha Chand Se from Abdullah – The movie is best remembered for this beautiful solo rendition of Rafi. The song was filmed on Zeenat Aman and Sanjay Khan, who were rumoured to have a relationship and marriage then, and lyrics were penned by Anand Bakshi.
13. Ne Soniye from The Train – It's one of the rarest Rafi tracks composed by Burman for Rajesh Khanna, and the movie got released in 1970 soon after songs of Aradhana, arranged by R. D rocked the whole nation. Similar to Gulabi Aankhein, this soft romantic track featuring Nanda and Khanna too was extremely popular. Lyrics were penned by Bakshi.
14. Ni Sultana Re from Pyar Ka Mausam – It's indeed a very rare composition of Bollywood ever, best noticed for its unique rendering by Rafi and Lata. Both the singers crooned it amazingly well by bringing high variations in pitches from low note to high and in reverse order, and Asha Parekh and Shashi Kapoor too danced pretty well. Lyrics were written by Majrooh Sultanpuri. Also read: Top 15 songs featuring Shashi Kapoor and Asha Parekh.
15. O Haseena Zulfonwali Jaane Jahan from Teesri Manzil – It's one of the top items ever pictured on Helen, and Shammi Kapoor is also seen dancing along with her. Herman Benjamin choreographed the dance steps. It's one of the earliest hit cabaret numbers of Asha Bhosle, and her successful association with Burman for several cabarets, item numbers and dance tracks. R. D created its high octave songs for the film with a blend of rock, jazz, Latino and a twist of his own unique traits, and this song was extremely popular. Majrooh Sultanpuri penned its words.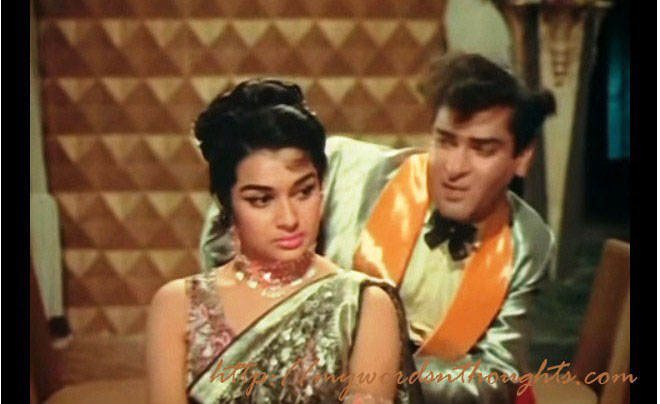 16. O Mere Sona Re from Teesri Manzil – Perhaps it's the most popular song belonging to the album. It's the first successful association of Asha Bhosle & R. D. Burman, a time when Asha was mostly associated with O. P. Nayyar tunes. Who forecasted then, the duo is to conquer Hindi cinema the next decade and many years to come, and they will become life partners! The song featuring Shammi and Asha is still remembered by their fans. Soon after the death of R. D. Burman, Asha Bhosle recorded its remixed version for the album – Huzoor – E – Ala, the song revived by Lesle Lewis.
17. Pal Do Pal Ka Saath Humara from Burning Train – This much-anticipated film with an ensemble star cast and huge budget burned producers' pocket. But it was not a bad movie either, and included some nice songs composed by our own Pancham da. Pal Do Pal Ka Saath Humara sung by Mohammed Rafi & Asha Bhosle is my personal favourite. This Qawwali was penned by Sahir Ludhianvi and filmed on Jeetendra & Neetu Singh.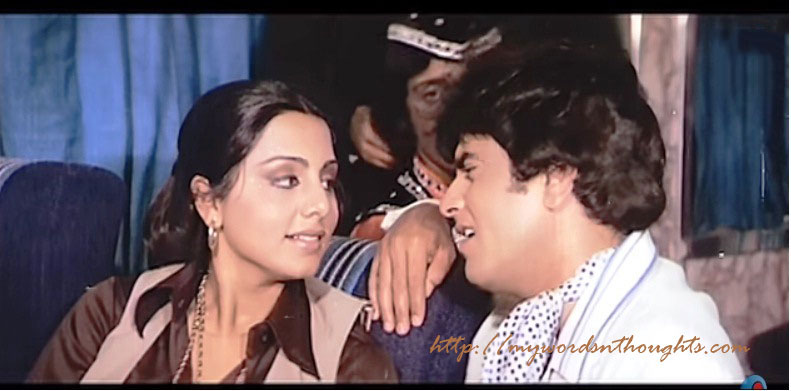 18. Pehli Nazar Mein Humne from Burning Train – It's mere co-incidence that the composer recorded two songs the same year – Pehli Nazar Mein Humne and Janoo Meri Jaan (Shaan) the same year, and both the songs were sung by Mohammed Rafi, Kishore Kumar, Asha Bhosle and Usha Mangeshkar. Sahir Ludhianvi wrote this song, and it was filmed on Dharmendra, Vinod Khanna, Hema Malini and Parveen Babi.
19. Poocho Na Yaar Kya Hua from Zamane Ko Dikhana Hai – The duet sung by Asha Bhosle and Rafi was filmed on Padmini Kolhapuri and Rishi Kapoor. Majrooh Sultanpuri penned its lyrics.
20. Rut Hai Milan Ki Sathi Mere Aa Re from Mela – The movie was not a big hit, yet its songs got noticed. This romantic track featuring Mumtaz and Sanjay Khan sung by Rafi and Lata is a memorable one. Real life brothers – Feroz Khan & Sanjay Khan played brothers in this film, who gets separated in a fair during childhood. Gori Ke Haath Mein Jaise Ye Challa is yet another popular duet from the film.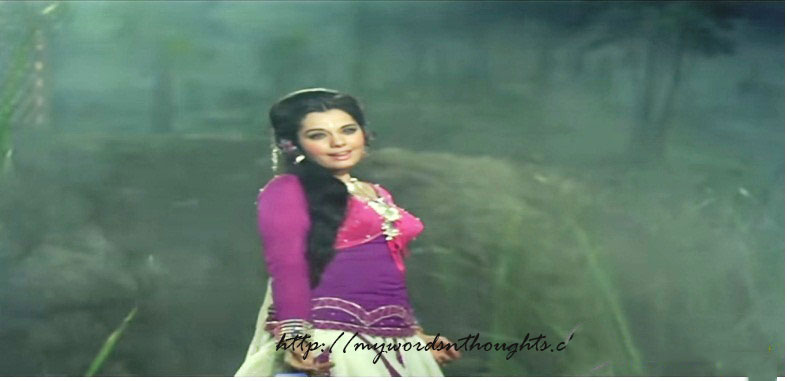 21. Tum Bin Jaon Kaha from Pyar Ka Mausam – Very few songs in Bollywood has two versions in Rafi and Kishore's voice, and Tum Bin is one such extremely popular track. Both the renditions were accepted by movie buffs. Rafi's version got released first and well received as well. Rafi's voice was used for Shashi Kapoor's version two times, and one of them featured the lead heroine Asha Parekh too. Kishore's version featuring Bharat Bhushan was recorded and released later, and this one had an upper hand over Rafi's simply because of the yodeling Kishore incorporated in the song while recording. Rajesh Khanna's superstardom in the early 1970s also made Kishore's version most popular. But to be honest, I loved both versions and legends should never be compared. Also read: Top 50 solo tracks of Kishore da.
22. Tumne Mujhe Dekha from Teesri Manzil – This top Shammi Kapoor – Rafi song was composed not by Shankar-Jaikishen, but by very young R. D. Burman who was struggling to put a foot in music industry then. The music industry was fully dominated by semi-classical and Indian folk music composed by SJ, S. D. Burman and Laxmikant Pyarelal then, apart from the incredible works of O. P. Nayyar. Filmmaker Nasir Hussain gave Burman the big break through this movie. The huge success of film and its songs earned recognition to Pancham, who established as the leading music composer of Bollywood soon. Shammi Kapoor is performing this soft solo in a romantic ada before audience, and Asha Parekh is also present with tears in her eyes. Also read: Top soft solos sung by Rafi for Shammi Kapoor. Lyrics for all the six tracks of the music album were penned by Majrooh Sultanpuri, who frequently associated with Burman for all Nasir Hussain movies. Teesri Manzil marked their successful association.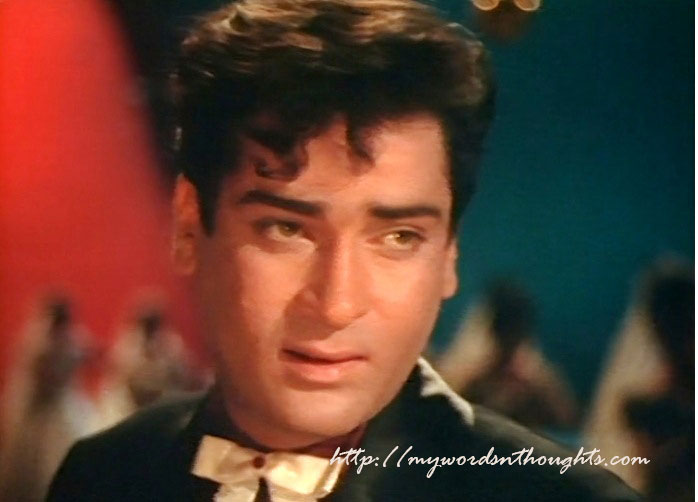 23. Waadiyan Mera Daaman from Abhilasha – This song had two solo renderings by Rafi and Lata and both featured Nanda and Sanjay Khan. This extremely melodious track composed by Rahul Dev Burman is the greatest claim to fame for Abhilasha, and lyrics were penned by Majrooh Sultanpuri. When you listen to Rafi's rendition today, it's hard to believe that young R. D recorded such a beautiful song in these iconic voices in the late 1960s.
24. Yaadon Ki Baaraat from Yaadon Ki Baaraat – R. D. Burman's energetic music played a magnificent role in the super success of this film, though some of the tunes were 'inspired' ones. Yaadon Ki Baaraat is one of the major works of Rafi during his career lows in the 1970s. The title version had a duet version sung by Rafi and Kishore, and in yet another version Aamir Khan was seen as a child actor. The duet version of Rafi and Kishore is indeed one of the rarest recorded songs, and was filmed in movie's climax featuring the three brothers- Dharmendra, Vijay Arora and Tariq Khan. It's one of the best emotional and heart touching scenes ever pictured on Bollywood screen, and still pondered by many. Majrooh Sultanpuri authored its lyrics, which was used to coin the film title.
25. Yeh Ladka Hai Allah Kaisa Hai from Hum Kisise Kum Naheen – A lot of colourful balloons and the heroine Kaajal Kiran in a crazy mood hanging to the balloons – That's what everyone recollect whenever the song is listened to. Tariq Khan was also seen in the song. Mohammad Rafi and Asha Bhosle sang this very popular duet, and lyrics penned by Majrooh Sultanpuri. Here I conclude my list.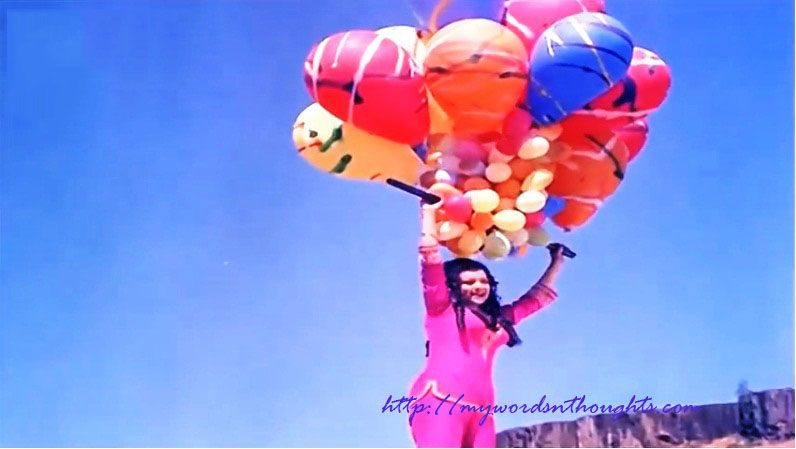 Trivia: R. D. Burman composed music for 11 movies for Dev Anand. But he never used Mohammed Rafi's voice to record Dev Anand's songs. Interestingly, his father divided his songs between Kishore Kumar & Mohammed Rafi, even during the peak years of Rafi, when Kishore Kumar was best known as an actor, who sings for his movies only. Needless to say, S. D. Burman recorded many memorable Dev Anand songs in Rafi's voice since 1950s.
R. D. Burman still remains one of the most celebrated Bollywood music composers ever. Please visit this page and click on the links to read a few interesting topics of this iconic composer. Here is the page link.
(Visited 6,556 times, 1 visits today)