Pine Apple Pachadi
Pine Apple Pachadi is a sweet side dish served with traditional Kerala sadya. In Thiruvananthapuram side, either pineapple pachadi or beetroot pachadi, or both are served as side dish for traditional sadya in marriage ceremonies and other engagements. In fact pine apple pulissery is an integral part of traditional sadya of south Kerala regions, served soon after payasams. Olan is also served as the side dish of Pulissery.
But in this article, I am not giving a recipe of Pachadi in Thiruvananthapuram style. It's a recipe posted on Vanitha Magazine on September 1-14 2011 edition, and this pachadi is indeed colourful and sweet, and excellent sweet side dish for rice. It's definitely a new but easy dish to try. But diabetic patients, please avoid it.
Also read: Pineapple – Pumpkin Pachadi.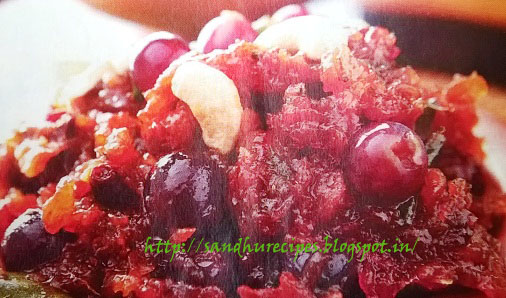 Ingredients for Pine Apple Pachadi:
1. Fully ripened pineapple fruit – 1 big
2. Banana fruit (Nentra Pazham /Etha Pazham) – ½
3. Salt and water – As required
Coconut scrapped and crushed – ¼ cup
10. Mustard powdered – ¼ tsp
Method of preparation of Pine Apple Pachadi:
1. Finely chop pine apple into pieces after removing skin.
2. Split banana into 2 or 4 and cut into pieces.
3. Cook pine apple and banana pieces adding enough water and salt along with ingredients no: 4.
4. When done, cook till water content is almost absorbed. Add sugar and cashews, and mix well.
5. When water content is fully absorbed put the flame off.
6. Crush ingredients

no: 7. Remove water content of grapes, and mix both these items with pachadi.
7. Sauté ingredients no: 9 in coconut oil and add to pachadi.
8. Also mix mustard powder to the dish and mix contents well.
Archive: Vanitha magazine September 1-14 2011 edition
You can read a few more pine apple recipes here. Click on the images in the gallery to read.
(Visited 360 times, 1 visits today)