Akshay Kumar played lead role in these 10 remakes of Malayalam cinema
South Indian films, particularly Malayalam movies and director Priyadarshan have been instrumental in making Akshay Kumar one of the leading stars of Bollywood cinema. Since 'Hera Pheri' days, Akshay Kumar worked with Priyadarshan in multiple movies and most of them were commercially successful. It's only a myth that Akshay worked only with Priyadarshan in south Indian, particularly Malayalam movie remakes. He has worked with many other directors too.
While many action thrillers from Telugu and Tamil movies were remade to Hindi with Akshay playing lead role, he mostly appeared in comedy genre of Malayalam remakes. He mostly reprised Mohanlal and Mukesh's role in most of remakes. Through this column I would like to list 9 of Mollywood films in which Akshay Kumar played lead role in Hindi remake. Also read: List of Malayalam movies remade to Hindi.
1.Hera Pheri – The list always begins with cult classic Hera Pheri directed by Priyadarshan. The super success of the movie also revived the careers of both Akshay Kumar and Paresh Rawal. Read to get the details. The movie was a remake of super hit comedy, Ramji Rao Speaking released in the year 1989 which marked the debut of director duo, Sidhique-Lal, and actors Saikumar and Rekha. Akshay Kumar reprised the role of Mukesh in this remake.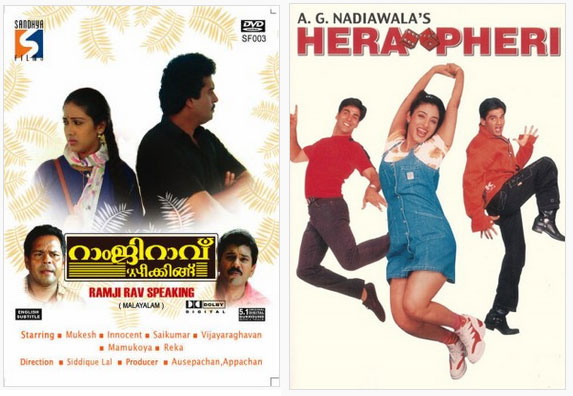 2. Heyy Babyy – This multi-star cast film directed by Sajid Khan was inspired from Malayalam classic, Thoovalsparsham directed by Kamal in the year 1990. Once again, Saikumar and Mukesh played the friends' role aside Jayaram, and Fardeen Khan, Ritesh Deshmukh and Akshay Kumar played friends' role in Hindi version. Movie was a commercial hit.
3. Bhool Bhulayya – The movie directed by Priyadarshan released in the year 2007, and is included in the string of hits which helped Akshay to earn 'Super Star' tag. National award winning cult classic – Manichitra Thaazhu was released in the year 1993, and was remade to several languages including Hindi. Original version was directed by Fasil and Priyan didn't make any alterations in the film script. Akshay reprised the role of Mohanlal who played a psychiatrist in the original. Movie met with commercial success and critical acclaim.
4. Houseful 2 – The second installment of Houseful series was an uncredited remake of master comedy starring Mukesh, Mattupetti Machaan released in 1998. The original version was directed by Jose Thomas, and Hindi version by Sajid Khan. Though the movie received negative reviews from critics, it became more successful than its prequel.
5. Khatta Meetta – The movie directed by Priyadarshan was only average at box office. It's the remake of director's his own cult classic Malayalam comedy, Vellanakalude Naadu starring Mohanlal and Revathy. Original version was released in 1988. The movie also marked Bollywood debut of south Indian heroine Trisha Krishnan.
6. Garam Masala – This entertaining comedy thriller was a remake of Priyadarshan's his own super hit Malayalam film, Boeing Boeing released in 1985. Original roles played by Mohanlal and Mukesh were reprised by Akshay Kumar and John Abraham in the Hindi version respectively, and their onscreen chemistry was well-appreciated. The movie was also a huge hit at box office.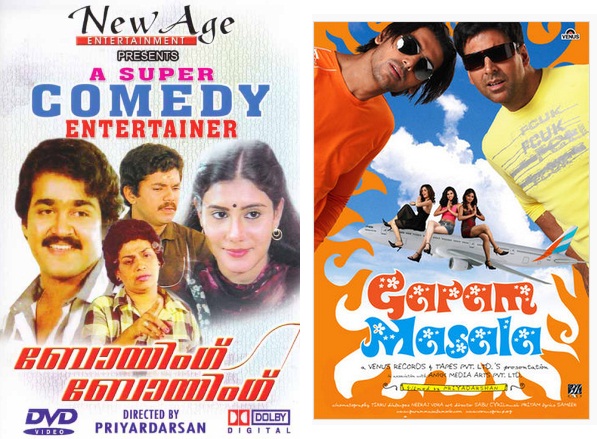 7. Boss – It's the first Akshay movie, a remake of a Malayalam movie which couldn't reach audience expectation. This high budget film directed by Anthony D'Souza was a big disappointment at ticket counters. It's the official remake of action masala film, Pokkiri Raja starring Mammootty and Prithviraj, and was directed by Vysakh. It's perhaps the only Malayalam action film with Akshay playing lead role in Hindi version, while he appeared in comedy genre movies in the rest of remakes. It's also the single time where Akshay Kumar reprised Mammootty's role in Hindi remake.
8. Bhagam Bhaag – This Priyadarshan movie is not a remake of a single film, but a mix up of three films, including one Hollywood film. It borrowed sub-plots from Siddique-Lal's Mannar Mathai Speaking and Sathyan Anthikkad's Nadodikkattu. Mannar Mathai Speaking is the sequel of Ramji Rao Speaking which was made as Hera Pheri by Priyadarshan before. That's the reason why many feel a continuation of its story with Hera Pheri. Akshay reprised the role played by Mukesh in Bollywood remake.
9. De Dhana Dhan – This Priyadarshan film can't be claimed to be full-fledged remake. Priyadarshan remade Hindi romantic hit, Pyar To Hona Hi Tha to Malayalam titled Vettam, and changed its climax. Later when he made De Dhana Dhan, he used those newly added sub-plots of Vettam for De Dhana Dhan's climax as well. Vettam is Akshay's single film up-to-date where he starred in the Hindi remake of a Dileep starrer.
10. Selfiee – The latest addition to this list is Selfiee, official remake of Malayalam super hit film, Driving License starring Prithviraj and Suraj Venjaramoodu. While Emraan Hashmi reprised the role of Motor Vehicle Inspector Kuruvila Joseph, played by talented actor Suraj Venjaramoodu on screen, Akshay Kumar played the superstar's role originally played by Prithviraj. Though the movie didn't receive as good reviews as its source material, many critics gave favourable reviews too. Read my thoughts. Post pandemic Akshay Kumar is quite busy with south Indian remakes, with Selfie being the latest. Other south Indian films were official remakes of Tamil hits, but all of them failed at boxoffice/OTP. Laxmii (remake of Tamil horror comedy Kanchana), Bacchan Pandey (remake of Tamil cult classic Jigarthanda) and Cuttputili (remake of Tamil psychological thriller Ratsasan) were those films. Remake of highly acclaimed film Soorarai Pottru is his next release. Read
I have added 10 films in this list. If you have more names in your mind, please let me know.
Also go through this gallery please. Read the stories of a few more inspirations and copies of Bollywood. Click on the images to read.
(Visited 4,472 times, 1 visits today)