David Abraham Cheulkar – Versatile character artist of Bollywood yesterdays known for avuncular roles
David Abraham Cheulkar, fondly called David (1908 – 1981) was a veteran and popular character artist of Bollywood classic era. His name is always taken with respect, along with top talented and versatile character artists of yesterdays like Om Prakash, Nazir Hussain etc. Countless positive character roles he portrayed on screen are memorable. This legendary actor frequently played uncle, mentor, and advisor kind of roles on screen with avuncular nature. He also beautifully essayed comic roles on screen. He was a theatre artist too, fully involved with IPTA.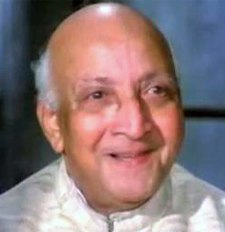 His bald head, facial expressions, smile and body language had his signature style, not easy to imitate by others, which makes him an extraordinary artist of yesterdays. Gol Maal (1979), Baton Baton Mein (1979) and Boot Polish (1954) are his most memorable roles. In fact he was the first actor to receive Filmfare award for best supporting actor, and he won the honour for 1954 film, Boot Polish. Interestingly he was never nominated later, despite playing countless popular roles on screen.
David Abraham Cheulkar was born in Thane, Maharashtra. He was a member of Jewish Bene Israel community, born as the youngest child to his parents. After completing his graduation in 1930, he tried for a good job for long 6 years. When he failed in this attempt he decided to try luck in Mumbai and join films. He also completed LLB in those struggling years. With the help of a friend he bagged his first film Zambo in 1937. He got film offers at frequent intervals and the turning point happened when he got the iconic role of John Chacha, the bootlegger of Boot Polish in 1954. Since then he got a 'Chacha' or avuncular image permanently and played similar kind of roles numerous times.
He has been a part of several iconic and memorable films till his death in 1981 following a heart attack at Toranto. He was fully active in his career till then. Gehri Chot – his last film was released posthumously. He played brief roles in many Bollywood classics, but made those roles special. Some of his memorable roles include – Satyakam, Gol Maal, Haathi Mere Saathi, Mere Huzoor, Ek Phool Do Maali, Upkar, Aasra, Khatta Meetha, Abhimaan, Khubsurat, Chupke Chupke, Himalay Ki Gode Mein, Anuraag, Baton Baton Mein, Satyam Shivam Sundaram, Shatranj Ke Khilari, Mamta, Ek Phool Char Kaante, Amar Deep etc.
David Abraham Cheulkar – Some interesting and less-known facts
1. Recipient of first Filmfare award for best supporting actor in 1955, he was never nominated in this popular character later.
2. He was honoured with Padma Shri in 1969 by government of India.
3. He was unmarried.
4. His father worked as a railways engineer in Mumbai.
5. He joined film industry as he couldn't find a good job after completing BA at low grades. He was heartbroken when his hunt to find a job failed even after 6 years of his graduation.
6. At a point of time he was so desperate that he was even willing to do small tasks behind camera like assistant director, production manager, clapper boy etc. Finally one of his friends in the industry gave him a film role in 1937.
7. He played an elderly professor in his debut film.
8. After joining films, he had an unsuccessful career as a lawyer.
9. He sported a carefully trimmed moustache during his early roles, while he was seen clean shaven in his later roles.
10. A popular 'Chacha' of Bollywood screen he frequently played mediator and mentor kind of roles on screen. Perhaps he is the one who played such roles maximum on Bollywood screen.
11. He was fondly called Uncle David or David Chacha in the film circle.
12. In a career spanning to nearly 4 decades, he appeared in more than 110 films.
13. He was known for promoting sports and later became India's Olympic Games representative.
14. Between 1959 and 1975 he frequently hosted award functions, and was the most sought anchor and compere too.
15. The iconic song "Nanhe Munne Bachche" of 1950s was filmed on him. The song belonged to the movie, Boot Polish, and was sung by Asha Bhosle and Mohammad Rafi.
16. His comic timing in Golmaal and Chupke Chupke was well appreciated.
17. He suffered a serious heart attack in 1972 and he moved to Canada with a niece and nephew. For next one decade, he played brief roles too though was not regular. On December 27, 1981, Cheulkar suffered a stroke and died six days later.
18. He played a negative role in his last film, Gehri Chot which got released after his death. Ironically his character was shot dead at one of the climax scenes.
(Visited 488 times, 1 visits today)