Aradhana – Bollywood blockbuster movie celebrates golden jubilee year in 2019
50 long years since India got its first superstar through evergreen classic 'Aradhana' – a social drama and a woman centric film which broke many stereotypes. With the beginning of the new decade of 1970s, 'Aradhana Euphoria' in the late 1960s has already crossed all extremes. Rajesh Khanna went on to script history in Indian film industry with his naughty twinkling eyes, the stylish shake of the head and enigmantic smile. All these factors combined with his handsome looks and innocence gave Bollywood screen something special, which was never experienced before.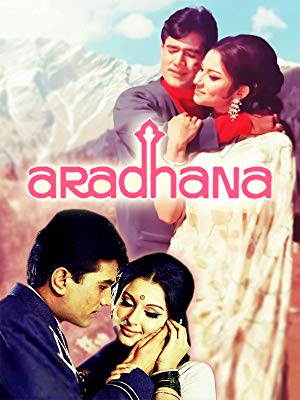 I have seen different dates of release for 1969 blockbuster drama film Aradhana starring Rajesh Khanna and Sharmila Tagore. While most of the sites suggest it to be 27th September 1969, there are a few more suggestions such as 24th October 1969 and also 7th November 1969 as told by Wikipedia page of Aradhana. Ashim Samanta – son of Shakti Samanta told in an interview that (Ashim was a 10th class school child during the movie release) film was first premiered in Delhi on 31th October and on 7th November in Mumbai (then known as Bombay) and other places. Quite interesting to know the movie releases on different dates in different metro cities those days!
Release date may be contradictory, but unarguably the movie was released in the year 1969, towards the end of the decade, and for the same reason it is best categorized among 1970s movies rather than 1960s. The plot was so fresh and looks like a 1970s movie rather than a 1960. Why not, Rajesh Khanna era began with the decade beginning of 1970s, which revolutionized and changed the drift of Bollywood cinema to great extent. Yes, India's first superstar was born, Rajesh Khanna, and Aradhana provided the early footsteps towards his stardom. The movie, its theme and its tunes were too modern in an era when it was made, and it was welcomed with open hearts by cine goers that time, making it one of the biggest blockbusters of the decade of 1960s. The movie celebrated platinum jubilee, and became the highest grosser of year 1969.
People went gaga and craze over it, even in Chennai, best known for anti-Hindi agitation, where people used to wait for long hours at ticket counter. Many of the moves associated with the movie were unconventional. It include – casting ultra-modern Sharmila Tagore in a deglamourized and old widow mother, new hero Rajesh Khanna, Kishore Kumar's voice till then mostly associated with Dev Anand only and fresh new story with a bold theme. Yet the movie was above all, because of its powerful script, strong performances and magical voice of Kishore da. Yes, Aradhana fever is 50 years now, which swept the whole nation with its magical power like a tsunami, and scripted a history giving a new benchmark to Bollywood cinema for other artists to follow. The movie was an entertainer though it touched many serious social issues like pre-marital sex, single motherhood etc. Things have not changed too much since then, making the theme still relevant.
First for all let me remember those artists associated with the movie who are not alive now
Now in the present, in November 2019, many of the artists associated with the movie are not alive. Let me give them tribute first. First, oh! My favourite star, one and only Rajesh Khanna – the lead hero; Sujith Kumar, actor who played Khanna's friend (also appears in the iconic song 'Mere Sapnon Ki Rani'), its director – Shakti Samanta, its music composer – S. D. Burman and his son R. D. Burman who completed the recording of Aradhana when his father went ill, Sachin Bhowmick – the screenwriter, Anand Bakshi – the lyricist, Kishore Kumar and Mohammed Rafi – who became the ghost voice of Khanna etc. Some of the major character artists with brief roles for the movie include – Pahari Sanyal, who played Sharmila Tagore's father, Asit Sen who played her servant, Ashok Kumar who played Air Commodore Ganguli, Madan Puri – the jailor who takes Sharmila Tagore home, Anita Guha & Abhi Bhattacharya – who played foster parents of Rajesh Khanna in the second half etc.
I am not sure if its cinematographer Alok Dasgupta who gave extremely beautiful frames to the movie is alive or not. He is not in limelight for past two decades or so. I might have also missed many great names belonging to the crew, who became a part of this iconic project. Yes, missing them a lot while recalling that era. True memories never fade and so are legends. This article is a humble tribute to all those artists associated with the movie, on the eve of the golden jubilee year and let me add, I have told several times before too, Aradhana is my most favourite film I watched ever, and I became a die-hard fan of Khanna, Tagore and its music after watching it on Doordarshan as a teenager kid. The movie also brought me so much closer to Hindi films.
No other movie has touched my soul so deeply as Aradhana – May be the screen charisma of Rajesh Khanna, may be the breath taking role of Sharmila Tagore or its magical tunes which were never heard before in Hindi cinema leaving everlasting fragrance in my soul, or a perfect blending of all these facts. I really don't know. What I know is, I like this movie very very much, and as a teenager I loved each and every scene of the film. Read it here in detail. Still now I couldn't find another star to replace the magic created by Rajesh Khanna through Aradhana in my mind or another movie of yesterdays with such a touching story with elements of love, separation, social messages such as adoption & single motherhood, sufferings and sacrifices of a woman, lost and found formula, double role, lovely music etc. The movie completes 50 years in 2019. Yet everything related to stay fresh.
The plot of 'Aradhana' in a few words
I am almost sure, if you are a Bollywood buff who loves classic movies, you might have definitely watched the movie at least once, before reading this post. That was the popularity of the movie and its songs when it got released, and still one of the most watched movies of classic era. Yet I would like to recall the story with unusual storyline (during a decade of 1960s when subjects like pre-marital sex & single motherhood were still taboo) in a few words, to refresh your memories.
The story begins with life sentence of leading lady Vandana (played by Sharmila Tagore) and she is sent to a jail, and till the interval it's the flashback scene of Vandana's short romance and secret marriage and her miserable life journey after that, told through heroine's memories. It was a usual trend of movies of 1960s when the lead hero rides a jeep or car, singing a solo song, sometimes cherishing some dreams about his lover or at sometimes trying to woo someone who he feels special. In the introduction scene of Aradhana, the second formula is taken where Arun Varma (played by Rajesh Khanna) driving his 1964 Willys CJ3B left-hand drive jeep, and Sujit Kumar is sitting aside him. He tries to woo Vandana (played by Sharmila Tagore) sitting in a train compartment, reading a 1966 thriller – Alistair MacLean's When Eight Bells Toll, with his song – Mere Sapnon Ki Rani. After sometime Rajesh Khanna accidently meets Sharmila Tagore at her home (her father Pahari Sanyal is a doctor).
Within a very short time, the romance blossoms between the two, and Vandana's love is silently approved by father. The depiction of innocent love on screen was just like never shown before in Bollywood, truly magical and colourful. They exchange promises and very soon a secret marriage takes place at a temple. In the thunder and stormy wedding night they consummate, accompanied by 'Roop Tera Mastana' song. All Is Well till then. Arun Varma wants to introduce her to his family, and formalize the marriage as per social norms, and till now the movie travels in a smooth mode just like the toy train of Darjeeling through beautiful places at the opening scene introducing Khanna. Tragedy strikes! When Arun dies in a plane crash, without even able to tell her father that they were secretly married, the movie suddenly shifts the scene and the journey switches from the beautiful paradise to the darkest hell to much shock.
What happens next and events following it are not beautiful at all, till the movie climax. Many of the scenes are so powerful to bring rolling tears to our cheeks. When I watched the movie for the first time, tears were flowing through my eyes for several highly emotional scenes filmed on Tagore. Dying scene of Khanna deeply hurt me and it haunted me for many days, truly. Each and every shot captures the miseries of Vandana – her pregnancy, death of her father, moving to a new location, giving birth to a child, how she losses Suraj – her son, how she gets him again and losses him once again, punishing for a murder which she didn't commit just for saving her son etc. In the second half, there is one more beautiful story unfolding – the cute love story between Vandana & Arun's son Suraj Prasad Saxena – once again played by Khanna and Renu – played by Farida Jalal. The movie ends with the re-union of Vandana with her son Suraj, and her fulfilled dream to see her son honoured as an air force officer. 'Safal Hogi Teri Aradhana' song plays in the background, symbolically telling that Vandana's sufferings have come to an end and it has reached a sweet knot when her son accepts her as mother openly in public.
So many sub-plots and events without any boring or annoying scene or distracting the story of woman-centric role, yes, Aradhana is so much unique in so many matters. It also explored many topics which Indian society treats taboo even after 50 years of release! Yes, a movie way ahead of time. Throughout the movie, at least for a few scenes, not just me, you too might have thought, "Perhaps it had not happened this way!" But truth is that those pivot scenes such as Arun Verma's death, non-acceptance of Vandana by Arun's family or her life sentence for a crime which she never committed – gave a deep impact in the audience's mind, and played an important role in making the movie such a big hit. The movie got easily connected with audience's hearts with the right chord. We audiences are like so…. Though we want to remain happy always, what affects us most while watching the movie are disturbing and unpleasant scenes. Also the screen charishma of Khanna permanently etched itself into the consciousness of cine lovers worldwide.
Impact of 'Aradhana' among audiences post its release
Needless to say the movie became a trendsetter, especially for the romantic style of Rajesh Khanna and magical voice of Kishore Kumar, with associate works of R. D. Burman as a music composer (he completed the recordings when his father went ill) and the trio fully dominated the Bollywood scene in the 1970s. The trio teamed up for the first time in the late 1960s for this movie, and since early 1970s, they fully changed the course of flow of Bollywood cinema and music. Rajesh Khanna became the craze of the nation, with 17 hits in a row, which gave him the title of 'First superstar of Indian cinema'. He was a superstar and will always remain so. That was the fan base he had, and the huge fan following he owned. The whole nation went gaga over him after the movie release. Interestingly he had only a fewer releases till then and only a few people knew him. After the premiere of the movie in big cities, after a few shows itself, a star was born. His style, romantic eyes, handsome face and body language fixed him in the minds of movie buffs forever.
Kishore Kumar also virtually ended the supremacy of Mohammed Rafi as the leading playback voice of Hindi cinema, after his two solos and a duet with the Mangeshkar sister shot him to instant fame, which nobody had expected. The movie also gave fame to R. D. Burman who later collaborated with Khanna and Kishore Kumar for more than a decade and a half, for numerous projects. Along with it, its lyricist Anand Bakshi was also benefitted who penned numerous songs for Burman later, a few of them for the likes of Khanna as well. Kishore Kumar – R. D. Burman – Rajesh Khanna – Anand Bakshi – a quadrumvirate was born.
Among the stars, Rajesh Khanna got benefited most, and Sharmila Tagore was also appreciated for shedding her glamorous avatar (she has earlier donned a bikini for her previous outing from the same director for 'An Evening In Paris'). Subhash Ghai who played the bit role of Khanna's friend became a showman of Bollywood and a hit maker, though he pursued acting in the beginning. Though Farida Jalal played a pivot role in the movie, she was the one who got less benefited by the huge success of the film. It seems she was unlucky, because she got type casted for second fiddle roles after the movie release.
The movie also introduced commercial masala entertainers to Bollywood, where movies run solely on lead star's image rather than film plot, with some wonderful peppy tunes. Rajesh Khanna did many bad movies in the first half of 1970s. But they ran solely because of his star power, giving huge profits to its makers.
50+ interesting and less-known facts related to the Bollywood platinum jubilee, Aradhana
1. The movie and its theme were inspired from "To Each His Own" (1946), directed by Mitchell Leisen. Olivia de Havillan who played the lead role received the Best Actress Academy Award. Sharmila Tagore too won the Filmfare award for the same.
2. Shakti Samanta was to direct Jaane Anjane with his most favourite hero till then – Shammi Kapoor. But the shooting got delayed for some reason and so he thought of making a small-budget film in the interim. When Sachin Bhowmick showed the script, the director liked it. That's how less-known actor Rajesh Khanna became a part of the project. The low-budget movie went on to become a huge blockbuster while Jaane Anjane flopped. In fact the director became instrumental in establishing Khanna as the leading romantic hero of Bollywood, and one of its after effects was the loss of popularity of several ruling romantic heroes of 1960s including Shammi Kapoor with whom Samanta frequently associated with.
3. The movie was originally titled – Subah Pyar Ki. When Sharmila Tagore, the permanent heroine of Shakti Samanta movies worked with him for the fourth time, Rajesh Khanna got associated with him for the first time for Aradhana. Later Shakti Samanta and Rajesh Khanna did iconic movies like Kati Patang, Amar Prem and Ajanabee together, which ruled box office, and also the cult classic – Mehbooba. The movies are also known for the finest tunes of R. D. Burman, who has been credited as associate music composer for Aradhana.
4. Rajesh Khanna who was a newcomer to the industry had no other choice to accept the lead role for a woman-centric film with the ruling female star Sharmila Tagore. Luck flavoured him, and it was Rajesh Khanna who stole everyone's hearts. It repeated with Shakti Samanta's next film with Khanna – Kati Patang. Though it's a woman centric film starring Asha Parekh, it was Khanna who stole the show. Sharmila Tagore couldn't accept the role because she was pregnant. Interestingly both these movies gave single Filmfare trophy to the lead heroines, while Khanna ended up with nominations.
5. Both the lead actor and lead actress were not initially interested in accepting the role, and because of similarities in movie climax with Ek Shrimaan Ek Shrimati, the movie was almost scrapped by the director. The movie was made as a potboiler on a very small budget. But after so many such silly hurdles, the movie was made and it went on to become one of the major blockbusters and a career-defining movie of most of the artists associated with it.
6. Aradhana was the first movie of Rajesh Khanna and Sharmila Tagore, and they went on to become one of the most adored screen jodis ever. They worked together in Amar Prem, Aavishkar, Safar, Choti Bahu, Daag, Malik, Tyaag and Raja Rani, and a cameo role together in Badnam Farishte, which was Khanna's first flop film after 17 consecutive hits, a record still to be broken. The pair delivered 7 box office hits out of 10 works together.
7. Sharmila Tagore's successful pairing with Rajesh Khanna happened only after her marriage, and interestingly her career best films too. They shared an amazing onscreen chemistry.
8. Sharmila Tagore was Rajesh Khanna's heroine in three of the milestone movies of his career – Aradhana, Daag and Amar Prem. Her association with Khanna in Badnam Farishte broke his success streak of 17 hits in a row, though it was a cameo. Interestingly his next flop movie 'Malik' where he played lead role also starred Sharmila Tagore as this atheist wife. It was a surprise flop.
9. During the premiere of the movie, no one noticed the presence of Rajesh Khanna or cared about him. But at the interval, there were about 500 people surrounding him. He was already a star at film interval. Everyone was searching for him. After the movie release he became overnight sensation.
10. The movie also had a low profile limited release. It received average response at the early days of release. But the movie picked up very soon following mouth to mouth publicity. It ran in full packed houses across the nation for many months, and became the highest grosser of the year.
11. Khanna became the first Indian actor to turn a superstar playing a double role on screen. After him, only Hrithik Roshan has managed to reach super stardom and achieve superstar status for playing a dual role. It was Kaho Na Pyar Hai (2000) – Hrithik's debut movie released three decades later. Read more. Interestingly those 2 characters never share even a single frame onscreen throughout the reels. Second character appears post-interval after first character dies.
12. Khanna had only four releases before he signed Aradhana – Raaz, Baharon Ke Sapne, Akhri Khat and Aurat, apart from a cameo role in Shrimanji. Among all, only his lead role in Baharon Ke Sapne gained attention. Song less Ittefaq also got released just before Aradhana and was a semi-hit. Doli, Do Raaste and Bandan released after that received success at box office.
13. 'Do Raaste' released a few weeks later also got benefited by the huge sensation created by Khanna. The movie also went on to become a blockbuster, and his pairing with Mumtaz delivered numerous hits later. Since 1969 for the next 5 years, it was fully a one-man show at box office by Rajesh Khanna at his peak years.
14. 'Mere Sapnon Ki Rani' song was a trendsetter in the late 1960s and early 1970s, and Sharmila's 'Sharmili' looks while Rajesh Khanna tries to woo her is one of the iconic romantic scenes of Bollywood ever. Interestingly, in reality, she is not looking at Rajesh Khanna and her scenes were entirely shot in a film studio. The director couldn't get combined dates of the actors. Sharmila was busy shooting for a Satyajit Ray film, while Rajesh Khanna was filming the song sequence. The combination scenes were just camera tricks and a clever editing perfectly nailed the song. So for the first film scene of the legendary actors together, they never filmed it together.
15. 'Mere Sapnon Ki Rani' song was shot with Rajesh Khanna driving 1964 model Willys CJ3B left-hand drive jeep and Sharmila Tagore sitting in the compartment of the famous toy train of Darjeeling. As told above, though the train appears in the song several times, the whole scenes with Sharmila Tagore were not filmed inside it, though it is depicted so. Read more about toy train of Darjeeling and Aradhana facts related to it. Sharmila Tagore is virtually shown sitting in a compartment of this train in Aradhana, almost a year before Saif Ali Khan was born. Years later Saif Ali Khan sat in the same train for a song sequence of the movie, Parineeta.
16. 'Mere Sapnon Ki Rani' and 'Roop Tera Mastana' songs are believed to be inspired from Tequila by Daniel Flores (1957), which was quite popular in India. Mukhda of Mere Sapnon Ki Rani looks very similar to Tequila by Daniel Flores, though it is not easy to draw striking similarities between Tequila and Roop Tera Mastana. It's said that R. D. Burman was inspired by Tequila to complete these two tunes, originally composed by his father. Read in detail about the inspiration.
17. Songs of Aradhana is indeed popular even after 50 years of release. As R. D. Burman (credited as associate music composer of the movie) completed the unfinished work of S. D. Burman, there is no clear idea of how much contribution is done by R. D. Burman for the album including music arrangement and composing tunes. But there have been many speculations with different sites giving their own opinions. A few believe that Pancham da ghost composed 'Mere Sapnon Ki Rani' and 'Roop Tera Mastana' songs in his father's absence and recorded in Kishore Kumar's voice, though his father wanted to record both solos in Rafi's voice. There are also rumours that R. D. Burman is the original composer of Kora Kaagaz. Truth is that Pancham da who worked as an assistant to his father for many years has composed many tunes, but never taken its credit, nor he openly admitted it.
18. In an interview given by the director Shakti Samanta, he said that all tunes of Aradhana were originally composed by S. D. Burman, and all its tunes exclusively belong to him. But it is sure, R. D. Burman brought in certain alternations in music arrangement and orchestra for songs such as 'Roop Tera Mastana', which was loved by music fans. The director also certifies that RD only worked on orchestration. Every piece of instrument to be used was also decided by Sachin Dev Burman and RD followed his instructions only. Rafi was out of India for a world tour for a long time (two of the solos were reserved for him by S. D), and Kishore's name was suggested to Pancham da by director himself.
19. Rajesh Khanna and Sharmila Tagore appeared in one of the most sensuous songs of Bollywood ever – Roop Tera Mastana, at a time when such erotic songs were not common in Bollywood. Interestingly the entire song was pictured in a single shot, perhaps for the first time ever in Bollywood. The set was committed to somebody else by the producer, and there was no option left for the director except to film it in a single shot. Khanna and Sharmila rehearsed the song once along with the crew and in the second take it was perfectly OK. When it was filmed, it was just ordinary. But the impact and sensuous effect it gave, along with Kishore Kumar's voice, Bakshi's lyrics and rain & thunder in the background was much more than everyone's imagination. Even after 50 years, the song enjoys the elite list of sensuous and erotic songs ever filmed in Bollywood, though most of the emotions throughout the song were immaculated through eye contact unlike other songs.
20. The song – Roop Tera Mastana with a single shot which lasted more than three minutes and 30 seconds, had two actors, a trolley with camera placed on it which circles the lead pair and fireplace, symbolizing a Hindu wedding ritual, and created one of the most sensuous songs ever. In fact the actors didn't have too much space to move around. The song was filmed with darkness and artificial rain in background, and just three lights were attached to the camera, which was risky. Aloke Dasgupte was the cinematographer of the song, who worked with the director in a series of movies during his glorious years.
21. The song – Roop Tera Mastana had three versions shot by the cinematographer Aloke Dasgupta. The last version was sexier among the three, and they preferred to go with the normal one, as they felt that the sexiest version may not get approval by public, then a very conservative Indian audience. (I think the second version was used, after taking a rehearsal shot)
22. The song – Roop Tera Mastana gave the first Filmfare award to Kishore Kumar who later went on to get 7 more awards. His record of 8 awards at Filmfare is still unbroken. It was Kishore's first ever nomination too, though he completed 2 decades as a playback singer till then. Kishore who was a ghost voice of Dev Anand till name came to limelight after the release of the musical album.
23. S. D. Burman initially wanted to add Roop Tera Mastana song to the album as a Bangladeshi folk number, which the director strongly disagreed. The director wanted a western tune. Once Kishore Kumar reminded him about a peppy unfinished tune which he created a few years ago in Bengali, and hummed the song whose lyrics go like this – Ek Tu Bade Shurur Badi. Burman suddenly recollected the song from his memory. Thus Kishore da finally convinced S. D. Burman to reuse the tune for Roop Tera Mastana song.
24. The sizzling song – Roop Tera Mastana was later used by Shakti Samanta for his film Alag Alag released in 1985. The movie starred Rajesh Khanna, Tina Munim and Shashi Kapoor, and this song was filmed on Tina Munim and Shashi Kapoor, where Tina is seen trying to woo Shashi in Kavita Krishnamoorthy's voice. Interestingly like the original the song was done in a single shot (below 2 minutes), though it didn't have second antara (stanza). Tina Munim appeared in an orange colour sari similar to Sharmila Tagore, though the entire song had a comic undertone.
25. R. D. Burman entirely changed this particular song – Roop Tera Mastana from folk style to jazz and samba, associated with eroticism. Khanna and Tagore set screen on fire through their eye contact and amazing screen chemistry. It was one of the best screen depictions of forbidden love on Hindi big screen. Kersi Lord played the accordion, Homi Mullan played the duggi and Manohari Singh played the saxophone for this particular song.
26. It's only a myth that S. D. Burman was more fond of Rafi, and gave only less opportunities to Kishore da. The news spread so because, he reserved two of the best tunes of Aradhana for Rafi, but R. D. recorded them in the voice of Kishore Kumar. As Kishore Kumar was best known as an actor than a singer till then, such a myth got accepted by many. But truth is that S. D. Burman is the only music composer who identified the real singing potential of the legend, decades back. In fact he used to record the songs of Dev Anand in both the voices of Rafi and Kishore, and Kishore owns many such hit songs to his credit. Also, as Kishore was a good friend of Pancham da, he couldn't reject S. D. Burman's singing offers, though he was not keen in singing for others. Read in detail here:
27. Though songs of Aradhana became a huge rage across the nation, it didn't receive the most prestigious Filmfare awards for best music. Though the movie received a nomination, Laxmikant-Pyarelal beat S. D. Burman for their compositions of the movie – Jeene Ki Raah, surprising everyone.
28. While doing mother's role in Aradhana, initially Sharmila Tagore was not willing to dye her hair. She went on to argue with the director that even her mother in the 40s don't have grey hair. Even director's words that hardships can turn a person's hair grey easily were not enough to convince her. Director even told that it won't differentiate between screen mother and son if she appears with black hair. Later the director shot a few scenes as she demanded, and she could easily identify her mistake.
29. Aparna Sen was initially offered the lead role of Vandana, which she rejected. The actress was not willing to play Khanna's mother in the second half of the movie, and hence refused the role.
30. Shakti Samanta was a bit doubtful if audience would accept Sharmila Tagore in this role after she established as a glamorous girl and sex symbol in Bollywood. But Tagore nailed it perfection in this woman centric role. It was a far cry from tear jerking woman centric roles of classic era, though most of its moments told the sufferings of a young girl with a pre-marital pregnancy and loss of her husband, whom she married secretly.
31. Though Sharmila Tagore remained one of the top stars of 1960s and first half of 1970s, she received her first Filmfare nomination and single Filmfare award for this movie. Rajesh Khanna also bagged his first nomination, though he couldn't win it. Yet another top heroine and Tagore's contemporary Asha Parekh also received her single Filmfare award for a movie directed by Shakti Samanta – Kati Patang, and interestingly Rajesh Khanna who played male lead also received a Filmfare nomination. Both the movies have a few similarities for the subjects such as widow, single mother, separated lovers etc and above all the amazing screen chemistry of Rajesh Khanna with the female leads.
32. After the immense success of the songs of the original version, voice of Kishore Kumar was used to record all the songs of Bengali version.
33. Initially two actors were to play the role of father and son. But later Samata decided Khanna to do both roles. The second half of the movie was also altered at the last moment, a few days before the mahurat, as it resembled the movie climax of Ek Shrimaan Ek Shrimati starring Shashi Kapoor and Babita Kapoor, when Surinder Kapoor showed Samanta last two reels of 'Shrimaan's' script. Both the movies were scripted by Sachin Bhowmick. Disheartened director decided to called off the shooting. Gulshan Rai suggested to change the script with a double role of father and son, which was originally decided to play by two actors. Same day he along with Gulshan Rai sat for 6 long hours in a sitting and re-scripted the second half, making it an entirely different story. Nanda recited a story of Kati Patang to Samanta also the same day, which deeply impressed the director.
34. Many actors and cine personalities have been deeply impressed by Khanna's performance in the movie and also the movie script. Popular character artist Tom Alter has once confessed that he was so much impressed by Khanna's performance that he decided to join FTII.
35. S. D. Burman composed music for Shakti Samanta for Aradhana, Anurag, Insaan Jaag Uda and Naughty Boy, and also rendered his voice for "Doli Mein Bithai Ke" from Amar Prem, composed by his son. The director frequently associated with SJ or Nayyar for most of his works. Aradhana is the most popular album among these works.
36. S. D. Burman bagged National award for best playback singer for the title song of the movie – Safal Hogi Teri Aradhana, though the romantic songs filmed on Khanna were most popular. He was the first full-time music composer to receive this honour and third singer in this category.
37. As the movie was made in a less-budget with newcomer Rajesh Khanna by one of the top commercial filmmakers of 1960s, Samanta's son Ashim Samanta was teased by his school friends – Has your father become bankrupt (for not taking a leading male actor)? Ashim used to reply that his father is directing Jaane Anjaane with Shammi Kapoor playing the male lead and convince his friends. Irony is that Aradhana became a huge hit and Jaane Anjaane flopped.
38. Alok Dasgupta who handled the camera work of the movie, and gave beautiful frames to the lead pair in Aradhana has done Chalti Ka Naam Gaadi before. He has also worked with Shakti Samanta for movies like Katti Patang, Amar Prem, The Great Gambler, Ajnabee and Amanush later. Low-budget Aradhana was their first work together.
39. The songs of Aradhana resurrected the career of Kishore Kumar as a playback singer, who was never taken seriously by music composers till then. The movie also benefited the careers of R. D. Burman and Anand Bakshi. Though Rafi owned a couple of memorable duets with Mangeshkar sisters – Bagon Mein Bahar Hai and Gunguna Rahi Hai Bawre, it was a couple of solos of Kishore – Roop Tera Mastana and Mere Sapnon Ki Rani, and a duet with Lata – Kora Kaagaz Tha which stole the show.
40. S. D. Burman wanted to record all songs of Khanna for Aradhana with Rafi, and he recorded two before he fall ill. He gave the responsibility to his son R. D. Burman, who experimented with Kishore Kumar's voice for already three assigned songs. It proved to be a major turning point of many artists of Hindi film industry, and virtually brought down the golden phase and supremacy of Rafi as the undisputed leading male voice.
41. Mohammed Rafi was on a Hajj and started rejecting new projects (because someone told him singing is forbidden for their religion and as a religious person it scared him) when Aradhana was released, and when he returned after 8 months everything was almost over. Initially he got less singing opportunities, but slowly started receiving more. (Alternate sources say, someone told those words when he was on a Hajj. Anyways he was on a tour, that's the truth). Yet he could never retrieve his glorious years.
42. Aradhana was the first Bollywood film to run successfully more than 100 days in south India and north-east India, with four shows a day. It ran for three continuous years across India and also celebrated platinum jubilee across India.
43. It was for Aradhana, Kishore Kumar became the ghost voice of Rajesh Khanna for the first time, and he earned a Filmfare award as well. They delivered numerous hits in the 1970s and 1980s. Earlier Kishore rarely sang for other actors, with Dev Anand being the only exception, with tunes mostly composed by S. D. Burman.
44. Before the songs sung by Kishore Kumar for Aradhana became such huge hits, he has worked with R. D. Burman for Padosan, one year before. Kishore also played a pivot role in the movie, playing Sunil Dutt's ghost voice. In fact the movie became the precursor of Kishore Kumar's decision to become a full-time playback singer, after giving a short break to acting.
45. R. D. Burman created the background music of the movie, Aradhana which included the 'Hey Hey' – beautiful romantic bit for the romantic scenes of the lead pair. He also finished sound track works started by his father. The beginning tune 'Hey Hey' of Kora Kaagaz song was also composed by him. In fact there are rumours that the tune exclusively belongs to him.
46. Showman Subhash Ghai started off his career as an actor and has acted in Taqdeer, Umang and Dhamkee before taking up direction. He was paired opposite Reena Roy in Gumrah (1976). He is so passionate about acting that he plays cameo roles in his direction ventures. Interestingly when he was in search of a break as an actor in the late 1960s, he got a bit role in Aradhana playing son Rajesh Khanna's pilot friend. He appears in the intro scene of Suraj and a few scenes later. He was to drive jeep for a particular scene, which he didn't know in real life. He took the risk and gave the shot, as he feared he would lose the role. He revealed the truth later only. Years later when he shot a driving scene for Jackie Shroff's debut film – Hero, he suddenly recollected 'Aradhana' incident from his memory and asked the actor if he knows driving. Shroff said, "Yes".
47. Sharmila Tagore got married a couple of months after the movie's premiere on 27th December 1969. The movie shooting was done at Darjeeling before her marriage.
48. Sharmila Tagore was pregnant with Saif Ali Khan when her biggest blockbuster 'Aradhana' got released. The film ran in full packed houses and also completed platinum jubilee. She was carrying Saif in her womb when she attended most of the success parties and functions, related to the movie's success. She was carrying Saif in her womb when she went to receive her single Filmfare awards for best actress too.
49. Sharmila Tagore is reading the thriller – When Eight Bells Toll in the song sequence of 'Mere Sapnon Ki Rani'. The book was published in 1966. But as it is a flashback scene of 1940s considering late 1960s to be the present time (though the movie had a theatre release in 1969), it's one of the rare mistakes in the movie filming.
50. Sharmila Tagore played wife and mother of Rajesh Khanna in Aradhana.
51. And last but not the least. Year 1969 established Kishore Kumar as the leading playback singer, and is an important year in his professional life. In personal life too, this year has a lot of significance. Do you know why? He lost his beloved wife Madhubala exactly the same year in February. Yes, it's exactly 50 years since our beloved Madhubala and screen diva left us. Remembering her on this special occasion ……. My tribute.
Can someone please clear a few of my doubts about Aradhana?
I have read multiple times and watched shows on television as well, about the huge sensation created by Rajesh Khanna after movie release who was a less-known hero till then. I have also read that he was only a flop hero till then, with a series of flops. I also know the songs became extremely popular those days, and Aradhana was the biggest selling album of the year too.
In my assumption, movie songs were played on radio (Vividhabharati as well as Cylon station) and many of its songs ruled the roost in Binaca Geet Mala for more than a year. My doubt is – Those days songs were played on radio before or only after film release? If the answer is – if songs had an early release on radio stations than actual theatre release, why songs' popularity didn't help Rajesh Khanna or the movie to get some early hype, because they were such a huge hits? If the answer is – songs were played on radio only after film release, I have no doubts.
Most recently I watched Shammi Kapoor's 1969 movie – Tumsa Accha Kaun Hai, and in one of the early scenes, we can hear him humming 'Kora Kaagaz Tha Yeh Man Mera' just before he bumps into the lead heroine, in front of the car where she snatches her baggage and throws it away. This particular scene starts at around 9 minutes after the movie begins. The movie had a theatre release in 1969, but I am not sure about the release date. The movie – Aradhana had a theatre release in September, October or November, as suggested by different sites, i.e definitely in the second half of year 1969. It looks almost impossible to shoot those sequences of the movie after the release of Aradhana and got released same year itself. If so, the song – Kora Kaagaz was already popular most probably because of airing on radio stations before the theatre release. Connecting this incident with my previous doubt, it looks contradictory. Does it imply songs were played on radio before film release? If so, why did the movie had a low key opening, and slowly picked up later?
I couldn't come across any post to clear my doubt, though there are hundreds available about the movie and the hysteria it created over the years. Can you please clear my doubts?
Here I come to an end about my most favourite movie ever – the movie, along with Kati Patang (which I watched in a row on Doordarshan) which played a magnificent role in making me a die-hard Bollywood fan, and suddenly switching my attention from Malayalam as well as Tamil films towards Hindi films and songs in the mid-1990s as a young teenager or school girl. Years have passed but passion towards Hindi films has only grown.
Also read a few more topics about Rajesh Khanna:
(Visited 1,783 times, 1 visits today)