Why Akshay Kumar's 'Selfiee' failed to impress the audience? A few thoughts
It's now more than 1.5 years, since I wrote a post under 'Bollywood' category. It came so unexpected, after I responded to a tweet, and then felt like posting those thoughts in my blog as well. Yes, there was a time when Akshay Kumar gave hits after hits, and audience almost thought, he will break his father-in-law Rajesh Khanna's record of 17 consecutive hits. But post-pandemic everything changed, and all his movies released on both OTT platform and theatres failed.
I have listed 10 films of Akshay Kumar, where he played lead role or ensemble cast in the remake of any Malayalam film, with Selfiee being the latest edition. Read it here. It's after a long time, Akshay accepting a Malayalam remake project. While Khatta Meeta was an average fare, only 2 films failed to impress audience – Boss & Selfiee, both starring Prithviraj in original. But in 'Boss', Akshay reprised Mammootty's role.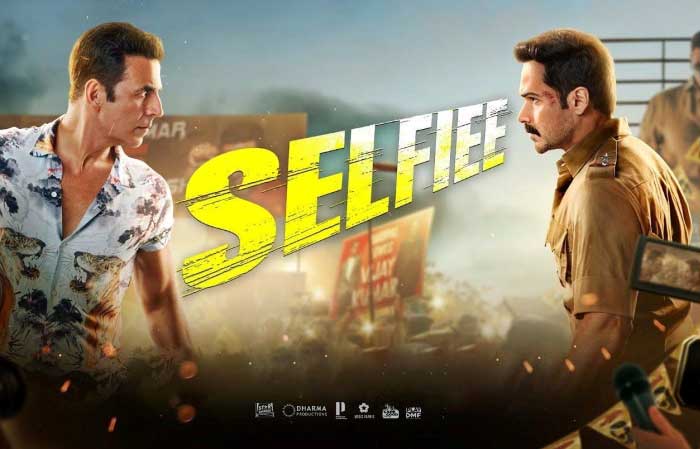 To add, post pandemic, Akshay Kumar is accepting too many south Indian remake projects, especially Tamil. But all those remakes – Laxmii (remake of horror comedy Kanchana), Bacchan Pandey (remake of cult classic Jigarthanda) and Cuttputili (remake of psychological thriller Ratsasan) failed across different platforms.
Why 'Selfiee' could be Akshay Kumar's next flop in the row?
I haven't watched Hindi version. But as a Malayali who loved the original movie – Driving License starring Prithviraj and Suraj Venjaramoodu, here I list a few reasons, my observations. To begin, Selfiee is the official remake of Malayalam super hit film, Driving License starring Prithviraj and Suraj Venjaramoodu. While Emraan Hashmi reprised the role of Motor Vehicle Inspector Kuruvila Joseph, played by talented actor Suraj Venjaramoodu on screen, Akshay Kumar played the superstar's role originally played by Prithviraj. Though the movie didn't receive as good reviews as its source material, many critics gave favourable reviews too.
Basically Mollywood & Bollywood are two different industries & people who watch them have different tastes too. Yes, Priyadarshan has successfully remade many cult classics in the past. All those films have emotionally connected with audience. But when he started simply making a clone of Malayalam films with almost same star cast repeated, movies started flopping.
Post pandemic OTP releases (along with web series) have damaged all film industries irrespective of languages. Boycott Bollywood trends add more woes to film producers. Only high-quality content is being accepted. When language barriers slowly diminish & content across the globe is available with subtitles, it becomes more difficult for filmmakers to lust audience to theatres unless the content is best.
After all the original was Suraj Venjaramoodu film
Suraj Venjaramoodu who was once a standup/fulltime comedian, after winning National award for best actor, completely switched to serious roles. He did his career best roles in the last few years, and to find someone in Bollywood who can justify his role is not easy. His role was neatly written & emotionally connected with audience. That's the reason why Emraan Hashmi got more appreciation. Prithviraj, as a star had very less to do in the original. Acting scope was also less. Afterall it was Suraj's film & people went to theatres to see him. That's the damage happened in Hindi version. To add, Prithviraj co-produced the Hindi version.
Audience expect a mass entertainer with every super star's film
Akshay's fans expect a lot while going to theatres. But when Selfiee is after all an Emraan Hashmi film, it leaves AK fans disappointed. It's one of the key reasons why the movie got panned and AK got trolled. I feel, if Akshay did Emraan's family man's role & some other actor (maybe a glorious star from past so that Akshay's star image remain intact) did star's role, movie would have performed better.
'Selfiee' comes in line with Shah Rukh's Billu
Hope you remember, Priyadarshan remade Malayalam cult classic "Kadha Parayumbol" to Hindi as "Billu", a movie retelling the story of Krishna & Kuchela. When people came to theatres to watch Shah Rukh, except a few songs which makers promoted, they got nothing & movie flopped. Same happened with Tamil version also, when Die-hard Rajinikanth fans got disappointed seeing their star only in songs & Kuselan movie climax. In Malayalam, two powerhouses – Mammootty did superstar's role & Sreenivasan did barber's role. It's not easy to watch that movie climax without teared eyes.
Hindi version was somewhat OK, because we know Irrfan Khan is a legend. But again, the cameo role of Shah Rukh Khan worked against it. "Kadha Parayumbol" was more realistic, while "Billu" was more masala stuffed adding the style quotient of superstar. "Kadha Parayumbol" very much looked a rural story.
Why can't Bollywood be more realistic?
Mollywood films are more realistic, especially the style of filmmaking in recent times, where a viewer can relate himself to situations shown in film. It was not the case a decade earlier. But Bollywood still relying on over the top filmmaking, nothing changed in recent times! When Bollywood is not willing to accept the new style of filmmaking, especially with superstars, it's better to choose 'entertaining' scripts only, to please mass audiences. When fans go to theatres to see stars doing action, only masala films will work.
Selfiee had a disastrous Day 1, sending shock waves throughout the industry. One of the lowest starts for a film that has several prominent names attached to it, the movie collected only 2.55 crore. If Akshay Kumar & the film producers had done a little bit research on the current trends, we might have got a better result. Perhaps film would have run, if he reprised Suraj's role of a family man. My thoughts.
Let's hope, he takes better decisions while choosing scripts in future. Akshay Kumar is currently working on Hindi remake of highly acclaimed Tamil film Soorarai Pottru. His project choice is definitely not bad. There is a lot of space for performance for Akshay. Let's hope, Akshay & his team really work hard for the project, and give us a memorable film. Akshay's career revives too.
(Visited 27 times, 1 visits today)