A few interesting facts behind Kerala's own Pazhankanji
Once upon a time Pazhamkanji, a fermented version of Congee was a staple breakfast dish for Keralities. Long before, we Malayalis served rice and rice related meals three times a day, though nowadays chapati is our beloved dinner item. In those days refrigerator was not quite common in every home, and for the very reason, the left-over rice is filled with water overnight and used as breakfast next day morning or at 11 am, when farmers take a break from fields after morning schedule of work. People loved its smell and taste also, and it was then regarded as a healthy diet.
When time passed by, well-educated Keralities hesitated to work in fields, and they hate Pazhankanji for its 'low standards'. Also lack of proper exercises made him overweight, and rice food became a common enemy to all Malayalis. What to say more! The distance between Malayalis and Pazhankanji only widened as time passed by, and new generation kids don't even know what this food item is. Who should we blame? Also read: Kerala's Congee in 10 varieties.
In simple words, Pazhankanji is the porridge of last night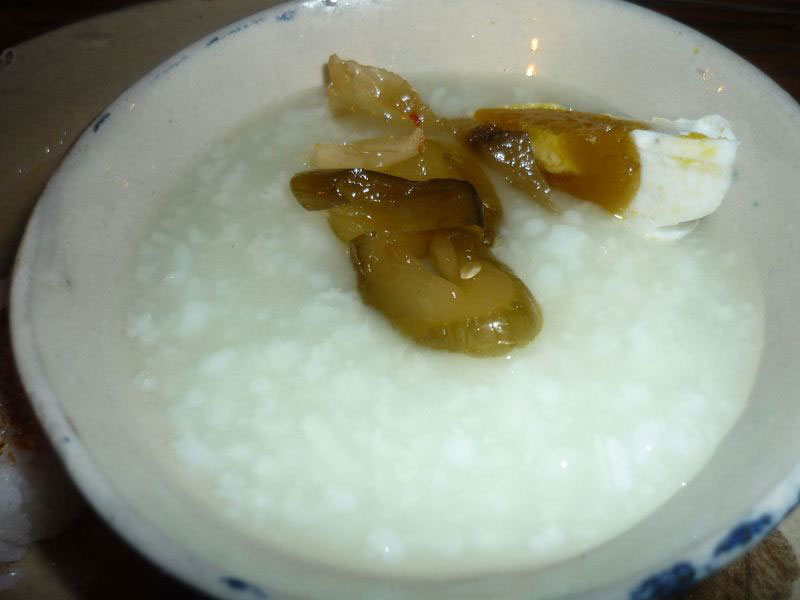 'Aariya Kanji Pazhankanji' is a very popular saying among Malayalis. Left-over Kanji (Congee in English) or rice porridge of last night is also called Pazhankanji. In southern districts of Kerala, particularly in Thiruvananthapuram, it's simply called 'Pazhinji' – shortened version of Pazhankanji, but item remains the same. It's nicknamed Kulutha in certain places. Crush two bird eye's chillies manually and add it to Pazhankanji with a little salt. Now it's ready to serve. Pickles, Rasam, Sambar and curd are some extra decorations. Pazhankanji is not regarded among the royal breakfast dishes, yet it holds some features of its own, which no other dish can claim of. It can be served with a series of side dishes too.
When you are in your hometown, you may not like Kanji or Pazhakanji. But when away from motherland, 'Kanji' thoughts are really nostalgic, though it may not be your favourite dish. Why so? Because Kanji gets easily connected with we, Malayalis, wherever we reside, that's true! It's only a myth that Kanji and Pazhakanji were served in poor homes of Kerala, mostly among workers. As per historians, this dish was served even in royal families and palaces too! Its nutritious value and tastes are the attributes which made it everyone's favourite, irrespective of class. For our ancestors, it's something like a divine food, equivalent to Amrit drunk by gods.
How Pazhankanji came into existence?
It's one of the best methods to preserve the leftover food. In those days, people were not so rich and they never threw away food. To waste food was regarded as a sin too! May be some mother poured some water to the leftover cooked rice, so that she can eat it next day morning! Who made Pazhankanji first? Any idea? An innocent deed done some decades back became a procedure to Malayali families later.
Slowly many derivatives came into existence, with many side dishes added to this delicious food item. Adding crushed chillies or shallots, buttermilk, curd, pickles, coconut chutney etc are among those 'developments' whose chemical reactions made the chemistry between man and Pazhankanji more powerful. Kunjan Nambiar has described about Pazhankanji through one of its poems, and for him it's above Amrith, served by Hindu gods.
'Aariya Kanji Pazhankanji' – means cold Kanji is Pazhamkanji. But Pazhankanji is not just a porridge which lost its hotness, charm or beauty. A chemical reaction also happens in this porridge which turns it to a delicious porridge. For this purpose, Pal Kanji or refrigerated Kanji cannot be used. The leftover rice after supper is used for preparing Pazhamkanji. Pour cold water to the remaining rice, and rice should be submerged completely. A few might think, let us wash it well before pouring water to it. It's not the right procedure, and the rice should have sufficient starch. You can also pour a little rice boiled water (Kanji Vellam) if possible to make it 'rich' and royal.
Earthen pots are best for preparing Pazhankanji
You can prepare this porridge in any type of pot or bowl of your preference – steel, glass, aluminum or anything else. But Pazhankanji prepared in earthen pots own an elegant look. Traditional brown rice is best for Pazhankanji comparing with the high expensive basmati rice, and prepare it in room temperature. Crush 2 or 3 shallots and a green chili in traditional grinding stone and add to it. If possible, you can add a little curd too, and mix it well. In old days, people used to hang earthen pots using threads in ceilings to protect from cats and other animals. The next day morning, the rice gets fermented slightly and Pazhankanji is ready. It's slightly chilled too. Fish, tapioca, pickle or chutney – you can choose any side dish of your choice. This delicious dish frees you from appetite till noon.
Use hands to eat Pazhankanji
It's in porridge form, full of water. But traditional method suggests eating Pazhankanji using hands, not with spoon. If it's case of normal Kanji, plavila spoon (jack tree leaf spoon) is used to serve it. Pazhakanji turns extra delicious if you serve it using hands, and you may need a little bit of practice to master this 'art'. Sack rice or Matta Rice (brown rice) is best for its preparation. Local rice items like Pazhayari, Thulunadan, Cheraadi, Ponnaryan etc are also used. Rice should never be overcooked, and Pazhankanji is usually served in earthen bowls (manchatti/karachatti) earlier.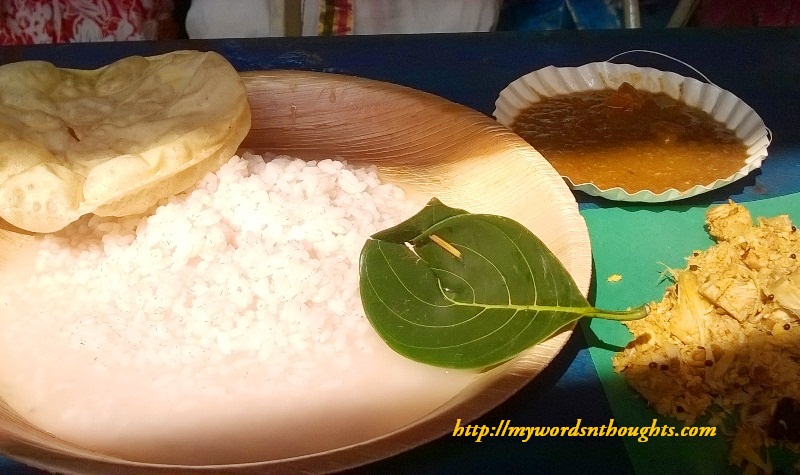 Thiruvananthapuram people used to add Panam Chakkara (Palm jaggery) to Pazhankanji, which can heal body from injuries and provides protection and health also. There is one interesting food style across Malabar regions among farmers who go to fields. The Pazhankanji served is called Thekanji, and its method of preparation is slightly different. When rice is cooked for supper in the evening, some rice along with water is transferred to an earthen pot before the flame is put off. Spoon made of coconut shell is used for the purpose, and the bowl is directly placed in Uri (ropes/strings are suspended from ceiling to form a network to safely place food items from the stealing of cat and other animals). Before 10 am, when farmers go to field or take a break from field work, this Pazhankanji is served. In this case, anyone of horse gram, chick peas or green gram with salt and gingerly oil added is served as side dish. This special Kanji gives strength and also helps to gain weight – as widely believed.
Thiruvona Kanji is also special. The leftover rice after Onam meals along with other curries and side dishes are transferred together to an earthen bowl at night. Sambar, Avial and Kalan can form a part of it. Next day morning, this Kanji would be well fermented and older generations used to warm it slightly before serving. Like a prescribed medicine, they prepared it every year. But now such sights have already disappeared.
Side dishes vary from place to place. Chutney, the real star served with Pazhamkanji is also of different types – Coconut chutney, Mulak Chammanti, Katti Chammanthi, Curd Chilli (Thaiyir Mulak), tamarind crushed by bird's eye chilli, ginger chutney and many more. In the mid-Travancore regions, they serve boiled elephant yam or colocasia and chutney with pazhamkanji, and it depends on the local tubers available per season.
Some people use fried fish as side dish, while it's quite common in mid-Kerala to serve fish with Pazhamkanji. But in this case, fish curry of the previous day is used as side dish. Those who love sweetness may squeeze juice of mango to Pazhankanji. It's your choice, you can serve Pazhamkanji as such, or serve it aside any vegetarian or non-vegetarian side dish.
Pazhamkanji – Nutrition facts
Apart from taste and health factors, Pazhamkanji also owns some medicinal values. As it is a fermented form of dish, it gives more energy and nutrition to body. In 100 gm normal boiled rice, 3.4 milligram iron is present. But if it is fermented, the iron content shoots up to 73.91 after 12 hours. Potassium, best known for its role in controlling blood pressure is found in plenty in Pazhamkanji. As per researches, it can also resist cancer to some extent.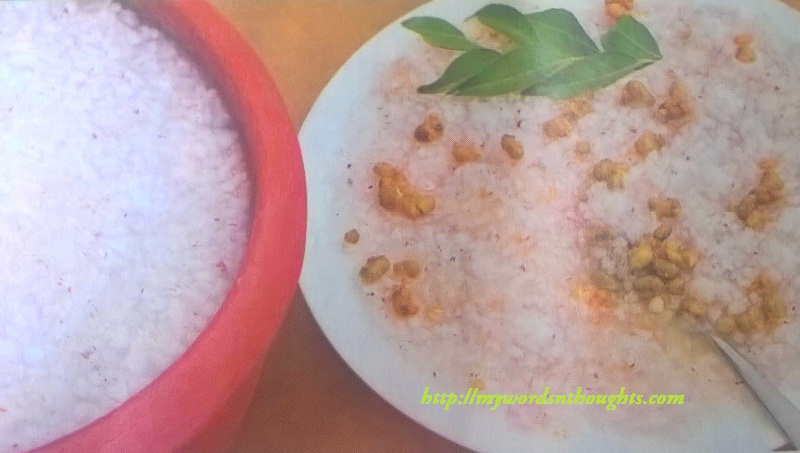 In older days, those who need a lot of physical power (farmers and labourers) regularly served Pazhamkanji before they start work in the morning. It provides refreshment and energy for the whole daytime. A bowl of Pazhamkanji holds 340 calories, equivalent to three idlis. But as it has more water content comparing with other breakfast items, it retains water level in body for great extent. It also provides coolness to body.
Calcium, magnesium and selenium needed for bone health are also present, apart from easy absorbing vitamin B6, B12 etc. So it was once used to get rid of tiredness. It accelerates digestion process and blocks ulcer and acidity issues too. Thus it is an instant solution to constipation.
If you don't believe – it improves skin tone and retains youthful skin; strange but true! Abundant presence of anti-oxidants is the reason behind this. It also induces the functioning of collagen which guards the elasticity of skin. A solution to skin allergy too, its high presence of lactic acid improves the production of breast milk in feeding mothers. When a side dish is also served with Pazhamkanji, its nutritious value is manifold.
This cooling food item is good to reduce body temperature, and also many diseases related to it. However it's not good for those suffering from cold and breathing problems. Then what are you waiting for. Prepare a bowl of Pazhankanji today evening itself, and serve tomorrow morning, and see the difference.
You can read a few more rice main course recipes here. Click on the images in the gallery to read.