Kerala's own sweet Payasam and a few interesting facts to share
On a banana leaf when Kerala sadya is served, it comes last. It follows one or two serving of rice, 9 or more side dishes apart from curries. Yet on banana leaf, payasam/pradhaman is the king of all items served. It comes last, but stays in taste buds forever. No sadya is complete without payasam or pradhaman even if dozens of items are served. Without payasam, all the curries and special dishes served won't get the tag of 'Kerala Sadya'. Through this column, let me share a few interesting tales of Kerala's own Payasam.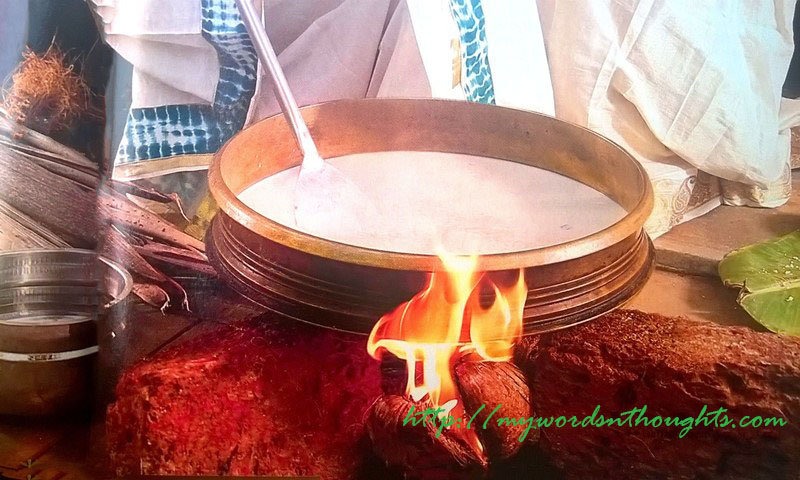 Payasam derived from Payass
As per belief, with the arrival of Brahmins to Kerala, Payasam also became an integral part of Kerala cuisine. Payas means 'Milk', and when a dessert is made using milk, it becomes PaalPayasam (milk payasam). Payasam are of different varieties. Yet Ada Pradhaman holds a prominent position among them. When Ada Pradhaman is made using milk, it becomes Paalada Pradhaman, which is widely regarded as tastier and popular among all varieties. Pradhaman means 'someone who comes first', and that may be the reason why this tag got added with 'Ada', the most popular Payasam. Ada is closely associated with Kerala's culture, customs and several beliefs. Also read: What's the difference between payasam and pradhaman?
In temples ada is given as Nivedyam as well as temple offerings to please Lord. In certain regions of south Kerala, Ada Nivedyam is done during Onam celebrations. For rituals like Pithru Bali, Ada holds a prominent position. That may be the reason why payasams with ada added is given the first position (Pradhaman).
In many families, making payasam is a combined effort of all family members. Coconut scrapping is done by elder daughter, melting jaggery done by mother, preparation done by grandmother and extracting coconut milk exclusively belongs to male members of the family.
Aravana and Paal Payasam – The most important among temple payasams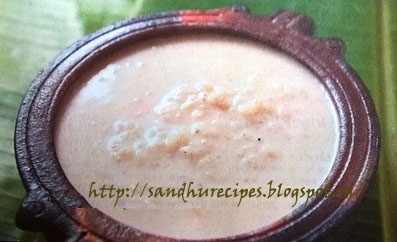 Ambalapuzha Paal Payasam and Sabarimala Aravana Payasam are the prominent names among temple payasams. On a particular occasion Chembakasseri Raja bought 5000 paras of paddy from Brahmin of Pattamana Illam as debt. But Raja couldn't return it within the promised time and interest too rose to a big amount. Once when Raja visited the temple, Brahmin didn't allow him to enter inside. He warned Raja never to visit the temple without paying his amount.
The king became upset hearing Brahmin's words. With the help of his chief minister, he was able to accumulate the paddy to pay the debt and transported to the temple as well. But clever minister put forward an instruction – Brahmin should measure the paddy before noon Seeveli of the temple, check calculations and transport it from there. But the Brahmin couldn't complete the process before Seeveli, and he understood his mistake. He offered the paddy to temple and asked the temple authorities to prepare Paal Payasam and offer it to Lord Krishna every day. That's how the most famous Nivedyam of Ambalapuzha temple started off. This is one common story related to Ambalapuzha Paayasam. There are many more legends. Also read: Famous Kerala symbols known by their place names.
Dry rice (Unakkalari) is boiled with jaggery to prepare Aravana Payasam of Sabarimala. Measurement of jaggery is equal to four times the quantity of rice taken. As per belief Sage Saravanan made this payasam for first time, and its name too derived from his name. Saravana Payasam later came to be known as Aravana Payasam.
Onam celebrations in Kitchen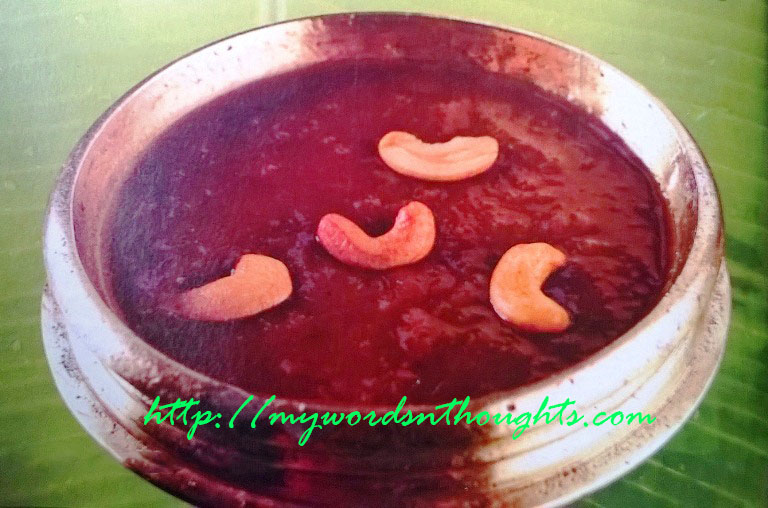 During Onam season, much preference is given to Pookkalam, Onakodi and Onasadya. The preparation done in kitchen to prepare Onasadya is nothing short of a celebration. Some 40 years back, Payasams are prepared in kitchen only during special occasions such as Onam or Vishu. A time when mixer or grinders were not available in kitchen, male members enter kitchen only to extract coconut milk from scrapped coconut. Before male members start the preparations for squeezing coconut, cotton towels will be ready. Clean towels are soaked in water before the process begins.
Scrapped coconut will be transferred to big Urlis. Now it's the job of male members to extract coconut milk from coconut. They use coconuts with fiber and husks removed, to crush the scrapped coconut first. Then begins the real war! They put a little coconut in moist towel, squeeze it from both ends to form a rope like structure and extract first milk (Thala Paal). More amount of first milk you extract, tastier your payasam would be.
Now add a little water to the pulp extracted and crush it again before second milk is extracted. Now a little warm water will be added to the pulp, pressed well and third milk is extracted. Sometimes, coconut pulp will be crushed in stone ural before the process to get more juice.
During those old glorious yesterdays of Onam celebrations, most of the families had so many members. So Ada Pradhaman was not common during celebrations, as it's not easy to serve large number of family members in a joint family. So dry rice (unakkalari) or green gram daal payasam was quite common, which can be easily served to a large folk.
What's the connection between temples and payasams?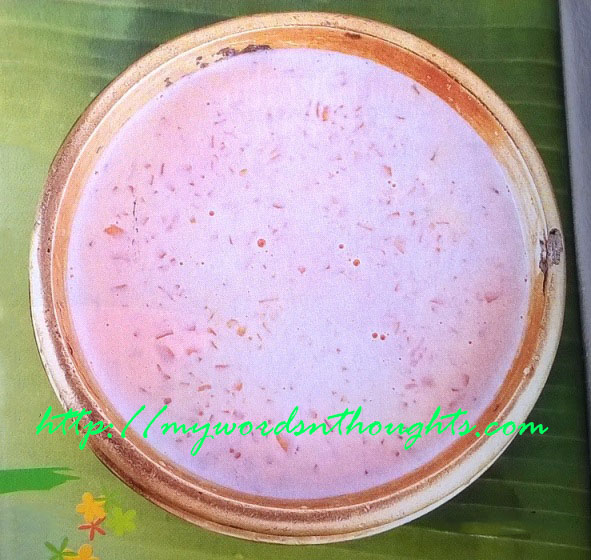 "Hema Paathrasthamaaya Paayasathodum Koodi
Homakundathil Ninnum Ponginaan Vahnidevan
'Thaavakam Puthreemamippaayasam Kaikolka Nee
Devanirmitha'mennu paranju Paavakanum"
Payasam is mentioned in Ezhuthachan's Ramayana. For temple nivedyams (offerings given to Lord), payasam holds a prominent place since ancient days. During early days, fruits and seeds available from nature were offered to god. Later sweet offerings to gods and goddesses also came into existence. Ney payasam, Kadum payasam or Iratti payasam, Paal payasam, Sathasatha payasam, Iduchu Pizhinja Payasam etc are some of the common Payasam offerings given in Kerala temples. Normal procedure is to offer Neypayasam for Usha Pooja (Morning pooja), Paalpayasam for Ucha Pooja (noon pooja) and Iduchu Pizhinja Payasam for Athaazha Pooja (Night pooja).
Coconut milk is added to Iduchu Pizhinja Payasam. Scrapped coconut is used for Pindi Payasam.Kadum Payasam adds jaggery in excess. Sathasatha payasam includes the main ingredients – all 101 in number. That's why this payasam is called so. i.e. 101 coconut, 101 palam jaggery and 101 Naazhi rice is the measurement of its ingredients. It is also known by the name – Valiya Vattala Payasam.
Sweetness of raisins in Payasam memories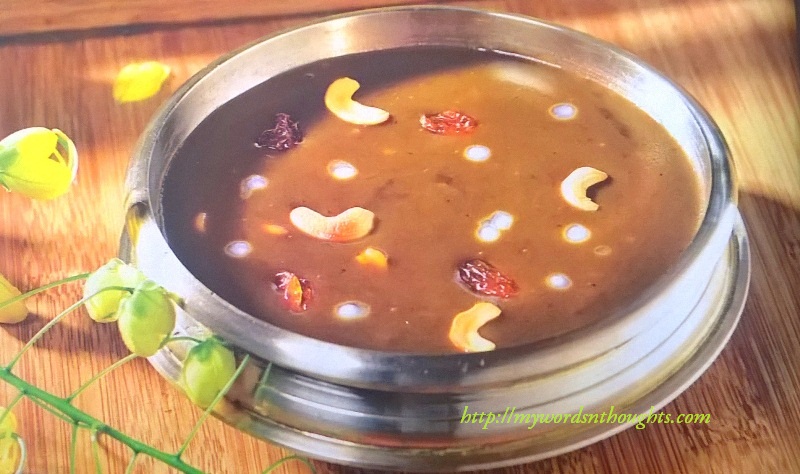 Though Ada Payasam is the favourite of everyone, ada should be prepared with great care. Otherwise it can kill the whole sport. Since the beginning of its preparation, from soaking rice, keep an eye on your ada. During early days, ada used to be made with so much disciple. Unakkalari (raw rice) is used for its preparation. It should not be soaked for more than 10 minutes. Then it's powdered in stone Ural. Then it's sieved at least 10 times to get nice flour without any lumps or crystals. Only leaves of Lady Finger Banana (Jnalipoovam/Rasakadali) are used for making ada, as they never break easily. Rice batter is poured on the back side of leaf in thin layer (similar to kolam making). Then it is rolled, tied well and immersed in boiling water to cook.
But things have changed a lot. Now everything is instant, either ada or coconut milk. Now readymade payasams are available in packets. For Palada Pradhaman, milk is boiled till it thickens and changes to light pink colour. Ada is added at this stage and mixed well. The last process of payasam making is tempering cashews and raisins in ghee and adding to payasam. Add a pinch of cardamom powder to your payasam to give a final touch. Kids love the sweetness of raisins in payasams.
Special payasams for special occasions
Everyone loves payasam, yet kids adore them most. Payasam can be made using any ingredients without bitterness and sour taste. The tilting position of urli in the hearth can also affect the taste of payasam. Fire is intense at areas at heights in the bottom of vessel. If so, fire won't reach the lower bottom of the urli. If you are using a big urli and position is not correct, the areas at higher position where more heat falls directly gets burned easily and your payasam gets spoiled.
Payasam is one among the silent dishes, without much smokes and fumes. It doesn't have sputtering of mustards nor does it make frying sounds. Flavour comes out only at final stage when ghee and cashews are added. But when you make Paripp Payasam, it's just opposite. Since the beginning of payasam making where green gram is fried, its flavour comes out.
For Pazham Payasam, Kerala banana (Nenthrapazham) is used as the main ingredient. Of several varieties of Kerala banana, Nedunentram variety tastes best. During early days, cow's milk was not easily available. So payasam using jaggery and coconut milk was quite common. But today, Palada Pradhaman is most popular.
Banana and Boli – Best friends of Payasam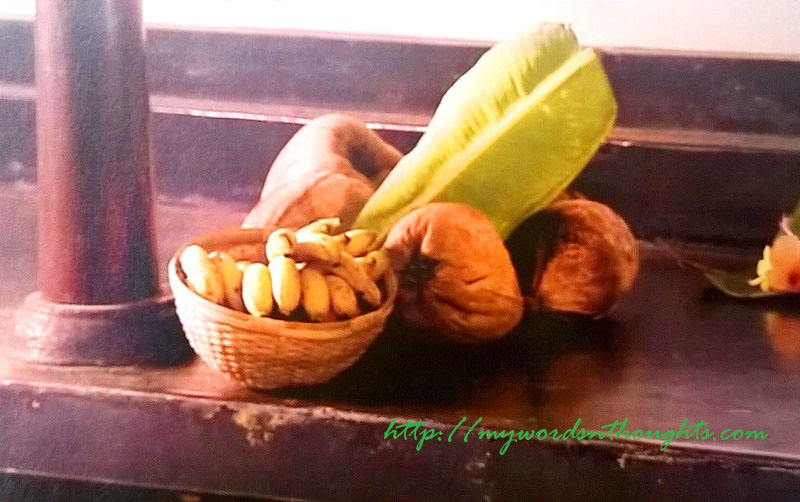 Boli or Boondi for Paalada and Paal Paayasam and Banana or pappadam for jaggery payasams – they form the perfect combo. You can taste pickles along with its excess sweetness. Having payasam is also an art. When it's served on a banana leaf, it requires an artistic skill to mix payasam with banana or boli and have it, without spoiling your clothes. In mid-Kerala and Malabar regions, payasams are mostly served in glasses, while in south Kerala, they still hold the traditions and customs to serve payasams in banana leaf soon after second serving of rice with sambar. Also read: Thiruvananthapuram style Kerala sadya.
A few chefs believe that Payasam or Pradhaman should be eaten without adding banana or pappads. Then only you can get the correct flavour of payasam. It's up to you to decide, whether you should have your payasam with bananas or boli, or without them. Some people taste lemon curry a little bit in the interval of payasams to consume a little more of it.
Which payasam is served first?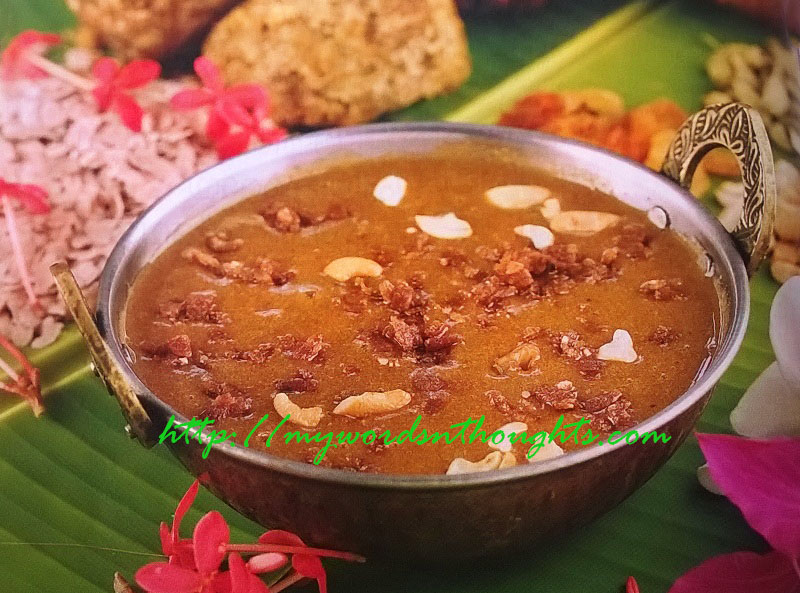 Suppose there are four payasams for a Kerala sadya – Ada Pradhamam, Paal Payasam, Kadala Paripp Pradhaman and Palada. Which one should be served first? Ada Pradhamam is given first place. So ada pradhaman with jaggery is served first. Then Kadala Paripp or Cherupayar Paripp Pradhaman, followed by milk added pradhamans. Jaggery added payasams will always be served first.
Now days have gone when family members together enter kitchen to prepare dishes for Onam and Vishu. Now everything including Sadyas and Payasams are readily available in market. You just need to dial a number and order whatever required. They can reduce your manual efforts a lot. But they can never bring those glorious moments and nostalgic memories back once again! So what are you waiting for? Just enter your kitchen and make a payasam of your choice along with your family members. Chill a few light moments with cracking jokes and chats if you can.
Please read a few Payasam & Pradhaman recipes. Click on the images in the gallery to get the recipe.
(Visited 1,200 times, 1 visits today)