Sita Lava Kusa Temple of Wayanad – Reminiscing some tales from holy Ramayana
A journey to Sita Devi temple at Pulpally of Wayanad – A holy place of divinity, purity and wild beauty can bring you eternal happiness and joy in the holy month of Karkadakam. A visit to temple where Sita and her sons – Lava and Kusa are worshipped is one of the rarest temples of Kerala. Yes, the place where Uthara Ramayana was born.
The stories of Uthara Ramayana unfolds here
The place where pregnant Sita was abandoned, Lava and Kusa born, Rama's horse was tied by brothers, Valmiki stayed for some years, and final disappearance of Sita – This temple and its premises have a lot of religious significance. All these incidents are connected to Uthara Ramayana, and places & beliefs connecting these incidents are found in Wyanad. Deep forests connecting Pulpally, Mullankolli and Noolpuzha still hold a tribal culture. There is peaceful atmosphere surrounding the place. Kurumar, Paniyar, Oorali and Kattunaykkar are the tribal communities found in this village.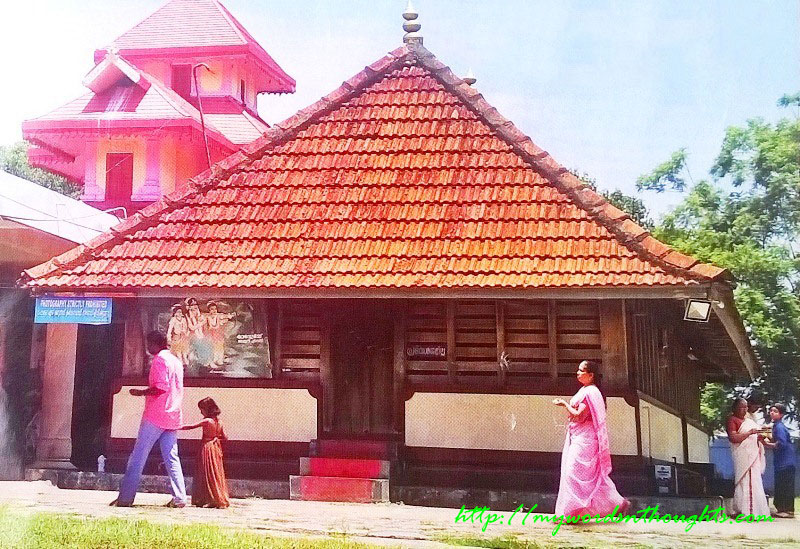 The temple is situated near to Wyanad-Mysore road. Ponkuzhi is located near to the border place Muthanga, approximately 20 kms away from Bathery; Union of three states – Kerala sharing north border with Karnataka and south border with Tamil Nadu. Karnataka border is 4 kms away and Tamil Nadu border is 5 kms away. The dense forest is filled with wild animals like wild elephant, tigers, bears, wild boars, deer etc. It holds the legends of more than 3000 years. From Sita theertha of Ponkuzhi to Jadayattakavu, where Mother Earth took away Sita, history unfolds so many amazing stories here, connecting with epic Ramayana. Yes, beautiful tales of Wyanad.
Sita gave birth to Lava and Kusa in Pulpally – As per legends
At the doorstep to temple itself, you can see the lamps lighten around Sree Kovil (main temple). The temple has no chuttambalam (temple complex where a devotee circumvallates). You can directly enter Sree Kovil of goddess. The place is eco-friendly, so close to nature and looks like a Kaavu, where the temple premises are filled with plants and flowers; greenery everywhere. During the holy month of Karkidakom, children are seen reciting verses of holy Ramayana.
Sree Kovil has three steps. Black idol of goddess is decorated with silk cloth. The place name Pulpally was derived from the story related to Ramayana and Sita. As per popular belief, Sita who was abandoned by Lord Rama gave birth to Lava and Kusa in the grass bed of this place. In Malayalam, grass means 'Pullu', and that's why the place came to be known by the name Pulpally.
For the residents here, Goddess Sita is the second name of mother. It's indeed a rare temple, where Sita and her kids are believed to reside and later a temple built there. Earlier Lava and Kusha were presiding deities and Sita was Upadevata. Later it was reversed. Most of the traditions followed here are connected to residing tribals. During the Malayalam month Dhanu, Thira and Vellattu are conducted by Kulanad tribe.
The soil where story of Sita sleeps
As per beliefs, Ramayana story happened in Ayodhya of Uttar Pradesh. Yet many of the stories of Ramayana are linked with South India and Sri Lanka. Of those stories, a few chapters of Sita are linked with Pulpally of Wayanad, which forms a border with Karnataka state. Life of Sita after being abandoned by Rama fills the folklore of Pulpally and surrounding areas. Lonely Sita who went through the worst phase of her life was worshipped by locals of this place as mother – Legends say. That's why the last phase of Sita's life till she left the world is of great significance.
There are numerous holy places in Pulpally, related to Sita and her stories. Valmiki Ashram, Ponkuzhi Theertham – a pond which is believed to be filled with Sita's tears, Kannaram Puzha, a cave temple – the spot which is believed to be the spot where Sita vanished to ground, when called upon by Mother Earth. Sisu Mala – the place where Lava and Kusa spent their childhood days and Munipaara – the place where Sage Valmiki meditated (Tapas) are other major spots connected to Sita's story. Huge anthills are most common here in the forest premises surrounding the place.
It's not easy to explain them all. In one word, divinity and peacefulness surrounds the Sita temple and its premises. For those who don't belief in such stories connecting to Ramayana, here is one such instance. Leeches are very rare in the forests here, though they are very commonly found in other forest areas of Wayanad. Researches were held by bringing leeches to the temple premises. But none of them survived. As per belief, when leeches bit Lava & Kusa, Sita cursed them. That's why they are not found here.
Here is another instance. At least two flowers blossom every day in the Manthara trees of Chedattinkavu, and these trees are very old. Folklore stories are closely linked with the cultural life of people belonging to this village.
Sita temple faces east direction and without big decorations and architecture skills
The main deity is goddess Sita, and the idol is installed in east direction. She carries shank and chakra. There is a big mandapam in front of Sree Kovil (main temple). On the right side of goddess Sita, Lava and Kusa idols are installed, facing west direction. They are given the name – Murikkanmaar (Murikkar), as they led sage's (muni) life during their childhood days. Appam Nivedyam to Lava and Kusa is the major offerings given by the devotees in the temple.
In front of Lava-Kusa temple, pointing east direction, Kirada Shivan idol is installed. This idol is also known as Thalachil Shivan. Devotees need to seek the blessings of Upadevadas (sub-idols) of Ayyappan, Subramaniyan, Vettekaran and Ganapati after worshipping Thalachil Shivan, situated in the west side of Shiva. Finally the devotee should seek blessings from Lord Naga of north side of the temple to fully circumvallate the temple.
Paattupura is situated in the left side of the temple, where mural paintings of Sita and her sons are done. As per stories, Kalam Paattu used to be held here in old days. Wooden carvings in the backside of Sreekovil, stone lamps and tin dome on the top of Lava-Kusa temple are of heritage value. Flag posts, decorations, statues, carvings etc are not present in the temple. As Sita who spent her sorrow days is installed as presiding deity, the temple is deprived of such architecture carvings, which is usually done in every ancient Indian temple.
On the northern end, near Lord Naga temple, a few steps lead to temple pond. On the left hand side is the Oottupura, the place where devotees are given food. The floor in front of Oottupura is now given a sheet roof, which destroys the ancient heritage of temple premises a little bit. During the old days of Naxal tales which ruled Kerala once, a policeman was killed in this Oottupura. After this unfortunate bloodshed, the social and political life affected the temple and surroundings for a short period. Then, in 1992 the temple was renovated.
Stories of Ramayana fill as fragrance of the atmosphere
The temple is so silent, filled with loneliness and wide beauty of nature. Sita is also called 'Dukha Putri', who was abandoned soon after birth. She was adopted with King Janaka. Though she got married to Prince Rama, she had to go to Vanavasa for long 14 years. She had to spent long years in forests, and later in Ravana's home arrest in Lanka. She had to go through Agni Pareeksha before Rama accepted her as wife. She spent only a short time in royal life style. Rama abandoned pregnant Sita very soon, and after that she spent her entire life in forests, living a common man's life. She was given shelter by sage Valmiki and very soon she gave birth to twins.
Years later, Lava and Kusa reached Ayodhya and recited Valmiki's Ramayana taught by sage himself. Rama recognized his sons. Rama asked Sita to go through Agni Pareeksha for the second time, and that he is willing to accept her and sons if she does so. Heartbroken Sita burst out, and she pleaded goddess Earth to take her if she is pure with her mind and body, and the ground splits and goddess Earth takes her.
The goddess worshiped by Pazhassi Raja
When you stand in front of the goddess, flashes of Pazhassi Raja and his struggles with British rule often comes to mind. Pazhassi Raja's hideouts were situated in the temple premises. Sita Devi installed in this temple was worshipped by Raja. It's also believed that this temple surrounded by deep forests was built by Raja himself. He spent his last days in Pulpally. He was killed at Mavilaanthode, a place nearby. Weapons of Pazhassi Raja were found abandoned in Kaitha Kolli, near the temple. As per popular belief, many of Pazhassi Raja's weapons are still found there. In 1805, more than 3000 people assembled in the temple premises with weapons, who took oath to fight against British.
Chedattinkaavu temple
Every devotee who goes to Sita Temple is supposed to go to Chedattinkaavu also, as the ritual goes. Then only the rituals of holy visit to Sita temple are completed. Every day Manthara flowers blossom in Chedattinkaavu, the temple situated a few kilometers away from Sita temple. A small temple built inside the deep forest, that's Chedattinkaavu, the spot where Sita disappeared to Goddess Earth's lap. The northern side of the temple is believed to be that spot. Chedattilamma is the presiding deity of this temple. Saptamaatrukkal in the form of Goddess Vaishnavi is also installed here.
Huge Koovalam (wood apple/bael) trees are seen close to the temple. The courtyard is filled with flowers of Koovalam, and greenery gives a wild beauty to temple premises and surroundings. As the place is filled with trees, only indirect sunrays fall to courtyard. Chedattinkaavu temple is also linked with the stories of Pazhassi. The structure of the temple itself gives solid proof. The backyard and premises of the temple were once used as hideouts by Pazhassi Raja.
Only a few devotees visit here regularly. That may be main reason why the temple premises still hold its natural beauty. Chedattilamma is the presiding deity of this temple, who is regarded as the mother of this beautiful village. Munippara rock is situated nearby, where special poojas used to be conducted occasionally. As per belief, on such occasions if rock is rubbed with theertham (holy water), devotees get sandalwood in return. But nowadays it remains a popular tale only. But old people say, they have received sandalwood (chandan) during their younger days.
When Lord Rama conducted Ashwameda Yaga, the horse sent by him was tied by his sons, with the permission of their mother Sita. When Rama came in search of the horse, Sita saw him. After a few incidents, when heartbroken Sita disappeared to earth, Rama tried to prevent her by holding her hair. Her thick hair (jada) broke off and hence the place came to be known as Jadayattakavu. Later it became Chedattinkaavu.
Munipara and Valmiki Ashram
Ashramakolli, also known as Munipara and Valmiki Ashram is very close to Chedattinkaavu. That's the place where the holy rock is situated which gives sandalwood if rubbed with holy water. Fig trees surround the place and poojas are also conducted here. As per belief, sage Valmiki lived here and meditated. For the past few years, poojas are conducted every day and lamps are lightened as well. The places located around Munipara are lonely, yet gives a divine atmosphere.
Valmiki Ashram is situated just near Munipara (Sage Rock). Here agarbattis are lighted every day in the floor built using Darbha grass. The place is looked after by tribal people who reside here, and they perform pooja rituals as well. The lamp is lighted by someone from Tharavaadu, specially appointed by Devaswom. The courtyard is filled with basil plants and cassia fistula (Konna). Two old Manthara trees are also found here which was decades old.
There is one mystery surrounding Manthara trees. At least two flowers blossom every day in the trees round the year, even in hot summer. The two light-violet flowers represent Lava and Kusa. Many lamps are present in Ashram premises. Though it's a forest area, no one steals those expensive lamps. Even if someone steals it, he will return it back – certifies the believers. As per legends, Rama chants can be heard here.
The temple pond filled with Sita's tears which owns a history
Sita Lava Kusa temple is situated in Pulpally of Wyanad district. On Kozhikode Mysore National Highway from Meenangadi, the temple is 17 kms away. From Sultan Batery, it's 24 kms away. The temple in present form was built during the reign of Pazhassi Raja. Here Goddess Sita is installed as presiding deity, along with her sons, in the name of Murikkanmaar. Chedattinkavu is the Moola Sthaanam of the Sita temple.
The temple pond of Pulpally is famous. Among all temple ponds of Wyanad district, Pulpally temple pond is the biggest one. During Padayottam (battles), the attackers had to withdraw following loss of direction – history says.
Sree Rama who resides in Ponkuzhi
Ponkuzhi river chills the Noolpuzha village. Ponkuzhi Rama temple is a centre of attraction of pilgrims. Though there are separate temples for Sita and Hanuman, Sree Rama resides along with both of them in this temple. All idols are installed within a single sreekovil, and is a very rare installation. When you cross Karnataka borders and reach Kerala while travelling through Mysore, this temple appears first. As this place is declared as a National Park, except the temples of Rama & Sita, no other constructions are found here. Yet there are many centuries-old manmade constructions deep inside forest which astonish everyone.
Ponkuzhi temple belongs to 6 tribal groups – Chetti, Pathiya, Paniya, Kaattunaykkal, Oorali and Kuruma. All the rituals and festivals are organised and conducted by Chetti group for many centuries, a tradition still not broken. But the temple is governed by a trust, selected from people. Same trust controls 3 more temples – Bathery Ganapati temple, Mariyamman temple and Thalachilyan temple. Though Wayanad has many other Rama temples, they come under different trusts.
There is no annual festival for Sree Rama in Ponkuzhi. But Thira is performed for Sita by Kulanadi people. All the tribal people hold the right to perform their traditional art forms in the temple. Valmiki Guruvarananda Ashram is nearby. Saint Valmiki is the presiding deity here, indeed a rare temple in Kerala. Stories of Rama are inscribed in temple roof, and paintings of Ramayana on walls.
The place holds legend of more than a thousand years. Tipu Sultan and his army has travelled through this place. As per tribal traditions, all these temples are 3000+ years old. On the east of highway, Ponkuzhipuzha (river) and Rama temple are situated and on the western side, the Sita temple and Sita theertham. Rama temple is situated on the banks of the river. You can conduct bali rituals all days here. The space turns crowded during the auspicious Vavu Bali. This place also provides shelter to Sabarimala pilgrims of neighbouring states.
Alumkalam is near to Rama temple. It's situated in a pocket road opposite Muthanga checkpost. As per legends, Lava and Kusha tied Rama's Yaga horse and also held Hanuman hostile beneath a banyan tree here. You can find a banyan tree and a stone basement, and no other separate temple. Lava and Kusa are worshipped as Karimurikkan and Bemmurikkan by the locals. Thira of Kalanadi people is the main festival attraction. They are also worshipped as Elavalli and Poovilli. There are lamps placed beneath the banyan tree, and during special days and festivals these lamps are lighten. The place is lonely, and a few settlements of tribal people are visible. There is a small stream near the tree, and pilgrims frequently visit here.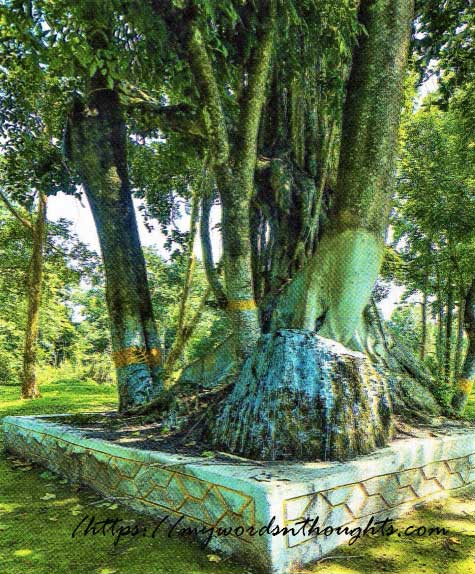 It's a holy space
During early days, about 50 or 60 years ago, the place was filled with deep forests and a dwelling place for elephants. Pulpally Devaswom then held 14000 acres of land. With the migration of people to Wayanad, Devaswom lost some land. Some property was given in free by Devaswom for starting government projects and institutions. Yet in those days, Sita Lava Kusa temple, Chedattinkaavu, Munipara and Valmiki Ashram were considered divine by locals. Logan's Malabar Manual has also included the significance of this temple. Malabarile Nair Tharavadukalude Charithram – authored by former deputy collector of Malabar, Gopala Menon throws some light on Kuppathodu Tharavad, which holds the Oorayma Avakasam (special right) on the temple.
During the last days of Pazhassi Raja, he spent his time in the premises of the temple. He received help from Thalaykkal Chandu and Edachana Kunkan. Many ancestral families of Nair community helped Pazhassi during his battle with British, and Kuppathodu Tharavad was one among them.
This temple is quite different from other Hindu temples of India. While idols are usually installed in a place with divinity, Pulpally is believed to be the dwelling place of goddess Sita during her last days. When a devotee believes so, why Pulpally can't be named as a holy place for pilgrimage?
You can read a few more articles on Kerala temples, with detailed description of legends and celebrations associated with them. Click on the images in the gallery to read
(Visited 1,057 times, 1 visits today)