It's history made – Bahubali 2: The Conclusion becomes the first Indian film to gross over 1000 crore
Yes, it's a new collection record. Baahubali 2: The Conclusion kisses the new skies of 1000-crore club, and soaring to new heights. What's so special about Baahubali?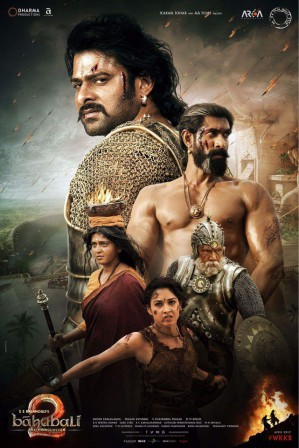 When S. S. Rajamouli decided to bring the fictional character Bahubali on screen, no one might have assumed it is to write new epics in Indian film making. As it was not easy to capture the story of Kingdom Mahishmati in just one film, Rajamouli decided to divide the story into two parts, and back linked the second part, Bahubali 2: The Conclusion to the first one. When Bahubali: The Beginning received overwhelming response across India and abroad, expectations were very high for its concluding part, and needless to say, director lived up to audience' expectations and it's well reflected in box office collections also. Also read: First Review of Bahubali 2: The Conclusion.
Bahubali 2: The Conclusion rewrote almost every collection record at Indian box office, and within 9 days it minted 1000 crores at box office worldwide to become the first Indian film to enter elite 1000 crore club. Not only did Rajamouli's epic conquer south Indian fans, the movie's Hindi dubbed version is also well-received in Box office. People thronged to theatres to watch Prabhas on big screen and to find answer to the question, 'Why Kattappa Killed Bahubali?' enough to break all collection records of an Indian film.
Early the fancy number '100 crore' became a rage in the second half of 2000s, and with the stupendous success of Baahubali: The Conclusion, '1000 crore' becomes the new horizon for Indian box office. Earlier only a Hollywood's dream to reach that magic figure of '1000 crore' in Indian currency values, now the success of Baahubali 2 has created new benchmark for Indian entertainment industry.
The movie collected 222 crores in 2 days. Read here to get the complete news. Bahubali 2 surpassed PK's life time collection records in 9 days on 6th May, and minted 800 crore Indian rupees worldwide. On 7th May, it's confirmed that Baahubali crossed the 800 crore mark on 6th May and also 200 crore overseas thus becoming the first Indian film to earn 1000 crore. Now we are eagerly waiting to see Baahubali creating new horizons and benchmarks for Indian box office. The movie stars Prabhas, Rana Daggubatti, Satyaraj, Ramya Krishna and Anushka Shetty, and a strong crew of supporting actors. The film is technically strong, and unfolds a magical world before the audience.
Also read: Chirakkal Kalidasan – The elephant which achieved stardom through Bahubali.
(Visited 354 times, 1 visits today)