Background Artists of Pooram Season
The grand festival of Thrissur Pooram is the biggest temple celebration event of Kerala, known for its cultural heritage. Caparisoned elephants with the backdrop of Alavattom and Venchamaram receive maximum spotlight and spectators often forget efforts made by some background artists for the eve. From workers to senior officers of police and administration department, efforts of many people are involved for the success of this grand event. Through this column I would like to mention a few, a special dedication on the special eve of May Day.
On the famous Thrissur Pooram day, Ezhunnallath continues till late hours, and many workers are involved with major events. Under the hot sun of Medam, many people are fully engaged in their assigned tasks. From mahouts who sit on elephants for longer hours to people who stand beyond elephants with wooden torches (flambeaus) and artists who play various musical instruments to volunteers who take control of full events deserve cheering applause for their efforts. It's their combined effort which makes Thrissur Pooram a great success.
Theevetti Pooram
It's a great sight to watch associates carrying wooden torches whenever there is an elephant festival. Artists who play musical instruments follow these people. Wooden torches, called theevetti in local terms give special lighting arrangements to the whole elephant poorams, and spectators forget the efforts of the people who hold torches in their hands and stand behind elephants for long hours. Sometimes they need to hold the torches for more than 5-6 hours.
For Thrissur Pooram, 30 'Theevetti' people will be present with every batch. Of them 5 or 6 exclusively hold the torch. Others will be assigned the jobs such as carrying oil for wooden torches. So their work starts many days before the annual pooram. First task is to clean the oil torch, and bundle with small pieces of clothes. The process is done taking enough patience, and the torch has to be in good shape too.
Later it's dipped in oil and used as torch for elephant festivals. If it's not handled with care, its boiling oil is enough to burn hands. It's quite common among 'Theevetti' associates to burn their hands due to careless handling of torches. Torches are heavy too, which increases their efforts as well.
Police Pooram
Police play a significant role in maintaining peace at the Pooram spot. They take control of everything, and extra force will be added on Pooram day. They block major roads leading to Swaraj Round, and facilitate all helps and safety needed to people from police side. More than 3500 policemen will be arranged on Thrissur Pooram who covers Vadakkumnatha Temple premises, Swaraj Round and all main roads leading to Vadakkumnathan. Policemen belong to different districts of Kerala.
Panthal Pooram
Making huge Panthals (decorations) at the major spots of Thrissur main town is one of the highlights of the festival eve. Regarded as Pride of Pooram, Panthals give some spectacular and colourful visuals to watch. Pits are dig on either side of roads under the hot summer sun before Panthal work is started. Panthals are made by both Paramekkavu and Thiruvambadi groups at major spots of Swaraj Round surrounding Thekkumkadu Maidan – Thekkinkadu, Ilinjithara, Madathil Varavu and Sreemoola Sthaanam. Barricades are also made by a group of people, near to every panthal.
Mahout Pooram
Spectators are thrilled with the colourful visuals of elephants and background. Elephants are the real stars of all Poorams of Thrissur. Yet it's common the efforts of mahouts are neglected. They spend several sleepless nights during pooram season to ensure the best for their elephants. Every year more than 100 elephants reach the main town as a part of the pooram festival, and in their luminance mahouts are forgotten. Mahouts stay aside elephants 24 hours, either at their footsteps or near tusks, ensuring their safety and security. When hot debates are common among elephant lovers every pooram season about the need of good food, rest and sleep of elephants, talks about mahouts are not favourites for all.
Elephants have admirers across the region and mahouts need to keep a close eye on elephant fans who may try to do some mischiefs with their stars. It's quite common, people gather around elephants while they rest in the maidan.
Aanapura Pooram
Colourful umbrellas, Alavettom and Venchamaran are integral ornaments of every elephant pooram. Three or four persons will sit on elephant tops for the whole event holding these traditional items in front of the spectators. They should keep balance on elephant's top to help themselves from jerking of elephants. Restless elephants show strange mannerisms unexpectedly and people mounted on the top should be vigilant.
A few tasks are assigned to them as well. They hold muthukuda (colourful umbrellas with bells at edges) and sway white venchamaram and alavattom (made of peacock feathers) in rhythm to chendamelam. Occasionally they stand on elephant's back while swaying venchamaram, a risky job indeed. Sometimes they need to stay for more than 4 hours in this posture mostly when there are three or four Ezhunnallathu in a row. If elephant goes violent, these people are high at risk. Yet their love to elephants and festivals draw them to temple maidans.
Kuda Pooram
Colourful umbrellas play a significant role in elephant processions. In Thrissur Pooram, Kudamattam is the major highlight where colourful umbrellas are displayed one after the other. Have you ever thought the huge effort behind making such umbrellas, 'Kuda'/'Muthukuda' in Malayalam local terms? People who give umbrellas to those mounted on elephant tops during Kudamattam also deserve special mention. Local people belonging to each desam stand behind elephants to participate in this event.
The exchange of umbrellas is spontaneous, and done at lightning speed. They receive old umbrellas from mounted people and give them new ones in return. All the umbrellas of same type and colour will be displayed at the same time by 15 artists mounted on different elephants in a row. This process will be done at both ends, representing Paramekkavu and Thiruvambady groups.
Hundreds of local people (desakkaar) participate in this process to make Kudamattam events colourful and attractive. They work at lightning speed. It's not an easy task to display same type of umbrella on the top of 15 elephants at the same time, and a small fault is enough to spoil the game.
Daaha Pooram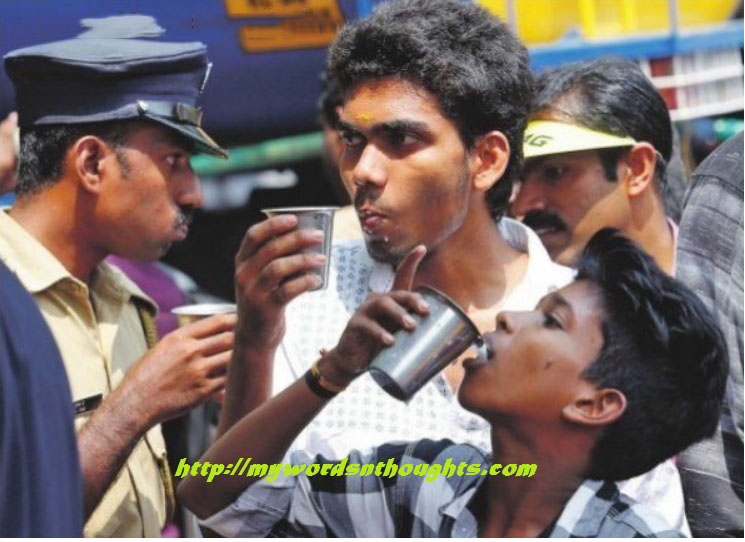 It's under hot summer sun, and you can see a lot of people giving buttermilk to thirsty people. Dried ginger (chukka) water is also provided. Thanneer Panthal who provides water to needy also plays a significant role during pooram season. Efforts of many, their efforts can never be underestimated. Such spots are seen in Thekkumkaadu maidan, Sreemoola Sthaanam, Pazhaya Nadakkaavu premises and many other places in the Swaraj round.
Mela Pooram
After elephants they are the real stars of all temple poorams. Artists who play traditional musical instruments are called Melakkaar in local temples, and they add all flavours and finish touch to temple poorams. In big events, more than 250 artists participate, and they accompany elephant procession from one place to another with their musical instruments and melam. The artists see it as a matter of pride, if they get opportunity to participate in the biggest pooram festival of Kerala, Thrissur Pooram. Panchavadyam with 5 music instruments combined and Ilanjithara Melam are major highlights of Thrissur Pooram. Chenda artists form the elite group of all poorams.
Shuchi Pooram
The town turns a waste bin when Pooram event ends. Whole premises and roads will be filled with waste paper, plastic, elephant dung and other waste materials, and it's a herculean task to clean the city. The whole area is divided into 5 sections, and the workers play a significant role in restoring the areas as it was before. A great salute to all those people who do this social service.
Article & Image Courtesy: Mathrubhumi Nagaram Thrissur Edition, May 1 & May 6, 2016
If you are interested to watch Thrissur Pooram gallary of 50 images, click the link here.
You can read a few more articles related to Thrissur Pooram celebrations commenced in the month of Medam, the biggest temple festival of Kerala. Here is the page link. Click on the images in the gallery to read
(Visited 927 times, 1 visits today)