The story of 44 rivers of Kerala – Splendidly the biggest assets of God's own country
Starting from Western Ghats, 44 rivers travel through different regions of one of the smallest states of India before they reach their final destination – Indian Ocean. Needless to say, these 44 rivers act as the main nerves of Kerala's eco system, and life is fully dependent on them. Water bodies form a major asset of Kerala, and that's why it has found a permanent place in tourist map of the world for natural beauty and greenery, and in true means, 'God's own country'. Rivers play a major role in social and economic status of Kerala.
None of Kerala rivers claim to be Mahanadi
Length of Kerala rivers are comparatively low, if they are compared with North Indian rivers. Rivers which drain an area of 20,000 or more square kilometers are known as 'Mahanadi' in Indian languages, which literally means 'Big River'. Though Kerala is famous for 44 rivers, none of them own the distinction to be called as Mahanadi. The rivers with a drain area between 2000 and 20,000 square kilometers are classified under medium, and those with shorter river length can be categorized under small rivers.
In Kerala, only 4 rivers can be grouped under medium length ones – Bharatapuzha, Pampa, Periyar and Chaliyar. The remaining 40 ones are smaller ones. The lakes which flow for 15 kms or more are grouped under rivers. In Kerala, Pampar, Bhavani and Kabani flow towards east, and the rest 41 towards west. Mangeswaram Puzha originates at the northern tip of Kerala and Neyyar is at the southern tip.
Let us acknowledge some of the major rivers of Kerala
Periyar – The river with 244 km length is the biggest one in Kerala, and it originates from Sivagiri mountain ranges of Devikulam. Mullayar, Muthirampuzha, Kattapana river, Cheruthoni river and Thodiyaar are its major tributaries. Thekkadi – the biggest life sanctuary is located at the region where Periyar originates. Kerala's first hydroelectric project, Pallivasal and the biggest hydroelectric project, Idukki are situated in Periyar. There are other hydro-electric generation facilities on the river apart from these two major projects. The river is of utmost significance to the economy of Kerala, and a majority of inhabitants solely depend on it for drinking purposes and other activities and that's the reason why it's also known as "Lifeline of Kerala".
Kerala's first concrete dam – Mattupetti was built on Periyar. Sivaratri celebrations of Aluva held on the river banks of Periyar, is of great cultural importance. Kaladi, the birth place of Sree Shankaracharya is situated on the banks of Periyar.
Bharatapuzha – Among the rivers of Kerala, it holds second position after Periyar. It originates from Anamala mountain of Coimbatore of Tamil Nadu, travels 45 kms through the state before it reaches Kerala. It travels 209 kms through Palakkad, Thrissur and Malappuram districts and joins Arabian sea near Ponnani. Gayatri Puzha, Kannadi Puzha, Kalpathy Puzha and Thootha Puzha are its major tributaries.
Kundi puzha which runs through Silent valley reaches Thootha puzha and finally converges with Bharatapuzha. Malambuzha dam is situated in Malambazha river, one of its tributaries. Killikurissimangalam, the birth place of Kunjan Nambiar and Cheruthuruthi, where Kerala Kalamandalam is located, are situated on the banks of Bharatapuzha. Thirunavaya, which was once very famous for Mamankam festival (held once in 12 years), is also located on the banks of Bharatapuzha.
Pampa river – The holy river which originates from Peerumedu of Idukki district is a major river of mid-Travancore. Manimala river, Kakki river, Muzhiyaar and Achankovil river are its major tributaries. It travels 176 kms through Idukki, Pathanamthitta and Alapuzha districts and finally falls into Vembanad lake. Pampa river serves as the central nerve for irrigation of crops in Kuttanad. For the same reason, Kuttanad is also named as 'Alms of Pampa'. The world famous Hindi pilgrim place, Sabarimala is located on the banks of Pampa, and hence of great cultural and religious significance. Ayyappa pilgrims take bath in Pampa before they visit Sabarimala, and hence it can be compared to Holy Ganga river.
Cherukolpuzha Hindu conference and Maramon convention of Christians are annually held on the banks of river Pampa. The famous Uthratadi boat race is held in river Pampa.
Chaliyaar – It originates from Ilampaleri hills of Goodalloor, Tamil Nadu. Chali puzha, Punna Puzha, Pandiyar, Karimpuzha, Cherupuzha, Kanjirapuzha, Karumbanpuzha, Vadapurampuzha, Irivazhanjipuzha, Irunillipuzha etc are the major tributaries of Chaliyaar. Chaliyar is 169 km in river length, and passes through Wyanad, Malappuram and Kozhikode districts and joins Arabian Sea at the western side of Feroke town. Earlier Chaliyar was famous for both water and good transport. To transport wood from Nilambur forest, Chaliyar river was earlier widely used.
Other major rivers
Kallada river, Ithikkara river, Mayampuzha, Airoor Puzha, Vamanapuram river, Karamana river, Neyyar etc are the major rivers of south Kerala. Chalakudy puzha, Meenachil river, Manimala river and Achankovil river are other major names of mid-Kerala. Uppalayaar, Chandragiri puzha, Kallayi puzha, Ramapuram puzha, Valapattanam puzha, Neeleswaram puzha, Mayyazhipuzha, Kuttiyadi puzha, Korapuzha, Kadalundi puzha, Kecheri puzha etc are other major rivers of east Kerala (Uthara Keralam).
Rivers which flow towards east
Kabani, Bhavani and Pambar rivers originate from Western Ghats and take direction towards east and finally joins Kaveri river.
Kabani – It originates from Thondarmudi mountain peak of Wyanad and flows through Kerala-Karnataka border. Later it enters Karnataka and joins with Kaveri river. Panamaram puzha, Manathavadi puzha, Bavalipuzha and Noolpuzha are its tributaries. Banasura Sagar Dam, the largest earth dam in India and the second largest of its kind in Asia is located in this river. The biggest river island of Kerala, Kuruvadweep is also situated in this river.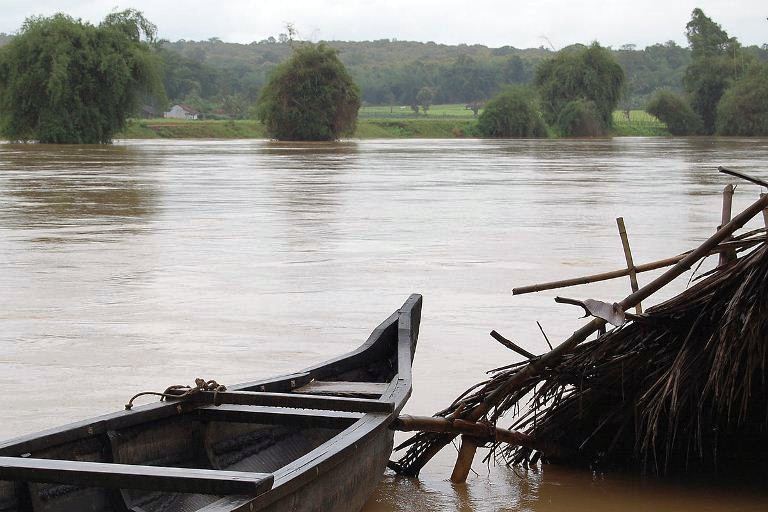 Bhavani – It originates from Nilgiri hills of Tamil Nadu, and travels 13 kms to reach Kerala border. It flows through Palakkad of Kerala. Siruvani puzha and Varattar are its tributaries. In Kerala it takes the direction towards south for 29 kms and later north and finally rejoins Tamil Nadu.
Pambar – It originates from Devikulam of Idukki district. It travels through Kerala and later enters Tamil Nadu and joins with Thenaar river to become Amaravati river and finds its final destination in Kaveri river. Iravikulam, Mailadi, Theerthamala, Chankalaar, Thenaar etc are the major tributaries.
Major waterfalls of Kerala
Athirapally – Vazhachal of Chalakudi, Perunthenaruvi of Pampa, Palaruvi of Kulathupuzha, Thommankuthu of Thodupuzha river and Thusharagiri of Chalipuzha are the major rivers of Kerala.
The list of major 44 rivers of Kerala
Here I list 44 major rivers of Kerala. They are listed in the order of their names, river length, place of origin and final destination point.
Kerala rivers which flow towards west
1. Manjeswaram – 16 km, Balepunikunnukal, Uppalakayal
2. Uppalam – 80 km, Veerakkambaakunnukal, Arabian Sea
3. Shiriya – 67 km, Aanakunni forest, Arabian Sea
4. Mogral – 34 km, Thanannur hill, Arabian Sea
5. Chandragiri – 105 km, Pattighat forest, Arabian Sea
6. Chithari – 25 km, Chettiyachal, Arabian Sea
7. Neeleswaram – 46 km, Kinanoor, Kariyankodu Puzha
8. Kariyankodu – 64 km, Padinal forest, Kavvayi lake
9. Kavvayi puzha – 31 km, Cheemeni hill, Kavvayi lake
10. Peruvamba – 51 km, Pekkunnu,Kavvayi lake
11. Ramapuram – 19 km, Iringalkuthu, Arabian Sea
12. Kuppampuzha (Pazhayangadi) – 82 km, Paadinelkadu, Valapattanam river
13. Valapattanam – 110 km, Brahmagiri forest, Arabian Sea
14. Anjarakandi – 48 km, Kannothu forest, Arabian Sea
15. Thalassery (Ponniyam) – 28 km, Kannothu forest, Arabian Sea
16. Mayyazhi – 54 km, Wyanad pass, Arabian Sea
17. Kuttiyadi – 74 km, Narikotta, Arabian Sea
18. Kora puzha – 40 km, Arikkan hill, Arabian Sea
19. Kallayi – 22 km, Cherikalathur, Arabian Sea
20. Chaliyar – 109 km, Ilampaleri, Arabian Sea
21. Kadalundi – 130 km, Cherakomban mountain, Arabian Sea
22. Thirur – 48 km, Adavanad, Bharatapuzha
23. Bharatapuzha – 209 km, Anamala, Arabian Sea
24. Keecheri (Kecheri) – 51 km, Machattumala, Enamakkal Thadaakam
25. Puzhavaikkal Puzha – 29 km, Machattumala, Enamakkal Thadaakam
26. Karuvannur – 48 km, Poomala, Enamakkal Thadakam
27. Chalakudy – 130 km, Anamal, Periyar
28. Periyar – 244 km, Sivagiri mountain, Kodungallur lake
29. Moovattupuzha – 121 km, Tharangam Kaanam hill, Vembanad lake
30. Meenachil river – 78 km, Araykkunnamudi, Vembanad lake
31. Manimala – 90 km, Thattumala, Pampa river
32. Pampa river – 170 km, Pulichimala, Vembanad lake
33. Achankovil – 128 km, Pasukidamedu, Pampa river
34. Pallikkal – 42 km, Kalaritharakunnu, Vattakaayal
35. Kallada – 121 km, Karimala, Ashtamudi lake
36. Ithikara – 56 km, Madathara, Paravoor lake
37. Airoor – 17 km, Navayi, Nadayara lake
38. Vamanapuram – 88 km, Chemmungimotta, Anjuthengu lake
39. Maamam – 27 km, Pannalakottukunnu, Anjuthengu lake
40. Karamana river – 68 km, Chemmungimotta, Arabian Sea
41. Neyyar – 56 km, Agastya hills, Arabian Sea
Kerala rivers which flow towards south
42. Kabani – 56.6 km, Thongarmuzhi, Kaveri river
43. Bhavani – 37.5 km, Siruvani, Kaveri river
44. Pambar – 25 km, Benmoor, Kaveri river
Image source: Wikipedia
Read a few articles related to Kerala Culture, Traditions & Social Life. Here is the page link. Click on the images in the gallery to read
(Visited 1,701 times, 1 visits today)