Pan Banarasuwaala – The song which rewrote the destiny of Don
That's how Don happened
Year 1972, Bollywood's well-known cinematographer Nariman Irani marked his debut as a film producer through the romantic flick- Zindagi Zindagi. However the movie starring Sunil Dutt failed miserably at box office, giving huge losses to film producer. He was in debt for Rs 1.2 million which was a very huge amount in the early 1970s. He was not even able to pay the salary of cinematographer. Nariman continued his Bollywood career as a cinematographer.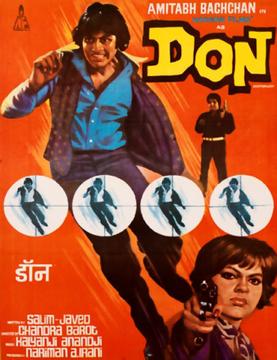 A miracle happened to his life. While he was doing Manoj Kumar's Roti Kapada Aur Makaan, with whom he has been associated for a string of hits, the film's lead actors and crew decided to help him. The helping hand was offered by Amitabh Bachchan, Pran and Zeenat Aman who worked in Roti Kapada Aur Makaan, and also Chandra Barot who was working as an assistant director of the movie then. While actors supported him to work in his next film production, Chandra Barot took over director's steering.
But it was not easy at all. They were in search of a good script, and that's how they together approached Salim-Javed (not sure it's after Sholay happened). They had one script written a couple of years back and was rejected by almost all leading filmmakers – from Dev Anand to Prakash Mehra. When Salim offered this script, without any reluctance Nariman said, "Yes". But later he incorporated certain changes in the script.
He took inspirations from Rajesh Khanna starrer Chaila Babu, for which he worked as a cinematographer. He discussed his modified idea with Chandra Barot, who directed the film and thus Don happened. The movie was also inspired from Shakti Samanta's China Town, where Shammi Kapoor played the double role of a gangster and his look-alike who works as a police informer. Rajesh Khanna's Saccha Jhoota also had a similar plot. The movie Don was produced under the banner, Nariman Films.
As decided Amitabh Bachchan, Zeenat Aman and Pran played key roles in the film, and Chandra Barot directed the movie. It took three and a half year in its making. The saddest part was that Nariman Irani for whom his friends worked together without taking a penny, died in a mishap before the completion of the film. He was associated with Manoj Kumar for the movie 'Kranti' while a wall collapsed after a sudden cloudburst and he succumbed to injuries few days later. Yet it was destiny, the project didn't seize, and it received financial help.
The movie was declared flop one week after release
The movie Don was solely made to recover the financial losses of Nariman Irani. But he lost his life so unexpectedly even before the movie was completed. After many challenges the movie got released without much hype. After a week's run the movie was declared flop.
A newly added 'Pan' song changed everything
It was Manoj Kumar who suggested to add 'Pan Banaraswala' song to the movie. He recommended to add the song in the second half on the grounds that, the script is so tight and tense and hence a song is needed in between. The song was originally written for Dev Anand's Banarasi Babu, and composed by Kalyanji-Anandji. The song was pictured on Dev Anand too, and later removed from the film. Also read: Top 30 film albums of Kalyanji-Anandji.
Within one week of the newly added song, it turned to a chartbuster hit and movie too received word by mouth publicity. Very soon, the movie went on to become on the biggest blockbuster hits of Amitabh Bachchan's acting career. Yes, the fortune of a movie was reversed by a single song, and it well deserved as well.
It's said leading choreographer Saroj Khan, who was a struggler and background dancer then continuously took ticket from a theatre at Mumbai to watch this particular song. She would arrive at theatre at the time of the song, and leave soon after the song. She watched the movie without any break solely for this song. Later theatre authorities noticed it and they reserved a seat for her without any ticket to recognize her attitude and passion. A movie ahead of that time, its dialogues are still popular, and look fresh though it's almost 4 decades since the movie is released.
Kishore Kumar chewed pan while recording the song
This iconic song was choreographed by P. L. Raj and sung by Kishore Kumar. To give new life to the song, Kishore Kumar actually chewed pan while singing and spat it on a plastic sheet, and his efforts were well-recognized too. The song bagged him Filmfare award for best male playback singer, and became instrumental in changing a flop film to a blockbuster.
A few more interesting facts associated with Don
1. The movie was directed by newcomer Chandra Barot, who earlier worked as assistant director with Manoj Kumar in the industry. He left his fingerprints in every department of filmmaking as a new-age director. However it took 13 long years for his next release. All the three movies released later went unnoticed.
2. It's said Amitabh Bachchan took inspirations from real life Don Haaji Mastan and adopted his body language for doing his 'Don' part in the film. He also took inspirations from one of the 9 roles played by Sanjeev Kumar in Naya Din Nayi Raat to play the role of Vijay. He chewed at least 40 pans to get red colour lips to play this role also.
3. A 5-minute role was shot with actress Farida Jalal for the film at Mumbai Airport. However the scene was later edited off.
4. Lead actors didn't accept any remuneration for the film. After the film went on to become a huge hit, the actors were given a share. It's said Pran received more amount than Amitabh. The rest of the money went to the wife of late producer to clear the debts.
5. Amitabh Bachchan received Filmfare award for best actor for this film and he dedicated this award for the late producer. He also invited producer's widow on stage to receive the award.
6. China Town was first one of this kind where lead actor plays the double role of a gangster and an innocent person, and later plays the role of an informer. Several movies follow these footsteps and Don too belongs to the same.
7. In film's original script character Jasjit played by Pran walked straight. Just before film's shooting Pran met with an accident, and the script was changed and a stick was given to him.
8. Rajendra Kumar was interested in playing the role of ACP D'Silva which ultimately went to Ifthekar, whose trademark role is police officer. By this way, producers saved the film's cost on police costumes.
9. It took three and a half year to complete the film and had a shoestring budget. But each and every frame looked beautiful and absolutely perfect, and is unbelievable to many to say 'a low budget film'.
10. To cut shot the film's cost, the climax scene was shot in a film set instead of cemetery. Only a few graves that received focus were given names, and that too names of crew members like cameraman and assistants.
Conclusion
The film has many memorable dialogues still remembered by movie buffs. "DON ko pakadna Mushkil hi nahin namumkin hai!!" is the most popular one. Don has been remade in 2006 with Shah Rukh Khan playing the lead role. With the release of Don, a franchise has also begun. Don 2 also emerged as box office hit. But still, it's not easy to repeat the same magic created by Amitabh Bachchan in the mid-1970s. A great salute to big B and team members and their true spirit to help an ailing friend when he was going through the worst phase of his life.
Also read: Big B's great 7 roles based on real-life characters.
Read a few more articles about the biggest star of Bollywood ever. Here is the page link. Click on the images to read corresponding article.
(Visited 781 times, 1 visits today)