Puran Poli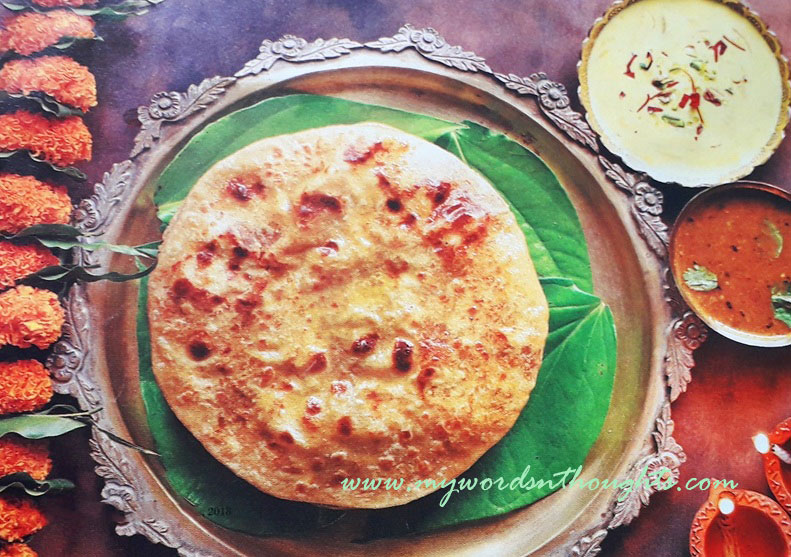 Ingredients for Puran Poli:
1. Wheat flour – 2 cups
Oil – 2 big spoons
2. Bengal gram dal – 1 cup, washed and drained full water
Water – 1.5 cups
3. Ghee – 2 big spoons
4. Jaggery scrapped – 1 cup
5. Cardamom powder – ¼ small spoon
How to prepare Puran Poli?
1. Mix wheat flour and oil with sufficient water and prepare the dough. Make small balls out of them and keep aside.
2. Add water to dal and cook it well using pressure cooker. After three whistles, put the flame off.
3. Heat ghee and add cooked dal with jaggery.
4. Cook it in low flame for 10-12 minutes.
5. When it turns dry, add cardamom powder and take off the flame.
6. When it almost cools, blend well in a mixer. This is used as filling.
7. Take a chapatti ball and gently spread it.
8. Place a little filling inside it and fold from four edges.
9. Spread a little filling on its top and spread like usual chapattis.
10. Heat a tawa and cook each puran poli till it turns golden brown.
11. Spread a little ghee on both sides and serve hot.
Courtesy: Vanitha Magazine November 1-14, 2018
Also read: Kayi Holige – A Kannadiga sweet dish which is a derivative of Tamil Nadu's Boli and North Indian Puran Poli dish.
Please have a look at my 'Sweets and Desserts' tab here.
(Visited 163 times, 1 visits today)