Kayi Holige
This Kannadiga dish is a derivative of Tamil Nadu's Boli and North Indian Puran Poli dish. Adding coconut to Bengal gram filling makes it different. It is also named as Naariyal Puran Poli.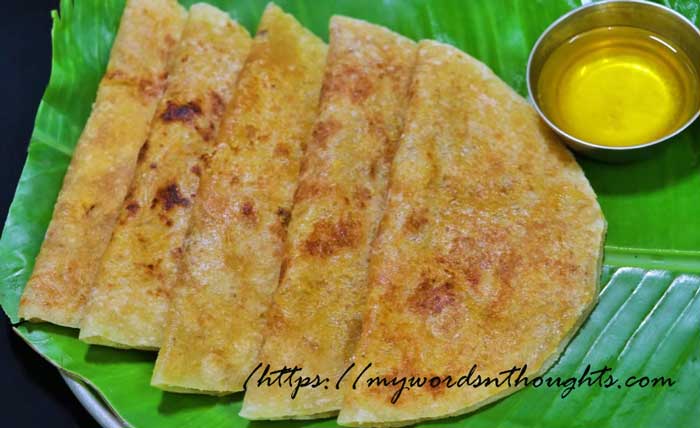 Ingredients for Kayi Holige:
1. Maida – ½ kg
Dalda – ¼ kg
2. Bengal gram – ¼ kg
3. Jaggery – ¼ kg, scrapped
4. Coconut – ½, scrapped
5. Ghee – As needed
How to prepare Kayi Holige?
1. Mix maida and dalda well, till dalda appears on the surface of dough.
2. Cook Bengal gram adding water, and make a fine paste.
3. Add scrapped jaggery and coconut, and grind again.
4. Make small balls from maida dough and spread them on the top of plastic paper.
5. Place a little Bengal gram mixture on top and spread again.
6. Fry in a tawa adding ghee on both sides. Flip both sides.
Courtesy: Vanitha Magazine May 1-14, 2006
Also read a few more dessert recipes. Click on the images in the gallery to read.
(Visited 37 times, 1 visits today)