Pineapple Surprise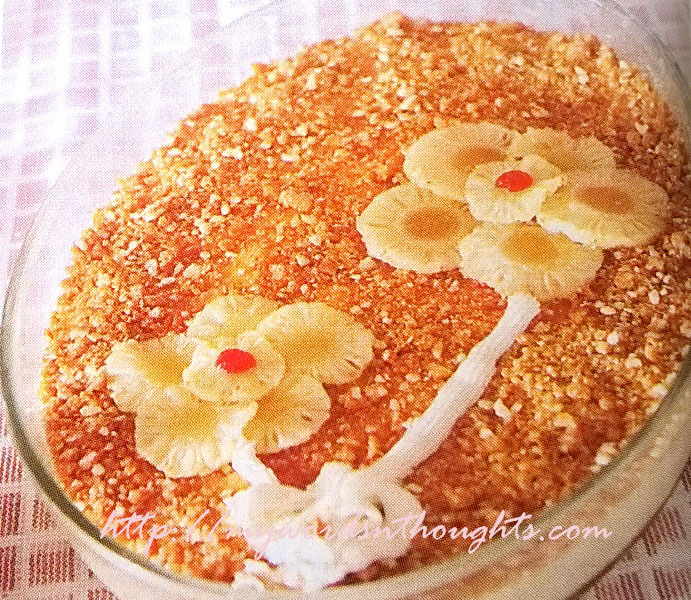 Ingredients for Pineapple Surprise:
1. Pine apple chopped fine – 2 cup
Water – 1 big spoon
Sugar – 5 big spoon
2. Condensed milk – 1 tin
Milk – 1 cup
Egg yolk (yellow) – From 4 eggs
3. Gelatin – 2 big spoons full
Water – 3 big spoons
4. Butter – 2 big spoons
5. Egg white – From 4 eggs
Sugar – ½ cup
6. Pine apple essence -2 drops
How to prepare Pineapple Surprise?
1. Mix together ingredients no: 1 and cook well using a thick bottomed pan.
2. Mix together ingredients no: 2 and immerse in boiling water (double boiling method).
3. Stir continuously to prepare the custard.
4. When the content thickens well, take off from flame.
5. Melt gelatin in water and add to custard along with butter.
6. Stir continuously to mix the contents well. Then allow the contents to cool.
7. Whip egg white by adding sugar little by little.
8. Add pine apple essence and mix well.
9. When custard gets cooled completely, add this egg-sugar mixture and pine apple mixture.
10. Mix the contents well and place in refrigerator to set.
Courtesy: Vanitha Magazine 2013 October 1-14
You can read a few more pine apple recipes here. Here is the page link. Click on the images in the gallery to read.
(Visited 251 times, 1 visits today)