Oviyappam- An offering of Puthupalli
It's a famous offering of Kottayam Puthupalli St.George Orthidox Church just before Easter. It's prepared from newly taken rice from fields (Punnellu Kuthiya Ari)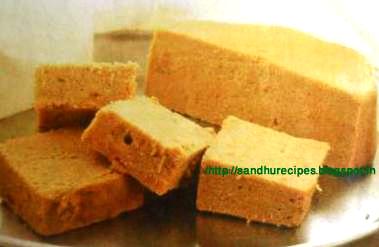 Ingredients for Oviyappam:
Rice flour – 1 kg

Coconut – 2

Jaggery – 1.25 kg

Black gram – 200 gm (1 naazhi – till its edge, not a heap)

Shallots – ¼ kg

Garlic – 1 full

Cumin seeds – 3 small spoons
How to prepare Oviyappam?
Dry fry rice flour similar to steam cake (don't over fry)

Melt jaggery and remove dirt particles. Allow it to cool and when it cools completely, add rice flour. (It can be done one night before the preparation of oviyappam)

Soak black gram (urud daal) and grind well.

Crush scrapped coconut. It can be blend once using a mixer. Add grinded garlic, cumin seeds and shallots.

Add this mixture to rice flour-jaggery mixture, stir well and keep it for 2 hours.

Add sufficient salt and steam cook it (similar to vattayappam).

Since flour is not sour, it takes a little more time to cook.
Also read recipes for similar offerings in churches of Kerala:
(Visited 195 times, 1 visits today)