Uzhunnu Rasa Vada
Rasa Vada is normally prepared by putting Paripp vada (made using Bengal gram) in rasam. Here is another derivative, where Uzhunnu Vada (Medu Vada) made using black gram is used, instead of Paripp Vadu. If you want the original recipe of Rasa Vada, click here.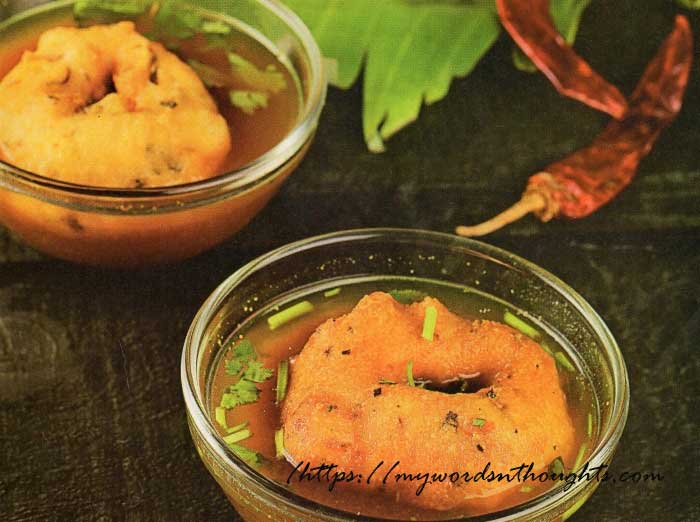 Ingredients for Uzhunnu Rasa Vada:
1. Pepper – 1 big spoon
Cumin seeds – ½ small spoon
2. Tamarind – Gooseberry sized
3. Turmeric powder, salt – As required
Curry leaves – 2 stems
Asafoetida powder – As required
4. Coconut oil – 1 big spoon
5. Cumin seeds – 1/4 small spoon
Mustard – ½ small spoon
6. Hot Uzhunnu vada (Medu vada) – As needed
7. Coriander leaves chopped – To decorate
How to prepare Uzhunnu Rasa Vada?
1. Make a fine powder of pepper and cumin.
2. Add sufficient water to tamarind and extract the juice.
3. Boil the juice along with ingredients no: 3.
4. Heat oil and sputter cumin seeds and mustard seeds.
5. Add this oil to boiled tamarind juice and boil again.
6. If you need excess water, add it. Rasam is ready.
7. Put hot uzhunnu vada in rasam and allow it to soak for a while.
8. Put off the flame and decorate with coriander leaves.
How to prepare Uzhunnu vada (Medu vada)?
1. To make Uzhunnu Vada, soak 200 gm black gram in water for 2 hrs.
2. Grind it in a mixer. Never make a smooth paste.
3. Add 6 green chillies, sufficient salt, a few curry leaves and a piece of ginger, and blend once.
4. Take batter little by little, put a whole in middle and deep fry one by one in hot oil.
Courtesy: Vanitha Magazine October 1-14, 2022
Read a few more vada snack recipes. Visit my page.
(Visited 25 times, 1 visits today)