Thairu Vada (Curd Vada)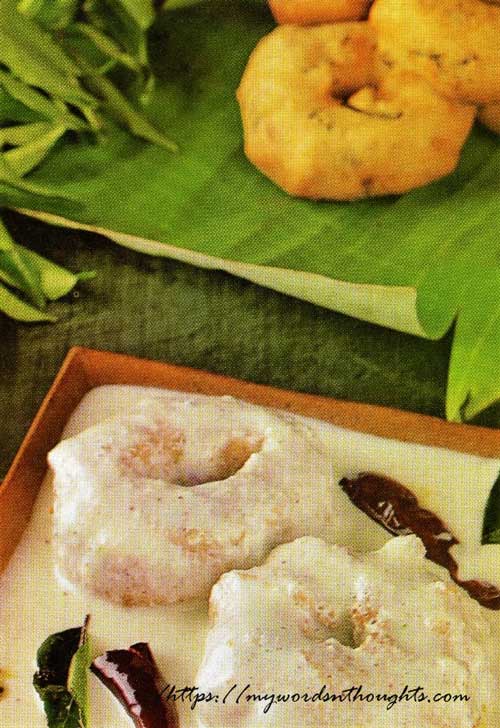 Ingredients for Thairu Vada (Curd Vada):
1. Coconut scrapped – ½ cup
Green chillies – 3
Salt – For taste
2. Sour curd (not too much) – ½ litre
3. Coconut oil – 1 small spoon
4. Mustard – ¼ small spoon
Curry leaves – As needed
Red chillies – 1
5. Hot Uzhunnu vada (Medu vada) – As needed
6. Curry leaves – As needed
How to prepare Thairu Vada (Curd Vada)?
1. Make a fine paste of ingredients no: 1 and mix it with curd.
2. Heat oil and temper ingredients no: 4.
3. Add this oil to chutney and mix well.
4. Put the vadas in the chutney. Vadas should fully immerse in the chutney.
5. Fry a few curry leaves in oil and spread on top.
6. Serve Thairu vada after it fully cools off.
7. To make Uzhunnu Vada, soak 200 gm black gram in water for 2 hrs.
8. Grind it in a mixer. Never make a smooth paste.
9. Add 6 green chillies, sufficient salt, a few curry leaves and a piece of ginger, and blend once.
10. Take batter little by little, put a whole in middle and deep fry one by one in hot oil.
Courtesy: Vanitha Magazine October 1-14, 2022
Read a few more vada snack recipes. Visit my page.
(Visited 16 times, 1 visits today)