Pakwan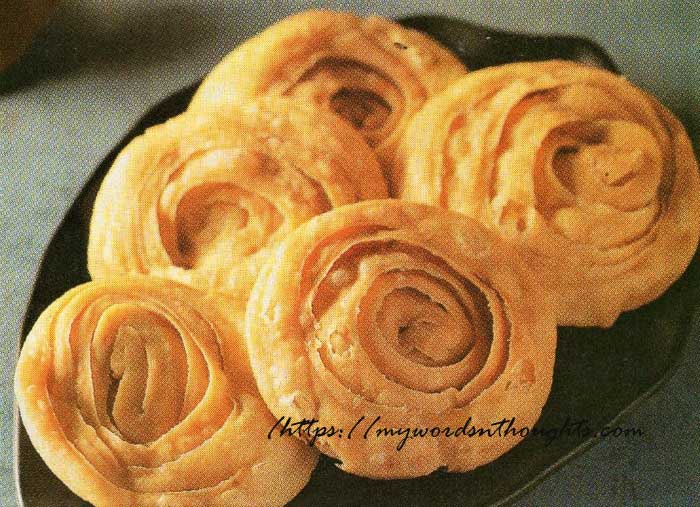 Ingredients for Pakwan:
1. Wheat flour – ¾ cup
Maida -1/4 cup
2. Salt and water – As needed
3. Ghee – ½ cup
Rice flour – As needed
4. Oil – For frying
How to prepare Pakwan?
1. Mix maida and wheat flour together.
2. Add salt and water, and prepare thick dough.
3. Add rice flour to ghee and mix well.
4. Spread the dough to a thin sheet and coat one side with rice flour – ghee mixture.
5. Cut the sheet into 1.5-inch width strips.
6. Take 3 or 4 strips together, and then roll it to form a coil. Place the lengthy strip as first/bottom one while curling.
7. Gently press each rolled piece, and spread them to puris.
8. Deep fry each pakwan in medium hot oil.
9. Using a ladle keep pouring hot oil on the top of pooris.
10. Flip both sides and fry till they turn golden brown. Pooris will unfold as layers.
11. Serve hot.
Courtesy: Vanitha Magazine October 1-14, 2022
Read a few more wheat snack recipes. Visit my page.