These Bollywood actors received National Award for a dual role
Year 1967. The new category – Best actor/actress got introduced to National Film Awards, and the actress who received the maiden award was Nargis Dutt, who was elected as Best actress of Millennium in year 2000. She received the award for playing Varuna for the Bollywood film, Raat Aur Din. She played the role of a housewife with dual personality, who often lives the character of a modern girl – Peggy. Quite co-incidence, years later Shobana received the same award for playing a person with dual personality. She received National award for best actress for Malayalam cult classic – Manichitrathazhu in 1993 where she essayed the role of a normal housewife – Ganga and the highly eccentric – Nagavalli. For Hindi film viewers, the movie was remade by Priyadarshan named Bhool Bhulayya, where Vidya Balan reprised the role played by Shobana.
Though both these award winning performances –
Raat Aur Din
and
Manichitrathazhu
are not double roles, the lead actors played two extremely different characters onscreen. Who else are those actors who received National award for best actor/actress for playing a double role onscreen?
Sharmila Tagore for

Mausam

(1975)
–

This classic hit of 1970s by Gulzar received multiple awards and nominations at Filmfare and National film awards. Sharmila played the role of a village girl named Chanda Thapa, and also her daughter Kajli. She played the memorable role of Kajli, whose life ends in a brothel following circumstances, and how her father in pretend of a customer brings her back to normal world.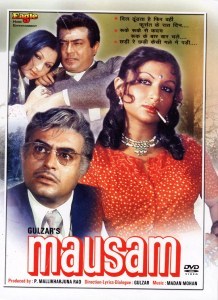 Kangana Ranaut for Tanu Weds Manu Returns (2015)
–

Kangana received her second award in this category in a row for her outstanding double role in Tanu Weds Manu Returns in the recent announced National awards – 2015. She played dual role of Tanuja Trivedi and Kusum Sangwan, where she was paired opposite Madhavan. Both the characters were entirely different and it never appeared onscreen that both the roles were played by same actress.
Kamal Hassan for

Indian (Hindustani)
–

The movie was originally released in Tamil in 1996 titled Indian, and was dubbed to Hindi as Hindustani. So I would like to mention this performance also in the list. Its songs composed by A. R. Rahman were extremely popular then. Kamal gave life to a 70-year-old vigilante who fights against corruption and also his son, who is not straight forward as his father.
As far as I know, in Bollywood only female artists have received National award for playing a double role – Sharmila Tagore and Kangana Ranaut. Nargis too received the same for essaying a dual role. If I have missed any name in the list, please let me know.
I have added

a big list of articles on National Film Awards (related to Bollywood),

the most prestigious honours of Indian cinema.
Here is the page link. Click on the images to read.
(Visited 350 times, 1 visits today)