Madan Mohan gave his best compositions to Lata Mangeshkar
Emperor of Melodies – Madan Mohan Kohli, better known as Madan Mohan is one among those precious gems of Bollywood, who unfortunately got recognition he deserved only after his death. Left the world at a comparatively young age of 51, he left behind a few melodious and evergreen songs which became extremely popular after his death. He reserved best among his songs for Lata Mangeshkar, while male renditions were mostly done by Mohammed Rafi, and both ruled millions of hearts in the 1960s. His distinct style of melting Indian classic music to popular music makes him an extremely popular composer. He wisely used western elements and instruments too, for his compositions.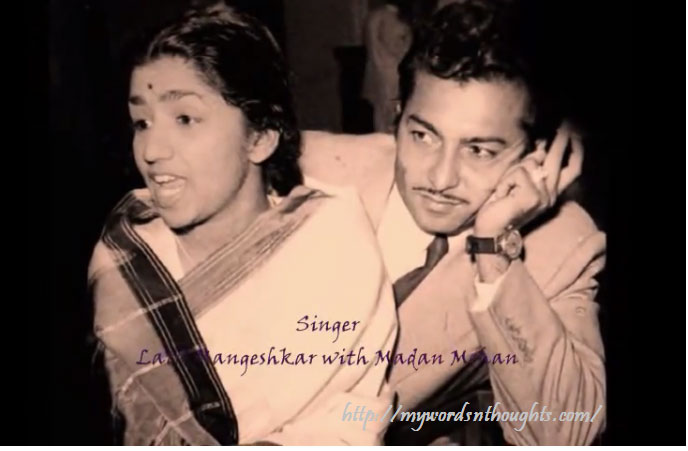 Associated with Raj Khosle movies, he composed his career best songs for actress Sadhana for the movies, Woh Kaun Thi, Mera Saaya etc. He also composed some wonderful compositions featuring actress Priya Rajvansh, and he used Lata Mangeshkar's voice to record songs for both these actresses. Chirag, Hasthe Zakhm, Anpat, Haqeeqat, Mausam, Laila Majnu etc are a few more memorable movies that can be tagged under Madan Mohan Compositions sung by Lata.
Lata christened him as the 'Emperor of Ghazals' and regarded Madan Mohan as her brother, and they shared a deep bond. She was one among those rare artists of Bollywood who identified his talent and potential, and it took many years for music lovers to find the real magic hidden behind his tunes. Obviously Madan Mohan played a significant role in grooming her career and gave some of her career-best songs. Madan created some masterpieces of his career in Lata's voice and most of them are solo numbers. So, let us see some of the best songs of the deadly combination of Madan Mohan-Lata. Here I list 25+ best.
1. Lag Jaa Gale

from
Woh Kaun Thi
– No doubt, this song will definitely be listed among her top 10 songs among the countless ones she sung for 7 decades or so. The ever green classic – Lag Jaa Gale also finds its place among the top romantic hits of all time. Pictured on Manoj Kumar and Sadhana, the song has not lost its intense, passion and freshness even after 50 years.
Throughout his career Madan Mohan has composed some amazing songs for Raj Khosle movies, and wonderful lyrics by Raja Mehndi Ali Khan. I would love to dedicate this song to the beautiful heroine Sadhana, who passed away last Christmas. Definitely, Lag Jaa Gale is the most popular song pictured on Sadhna, perhaps the most loved Madan Mohan composition too by music fans.
2. Naina Barse Rhimjim

from
Woh Kaun Thi
– If Lag Jaa Gale was the top song of the album, the haunting melody – Naina Barse Rhimjim too was not less. Wonderful lyrics by Raja Mehndi Ali Khan and amazing rendition by melody queen, this song too definitely find its place among the best 10 songs of Lata. Also, as a Bollywood music fan, it's my most favourite song in Lata Mangeshkar's voice. This song has a deep intensity in romance, passion and longing for someone, beyond all explanations. Its popularity after 50 years makes it a classic evergreen song.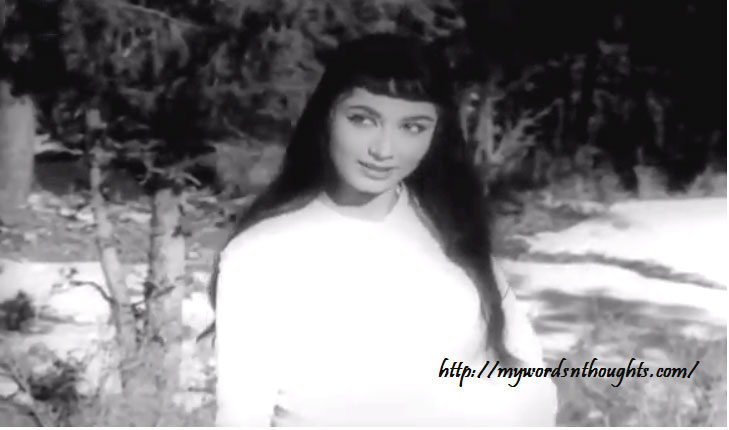 3.

Aap Kyon Royen

from
Woh Kaun Thi
– How can I leave this melodious song with magical lyrics penned by Raja Mehndi Ali Khan? With the dilemma of love between the lead actors, it's a soulful sad song pictured on Manoj Kumar and Sadhna. Though Aap Kyon Royen was not equally popular as the rest two romantic tracks sung by Lata, it definitely deserves a mention in my list.
The movie also included a less-known but beautiful duet of Lata and Mahendra Kapoor filmed on Manoj Kumar and Helen – Chhod Kar Tere Pyar Ka Daman.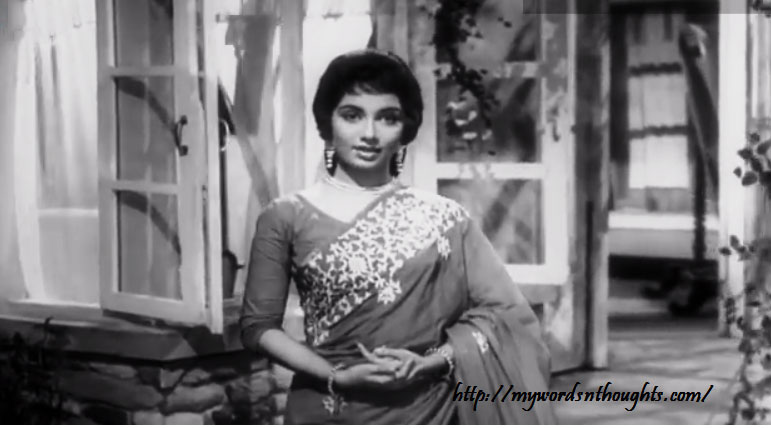 4. Aap Ki Nazron Ne from Anpadh
–
Similar to songs of Woh Kaun Thi, this particular song too deserves a special mention in the top class songs of Lata Mangeshkar. This solo track was pictured on Mala Sinha and Dharmendra. Madan Mohan is quite popular for his association with Raja Mehdi Ali Khan, and Anpadh is one such. The movie also included the melodious solo track – Hai Isi Me Pyar Ki Aabru.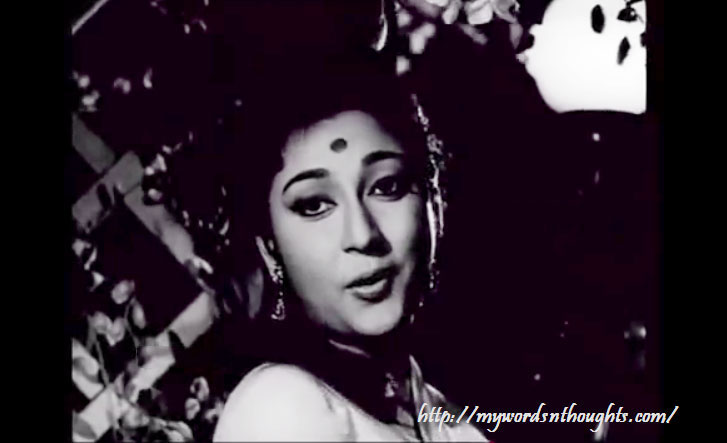 5. Mera Saaya Saat Hoga

from

Mera Saaya –
This haunting melody is a precious gem among Madan Mohan compositions. It's yet another super hit song pictured on actress Sadhana and Sunil Dutt, though the song is pictured as Sunil Dutt's memories of his dead wife. The movie belongs of trilogy of mystery films of Raj Khosle, starring Sadhana. Raja Mehdi Ali Khan wrote all its songs.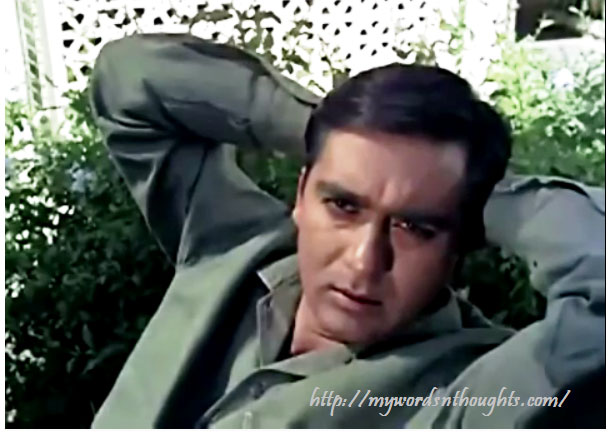 6. Naino Mein Badra Chhaye

from

Mera Saaya
– Madan Mohan is known for using Indian ragas for film compositions, and Naino Mein Badra Chhaye is perhaps the most wonderful Bollywood tune based on raga, Bhimplasi in the mid-1960s. Bhimplasi is a common raga used in many of Bollywood compositions. But Madan Mohan composed Naino Mein Badra Chhaye retaining its pure classic elements.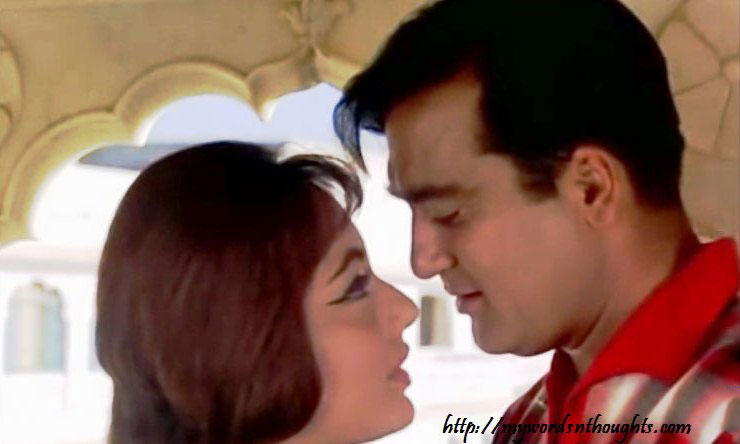 Aa Neele Gagan Tale Pyar Hum Karey, Kuchh Dil Ne Kaha, Aaj purani rahon se, Hawaon Pe Likh Do, Tum Jo Mil Gaye Ho, Kabhi Tanhaiyon Mein, O Beqaraar Dil, Ari O Shokh Kaliyon Muskura Dena, Kahin door jab din dhal jaye, Tadap Ye Din Raat Ki, Dil Mein Tujhe Bitha Ke, Dil ke tukde tukde karke, Gori tera gaao bada pyara, Dil ke armaan aasu, Bol na halke halke, Kehta hai mera dil (Jeans), Ae Ajnabi Tu Bhii Kabhi, Tu cheez bari ha mast, Chand ne kuch kaha, Radha kaise na jale and Eli re eli are some of the popular songs inspired from this raga, and most of them belong to haunting genre particularly the oldies – no doubt.
Lata Mangeshkar also gave her best to sing this soulful melody, pictured on Sunil Dutt and Sadhana. Mera Saaya is extremely popular for its haunting melody. Nainonwali Ne Hay Mera Dil Loota is yet another Lata track from the album, though it was not so popular as the rest ones. The song was filmed on the lead pair.
7. Tum Jo Mil Gaye Ho from Haste Zakhm
– Though this romantic song based on Bhimplasi raga is regarded as Mohd Rafi song, Lata rendered two lines for this song and those two lines are enough to create magic. The song was pictured on Navin Nischol and Priya Rajvansh, and one of the top romantic songs of early 1970s. The movie also included two top solo songs of Lata.
Kaifi Azmi's wonderful lyrics gave new heights to this soft romantic song.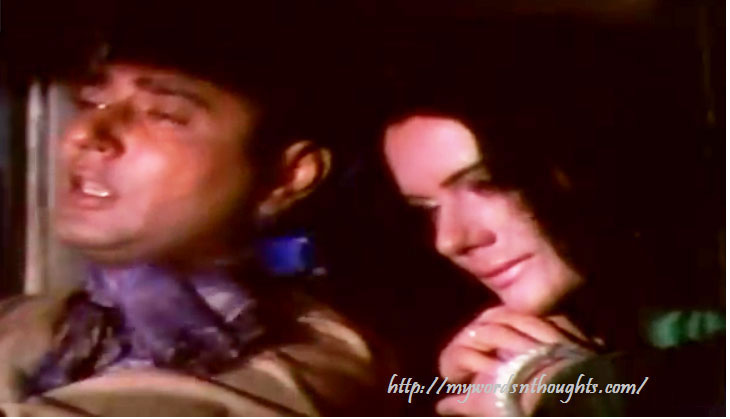 8. Betaab Dil Ki Tamanna Yehi Hai

from

Hanste Zakhm
– The top solo track of Lata Mangeshkar for the tragedy drama, Hanste Zakhm, the song was pictured on Navin Nischol and Priya Rajvansh. And special mention should be given for its magical lyrics written by Urdu poet Kaifi Azmi, which added new flavours and meanings to its tune.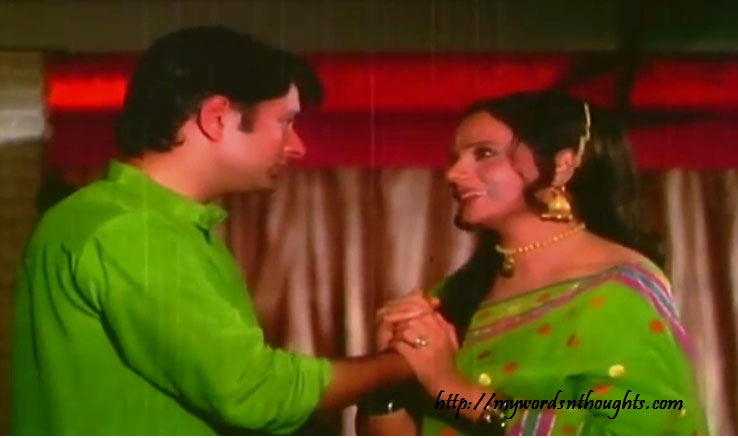 9. Aaj Socha Toh Aansu Bhar Aaye from Hanste Zakhm
– I often think it's the agony hidden inside composer's mind. Weeps and helpless inside human soul can never be expressed better than this wonderful rendition of Lataji! Hats off to Madan Mohan Ji for this soulful and painful composition, which stays fresh in listeners' minds even after 40 years. The song has a magic enough to stir human minds even after decades it's composed.
10. Hum Pyar Mein Jalnewalon Ko from Jailor –
This soft and sad solo filmed on Geeta Bali was one of the early associations of the legends. Rajendra Krishnan penned its popular lyrics.
11. Zara Si Aahat Hoti Hai To Dil Sochta Hai from Haqeeqat
– This amazing composition belongs to Madan Mohan-Kaifi Azmi- Priya Rajvansh combination, similar to the songs of Hanste Zakhm, which became extremely popular. It is a solo romantic number, voice rendered by Lata Mangeshkar.
12. Khelo Na Mere Dil Se
– Yet another melodious Lata solo from the album, it's a sad track. Truly magical!
13. Mein To Tum Sang Nayan Milake from Manmauji
– This solo track sung by Lata too belong to the category of most popular songs composed by Madan Mohan in 1960s. Penned by Rajinder Krishan, the song was pictured on beautiful Sadhana Shivdasani.
Rajinder Krishan authored its popular lyrics.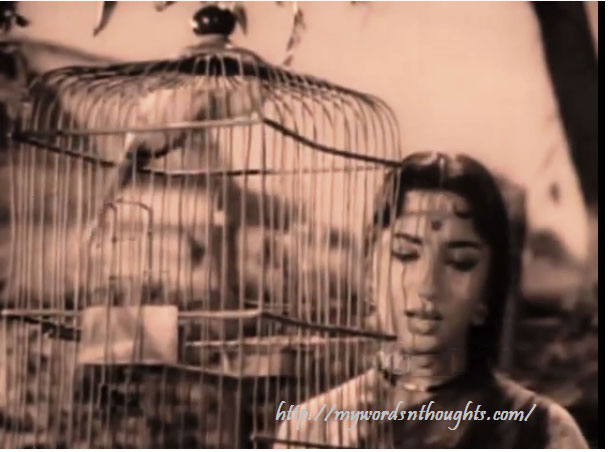 14. Agar Mujh Se Muhabbat Hai

from

Aap Ki Parchhaiyan
– This solo track was pictured on Supriya Choudhury and Dharmendra and is indeed popular till now. Raja Mehdi Ali Khan penned lyrics as usual.
15. Yun Hasratom Ki Daag from Adaalat

–
Rajendra Kishen and Madan Mohan joined hands together for the movie Adalat to give some amazing gems of the era of 1950s. The movie is known for some extremely popular solos of Lata and the popular duet of Asha Bhosle and Rafi – Zameen Se Hamen Aasmaan Par, one of my personal favourites among Asha's early hits. Apart from Yun Hasratom Ki, Unko Yeh Shiqaayat Hai is yet another popular gem of Lata featuring Nargis. Lata's solo track – Jaana Tha Humse Door is yet another notable track of the album.
16. Dil Dhoondta Hai

from

Mausam
– Lata Mangeshkar sang this extremely popular duet with Bhupinder Singh, and it was one of the last compositions of the great composer. The song was pictured on Sanjeev Kumar and Sharmila Tagore and the movie was directed by Gulzar. He penned all song lyrics too. The movie also included the popular duet – Chhadi Re Chhadi, sung by Lata aside Mohd. Rafi, and also a sad solo – Ruke Ruke Se Kadam.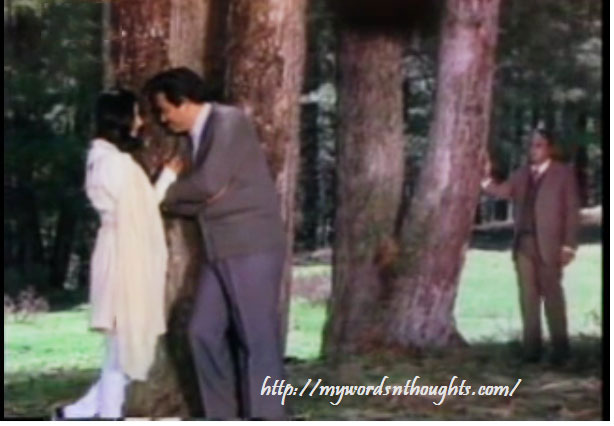 17. Rasme Ulfat Ko Nibhaye from Dil Ki Rahen –
This classic song was pictured on Rehana Sultan. The film's print got damaged as it was not preserved well, and so its video may not be found anywhere. Naqsh Lyallpuri wrote the song. Madan Mohan has been a part of several low-budget films, but known as timeless classics. Apart from a few, most of his movies starred actors who were not so popular.
18. Teri Aankhon Ke Siva

from

Chirag
– Lata Mangeshkar sang the female version of the song sung by Mohd. Rafi, and it's one of the rare Madan Mohan compositions for Asha Parekh films. Incidently Asha's character losses her eye sight in the film, which forms the crux of the story. Songs of the movie were authored by Majrooh Sultanpuri.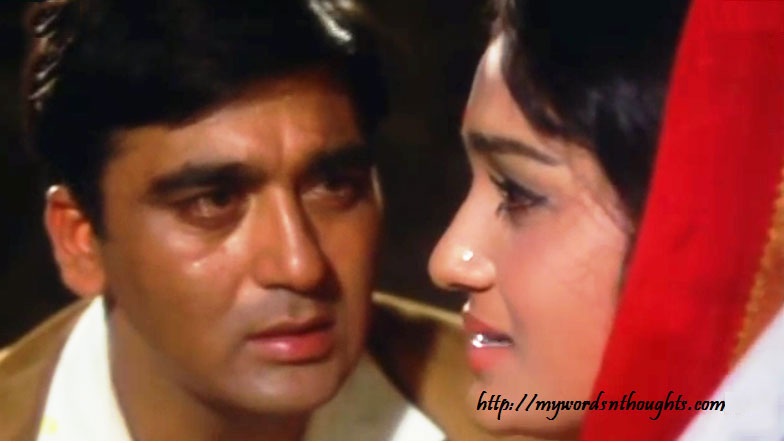 19. Chaayi Barkha Bahaar from Chiraag – The movie included one more popular solo of Lata, in fact a folk dance number, Chaayi Barkha Bahaar. Numerous classic songs of Madan Mohan – Lata Mangeshkar combo have born, where rain or monsoon forms the backdrop, and here is one such. Indeed an amazing song. The song was lovely filmed on Asha Parekh and Sunil Dutt, and highly romantic too.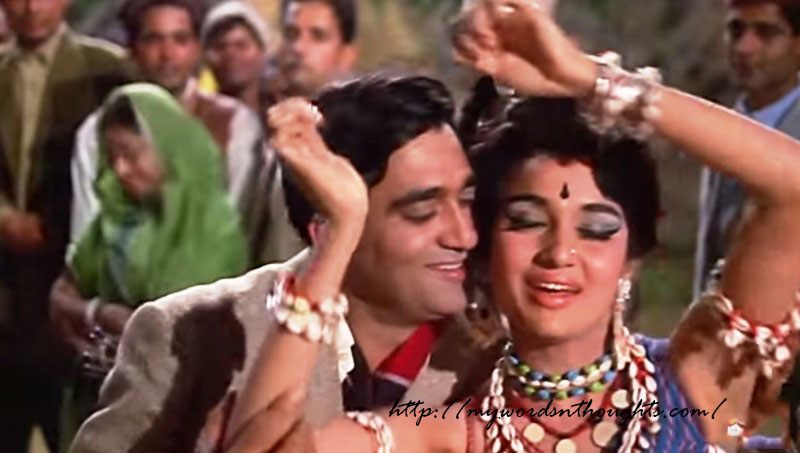 20. Baiyan Na Dharo

from

Dastak
– Though Madan Mohan received multiple nominations for Filmfare best music director award, he never received it. However he received his single National award for best music for the movie, Dastak in 1970, and this classic number was based on raga Charukesi. Songs of the movie were authored by Majrooh Sultanpuri.
21.

Mai Ri Main Kase Kahoon from Dastak

– The movie also included the popular song, Mai Ri Main Kase Kahoon. The song had two solo versions in the voice of Lata and Madan Mohan. Madan Mohan has rarely used his voice for playback singing, and this song is simply the best in composer's voice. The movie starred Sanjeev Kumar and Rehana Sultan, and it's one of the rarest occurrences, where both the lead actors and music composer bagged National Film awards in their respective categories for a single film.
22. Tere Liye

from

Veer Zaara
– When Madan Mohan's music was re-created by his son, almost two decades after his death, it was something like a history re-born. Lata Mangeshkar got opportunity to sing 9 out of 11 compositions. These tunes were originally created by Madan Mohan during his lifetime, which remained unused till Veer Zaara got released. Almost all songs were chartbusters, and all its romantic tracks were pictured on Shah Rukh Khan and Preity Zinta. Tere Liye is a duet of Lata Mangeshkar and Roop Kumar Rathod, and lyrics were penned by Javed Akhtar.
Other popular songs sung by Lata for the movie include – Aisa Des Hai Mera, Tum Paas Aa Raahein Ho,

Yeh Hum Aa Gaye Hain Kahan and Do Pal. The movie also included the extremely popular romantic track sung by Udit Narayan – Mein Yahan Hoon.
23. Dil Unko Utha Ke De Diya from Baap Bete – Marathi director Raja Paranjape has frequently worked with Madan Mohan in Hindi films. Dil Unko Utha Ke De Diya from Baap Bete (1959) featuring Shyama is one such evergreen classic – a Lata Mangeshkar solo. Rajendra Krishnan penned its beautiful lyrics. In fact Madan Mohan's one of the career best works – 'Mera Saaya' was remake of Raja's Marathi film, Pathlaag.
24. Nagma O Sher from Gazal – The song had two solo versions – one in Rafi's voice 'Rang Aur Nur Ki ' and the second one in Lata's voice. Both the versions were filmed on Meena Kumari and Sunil Dutt. Sahir Ludhianvi penned lyrics of both.
25. Husn Hazir Hai from Laila Majnu – This particular track sung by Lata Mangeshkar is one among the rare Madan Mohan compositions which managed to reach no: 1 position in annual list of Binaca Geetmala in 1977. He passed away in 1975 and many of his songs were released posthumously. Sahir Ludhianvi wrote the lyrics.
26.
Is Duniya Mein Sab Chor from Bhai Bhai
– Nimmi appears as a performer in this song, and Kishore Kumar is seen as a spectator and petty thief. Rajendra Krishnan penned the meaningful lyrics, which explains different trades of thieves. Sharabi Ja Ja Ja is yet another solo sung by Lata Mangeshkar for Nimmi in this movie.
27. Do Ghadi Woh Paas Aa Baithe from Gateway of India –
It's a beautiful duet of Rafi and Lata filmed on Bharat Bhushan and Madhubala. The lyrics were penned by Rajendra Krishan.
28.

Doonde Tujhe Nain Deewane from Jab Yaad Kisi Ki Aati Hai

– One of the rare duets featured in this list, Mahendra Kapoor is the co-singer. It was a time when Rafi and Lata decided not to sing together, I guess. This romantic duet was filmed on Dharmendra and Mala Sinha, so lovely! MRaja Mehdi Ali Khan penned its beautiful lyrics. The movie included 7 tracks, which exclusively belongs to Mahendra Kapoor and Lata Mangeshkar. The title track also belongs to the duo.
29. Woh Phooli Dastaan from Sanjog

– What a lovely song to end this list with! Lovely lyrics by Rajendra Krishnan as well. This sad solo was filmed on Anita Guha and Pradeep Kumar. Lata's sad solo – Badli Se Nikla Hai Chand is equally beautiful. Ek Manzil Rahi Do is a popular duet of Mukesh and Lata from the same album.
Woh Jo Milte The Kabhi Hamse from Akeli Mat Jaiyo filmed on Meena Kumari is yet another beautiful solo of this combo. Jab Jab Tumhe Bhulaya Tum Aur Yaad Aaye from Jahan Ara is a rare duet of Mangeshkar sisters, Asha and Lata composed by Madan Mohan. The movie also featured a rare song, Kabhi Aankhon Mein Teri, rendered by 4 Mangeshkar sisters together. Meri Ankhon Se Koi Neend Liye Jata Hai from Pooja Ka Phool, Hai Tere Saat Meri Wafa from Hindustan Ki Kasam, Milo Na Tumko & Meri Duniya Mein Tum Aaye from Heer Ranjha, Jaiye Ham Se Khafa Ho Jaiye from Chaalbaaz etc are a few more. If I have missed any popular choice of yours, let me know.
Go through the gallery links to read some of the posts of country's beloved and the celebrated female voice of Hindi cinema – Lata Mangeshkar. Here is the page link. Click on the images to read.
(Visited 3,091 times, 1 visits today)