Rasavada
Rasavada is a quite popular dish in Thiruvananthapuram and Kanya Kumari districts. Usually if Paripp Vadas are made in excess in restaurants, they add it to rasam and serve as rasavada. That's how the name 'rasavada' also derived. You can easily make it at home also. Here is the recipe.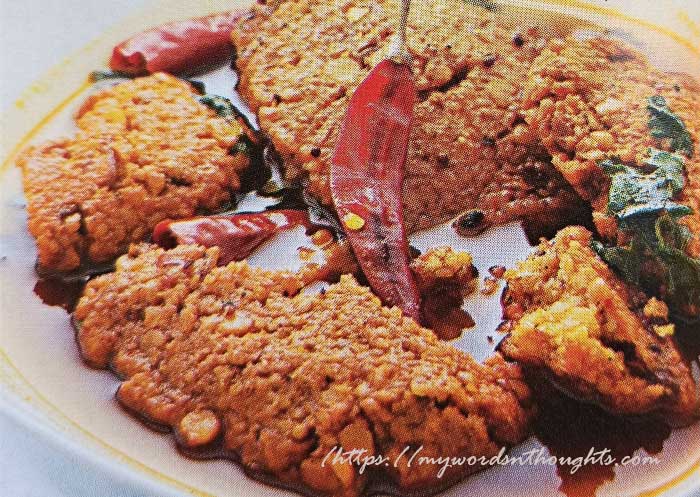 Ingredients for Rasavada:
1. Bengal gram dal (Kadala paripp) – 1 cup
2. Green chillies – 3
Red chillies -4
Ginger chopped – 2 big spoons
Curry leaves chopped – 2 big spoons
3. Asafoetida powder – ¼ small spoon
Salt – For taste
4. Oil – For frying
For Rasam:
5. Toor dal (Pigeon pea) – 2 big spoons
Red chillies – 4
Coriander seeds – 1 big spoon
6. Coconut oil – 1 small poon
7. Mustard – ½ small spoon
8. Garlic – 5, chopped
Shallots – 5, chopped
Tomato -1, chopped fine
9. Turmeric powder – ½ small spoon
Asafoetida powder – ½ small spoon
Fenugreek powder – ½ small spoon
Tamarind juice – 1 cup
10. Curry leaves – As needed
How to prepare Rasavada?
1. Wash Bengal gram dal and soak for 2 hours.
2. Crush ingredients no: 2 together.
3. Blend dal in a mixer. Never make a paste.
4. Add crushed ingredients, salt and asafoetida.
5. Make balls from this mixture, and gently press once to get vada shapes.
6. Deep fry them in hot oil.
7. To prepare rasam, dry fry ingredients no: 5, and powder it in a mixer without adding water.
8. Heat oil in a pan and sputter mustard seeds.
9. Add ingredients no: 8, mix well and then, ingredients no: 9 and the powdered ingredients.
10. Boil the contents well.
11. Add curry leaves and put the flame off.
12. Add the prepared paripp vadas to this rasam, and serve hot.
Courtesy: Vanitha Magazine April 2-15, 2022
Read yet another Rasavada recipe here.
Also read: Uzhunnu Rasa Vada recipe.
Also read a few more rasam recipes. Click on the images in the gallery to read.
(Visited 17 times, 1 visits today)