Siruvani hills & deep forests – Known for Kerala's water supply to Tamil Nadu
Forests of Siruvani is quite different from other forests of Western Ghats, it's believed to have some divine power – a place of dense myths and stories similar to deep forests. Its vegetation, natural resources, flora and fauna have some kind of story to tell. Kalladikode mountain ranges overflown with mineral wax, waterfalls, Siruvani dam – there are many surprise packs of this beautiful border village. It's exactly the same Kalladikode, where new set of rules of Kathakali were coded.
Where is exactly Siruvani?
If we travel from Kerala, take Palakkad route. On Palakkad-Mannarkadu NH route, one can travel to Siruveni from either Kalladikode or Idakkurissi. On the lower side of the valley of Siruvani, Palakkayam – the last junction of the route is situated. The journey to Siruvani starts at Palakkayam. After Pallayam valley, it's deep forest. There is a check post of forest department in Inchikunnu. One need to take permission from check post to travel to the dense forests of Siruvani.
Some reminiscent from past
Decades back, many people from Changassery, Pala and Kottayam migrated to the valley and got settled there. Till now Pala Kayam holds the freshness of migration of many inhabitants to the rural areas of Siruveni from Kottayam and surrounding places. For hardworking people agriculture is the main source of income. But new generation is not very much interested in farming and they move towards Palakkad and Coimbatore in search of new job opportunities.
Earlier there was one bus connecting Palakkayam and Kottayam in the dawn break, and another one from Kottayam to Palakkayam. When people started transporting in their own vehicles, the bus service was discontinued. Yet there are a few bus services connecting these two places now also.
Lord Siva's mountain – Siruvani and Parvathy called Muthi
As per popular belief Siruvani is Siva's mountain. It's the abode of Lord Siva and Parvati. There are several myths surrounding the forests as well. One of such stories is connected to Muthikulam of Karimala. It's believed that this pond in square shape was dug by Siva for his wife for bathing. It's the starting point of Siruvani waterfalls also. One may wonder why such a pond was built centuries ago inside deep forests, and many puzzles are still left unsolved. Isn't it?
Parvathy is also called Muthi in Tamil language. As Muthi bathed in this Kulam (means pond), it's called Muthikulam. Just near to it, there is a small temple of goddess Parvathy, where pooja is conducted only once every year on Makara Ponkal day.
It's still a puzzle why temple and its premises are cleaned by nature itself, as a part of preparations of annual festival. Till that day, the whole premises will be covered with dead leaves. But just before Ponkal day, nature blesses the place with heavy rainfall and pond overflows washing away all dirt and purifying the place. Then the pond will be filled with clear water.
Heavy rain is accompanied by strong wind also, and both rain and wind blow away the dry leaves, thus cleaning the place. Many have witnessed this miracle by nature, where it prepares the temple and premises for Ponkal festival by its own means.
Velliyingi mountain is situated on the other bank of Pattiyar lake and this place is known for famous peak, Mallesaran Mudi. A Siva temple is situated on the peak of Mallesaran Mudi, and devotees from Attapadi and Agali reach here for worship. Also known as Mallesaram Mudi, it's the highest peak in Attapadi hills, hence the highest place of worship here, and Sivarathri is the major festival here. On that day, many people from Kerala and Tamil Nadu reach here.
It's said that infamous brigand Veerappan regularly visited the temple on Sivaratri day till he was gunned down. Even when crores of money were promised for Veerappan's head, no one betrayed him; may be because they might have thought, it's against god's will to give his death and create bloodshed when he stands in front of god as a devotee.
Siravani Dam surrounded by forests – a spectacular scene to watch
The dam is situated inside the forests, crossing both Kerala and Tamil Nadu. Tamil Nadu's Gopuram welcomes people who enter the place from Kerala and vice versa. From Tamil Nadu side, Kerala model Gopuram can be seen.
As per reports, among Asians, Coimbatore people drink the purest water. Siravani forests are filled with medicinal plants of more than 400 varieties, and the water flowing through the forest reaches Siravani Dam and supplies drinking water to Coimbatore. As per researches, Siruvani holds world's second purest water resource in terms of mineral and salinity. Kerala gives this natural resource fully to Tamil people without taking even a single drop. In short it's a sweet gift given by Kerala people to Tamilians.
Siruvani Dam was contributed by a British named Mylon
It happened 135 years ago. A British named Mylon was attracted by the natural beauty of Siruvani. Purity of water and biodiversity were the major factors which attracted him. Without much damaging the natural beauty of the forest, he constructed a bungalow on the banks of Pattiyar river. The bungalow later came to be known as Pattiyar Bungalow. The bungalow provided clear visuals of waterfalls, Muthikulam pond and Kalladikkodan mountain ranges. It also gave clear picture of changing seasons and climate – the interchanging rain, sunny day, mist, wind and storms.
Mylon loved nature, rivers and forests. Certain records are still missing, mainly why he resided here inside dense forests leaving behind all his luxuries. 10 years back, his granddaughter visited Siruvani with an ambition to see Pattiyar Bungalow. She carried with her, a sketch of the bungalow and it was only then outer world knew the fact that, indeed this bungalow is 135 years old!
Mylon realized the potential of fresh water a century ago, and built a small dam there. Later Kerala and Tamil Nadu government developed the project to build a big reservoir, that's what we see now. Since then uninterrupted water supply has been given to Coimbatore. An agreement was executed in the year 1973 between two governments.
Now Pattiyar Bungalow comes under the forest department of Kerala. Earlier ditches protected the bungalow from wild animals. But now they are slowly filled with soil, hence the bungalow not fully free from wild animals like leopards, elephants and thus danger.
Keralamedu – In the deep valleys of Siruvani
Keralamedu is very near to Pattiyar Bungalow, and the place is known for free breeze 24 hours a day. Keralamedu in the valley of Siruvani is currently located in Tamil Nadu. That may be the reason why Keralamedu got that name. Even during hot summer, the place is filled with deep green bushes and mountains resemble green chains, similar to Kerala traditional Palakka chain. You can travel across the mountains, and won't feel tired or sweating. Breeze always helps you to feel relaxed and gives a cool effect.
In certain types of plants, you can see butterflies flying here and there. Bamboo forests are also there on the way. You need to travel through forests of Tamil Nadu, and when you cross the border, village life of Tamil Nadu starts.
Dangers are many in the deep forests of Siruvani
A few years back, the residents found the remains of an airplane in the deep jungles of Siruvani. Later it came to know about a German war plane of World War II which crushed inside the deep forests of Siruvani. Two pilots were present in that aero plane, and their skulls were also dug out to prove it. But why the plane fell in Karimala, it's still a puzzle. There are several unsolved puzzles and mysteries which Siruvani binds to her. Only truth – there are many hidden dangers in the deep forests of Siruvani.
The land of Neeliyattom
Neeliyattom is similar to Kerala's own Kathakali, and this art form belongs to Siruvani. It has a story similar to Kalliyankatt Neeli, a lady ghost, a girl who was betrayed by someone and killed. As per popular legend, she returned to take revenge, and currently guards the forest. She scared strangers who tried to kill the sanctity of forest and killed those who tried to trap girls. Many people have seen her at night, heard her laughs too. Stories of Neeli never end here! The tribal dance, Neeliyattom tells the story of Neeli. Only women dancers take part in it. Thus Neeli is linked to the stories of Kerala forests and a tribal dance form.
How to reach Siruvani?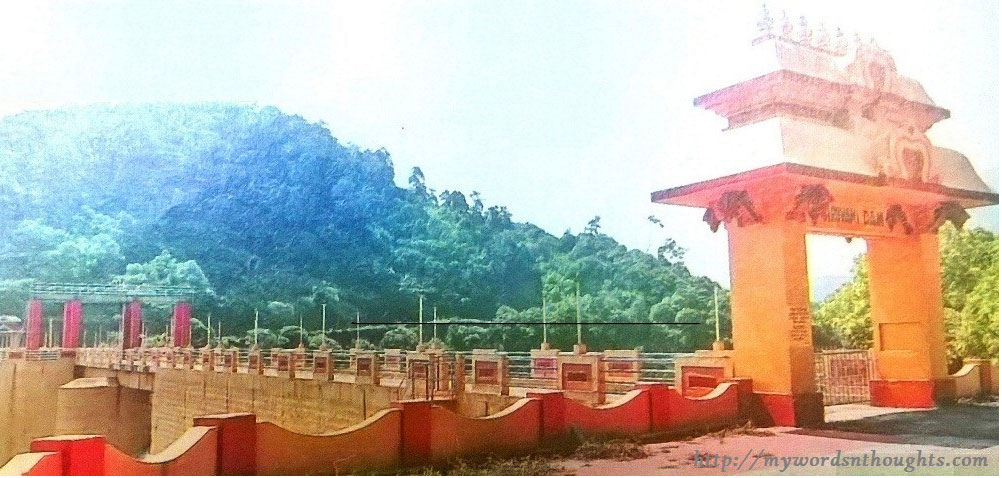 On Palakkad-Mannarkadu NH route, one can reach Siruveni from either Kalladikode or Idakkurissi. Turn right. Palakkayam in the deep valleys of Siruveni is the last junction of the route. From Palakkayam, the journey to Siruvani starts. After Pallayam valley, it's deep forest. You need to take advance permission from the check post of Forest department at Inchikunnu if you need to travel to the dense forests of Siruvani. Kanjirapuzha dam, Meenvallam waterfalls and S bend are the major attractions surround Siruveni.
Olavakodu is the nearest railway station. Peeramedu (Coimbatore) is the nearest airport. Bus services are available from KSRTC and Municipal bus stand, Palakkad. Bus travels till Palakkayam only. Forest jeep services to Siruvani are available from Palakkayam, and visitors are bound to strictly follow forest rules. You can use these numbers – 0491 2538996 and 04924 222574 to get more details.
You can read a few more articles on some of the major tourist spots of Kerala here. Click on the images in the gallery to read
(Visited 1,209 times, 1 visits today)