Weight Loss Fruit Dessert
If you are in a weight loss plan, one thing you can't avoid is sweet. It's really challenging to fully exclude sweet from food menu, if you are a lover of sweet desserts. Fruits are the best substitutes of sugar and other processed sweetened desserts. You can try this dessert for a change.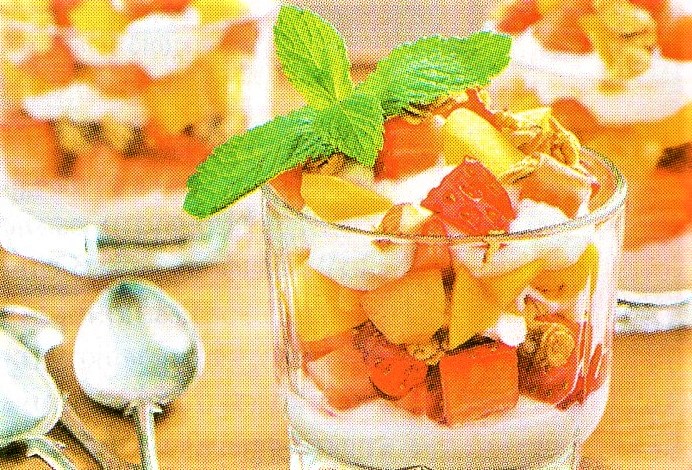 Ingredients for Weight Loss Fruit Dessert:
1. Ghee – ½ small spoon
2. Gram flour – 3 big spoons
3. Water – 1 cup
4. Low fat milk – 1 cup
5. Chia seeds – 2 big spoons, soaked in water
6. Honey – 1 big spoon
7. Cashews and almonds fried in ghee – 10 gm each
8. Vanilla essence – 1 small spoon
9. Apple – 50 gm, chopped
10. Pomegranate seeds – 2 big spoons
11. Grapes chopped – 50 gm
12. Banana – 1, chopped
How to prepare Weight Loss Fruit Dessert?
1. Heat ghee in a pan and fry gram flour till it changes colour.
2. Add water and keep stirring to avoid lumps.
3. Add milk and keep stirring.
4. Add soaked chia seeds.
5. When the contents thicken, add honey, fried cashews & almonds, and finally vanilla essence.
6. Gently heat the contents and put off the flame.
7. Allow this custard to cool off completely.
8. Add fruits and serve.
Courtesy: Vanitha Magazine December 10-23, 2022
Read a few more fruit dessert recipes. Visit my page.
(Visited 20 times, 1 visits today)