Malambuzha's own Yakshi turns 50 this year. Do you know her story?
This incident happened 50 years back. A serious meeting of district development committee was going at Palakkad collectorate. The main agenda of the discussion was the huge nude statue of a Yakshi (demigoddess) in the newly constructed garden of Malampuzha. The statue was still in the construction phase, and demands were high to demolish the construction. Already there were high protests from the locals who never want to see the completion of the statue at any cost. For the protesters, the architect was the culprit who was none other than Kanai Kunji Raman, a young sculptor who had just completed a advanced course in arts from a foreign country on a college scholarship and returned to India to start a career of his own in this field.
The statue was naked – the real reason behind the protests, and the protesters either want to demolish the statue or wrap her with a cloth. Arguments reached its high note, and the district collector who wants to bring a little relief to the tense situation clarified that he has ordered a lengthy white sari from a mill of Salem, and as soon as work is completed Yakshi will be wrapped with it. The tension in the air was relieved, but it filled the mind of sculptor with dark clouds. Kanayi Kunhiraman finished the work and inauguration was carried out without wrapping his masterpiece work with cloth.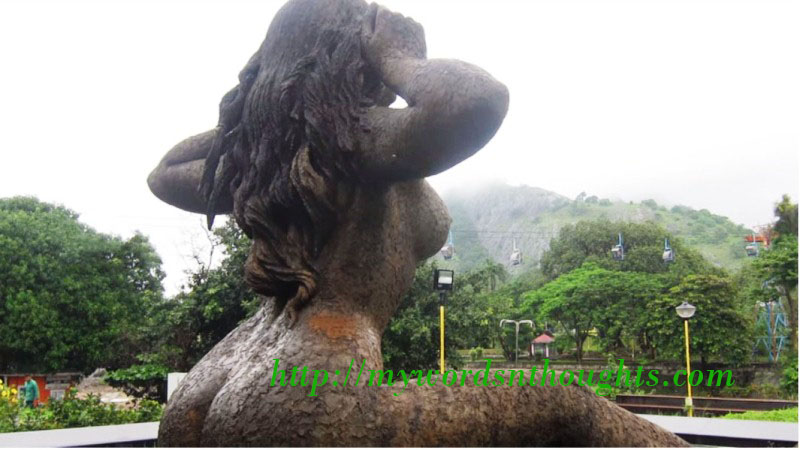 Yakshi – The Masterpiece work of sculptor Kanayi Kunhiraman turns 50
She definitely holds a wild beauty and resides in the garden of Malambuzha Dam. She is in sitting posture, lends her legs forward with her blond hair unlocked and looking towards the sky with half-opened eyes. She pats her hair with an intention to lock it. Without eating, sleeping, tying hair or wrapping her body, she has turned 50 year old in 2018.
When the construction of Yakshi at Malambuzha park was going on, there were many who want to demolish it and supporters were only a few. In the unhealthy situations, facing so many obstacles including life threats, the sculptor added a new life to the cement statue, and when the work was completed, received unanimous praises from all corners. In fact those who approached court to get a stay order for its construction praised the sculptor for his creativity and no wonder, Malampuzha turned one of the hot destination spots of Kerala among the tourists very soon. Yakshi of Malampuzha also earned a distinct place of its own among the major sculptures of India.
Now more than 1 million people visit Yakshi every year
Last year (2017) the total number of visitors who visited the place is 11,20,000, which implies 3069 people on an average every day. This beautiful cement statue is 30 feet high, and built on the banks of Malampuzha river in the Yakshi Park. As per calculations, 1 out of every 10 tourists who visit Kerala definitely visits the place.
No pain No gain – The sculptor was tested several times
Behind every creation there is a 'creative pain' associated with it. But while Kanayi had taken this responsibility, he had to face much more, testing his patience and dedication towards work. Protests were widely arranged by locals, and some of them even manhandled him.
One day after his daily work, while Kanayi was returning to a lodge at Olavakode where he was staying, more than 10 people blocked the bus he was travelling. They dragged him out of the bus and manhandled him leaving behind many serious bruises and injuries – both in his mind and body. They threatened to kill him and flood his corpse in Malampuzha dam if he dares to complete the statue in nude posture.
As the last bus had already department, he spent the night at the guest building in the garden. The guard who noticed the injured Kanai requested him to complain the police, which he rejected. He feared that such a step from his side can seize his dream project forever, as the local police was in search of a feasible reason to bring an end to those controversies. Already bundles of cases were pending in police station and court, demanding the stop of his project, and police was in wait for an opportunity then.
Protests conducted by different groups of people prompted Kanayi to leave
Kanayi received protests from all corners of society. Marches were conducted by women, upper class people and many more organizations, which prompted the irrigation department which granted the project to rethink about it. An agreement was already signed. So it was not possible to cancel the project. They put another plan to seize the construction work. They stopped the supply of raw materials needed for construction, and the workers received frequent threats from locals who wanted to get the work stopped. With no way left, Kanayi who was deeply disheartened left the place leaving behind the work in the middle, and incomplete yakshi stood in the gardens as a torso. The time allotted to complete the statue, as per agreement ended and thus the agreement became invalid.
Irrigation department approached Kanayi after 4 months
After a dramatic turnaround of events, irrigation department approached Kanayi after 4 months and waved green flag to complete the statue at any cost. Kanayi too carried intense desire in his mind to complete the project, and he resumed the work once again. His dream project and India's first public art, Kanayi was willing to compromise with many things, and he did too.
For the second phase of construction, he worked as a daily wage worker, alongside other workers. He was paid the same as that of cement workers, and towards the end phase, he didn't even get daily wages. For his daily expenditure including tea and lunch, he spent his own money, and the work was completed in the year 1969. Inauguration function was carried out in the early 1970s and was done by C. N. Sreekandan Nair.
The event got positive reviews from media, who praised the mastermind behind its creativity and many newspapers covered the event. The charm of demigoddess found space in the first page of newspapers and tourists came to Malambuzha solely to enjoy her natural charm. Slowly protests got converted to flower bouquets, and the beauty of yakshi spread vast wide.
Kanayi started the project when he was 30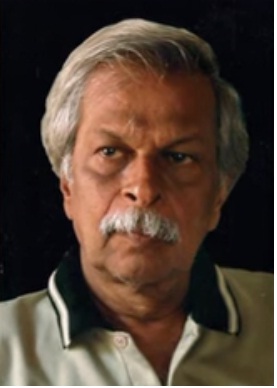 Kanayi 'gave birth' to his beloved daughter Yakshi when he was only 30 and now he is 80. Malambuzha dam was inaugurated in the year 1955, and 5,31,58,000 Indian rupees ( Rs 53.1 million approximately) were spent for the completion of dam. 36 acres of land close to the dam were reserved for a garden, solely to recollect the money spent for dam construction, and the process began just 1 year after the completion of dam. Though the garden work was finished, it couldn't gain more tourists to the place, approximately 50 years ago.
In 1967 a committee was jointly organized by tourism and irrigation departments to find new devices to attract the tourists to the location. Jaathavedan Namboodiri, who participated in the event put forward an idea to construct statues and architectural pieces in the garden to add attraction to the place, and the idea was approved by all. He contacted K. C. S. Panikker, Principal of Institute of Fine Arts Madras, who suggested the name of Kanayi, a student who just completed his advanced studies from London and travelled back to India. Kanayi was a brilliant student of Institute of Fine Arts and a devoted student of Panikker since the age of 17, who earned a scholarship for his future studies in London.
Kanayi first decided to build the statue of Nandi, the sacred cow in Vrindhavan gardens of Malampuzha. But due to some technical reasons, as a part of another assignment he had to wander in Malampuzha and the idea of yakshi flashed in his mind, a mere co-incidence.
Kanayi dreamed a statue of 50 feet high. As sufficient fund was not available for this purpose, he finally agreed to build a cement statue 30 feet high, after a lot of arguments. He wandered three months in the garden to get an inspiration and first built a crocodile statue using pebbles. It took three months for Kanayi to find the suitable place and direction to construct the statue. 30-feet Yakshi statue is visible from any location of Malampuzha. Now, aged 80, Kanayi dreams to build a bronze statue exactly at the same place. He believes that Yakshi is her elder daughter, and he eagerly waits to celebrate 50th birthday of his daughter.
Yakshi of Malampuzha Dam – what does she symbolize?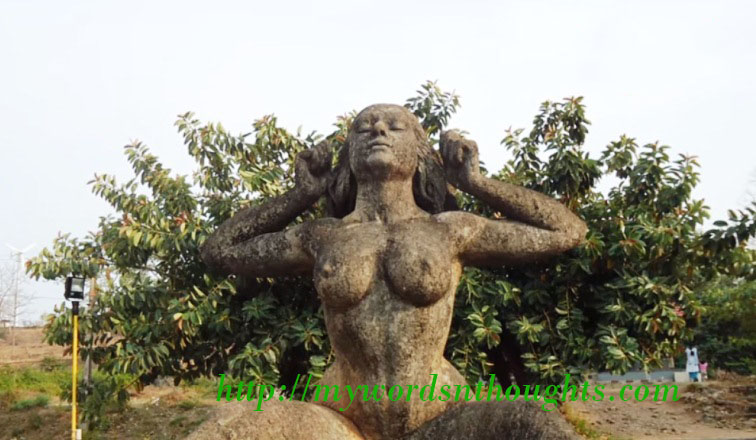 When someone thinks about Malampuzha, the first thing that runs into his mind is of course, Yakshi of Vrindavanam garden. Yakshi is now 50 years old, yet for art lovers she is ageless. Malampuzha Yakshi is quite different from other demigoddesses. Her unlocked hair symbolizes rain drops and she wears skies as clothes with shooting stars as ornaments. She looks straight into the eyes of glowing sun with confidence. The woman statue truly represents so many things, such as injustice and social discrimination towards women. She also talks about women freedom to the society.
She is seen in different ways by different people. For a few, she is just a naked woman which she is given the name of mother and lady with divinity by few others. Though the statue invited plenty of controversies 50 years back, true art only prevails. Kanayi believes the statue to be a true representation of nature, and hence doesn't show any sort of vulgarity. When protesters gave importance to the nudity of the statue only, paying less attention to its natural beauty, creative strength and perfectness and efforts of a great artist, it explored the hidden traits and true colours of man's nature. Majority pointed out nudity only, the only feature visible to their eyes.
Years have passed, yet the wonderful pieces of work by Kanayi own some distinct traits. He built his first sculpture in the year 1960 – Mother & Child. It was followed by Yakshi, Malsyakanyaka of Shankhumugham, Konj, Shankh of Veli and many more. He also gave creative beauty to Kumaranasan's poems. Kunhiraman is the first sculptor recipient of the Raja Ravi Varma Award. Despite being tangled in controversies, the sculptures of Kanayi stand as true pride among all, and still enjoyed by millions.
A brief note on Nafeesa – Kanayi's model for Yakshi's statue
Nafeesa, who became a model for Kanay passed away on October 8, 2020, exactly one year after golden jubilee celebrations of the statue. She passed away in Malampuzha. Last year during golden jubilee celebrations, Kanayi visited her at hospital. Yet Nafeesa is one among the artists associated with the art work, whose contributions were not recognized, even during last year celebrations. State government and Lalitha Sahitya Academy ignored Nafeesa along with 4 people, who helped Kanayi to complete his dream in 2 years since 1967. Last year during February-March months, 12-days long Yakshi Gaanam program was conducted by state government. But they ignored artists associated with the statue, which brought them criticism.
Kanayi used a nude photo of a foreign lady to model the upper part of the statue. For curving leg part, Nafeesa became his model. She lifted her skirt till knees and sat before the artist to become his model, and never showed nudity. 5 people were provided by irrigation department to assist Kanai, and two of them died earlier. The rest two are Velayudhan and Palani Swamy.
You can read a few more articles on some of the major tourist spots of Kerala here. Here is the page link. Click on the images in the gallery to read
(Visited 8,377 times, 1 visits today)