Malabar Madakki Pathiri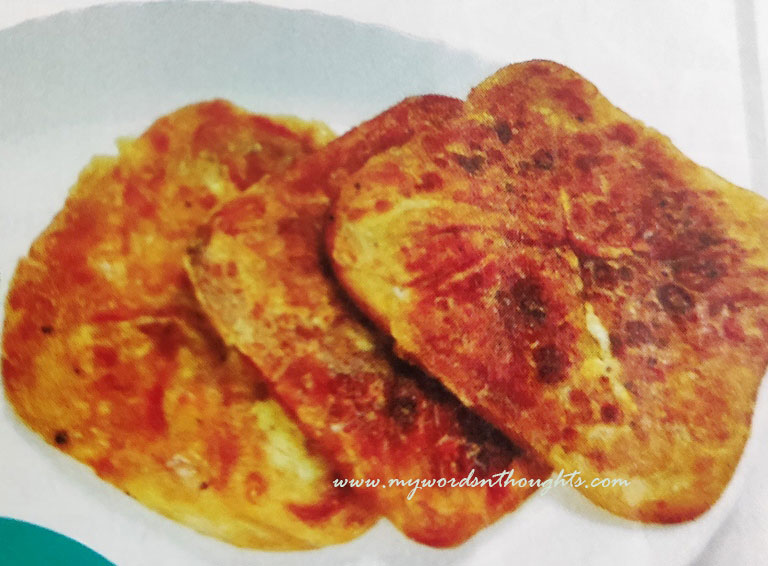 Ingredients for Malabar Madakki Pathiri:
1. Maida – 1 cup
2. Milk – 4 tsp
3. Ghee – 6 tsp
4. Water – As required
5. Salt – As needed
6. Oil – For frying
7. Eggs – 2
8. Pepper powder – ¼ small spoon
How to prepare Malabar Madakki Pathiri?
1. Mix maida with salt and ghee followed by milk.
2. Add sufficient water and prepare dough similar to chapatti.
3. Spread batter into thick round shapes.
4. Apply ghee on its surface and fold from four sides to get a square.
5. Fold it once again from other side to get square again.
6. Spread it slightly, retaining its square shape.
7. Heat oil in a pan and deep fry these Madakki Pattiris.
8. Mix egg, salt and pepper powder in a bowl.
9. When pathiri cools off completely, open their folds and dip in egg mixture.
10. Heat a dosa pan, put them one after another and cook both sides till it's done.
Courtesy: Grihalakshmi Magazine, December 1 – 15, 2019
A few more traditional Kerala pathiri recipes:
(Visited 186 times, 1 visits today)