Kozhi Kaal
Kozhikaal is a trademark Thalassery dish. Though its name implies that it's a chicken leg piece, it's not so. Actually it's a very popular snack made using tapioca. I have posted one recipe of Kozhi Kaal earlier, published on Vanitha in May 2017. Here is the recipe. There is only a slight difference with this one. It's quite common – a single dish may vary in different regions, though the differences are minute. Please read both and choice is yours. Rice powder, gram powder and maida are commonly used to prepare Kozhikaal. In most cases, a combination of any two of the above is used as per personal choice.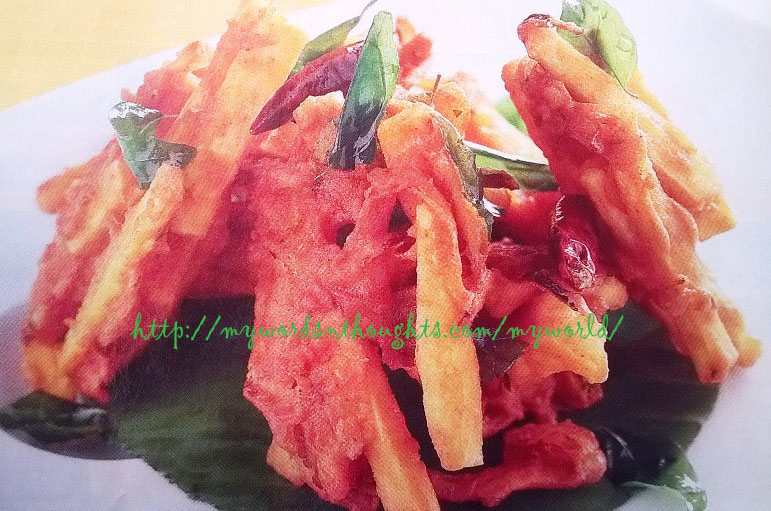 Ingredients for Kozhi Kaal:
1. Tapioca – 1 big piece
2. Rice powder – 1 cup
Maida – 1 big spoon
Salt – As required
3. Onions – 1, cut into small pieces
Green chillies – 3, chopped very fine
Kashmiri chilli powder – 1 big spoon
Ginger cut into very fine pieces – 1 small spoon
Garlic cut into very fine pieces – 1 small spoon
Curry leaves – 1 stalk, chopped into very fine pieces
4. Oil – For frying
How to prepare Kozhi Kaal?
1. Remove skin of tapioca and centre thread and cut into thin pieces lengthwise.
2. Mix all ingredients listed as 2 in a bowl, add sufficient water and make batter similar to idli's.
3. Now add ingredients no: 3 to it and mix well.
4. Heat oil, make small bundles of tapioca using hands, press together and fry in hot oil.
5. Kozhikaal should be crispy and golden brown colour.
Source: Vanitha Magazine August 15-30 2016
Read a few more Chips & Pakoda recipes. Here is the page link. Click on the images in the gallery to read.
(Visited 445 times, 1 visits today)