Is Bhootha Aradhana the parent art form of Theyyam?
Uppinangaadi of Karnataka – the place is quite familiar to Malabarians who share common borders with Karnataka. The place is located at 55 kms away from Mangalore, in Mysore route. Kumara Dhara & Netravati are two important rivers of Uppinangaadi. Keralities are quite familiar with Netravati as one of the major trains of Indian railways bears this name. Both the rivers merge at Uppinangaadi before they flow into Arabian Sea.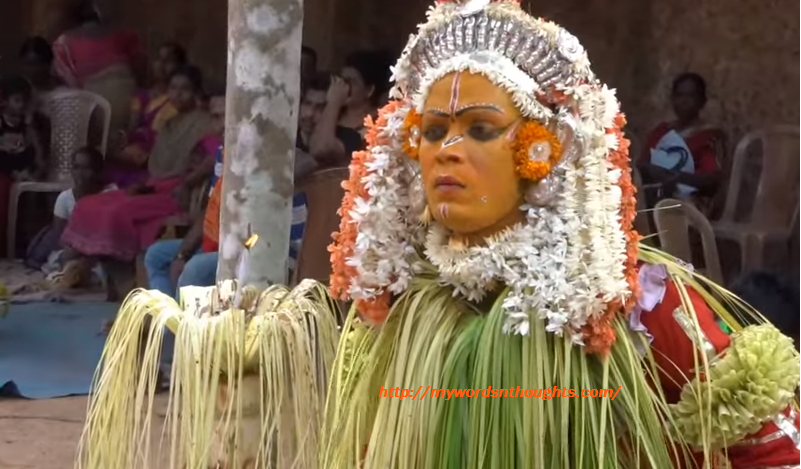 Kempuhole river is a tributary of Kumara Dhara, and Padhav village and Kundadka regions lie on the banks on this tributary. The area has dense forests, aracanut gardens and rubber estates too. Deep green forest is one of the peculiarities of this area, which is not at all densely populated. Many of the people belong to tribal groups and own many traditional art forms deeply linked to their culture.
This Kaliyattam is called Bhoothaaradhana outside Kerala
A traditional art form, Bhoothaaradhana, also pronounced as Bhootha Aaradhana & Bhootha Aaradhane is centuries old, and this devil dance still form a part of their festivals. It's also known by the name, Buta Kola, a derivation in Tulu language. It's a form of devotion & worship to please Bhoothams, who are believed to be the protectors and guards of these village areas. They are believed to reside in wetlands situated in between forests and paddy fields. They are also believed to be ancestral spirits, and locals celebrate the eve to please them.
After a long break of 50 years this traditional art form was reinstalled here in the year 2009. It also earned the title credit of 'Naattulsavam' (festivals conducted by local people) in 2009 only. Though it has been followed traditionally for a long time Bhoothaaradhana was stopped in the year 1959 following conflicts between the groups. When the festival was re-installed in 2009 it used to be celebrated annually. But nowadays it's celebrated once in three years only. Last Kaliyattom festival conducted in the year 2020.
Close similarities with Theyya kolams of Kerala
Theyyam is also a traditional art form of worship practiced in Malabar regions of Kerala. Similar to Theyyakolams of Malabar with bright and strange costumes, Bhoothaaradhana too have distinct costumes representing different bhoothams, and there is a story behind every Kaliyattom figure too. In the colourful costumes and mukhamezhuth (writings on face) there are some striking similarities between these two art forms. Same is the case of Thottam Paatu (song used for performance) and Aattam (dance moves), and undoubtedly Bhoothaaradhana is the parent of Theyyam. Read more about traditional & ritualistic art form, Theyyam here, which forms an integral part of cultural Kerala, especially Malabar region, which shares borders with Karnataka state.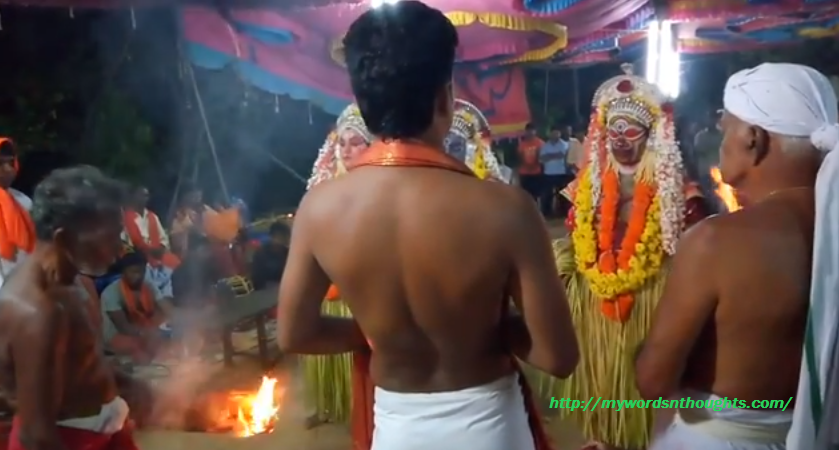 Theyyam figures are a little more beautiful and colourful while Bhoothaaradhana is still in crude form, hence the parent of Theyyaam. There are several striking similarities in the characters (Kaliyattam figures) of both these art forms, and each costume holds a fairy tale as well.
Kalkkuda and Kallurutti – Their story is colourful
Among different Kolams/Kola (figures) available, the story of siblings – Kalkkuda and Kallurutti is quite popular. Kalkkuda was an architect (shilpi) and Kallurutti, his sister. One day King Bhairavaraja instructed Kalkkuda to build the statue of Gomatheswara. When the beautiful statue got completed, king became jealous. The selfish king cut Kalkkuda's hand with the selfish thoughts, so that the shilpi should never make another beautiful statue again. Kallurutti turned very angry and sad, and asked her brother to take revenge. So both committed suicide and as ghosts they created many problems in the regions. As a solution to this problem, Bhairavaraja wore the costumes of both these bhooths and danced, and a new tradition was born.
Bhoothakolam worn by lower caste people
Similar to Theyyam of Kerala, only lower caste people wear the costumes of ghost kolams. Mukayirar, Paravar, Parayar, Nelligai, Paampaadan etc are some of the caste groups of Karnataka who wear kolams. Similar to Theyyam, on the festival day, all people belonging to both upper and lower castes fold their hands in front of the kolams, who are believed to be the representatives of bhoothams (demigods) who safeguards their villages.
Some of the common characters (kola) worn by them
Joomadi, Brahmeru, Saralajumaadi, Raktheswari, Kukkinthaaya, Anjooru, Panchuruli, Deyyaru, Naaga, Baidharakulu, Kukkuballaala, Kuppe Panchuruli, Raktha Panchuruli, Kodamanithya, Urundaarayya, Hosadeva, Thullakulu, Deevanajiri, Neecha, Odithya Aay, Kalkkuda, Gulike etc are some of the common characters who dance during this traditional festival.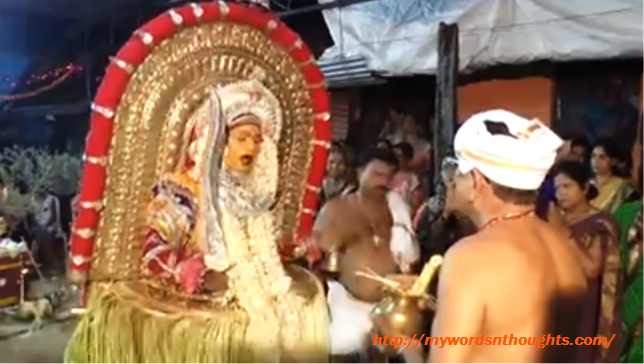 Jumaadi is Vasoori Devatha; Pilichaamundi is the tiger; Panchuruli is the wild pig. Panchuruli, Chamundi and Gulike (Guliken) are kolams available in Theyyam art form too.
A few more notes about Bhoothaaradhana
Bhoothaaradhana forms a part of Tulu culture, and they are not merely good or bad. They are not cruel or frails. They give true lessons of virtues, good way of thinking, Dharma and many more. When men's world is ruled by kings, Bhoothams too have a world ruled by Bermeru. He also rules the forest.
Festivals are conducted in the forest areas and lakesides; Devasthaanam belongs to these areas. That's why it shares some shades of Theyyam, a part of Kavu festivals (sacred mangrove festivals). Kaliyattom festivals have a wild beauty. Years have passed, people have changed. Yet Kaliyattom festivals still retain their heritage beauty and wildness. Presiding deities still reside in simple floors of interior forests.
Ullakkulu siblings are the main deities
Ullakkulu siblings are the main deities. Deyyaru, Panchuruli, Ajnaru and Rudrachamundi come next to them. Similar to Theyyam each Kolam has a story of origin. Here is the story of Ullakkulu siblings.
One day Rudrachamundi was bathing in Kempuhole river while Ullakkulu siblings reached there, sailing in banana leaves. As per beliefs the elder brother is Ashwaroodan (one who rides horse) and younger one, without any figure (aroopi). The brothers like the chilled place filled with forests and trees. They requested Rudrachamundi to grand a place for them in the forest, and she prepared an Aroodam for the brothers. Later they safeguarded the feudal families – Ballaalike, Kundadukka, Kandathadukka and Kemmaan.
The people wear bhootha kolams and dance inside the forests. Yet there is one temple in the populated areas where daily poojas are conducted. It's around 2 kms away from this Bhoota thara (basement) located in forests.
Colourful procession from temple to forest
During the festival, a procession is conducted from the temple to deep forests, where Kolams dance as per tradition. A decorated palanquin with Rakta Chamundi's face mask is carried along with this procession. The palanquin is decorated using flowers. Similar to temple festivals of Kerala, throughout the procession, devotees welcome the goddess with lamps, coconuts, unbeaten rice (nellu), betel leaves and aracanut. They adopt a special style for lighting lamps, in more than one row.
The procession is conducted at night, and hence a visual treat to spectators' eyes. When this palanquin reaches Aroodam, the festival begins.
Deyyaru Bhootham dances first
There is a specific order for dance of bhoothams. Deyyaru Bhootham, a woman character dances first. The artist wears sari, owns plaited lengthy hair and wears woman's make up. When Deyyaru Bhootham leaves the place, the next Kolam to conquer the festival eve is Ajjaru Bhootham. He covers the whole body with white cotton. As per beliefs, Ajjaru Bhootham is naked, and for the same reason women can't watch this dance. Women and her associates leave the place before Ajjaru starts dancing. Ajjaru dances till late night.
Next day morning begins with the dance of Ullakkulu Kolam. As per their religious beliefs, Ullakulu Devata holds the prime position among deities. Couples without children offer offerings (Nercha) to Ullakulu Devata. If kids are born, they offer small golden statues of kids, silver cradles etc. Earlier cows were also given as offerings. Family disputes are also solved before Ullakulu Devata. Decisions are made by the kolam who wears Ullakulu Devata's costume.
A few vegetarian Kolams
There are a few theyyams regarded as vegetarian theyyams for whom animal sacrifices are not done. Deyyaru, Ajjaru and Ullakkullu belong to this category. Animal sacrifices (bali) are done for Raktha Chamundi and Panchuruli kolams. Panthal (the place where Kolams dance) are also different for both types of Kolams.
Other major Kolams for the festival
Rudrachamundi kolam wears the decorative mask of goddess (that was brought to the place as procession in a palanquin) and dances as well. This mask of goddess is made of metal. There is one mask which resembles tiger's face. Soon after dances and before blessing devotees, this kolam kills a cock (as an animal sacrifice ritual). Wild pig's mask is worn by the Kolam who represents wild pig.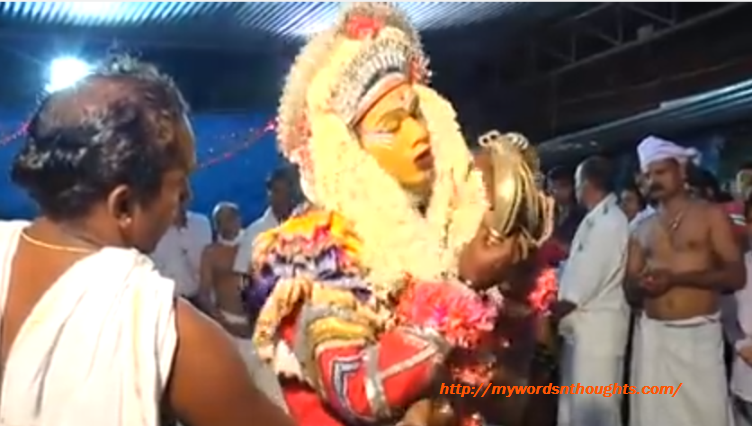 Panchuruli also kills cock as an animal offering. It takes a few fierce steps to kill the cock. He plucks the hair of the hen at its neck region, before he bites and kills the cock. He also drinks blood, adding turmeric powder and malar (a type of fried rice used for pooja). He dances a little more before he completes his moves.
Musical instruments associated with Kaliyattam
Two types of musical instruments are used and they are played by two distinct groups. Nadaswaram, Thavil, Srutipetti and Kuzhal are played by a group while the next one increases the energy level of the festival by playing musical band.
Major differences between Theyyam and Bhoothattam
It's sure, majority of elements of Theyyam are deeply inspired from Bhoothattam. But both have a few major differences. Bhoothattam is more tribal and in crude form comparing with Theyyam. Bhoothattam costumes and other elements are a bit more primitive. Several modifications have been made in Bhoothattam Kolams and made more charming and beautiful in Theyyam. In other words, Theyyam kolams are more glamorized.
While Bhoothattam festivals go on, certain local gatherings are organized. Such a procedure is not found in Theyyam. Chamundi (except Theechamundi) and Panchuruli are very beautiful figures in Kerala Theyyam. Bhootha kolams are not that much charming.
While Theyyam is practised in rural areas with inhabitants, Bhoothattam is confined mostly inside forests. Only a few families live inside those remote areas where festivals are conducted. Maximum of 300 or 400 people irrespective of caste and creed gather for the event.
The kolams also use tender coconut leaves similar to Yakshayaagam. Inspired from this Karnataka art form, some kolams also use loose red jackets and socks. Such modifications happened only in the recent times.
When Thiras dance in rural areas of Malabar, Bhooths dance on the banks of river Kempuhole with the background colours of remote forests. No doubt both these traditional art forms carry a few fantasy and fairy tales along with them, and season sinks in the colours of festival season and rhythm of musical beats.
Read a few articles related to Kerala art, traditional music and dance forms followed since many decades and centuries. Here is the page link. Click on the images in the gallery to read
(Visited 1,050 times, 1 visits today)