Govinda…. Gopala…. A brief note on the famous Shivalaya Ottam of Kanya Kumari District during Maha Shivaratri
Shivalaya Ottam (Shivalaya Run) holds a great significance with Shivaratri celebrations of Kanya Kumari district, which once belonged to Travancore kingdom in the pre-independence era. This custom is centuries old and still performed by Shiva devotees, which once belonged to ancient Padmanabhapuram and its surrounding areas. Here I take you to the legends of Kanya Kumari district, which is spread across 12 different Shiva temples.
'Govinda …. Gopala' – the devotees of Shiva chant these words when they run from one temple to another on Maha Shivaratri day. They carry palm-leaf fan in their hands, wear saffron robes and chant the mantra "Govinda… Gopaala…" all through the whole day of running. A tradition, deeply linked with Travancore history, started centuries ago is still strictly followed by Shiva devotees of Kanya Kumari, whose ancestors were once Malayalis. This custom, where devotees run from one temple to another is very rare in this world, and is followed by 12 temples of Kanya Kumari district.
It's a union of spirituality with physical world. Along with devotion to Lord, a good physique is also necessary to complete this ritual, because when 100 kms is covered by foot, it would take almost a day and a night to run and reach these 12 temples. So, only those who can run this long distance will participate in this ritual.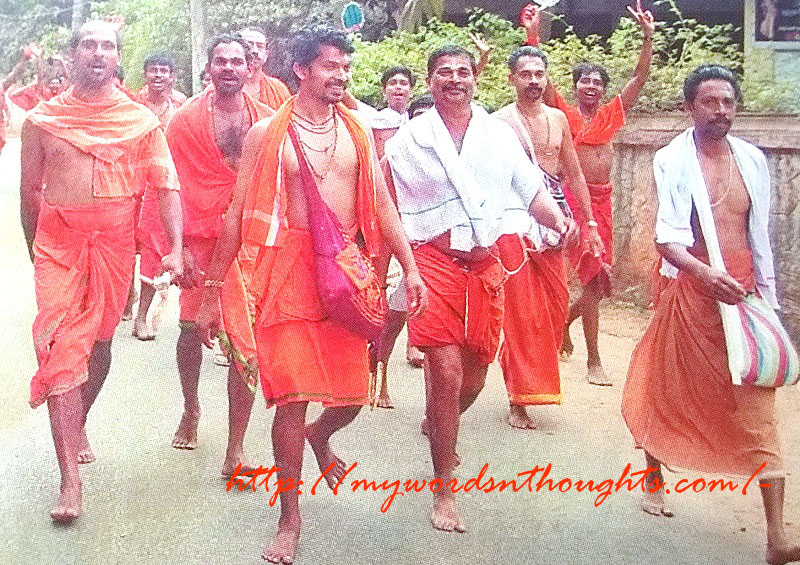 Legend behind Shivalaya Ottam
The legend behind centuries-old Shivalaya Ottam goes like this. It's connected to Mahabharata. Folklore says – one among the Shivagana tried to scare Bhima. To escape from Shiva Bhoota, he threw away 12 rudrakshas one by one, which later transformed to Shiva Linga. These 12 places where Shiva Linga were located later became 12 famous Shiva temples, where the presiding deity is Lord Shiva. Shivalaya runners (those who participate in the ritual) also follow the same path through which Bhima ran. Legend also says that, scared Bhima uttered the words, Govinda Gopala throughout his run, and that's why people who participate in the event also chant the same Mantra throughout.
There may many other tales related to Shivalaya Ottam (Shivalaya Run). But there is one truth. Those devotees who participate in the event achieve freshness, energy and eternal happiness once they complete it.
Fasting and other customs connected to Shivalaya Ottam
During early days, the devotees who participate in the event followed strict discipline and fasting, and those rituals were harder than Sabarimala pilgrimage. They start fasting (vritam) 7 or 8 days before Ekadesi day of Malayalam month Kumbham. They strictly took tender coconut juice and tender palm fruit (Tender palmyrain) during day time, and water adding thulsi leaves at night, nothing else. Nowadays it's not easy to follow this fasting.
Similar to Sabarimala pilgrimage, the devotees conduct Shivalaya Ottam under the guidance of a senior person, Guru Swamy. While Sabarimala pilgrims are called Ayyappas, the pilgrims who participate in Shivalaya Ottam will be addressed as Govindas or Gopalas. They wear yellow or saffron coloured dress and wear bhasma on forehead, chest and hands.
They carry a palm leaf fan and a cloth bag to keep coins. When they reach each temple, they wave the palm leaf to chill the head of the deity. When they reach each temple, they need to take bath at temple pond, and wear bhasma once again before they start again. For that purpose they carry bhasma with them.
Devotees start with Munchira Thirumala temple at noon
The devotees start Shivalaya Ottam under the hot sun of Kumbham month. Deeparadhana will be conducted at Munchira Thirumala at noon. Devotees reach there as small groups. This temple is also known as first Shivalaya temple, situated in Vilavankode taluk. The temple is located on the top of a small hill. Two temples with presiding deities, Shiva and Vishnu are situated on hill top. The devotees start their run soon after Deeparadhana ceremony is over.
Thikkurussi Shiva temple is the second one, which is 10 kms away from Thirumala. Devotees take the path via Marthandam to reach the temple. Thikkurussi is a temple filled with greenery. The place is familiar to Malayalis through the great Malayalam actor, Thikkurussi Sukumaran Nair. Though it's a part of Tamil Nadu since states were formed in 1956, the place gives an illusion of a Kerala village. The temple rituals have also deep links with Kerala culture. During early days, the temple was under the direct rule of Tharananalloor Namboothiri family, who served as the Tantri family of Thiruvananthapuram Padmanabha Swamy temple and Sucheendram Perumal temple. Now the temple is under the control of Tamil Nadu devaswom. When the devotees reach this temple, dusk might have conquered the place.
Thirparappu Shiva temple is the third one, which is far away. Thirparappu is already a famous place for its water falls, and the Shiva temple is situated near to it. Thirparappu water falls is a major tourist spot which attract both pilgrims and tourists. If devotees run fast, they can reach the temple before sun fully sets. Veerabhadran is the presiding deity. The steps leading to underground reach the waterfalls. It's believed that Bhadrakali temple is present inside this tunnel. But nowadays this tunnel is closed. Thiruvathira of Dhanu month is the most auspicious occasion of the temple festival.
During early days, there was one custom to take 'Thiruvathira Puzhukk' to Padmanabhapuram palace, during the rule of Travancore kings. The celebration was done in grand, and used to take Puzhukk by horse ride. For every 2 kms, the soldiers did gunshots, following traditions. People used to gather at either side of the road to watch the procession.
Thirunanthikkarai, the fourth temple is 8 kms away from Thirparappu. The devotees need to take diversion from Kulasekaram to reach this temple. Nandi is the presiding deity here, which is very rare. In Kerala and Tamil Nadu, it's the biggest of Nandi temples. That's why this temple is quite different from other temples of Shivalaya Run. The inauguration of annual temple festival is conducted soon after the first devotee of 'Shivalaya Ottam' group reaches the place, and that particular moment is considered as Muhurat. The major part of Nandi's idol is beneath the ground.
Ponmanai – The temple without flag post
From Thirunanthikkarai, the devotees run to Ponmanai, the 5th temple. The devotees need to travel back to Kulasekaram before they continue their journey and need to cover 7 kms. Shiva presides here in the form Theembuleswaran, which is believed to be Swayambhu. The temple has no flag post, which is quite rare in south Indian temples. It's believed that the temple had flag post in earlier days, and later it fell to the temple pond, and its remains still found there as told by folklore.
Now the devotees target the 6th Shivalaya temple, Pannipagam. The devotees take the path of Chithirankode – Muttakaad road via Kumarapuram travelling 12 kms east. Kiradamurthi is the presiding deity. The legend of this temple surrounds Arjuna, Lord Shiva and Pasupata weapon. Lord Shiva tested meditating Arjuna before he presented him with Pasupata Astra. Lord Shiva appeared as forest dweller to test Arjuna, which is linked to the install of Shiva as Kiradamurthi here.
Then they travel 4 kms to Kalkulam, which is deeply linked with Travancore history. The devotees need to travel through Padmanabhapuram temple premises to reach Kalkulam temple. The temple is an excellent piece of ancient architecture and the temple pond is so vast. To welcome Shivalaya runners, the Padmanabhapuram palace will be filled with lights. The devotees supply supper to the Shivalaya runners.
Melankodu temple is the 8th one to reach which is 3 kms away from Kalkulam. Situated in the middle of the paddy fields facing east, Mahadevan as Kaalakaalar is the presiding deity. To stay away from Kalan – the death god, the believers used to stay here in temple premises. The temple legends are linked to Markandeya Puranam. To save his devotee Markandeyan, Lord Shiva killed the death god, and he presides here as Kaalakaalar, which literally means Kaalan of death god Kaalan. When runners reach Melankodu temple, it's already late night.
Thiruvidaikkodu is their 9th target, which is located between Thiruvithamkoor and Thiruvithamcode. The devotees take the path, Thenkara, Villukuri to reach the temple travelling 5 kms from Melankodu. Stone carvings found here gather a lot of attention. Jadayappan, who talks in Tamil dialect, is the presiding deity here. The temple earns the distinction to carve the laws of kings on stones, done in historic age.
In the memory of glorious past
Thiruvithankodu is 8 km away from Thiruvidaikkodu. Read more about the significance of Thiruvithankodu. The temple is situated in Thakkalai, the state capital of Venad kings who once ruled Travancore kingdom. So it's a journey to the glorious past of Travancore kings, before the capital was moved to Thiruvananthapuram city. Fort, Palace, Gopuras and flag posts are still preserved which give the complete story of Venad kings. The temple is situated south-east of Thakkalai, near Villukuri. When the Shivalaya runners reach this temple which carry reminiscences of royal days, it would have already passed midnight. The devotees who stand on either side of the road give dry ginger coffee to the runners.
Thiruppanrikkodu is the 11th Shivalaya temple. The temple with Bhakta Valsala Shiva as presiding deity is 7 kms distant from Thiruvithankodu. The runners reach this temple at twilight. From Thiruppanrikkodu, the last and 12th Shivalaya temple is only 4 kms away. The runners need to travel back to Thiruppanrikkodu junction to continue their last and final journey to the last temple at Nattaalam. It will be morning when they reach Nattaalam. Thirunattalam is the 12th temple with a big temple pond. The pilgrims take bath from the temple pond just opposite the temple and circumvallate Vishu and Shiva temples to complete the rituals. All the 12 temples will cheer the occasion with celebrations for the eve.
End note: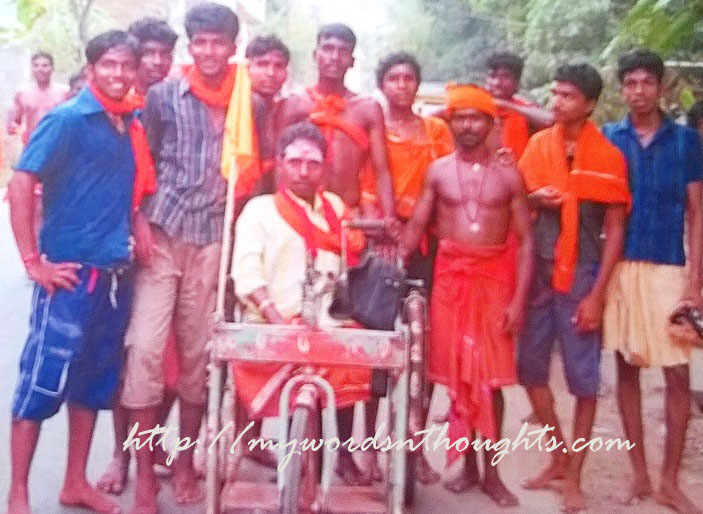 It's said Bhakti over the years have increased in the recent times, where devotees are willing to spend so much money and time for pilgrimage. It might be true, but true devotion has only decreased with the course of time! Nowadays devotees also use car, carts and cycles for Shivalaya Ottam, a great ritual which was once carried with great devotion. Is it not strange? Is it the true form of devotion to Lord? Have a second thought.
As time changes, many things are forced to change. Yet still there are hundreds of true devotees of Shiva who run chanting 'Govinda Gopala' on Mahashivaratri day as their devotion to Shiva.
You can read a few more articles related to rituals, offerings, customs and celebrations, mostly associated with temples across across Kerala. Click on the images in the gallery to read
(Visited 719 times, 1 visits today)