Goa in Kerala – A happy journey to Varkala Beach
A few years back, Guardian daily of England addressed Varkala as 'Goa in Kerala'. Those travellers who have never seen deep blue seas, Varkala offers a new travel experience. Now Varkala is one of the hot spots of foreigners in Kerala, who want to spend their time in sea beaches beneath the blue sky. Italy, Belgium, Russia, Germany, England – the list of foreigners is long. There are many luxurious beaches across the world. But why these foreigners choose Varkala as their destination? May be the silence of Varkala attracts and fascinates them.
Papanasam beach is famous for Balitharppanam, offerings given to dead relatives and ancestors. You can also enjoy the chillness of sea breeze here. Centuries-old Janarthanan temple, a ½ km path through cliff with the same sea level of beach, Tibetan shops filled with decorates, Restaurants with fun-filled names such as Gypsy King, Coffee Temple, Chill-out, Rock n Roll….., Home Stays & Ayurveda Spas with traditional Kerala style – Varkala Beach offers many surprise packs for its visitors. Then what remains is deep Blue Ocean with unrevealed secrets! The beach is so beautiful beyond all explanations. Narayana Gurukulam, Sree Narayana Samadhi, East West University Brahma Vidyalayam started by Guru Nithya Chaitanya Yathi are other major spots near Varkala.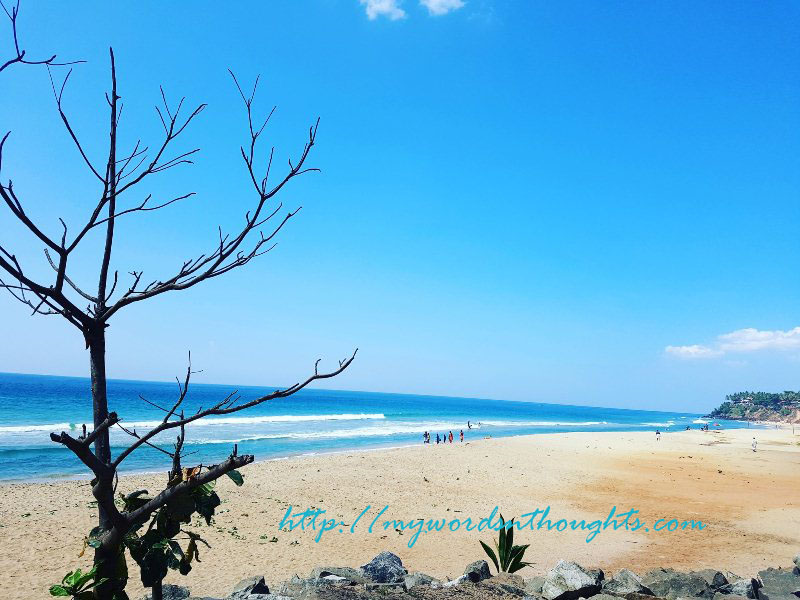 Papanasam Beach
If you see Varkala beach through the eyes of sea lovers you can visualize a new world before you. A morning walk through ½ km path in the cliff gives you a great breezy experience. The path is so silent and the shops are not open except a few coffee shops, which gives you a silent atmosphere to interact with seas. You can see foreigners with coffee cups in hand, relaxing themselves with their companions and also foreign ladies wearing shawls printed with 'Ohm' or Tantric prints. Most of them carry cloth bags are on a morning walk. You can also see foreigners loitering around in the coastal area and most of them hire old 2-wheelers and cycles for this purpose.
The spot where Balitharpanam is conducted is well prepared in the early mornings. The place is filled with chanting mantras of priests and relatives who offer bali to their forefathers. As the rituals are conducted every day here, it's a part of Varkala's daily life. Helipads are provided for Paragliding near the beach, which tourists love a lot. Yet it's a bit risky.
Home stays available around the tourist spot
Residents near the Varkala beach have identified the potential of tourism here. That may be the reason why many homes in the nearby places have been converted to home stays. In most of the homes around, at least 1 or 2 rooms will be reserved for this purpose. A 'home stay' board will also be hanged. You can also find agents who hire rental houses for tourists. Special cooking classes are also available to teach tourists. You can find many foreigners here, who came here as tourists and later started business. They got settled and welcome tourists now as hosts, and earning money through home stay, Thai food restaurants etc to mention a few. They often visit their homes during off-season.
There are many Tibetans who stay in the tourist spot. Apart from Tibetan restaurants, they also run shops which crafts and decorate pieces. There is one homestay in the locality with an interesting name – Mango Villa. A small mango tree with hanging mangoes and shoe flowers give a traditional touch to this villa. There are 25 varieties of hibiscus plants available in this garden. Ayurveda spa centres are also available here which attract tourists.
Varkala beach under the setting sun
From the cliff, steps are built at two or three places leading to sea shore. You can see tourists in folk with vibrant colours doing meditation in the beach. You can see kids making interesting sand homes at the beach. It's silence spread everywhere. You can see tourists bathing. On the sea shore, you can see life guards in blue uniform, who work almost 12 hours a day from 7 am. They rescue almost 4-5 persons daily on average.
Restaurants will be active after evenings too, and you can see tourists hanging around. The whole area will be lighted with dim lamps and candle lights giving a party atmosphere.
How to reach Varkala beach?
Varkala has turned a major tourist spot of Kerala only in the recent times. It belongs to Thiruvananthapuram district, only 37 kms away from Kollam. It's 50 kms away from state capital. In south Kerala, Varkala is the only spot where cliff is found near the seas. Papanasam beach is the central spot, 2000-year old Janardhana temple, Sivagiri Mutt established by Sree Narayana Guru etc are some of the major attractions. December-March is the season.
You can read a few more articles on some of the major tourist spots of Kerala here. Click on the images in the gallery to read
(Visited 740 times, 1 visits today)