Kanchipuram Idli
Kanchipuram is world famous for silk saris. Same is the case of Kanchipuram Idli, an integral part of Kanchipuram cuisine. Its creativity, and the way by which it's served is amazing. Earlier it was offered in temples during special occasions. Later it became a part of royal cuisine, served in palaces. Slowly it reached homes, as time passed by.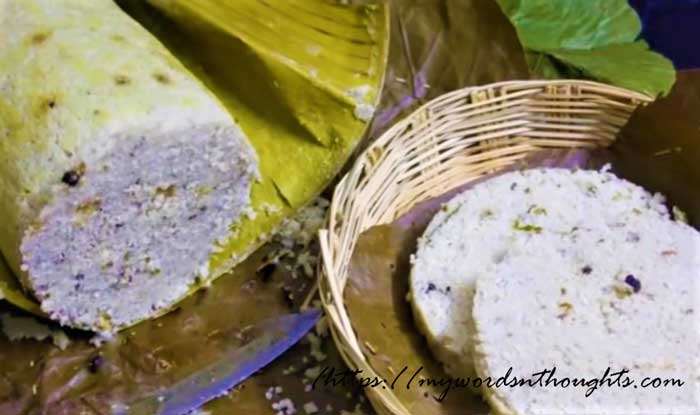 Today it's easily available in restaurants of Kancheepuram. Kanchipuram Idli is an integral part of weddings in Kanchipuram too. It's prepared in big steamers and cut into the shape of temple gopuram, or semicircles. Special bamboo stems are used for the preparation of Kanchipuram Idlis. In homes, as it's not possible, we can pour batter steel cups or dishes, and steam cook in idli makers. Once done, they are cut like cake and served, mostly in banana leaves.
Kanchipuram Idli is totally different from normal idlis, both in ingredients and time of preparation. Method of preparation too. When normal idlis take 10-15 minutes to cook fully, Kanchipuram Idlis take at least 2 hours. Banana leaves or other leaves are also placed inside the bamboo containers before batter is poured into them.
Ingredients for Kanchipuram Idli:
1. Puzhukkalari (Parboiled rice) – 1 cup
2. Pachari (Raw rice) – 1 cup
3. Black gram – 1 cup
4. Cashews – 3 big spoons
Pepper powder – A pinch
Cumin – A pinch
Asafoetida powder – 1 small spoon
Curry leaves – A little
Ghee – 1 spoon
Salt – For taste
How to prepare Kanchipuram Idli?
1. Soak rice and black gram. Soak them separately.
2. Grind each separately, adding water. Don't make a smooth paste. It needed to be ground like semolina granules.
3. Mix all batters together and place it for fermentation. If you grind batter in the evening, make idli the following day morning.
4. Add ingredients no: 4 to the batter and mix well.
5. In the moulds of idlimaker, place banana leaves and pour batter into it. You can also use steamer. Place banana leaf inside steel plate and pour batter into it.
6. To avoid batter from leaking, close it using another banana leaf.
7. Such containers are placed inside steamer and steam cooked for 2 hours.
8. Once it's done, allow them to cool.
9. Cut idli into cake shapes or any shape you want. Such pieces will have edges similar to sari foils.
Note: You can also make Kanchipuram Idli after 2 hours of fermentation. For better results, 10 hours are needed. It makes idli tastier. For easy fermentation you can add a spoon of curd soon after grinding.
Serve with chutney powder adding sesame oil. Kanchipuram Idli can also be served alongside onion chutney or mint chutney.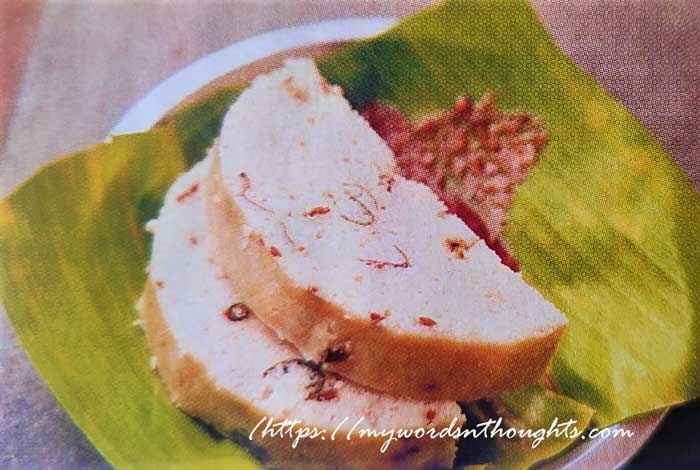 Courtesy: Vanitha Magazine August 15-31, 2010
Also read a few more dosa & idli recipes here. Click on the images in the gallery to read
(Visited 28 times, 1 visits today)