Viji Venkatesh – 'Ummachi' of Malayalam movie, Pachuvum Athbutha Vilakkum
Viji Venkatesh is a social worker associated with different NGOs that provide aid to people suffering from different illnesses, especially cancer. She has been associated with several social circles for more than 35 years, and in 2023 she joined Malayalam film industry, marking her debut as an actress through Fahadh Fasil's Pachuvum Athbutha Vilakkum. The movie directed by debutante Akhil Sathyan opened to rave reviews and was a box office hit. Her meaty role as Ummachi/Laila was lauded by critics and audience alike.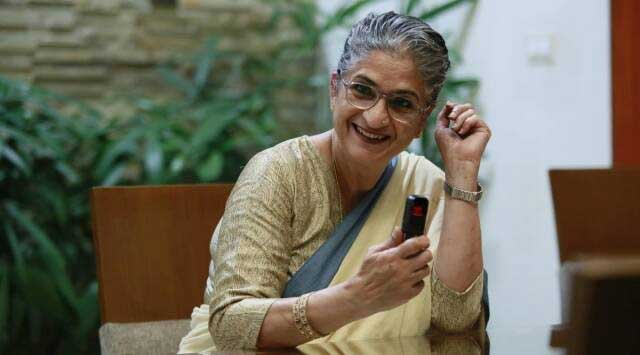 Viji Venkatesh belongs to a Palakkad Iyer family settled in Delhi
She was born into a Tamil speaking Palakkad Iyer family, who later settled in Delhi. Her father was from Thrissur. Her younger days were spent in Delhi, where she completed her education. As her father worked in the Home Ministry in Delhi, the family visited Kerala during summer vacations. Her husband is from Thrippunithura of Thrissur district. After marriage she moved to Mumbai, where she has been living for 5 decades as of now.
Viji Venkatesh is associated with many NGOs, especially cancer caring field
Viji serves as the Region Head (South Asia) at The Max Foundation, and chairperson & managing trustee of Friends of Max. She is mostly known for her association with Cancer treatment. She created Chai for Cancer, an awareness and fundraising campaign, 10 years ago and is fully associated with it. She also serves as Trustee with Being Human.
The death of her grandmother and mother-in-law from cancer played a major role in her decision to choose this career path. They influenced her to shape her attitude towards patients. Her concept, Chai for Cancer was formulated to help cancer patients belonging to socioeconomic backgrounds.
Embarked on a new journey as an actress
In 2023, she marked her acting debut with Pachuvum Athbutha Vilakkum, and her role as Ummachi was loved by audience. She shared the news through Instagram in May 2020. Though the shooting for the film began in 2020, it got delayed due to pandemic.
One of the highlights of the directorial debut of Akhil Sathyan was the casting of the female leads. He chose three debutantes for the film, where Fahadh Fasil played the male lead. While Dhwani Rajesh and Anjana Jayaprakash had worked in other language films, Viji Venkatesh, a well-known social worker associated with cancer related NGOs, marked her screen debut with the film. All the three female actresses had meaty roles in the film, and received warm welcome from audience also. Dhwani was handpicked by the director Akhil Sathyan after watching her debut flick.
Her entry to acting field was just by chance. Her friend and Bengali actor-dancer Sreenanda Shankar wanted to do a makeover on her. Though she usually doesn't apply face makeup, she patiently sat through it & clicked a few photos. She later posted them in Instagram, which Akhil came across and it matched Ummachi's look he had in his mind. Though she can't speak Malayalam fluent, she did a lot of hard work and it paid off.
Viji Venkatesh – Some interesting and less-known facts
1. A septuagenarian who marked her screen debut with Pachuvum Athbutha Vilakkum, she played a 71-year old lady in the film too.
2. Her grandfather served as a high court judge.
3. Though born in Kerala, she mostly speaks Tamil at home.
Also read: Devi Varma – Actress who played elderly woman 'Umma' in Saudi Vellakka