Asha Bhosle – My Top 15 Bollywood Songs
Asha Bhosle owns an incredible professional career in singing and her career spans to more than 70 years. A versatile artist, she tried various genres of Bollywood songs and remained successful also. She has always tried to do something different and undoubtedly she has different shades in the countless songs she sung for Bollywood and other regional films. In fact she also experimented with her acting skills playing female protagonist in Marathi movie, Mai celebrating her 70 years in the entertainment industry.
This singing legend is quite popular among three or four generations of music lovers, and her cabaret numbers in the 1970s are indeed most popular. Her fast numbers are known for boosting energy levels and boast youthfulness. But she exhibited some unique talent in rendering romantic and sentimental songs too. Asha had a struggling first phase of singing career, when she was frequently compared to her elder sister Lata. Though she received less opportunity in the 1950s and 1960s comparing her sister, those songs have stood against the test of time. She came out of the shades of her elder sister in the 1970s, and emerged as the top singer of the decade. In fact many of her popular chartbuster songs are still celebrated by her fans.
Yet I feel that as a versatile singer, her career best songs belong to the era of late 1950s and 1960s, where she successfully associated with O. P. Nayyar and R. D. Burman. Though she was only the second choice for almost all music directors except these two, her songs released during this period are really fabulous and wonderful, and her voice at the best. It's really sad that legends of Bollywood of yesterdays like Shankar Jaikishen, S. D. Burman, Madan Mohan and Salil Chaudary couldn't identify the hidden talents of Asha in her glorious 20s, and a great miss to music fans of 1960s.
It's definitely an impossible task to list top 15 songs of Asha Bhosle's career. The list is purely based on my personal choice, and many not match with your favourites. I mostly preferred soft melodies than peppy numbers, as I am an admirer of her slow tracks mostly composed by great O. P. Nayyar who gave her own identity in the singing field. Here it goes.
1. Tere Khayalom Mein of Geet Gaaya Pathorom Ne – Among 1000s of songs sung by Asha Bhosle, this particular song remains my top favourite. I can rewind the same song hundred times, but listen to it solely because of wonderful rendition by this great singing legend. This solo track pictured on Jeetendra and Rajshree definitely finds place among the top songs of the era of 1960s. This song was composed by Ramlal and penned by Vishwamitra Adil, whose names we have rarely heard in Bollywood.
Asha Bhosle rendered her voice for 5 songs for the movie, and all of them got noticed. Geet Gaaya Pathorom Ne (1964) is one of her major works in the first half of 1960s.
2. Aankhon Se Jo Utri Hai Dil Mein of Phir Wohi Dil Laaya Hoon – Asha Bhosle worked extensively for Asha Parekh in the 1960s, and they together gave some of the classic hits mostly composed by R. D Burman and O. P. Nayyar. Aankhon Se Jo Utri Hai Dil Mein is definitely one of the best compositions of O. P. Nayyar pictured on Asha Parekh who worked with Joy Mukherjee for several romantic movies in the 1960s and remained successful. Majrooh Sultanpuri penned its magical lyrics.
Read Top 15 songs featuring Asha Parekh.
3. Jaayiye Aap Kahan Jaayenge of Mere Sanam – All the songs of Mere Sanam composed by O. P. Nayyar are extremely melodious, and regarded as one of the best works of the composer. This solo song featured Asha Parekh and Biswajeet, and they together paired earlier in Bin Badal Barsat (1963). Majrooh Sultanpuri penned its extremely popular and evergreen lyrics. Also read: Top 25 songs of Asha Bhosle – O. P. Nayyar combination.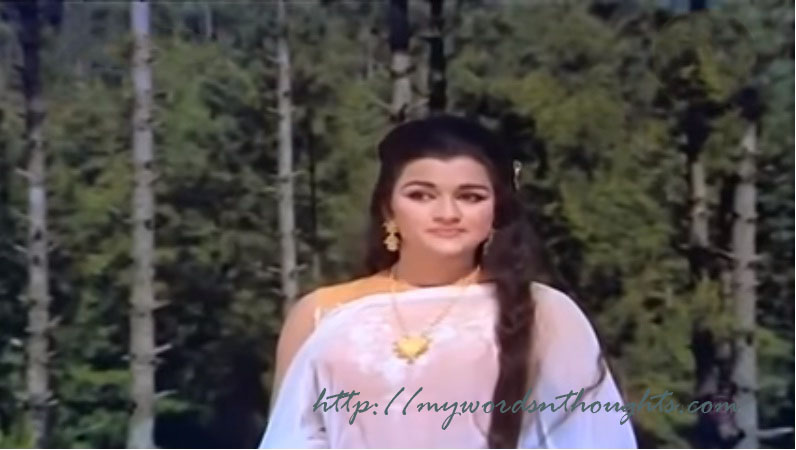 4.

Aao Husur Tum Ko of Kismat

– Top song featuring Babita, this solo is regarded as one among the top compositions of O. P. Nayyar sung by Asha Bhosle. This sizzling track is inspired from the composer's another popular track, Yeh Hai Reshmi Zulfein featuring Mumtaz, and in both these songs the actresses try to woos the lead hero – Biswajeet. This song was penned by Noor Devasi. Though the lyricist penned this extremely popular song of Kismat, and also Rajesh Khanna's Raaz, he rarely contributed to Bollywood, quite strange.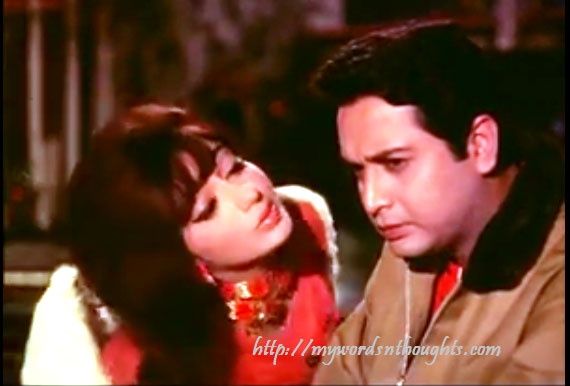 Kismat

is regarded as one of the top class works of O. P. Nayyar. The movie was released in 1968 and included many popular songs of Mahendra Kapoor such as

Lakhon Hain Yahan Dilwale. The duet – Kajra Mohabbatwala sung by Asha Bhosle and Shamshad Begum also became extremely popular, and it's the last song sung by Shamshad Begum in O. P. Nayyar's composition.
5. Yeh Hai Reshmi Zulfein of Mere Sanam
–
Mumtaz played small roles in main stream Bollywood films during this period, and this popular sizzling number boosted her career a lot. This song was beautifully rendered in sensuous voice by Asha. Jaayiye Aap Kahan Jaayenge is another popular song of the movie, sung by Asha Bhosle. The music was composed by O. P. Nayyar, who always preferred to record songs of lead heroine in Asha's voice which was quite uncommon those days.

Yeh Hai Reshmi Zulfein

is one of the extremely popular songs of O. P. Nayyar-Asha combination.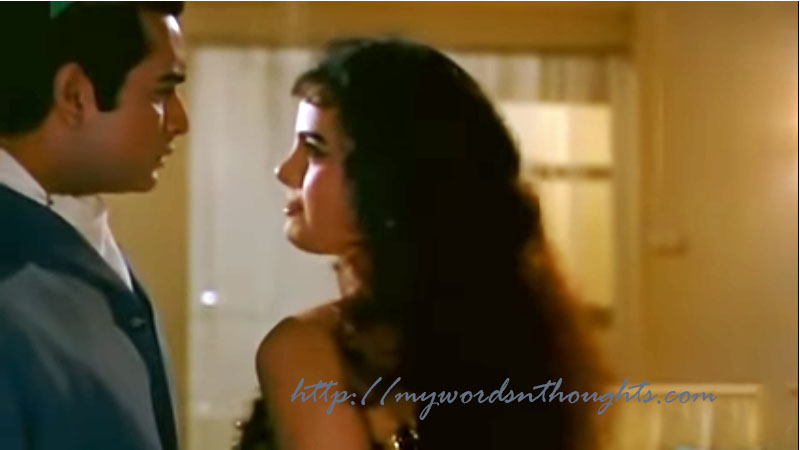 He later presented the same tune in a new way for yet another memorable track of Asha – Aao Husur Tum Ko of Kismat, released three years later. Both the musical hits starred Biswajeet in lead roles, and regarded as this romantic hero's career best movies, best remembered for its music.
6
. Abhi Na Jao of Hum Dono – This evergreen duet featuring Dev Anand and Sadhna was composed by Jaidev, and its lyrics were penned by Sahir Ludhianvi. Mohammed Rafi was the co-singer of this song.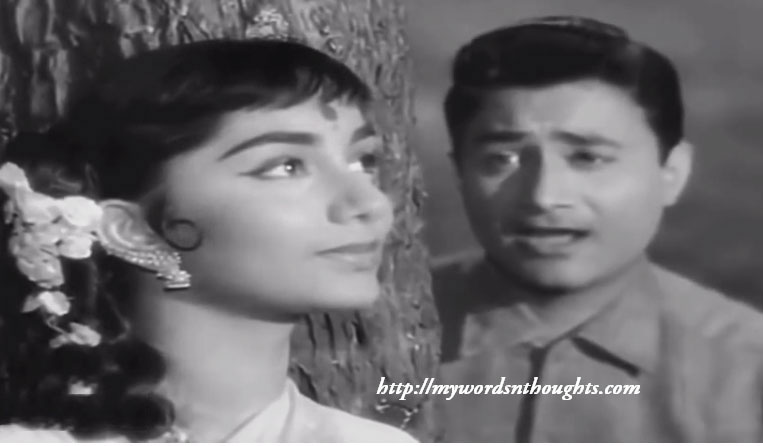 7.

Jaane Jaa of Jawani Diwani – The popular campus film of early 1970s, its songs composed by R. D. Burman became huge chartbusters. This popular duet starred Randhir Kapoor and Jaya Bhaduri and one of the top hits of the year. Its popular lyrics were written by Anand Bakshi

who wrote some of the best songs for R. D since late 1960s. Kishore Kumar sang this song aside Asha Bhosle.
8. Nahi Nahi of
Jawani Diwani – This sizzling track was sung by Kishore Kumar and Asha Bhosle and pictured on Randhir Kapoor and Jaya Bhaduri. The song created by the popular duo R. D. Burman – Anand Bakshi ruled music charts, and its remixed version released 30 years later also became very popular. The movie also included yet another very popular duet of Asha and Kishore – Jaane Jaa, very beautifully filmed.
Also read:
Top 10 duets of Asha Bhosle and Kishore Kumar.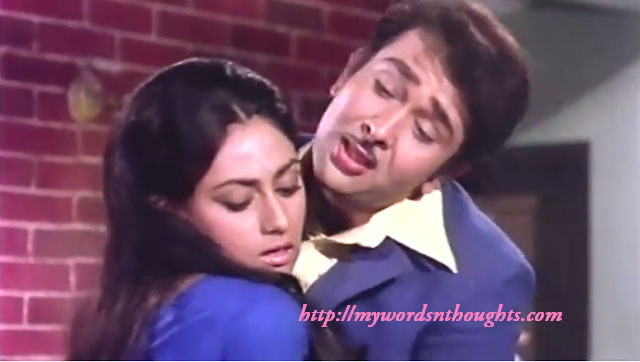 9.

Jab Chali Thandi Hawa of Do Badan – This solo song was composed by Ravi and extremely popular. It was one of the rarest movies, where Manoj Kumar played a romantic hero role. Asha Parekh played female lead in this love tragedy.
10. Title Track of Yeh Vaada Raha – A celebrated duet composed by R. D. Burman, Asha Bhosle & Kishore Kumar rendered their voices for Rishi Kapoor, Tina Munim and Poonam Dhillon for several versions of the song. One of the top works of R. D. Burman before his declining era started, he used the voices of Asha Bhosle & Kishore Kumar only to record all the songs of the movie. Also read
:
Top 50 duets sung by Kishore Kumar
.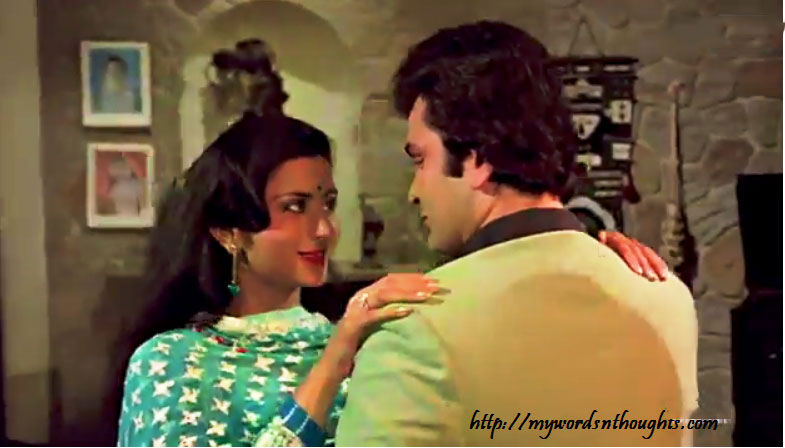 11. Deewana Hua Badal of Kashmir Ki Kali – The movie marked Bollywood debut of Sharmila Tagore, and its composer O. P. Nayyar used voices of Mohd Rafi and Asha Bhosle to record all the songs of its lead pair. S. H. Bihari penned its lyrics. Asha Bhosle's voice was a perfect match to Sharmila, and since then many composers regularly used Asha's voice to record songs for Sharmila Tagore. The movie also included Asha's popular tracks – Ishare and Meri Jaan Balle Balle.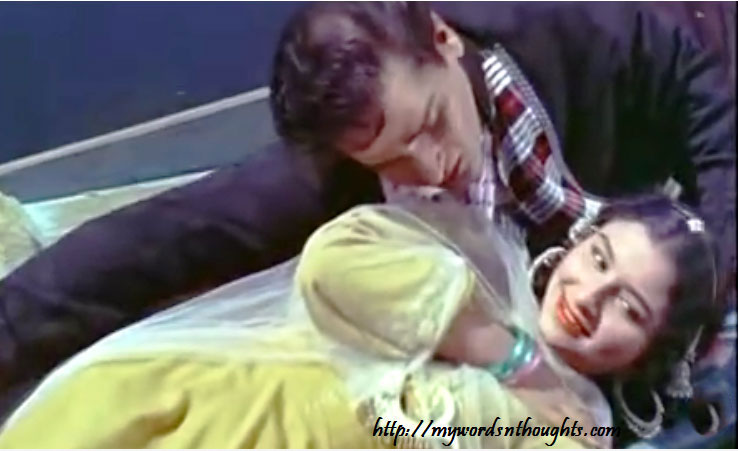 12. Gunguna Rahe Hain of Aradhana –
As told above, Asha recorded some of the finest songs for Sharmila Tagore and this popular duet of Aradhana is one such. Aside Gunguna Rahe, Raat Ke Humsafar from An Evening in Paris too is a popular duet sung by Mohd Rafi and Asha, and the music was composed by Shankar-Jaikishen. Zara Hole Hole Chalo of Sawan Ki Ghata and Haat Aaya Hai of Dil Aur Mohabbat are other popular romantic tracks sung by Asha Bhosle for Sharmila Tagore. O. P. Nayyar composed music for both these movies.
Also read:
Top 25 songs featuring Sharmila Tagore
13. Sapna Mera Toot Gaya of Khel Khel Mein

– Songs composed by R. D. Burman became huge chartbusters and this sad duet sung by Asha and R. D. Burman was penned by

Gulshan Bawra. It's one of the rare movies were Aruna Irani played a meaty role and seen in a non-comic role. The song was pictured on Rakesh Roshan and Aruna Irani, and one of the rarest duets of real life couple,

Asha Bhosle and R. D. Burman.
The movie also included three popular duets of Kishore Kumar and Asha Bhosle – Ek Mein Aur Ek Tu, Aye Lo Pyaar Ke Din and Khullam Khulla Pyaar Karenge Hum Dono.
14. Yeh Duniyawale of Mahal

– The

music was composed by Kalyanji-Anandji, and sung by Kishore Kumar and Asha Bhosle. Asha Parekh and Dev Anand were featured in this popular duet and the movie also included one more popular duet – Ankhon Ankhon Mein, sung by Kishore Kumar and Asha Bhosle.
Read Top 10 Romantic Tracks featuring Dev Anand.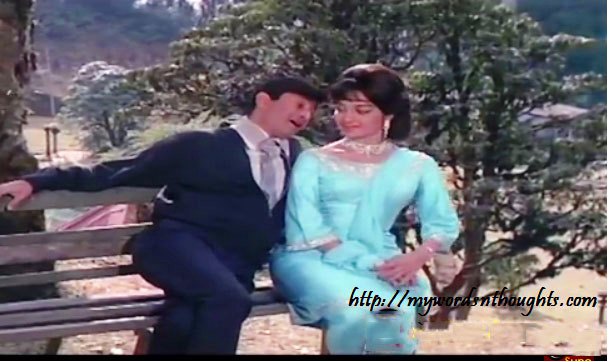 15. Bahut Shukriya Badi Meherbani of Ek Musafir Ek Hasina – A lovely composition by O. P. Nayyar, it's one of the rare popular songs of Sadhna – Asha Bhosle combination. Mohammed Rafi sang aside Asha Bhosle for this evergreen romantic song pictured on Joy Mukherjee and Sadhna, and the movie also included one more popular duet of same pair, Aap Yun Hi Agar Humse Milte Rahe. Jhumka Gira Re of Mera Saaya, one of the early item songs of Bollywood is a popular song in Sadhna-Asha combination composed by Madan Mohan.
Though I have concluded this column with many of the popular tracks sung by Asha Bhosle, I have definitely missed many of my popular songs. Chura Liya Hai of Yadom Ka Baraat, Katra Katra and Mera Kuch Samaan of Izzajat, Piya Tu of Carvan,

Sach Huye Sapne Tere of Kaala Baazar, Roz Roz Aankhon Thale from Jeeva, Sajna Hai Mujhe of Saudagar, Aayiye Meherbaan of Howrah Bridge, O Mere Sona Re of Teesri Manzil etc and a few more.
You can read a few more topics on the iconic singer Asha Bhosle, who deeply influenced many generations later. Here is the page link. Click on the images to read.
(Visited 2,024 times, 1 visits today)