Top 15 Bollywood Movies Pairing Real Life Couples
Bollywood is known for several star couples, and in most cases their onscreen romance turned to off-screen romantic relationship, and many of those lucky couples tied knot also. Dharmendra-Hema Malini is the most celebrated pair, who worked together in 42 movies, which remains a Bollywood record up-to-date. Amitabh Bachchan-Jaya Bhaduri and Rishi Kapoor – Neetu Singh pair also remain popular couples all time. Through this column I would like to list top 10 movies of Bollywood where real-life couples played lead roles, and the movies became successful. Most of the movies were released in the 1970s when Amitabh Bachchan starred at position no: 1 in Bollywood.
1. Sholay (1975) – No other film can beat Sholay in terms of popularity and perhaps box office collections (if inflation rates are accounted). In terms of real-life couples starring in a Bollywood film too, the iconic movie, Sholay is just no: 1. The movie starred two celebrated Bollywood couples – Dharmendra & Hema Malini and Amitabh Bachan & Jaya Bhaduri in lead roles, and the most successful film belonging to the category of real life star jodis. The movie was directed by Ramesh Sippy and scripted by Salim-Javed, whose association later gave several hits to Bollywood. Definitely this movie deserves no: 1 position in my list.
2. Zanjeer (1973) – This iconic movie starred Amitabh Bachchan and Jaya Bachchan in lead roles, and one of his early blockbuster hits which established him as the angry young man and new superstar of Bollywood. The movie was scripted by Salim-Javed who has scripted several action thrillers of Big B and was directed by Prakash Mehra. Though an official remake was made in Bollywood in the year 2013 starring Ram Charan Teja and Priyanka Chopra, the movie failed to bring back the charm and amazing screen chemistry of Amitabh and Jaya on silver screen. The movie stands at position 2 in my list.

3. Amar Akbar Antony (1978)
–
Third film of Big B in a row, Amar Akbar Antony is a multi-starrer blockbuster. But this movie finds place in my list for the celebrated jodi of Rishi Kapoor and Neetu Singh, who played the naughty and innocent jodi in the film. The movie also starred Amitabh Bachchan, Vinod Khanna, Parveen Babi and Shabana Azmi in lead roles. The movie was directed by Manmohan Desai, and Kadar Khan wrote the dialogues for the movie.

Rishi Kapoor and Neetu Singh together appeared in a series of movies in the 1970s such as Kabhi Kabhi, Doosra Aadmi, Khel Khel Mein, Jhoota Kahin Ka and Rafoo Chakkar which met with commercial success. Neetu made a remarkable re-entry to Bollywood playing Rishi Kapoor's wife in critically acclaimed film – Do Dooni Chaar in 2010. They also played couple in Besharam starring their son Ranbir Kapoor, and Neetu also played a cameo role in Love Aaj Kal and Jab Tak Hai Jaan as Rishi's wife.
4. Chalti Ka Naam Gaadi (1958) – This comedy film is best remembered for Ganguly brothers – Ashok Kumar, Anoop Kumar and Kishore Kumar, who played siblings in this film. It's the most successful film of Kishore Kumar-Madhubala duo, and the songs pictured on them – Haal Kaisa Hai Janab Ka, Ek Ladki and Paanch Rupaya are listed among classic hits of 1950s. The movie is listed at position 4 in my list.
Madhubala and Kishore Kumar also paired in the comedy hits like Jumroo and Half Ticket, and shared an amazing chemistry as funny pair on Bollywood screen. Dhake Ki Malmal and Mehlon Ke Khwab are other movies where this real life couple sizzled onscreen.
5. Abhimaan (1973) – The movie was released on 27 July 1973, just a few days after the marriage of Amitabh Bachchan and Jaya Bhaduri (June 3, 1973). They played singers and newly wedded couple in the movie too, and movie's songs composed by S. D. Burman became extremely popular. 'Teri Bindiya Re' became an iconic song of the movie, as it was closely related to their wedding, and new life too. The movie is rumoured to be inspired from the real life of Kishore Kumar and his first wife, Ruma Ghosh, and also the strained relationship of the celebrated musician Ravi Shankar and his first wife, Annapurna Devi. The movie also took plot from 1954 American musical film A star is Born, starring Judy Garland and James Mason. Abhimaan was directed by Hrishikesh Mukherjee.
6. Silsila (1981) – This romantic film directed by Yash Chopra still remains popular for its star cast. The movie starred Amitabh Bachchan and Jaya Bachchan as husband and wife, and Rekha as his ex-girlfriend. Amitabh Bachchan's alleged affair with gorgeous Rekha grabbed attention of media and cine fans in the late 1970s and early 1980s, and Silsila is loosely inspired by the alleged real-life love triangle of these top three stars of Bollywood. The movie and the alleged affair still remain curious among Bollywood fans and hot topic of several discussions on Bollywood.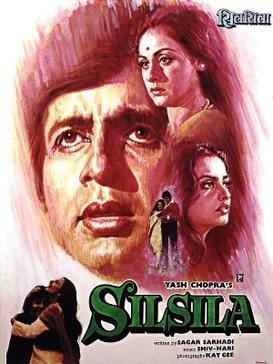 Silsila is the third film of Amitabh Bachchan and Jaya Bachchan pair that finds place in top-10 list. One of the most celebrated pairs of Bollywood, Amitabh Bachchan and Jaya Bachchan also delivered successful films such as Mili, Ek Nazar, Chupke Chupke and also, Kabhi Khushi Kabhi Gum after a long break of about two decades. Hrishikesh Mukherjee frequently casted them as lead pair in many movies of 1970s such as Mili, Chupke Chupke and Abhimaan which are counted as all-time classics of Bollywood.
7. Seeta Aur Geeta (1972) – This comedy movie gave a major breakthrough to Hema Malini's career and she received Filmfare award for this dual role. She was casted opposite Dharmendra and Sanjeev Kumar in the lead role, and the movie was directed by Ramesh Sippy. Sholay is the biggest hit of this popular pair, and Dream Girl, Chacha Bhatija, Charas, Dillagi, Jugnu, Raja Jaani, Sharafat and Kinara are a few more notable movies of this duo. The Burning Train – was one of their major releases which failed at box office.
8. Taxi Driver (1954) – Kalpana Karthik co-stared Dev Anand in a series of movies throughout 1950s, and they formed the celebrated real life couple of the decade. Taxi Driver was the first super hit film of Navketan. They also paired in Baazi, House No. 44, Nau Do Gyarah and Aandhiyan, and all the movies met with commercial success. Except Nau Do Gyarah, all the movies were directed by Chetan Anand. Nau Do Gyarah was directed by Vijay Anand, and after this movie Kalpana quit acting. She later worked as associate producer of several films of Navketan.
9. Gopi (1970) – The movie was swan song of the illustrious journey of Bollywood legend Dilip Kumar in the lead role. He was paired with his wife Saira Banu for the movie, and Rajesh Khanna hurricane couldn't stop the success of Gopi released in 1970. But later Dileep Kumar acted in only lesser number of movies as lead star which include – Bairaag, Sagina and Dastaan which couldn't recreate Dilip magic onscreen. With 1980s, he moved to character roles. Saira Banu played his lead heroine role in Gopi, Sagina and Bairaag, and Gopi was most successful among all. Bairaag proved to be a disaster where Dilip Kumar played three characters onscreen.
10. Ishq (1997) – The comedy film was a smash hit at box office. The movie starred Aamir Khan, Juhi Chawla, Ajay Devgan and Kajol in lead roles. Though Ajay Devgan and Kajol appeared in a series of romantic movies in the 1990s and later, Ishq remains their most successful film. The movie was directed by Indra Kumar.

11. Guru (2007) – The movie is regarded as career best of Abhishek Bachchan, and gave him a big break to his professional career. He was dating Aishwarya Rai during the film shooting, and very soon tied the knot. Though they appeared in several movies together, Guru is the most successful film of the duo, and definitely deserves mention in the list. The movie was directed by Mani Ratnam.
Abhishek Bachchan shared screen space for the first time in the year 2000 for the movie, Dhai Akshar Prem Ke. They also worked together as lead pair for Kuch Na Kaho, Umrao Jaan, Sarkaar Raj and Raavan. The item song – Kajra Re featuring Big B, Abhishek and Ash became extremely popular. They also worked together for Dhoom – 2, the biggest hit of year 2006, though not as pair.
12. Pyar To Hona Hi Tha (1999) – This romantic movie is still remembered by Bollywood fans for the amazing screen chemistry of its lead actors – Ajay Devgan and Kajol, who tied knot soon after the release of the film. Ajay Devgan and Kajol portrayed the lead characters, Shekhar and Sanjana with perfection and its music composed by Jatin-Lalit hit top music charts of 1999.
Ajay Devgan and Kajol shared screen space for the first time in 1995 with Hulchul and Gundaraaj, Raju Chacha, Toonpur Ka Super Hero and U Me Aur Hum are their releases later, which failed at box office. However Dil Kya Kare released soon after their marriage was a moderate hit at box office.
13. Khel Khel Mein (1975) – The movie included the popular duet – Ek Mein Ek Tu featuring Rishi Kapoor and Neetu Singh. The song was quite famous in college campuses. Songs composed by R. D. Burman were extremely popular, and the suspense thriller starring Rishi Kapoor, Neetu Singh, Rakesh Roshan and Aruna Irani ranked at position 7 at box office hits of 1975. The movie directed by Ravi Tandon was declared a hit.
14. Masti (2004) – The success of this adult comedy resulted in the release of two more films in this series. The movie starred an ensemble star cast of Ajay Devgan, Vivek Oberoi, Aftab Shivdasani, Ritesh Deshmukh, Lara Dutta, Amrita Rao, Tara Sharma and Genelia D'Souza. Ritesh Deshmukh and Genelia D'Souza played real-life couple in this film. It was their second film after their debut release – Tujhe Meri Kasam. Their third film together, Tere Naal Love Ho Gaya, released soon after their marriage was also declared a hit at box office.
15. International Khiladi (1999) – A hit film of the famous Khiladi series, the movie starred Akshay Kumar and Twinkle Khanna in lead roles. They tied knot one year after the release of the film. The movie was directed by Umesh Mehra, and the songs composed by Aadesh Shrivastava also got noticed. Akshay Kumar and Twinkle Khanna shared screen space for one more movie – Zulmi released the same year.
Other successful real life pairs of Bollywood
Shammi Kapoor and Geeta Bali played lead role in a couple of films – Miss Coca Cola (1955) and Jab Se Tumhe Dekha Hai. Miss Coca Cola is one of the early hits of Shammi Kapoor before he established as a star through Junglee.
Raj Babbar and Smitha Patel jointly worked in 18 movies, and most of them belong to offbeat genre released in the 1980s. Awaam, Angaaray, Jawab and Aaj Ki Awaaz are some of their popular works.
Ranbir Kapoor and Babita worked in Kal Aaj Aur Kal (1971), which was a commercial hit. The movie starred three generation of actors of Kapoor family. It was followed by another hit the same year – Jeet.
Sanjay Khan and Zeenat Aman had a rumoured married life while they were shooting for Abdulla, and this short marriage life ended in infamous physical abuse by Sanjay Khan. They starred in a single Bollywood film Abdullah, a hit. The movie was also directed by Sanjay Khan.
Kunal Khemu and Soha Ali Khan played lead roles in Bollywood movie '99' which received positive reviews and moderate success at box office. They also starred in box office flop – Dhoondte Reh Jaaoge.
And last, but not the least Naseeruddin Shah and Ratna Patak played the parents of lead actor Imran Khan in his debut movie, Jaane Tu Ya Jaane Na and the movie was a blockbuster. Though acted in supporting roles, the talented actors showcased their talents as a quarreling couple in a comic way.
Unsuccessful real-life couple of Bollywood
Saif Ali Khan and Kareena Kapoor worked in a series of movies. They worked for the first time in the highly acclaimed film, Omkara, though they were not casted as pair. They played lead role for the first time in Tashan, followed by Kurbaan and Agent Vinod. Though Kurbaan and Agent Vinod received good reviews from critics, both were declared flops at box office. Tashan was a complete wash out, though the songs got noticed.
Nargis and Sunil Dutt played mother and son's role in Bollywood's iconic film – Mother India, before they shared screen space in a single experimental film – Yadein in 1964. Though the movie can't be grouped under commercial movie, it's definitely one of the landmark movies of Indian cinema. Sunil Dutt was the solo actor of this film, and Nargis Dutt appeared in a silhouette as Sunil Dutt's wife in the final scene.
Mithun Chakraborty and Yogita Bali worked in 6 movies together – Karate, Beshaque, Unees Bees, Khwab, Swarnatrishna and Aakhri Badla. Most of the movies got released in the disastrous era of 1980s, and faded away from audience' memory.
Rajesh Khanna and Dimple Kapadia together appeared in one less-known Bollywood film of 1990, Main Jai Shiv Shankar.
Waheeda Rehman and Kamaljeet worked together in 1964 film, Shagoon, best known for the popular duet of Rafi and Suman Kalyapur, Parbaton Ke Pedon Par Shaam.
If I have missed any popular Bollywood jodi, please let me know.
Read a few more miscellaneous posts on Bollywood stars and movies of today. Here is the page link. Click on the images to read.
(Visited 1,487 times, 1 visits today)