When Lead Actor Played Antagonist's Role too in a Bollywood Film
There was an era in Bollywood when a clear cut distinction was made between heroes and villains in filmy script. Similar to mythological stories and novels, the concept was fixed in audience's mind that a hero can only do good things, and a baddie will always be a baddie. As time passed by, many conventions in films have been changed due to the acceptance of experimental scripts and reality by film audience and now we have reached an era when Raavan can change to Ram at any moment, and Ram also owns negative shades like every human being. In short anti-hero, who falls less short of the hero in terms of qualities, has changed the game.
In many of the films, an actor himself portrayed lead villain's role also, thus essaying dual roles, and many of such experiments have received box office success also. In most these cases, audience supported the grey shaded characters or anti-heroes portrayed by their favourite heroes – Baazigar, Gupt, Darr and Fanaa being the best instances. Through this article, I would like to mention a few among those movies and also actors who belong to this genre. It's also a positive thought of leading superstars of Bollywood to accept negative roles also, and do something different. I need to mention, Shah Rukh Khan was the first one in the new generation of film making who was willing to take risk, and he enjoyed the success too, through Baazigar. Now we have reached an era when villains too receive equal importance as heroes, and we have many celebrated villains on screen. One of the recent films belongs to this genre is Ittefaq (2017), remake of Rajesh Khanna's thriller with the same title, but with a twist at the climax. Siddarth Malhotra plays both lead and villain's roles in this film.
The best instance is Doom Series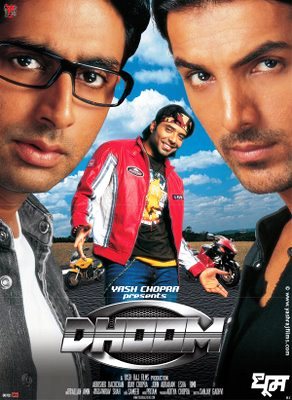 Doom and its sequels gave new definitions to villain onscreen, breaking stereotypes. Instead of hating villains, the movies in this series prompted youngsters to love villains and support them. It's a pleasant surprise, Dhoom (2004), Dhoom 2 (2006) and Dhoom 3 (2014) featuring antagonists as lead heroes turned to be the highest grossers of the corresponding years.
Dhoom series also gave instant success to its lead actors – John Abraham, Hrithik Roshan and Aamir Khan. Audience cheered for the villains onscreen instead of supporting the cop characters, that's how the movies got scripted. After the success of Dhoom, many superstars have come forward to portray negative roles loved by audience. Don Series of Shah Rukh Khan is the best instance.
The Doom series started a new trend of 'stylish thief villains' in Bollywood, and they were given equal status as lead heroes.Cops played second fiddle in all the three installments.
Amitabh Bachchan – The first superstar to portray hero and villain character in a single movie through Parwana
Amitabh Bachchan portrayed his first negative role through 1971 release – Parwana. When Parwana was released, Amitabh was only a less-known actor with just a couple of Bollywood releases. But he played both protagonist and antagonist in this romantic film. He played the role of an infatuated lover, but his character turns negative and kills heroine's father. Thus he was lead hero and lead villain too.
Deewar is the iconic movie belonging to Bollywood which played a significant role in establishing Amitabh Bachchan as the superstar of Bollywood. Though Amitabh didn't portray a villain onscreen, his character Vijay Verma had negative shades of an anti-hero and Shashi Kapoor played the positive role of a cop. Yet audience loved and supported Amitabh's character. Vijay Verma was a positive character who changes to negative with circumstances, and hence is not a full-fledged negative role. Yet it was one of the first films of this kind in Bollywood, where grey shades were portrayed by the lead hero of the movie, after which he established as a star of Bollywood.
During his glorious second innings too, he played similar negative roles. Kaante and Aankhein can be included in the list, where Amitabh Bachchan played the lead hero and protagonist also. Rakhee Gulzar in Sharmeelee and Sadhana in Woh Kaun Thi played twin sisters, one playing good and one playing bad. I would like to mention Shammi Kapoor's negative role in Mem Sahib (1956), long before he established his career in Bollywood.
Shah Rukh Khan established as a star through Baazigar playing both positive and negative shades in a single character
When Baazigar happened to Shah Rukh in 1993, he was only a newcomer to the industry and many seniors warned him from accepting the role stating that it can damage his career. Many also felt that it won't fit a dimpled actor with innocent face. But the decision to accept Baazigar was something similar to gambling and its success established Shah Rukh as a star. A revenge saga, Shah Rukh played lead hero in the negative role, but surprisingly accepted by audience. The acceptance of Shah Rukh's character in Baazigar opened new experimental ideas in film making and many Bollywood films were made portraying lead hero as a bad boy. The movie broke several stereotype hero roles and movie concepts played on silver screen till then.
Shah Rukh played a similar negative role of an infatuated lover the same year – Darr, and similar to Baazigar, he got acceptance among audience. However his lead role/protagonist in Anjaam was not equally popular as both this previous roles. He played a double role in Duplicate, with one playing the hero and the second character playing villain, and this movie was not accepted by audience. Years later, Shah Rukh fans celebrated his villain role through the remake of the iconic movie of Amitabh Bachchan – Don, with a different climax to prove that he is the antagonist of the movie.

Don: The Chase Begin

and

Don: The King Is Back

emerged as box office hits.
Red Roses – The hit film of Bollywood's first superstar Rajesh Khanna in the same series
Though Rajesh Khanna mostly played romantic and family man roles in his movies, Red Roses (1980) is entirely different. He played a typical villain in love with a girl in this movie. He reprised the title role of Kamal Hassan in the Hindi remake of Tamil blockbuster – Sigappu Rojakkal (can be translated as Red Roses) in this psychological thriller film. He played both lead hero and villain in this film, and its success revived superstar's Bollywood career too. Years later Suniel Shetty portrayed a similar character in 2003 film – Baaz: A Bird in Danger. Karishma Kapoor played the female lead. I am not sure if anyone has noticed it or not, Poonam Dhillon who played the lead role in Red Roses owns a striking similarity in face cut with Karishma during her early Bollywood years.
Other superstars who played antagonist and protagonist in a single movie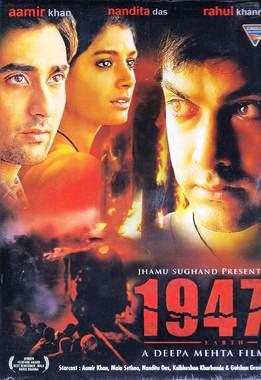 When Aamir Khan played the lead role of Dil Navaz in Deepa Mehta's 1947: Earth in 1998, the movie was a far cry from the chocolate hero image of Aamir Khan till then. He played Dil Navaz who enters the film as lead romantic hero, but turns to villain in the film climax when he finds his lady love is romancing someone else. Aamir Khan has never portrayed a similar role before. Aamir later played the lead role of a tourist guide and terrorist in Fanaa (2006), and the movie can definitely be categorized under 'the lead actor playing villain's role'. Dhoom – 3 is his third film where he played lead double roles with negative shades, though it can't be fully categorized under 'villain' category.
Saif Ali Khan played the role of a Muslim terrorist in Kurbaan (2009), which generally received positive reviews. Though the film starts with Saif playing a romantic role of a University professor, as the story unfolds, he turns negative. The movie also ends in an unhappy knot similar to Darr, Baazigar etc. Though the movie met with critics' acclaim, it was declared a failure at box office.
Ajay Devgan's role as obsessed lover and villain in Deewangee was well appreciated. Sonu Sood also played a similar kind of role in Aashiq Banaya Aapna, and the suspense is unfold only in the film's climax. Kajol is a top actress who played an obsessed and possessive lover in Gupt. Priyanka Chopra too played an obsessive lover with negative shades in Yakeen, co-staring Arjun Rampal; an experimental role somewhat similar to her negative character in Aitraaz.
Johnny Gaddar – The movie which breaks all stereotype heroes of Bollywood
The highly appreciated and commercially successful film, Neil Nitin Mukesh played the lead hero and villain in this film. The movie has a plot entirely different from several villain roles played by lead hero. The movie also starred veteran Dharmendra in a pivot role, and Rimi Sen, Vinay Pathak, Zakir Hussain, Ashwini Kalsekar and Govind Namdeo playing notable supporting characters. The movie displays grey shades of human beings, and actors who generally play positive roles played those grey shades.
Many times love obsessed lead characters become crazy and turn main villain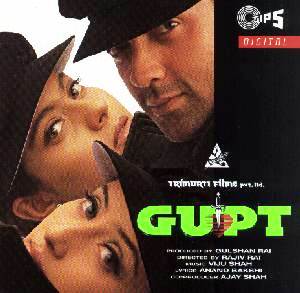 In many cases, the lead actors who enter the film as romantic hero or heroine later turns antagonist, being obsessed in love. Both heroes and heroines have played such roles multiple times on silver screen. First film of this kind is definitely Amitabh Bachchan in Parwana. Shah Rukh Khan in Darr and Anjaan also fall into this category. Suniel Shetty in popular romantic flick – Dhadkan is a hit film in this category. Sunil Dutt in Mother India, Aamir Khan in 1947 Earth, Ajay Devgan in Deewangee, Ashmit Patel in Dil Diya Hai, Sonu Sodu in Aashiq Banaya Aapna, Karan Nath in Tum–A Dangerous Obsession are other instances. Nana Patekar in Agni Sakshi, Sharad Kapoor in Dastak and Arbaaz Khan in Daraar portrayed the same character of love obsessed husbands, and all the three movies were released exactly in the same year – 1996. These three movies were inspired from the lead character of Sleeping with the Enemy, portrayed by Patrick Bergin.
Kajol in Gupt: The Hidden Truth definitely comes at position no: 1 in female villains' list. She played the female lead as well as protagonist in this film, for which she won Filmfare award for Best Negative Role. Priyanka Chopra in Aitraaz turns the female antagonist after Akshay Kumar's character spurns her. She became the second female actress after Kajol to win Filmfare award for Best Negative Role.

Bollywood cinema has portrayed love obsessed heroines in Pyar Tune Kya Kiya (Urmila), Mere Jeevan Saathi (Karishma Kapoor), Armaan (Preity Zinta), Heroine (Kareena Kapoor), Raaz (Malini Sharma – though as second lead) and many more.
Other negative roles cum lead roles played by the main stream actors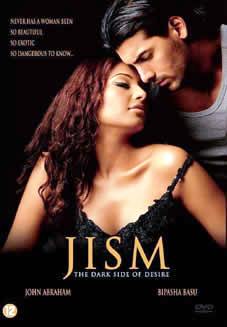 Among all female artists, Bipasha's role in Jism is most memorable. She breaks all stereotype lead ladies onscreen through this role. At many times heroines love to play negative shaded protagonists on screen. Bipasha Basu played the female lead in Jism, which broke all stereotypes of Bollywood. She played a bold and beautiful protagonist and the movie was a major hit at box office. Kareena Kapoor in Fida, Bipasha Basu in Ajnabee (second lead) and Raaz 3 etc are a few more. Among the male actors,
Emraan Hashmi in Once Upon a Time in Mumbai and Govinda in Shikaari also fall in the list.
Before I conclude
Let me list some of the popular and successful movies where male/female protagonist played the dual role of lead actor and villain/anti-hero as well. List includes both male and female stars, and a few films with those actors playing the second lead.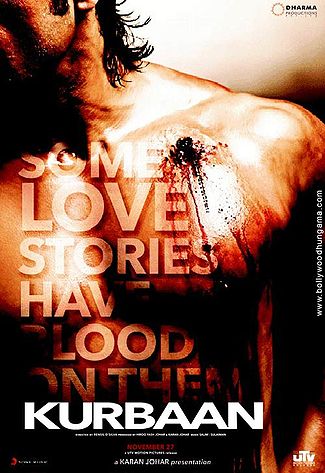 1. Shah Rukh Khan in Darr
2. Shah Rukh Khan in Baazigar
3. Shah Rukh Khan in Anjaam
4. Amitabh Bachchan in
Parwana
5. Aamir Khan in 1947 Earth
6. Ajay Devgan in Deewangee
7. Suniel Shetty in Dhadkan
8. Bipasha Basu in Jism
9. Amitabh Bachchan in Aankhein
10. Amitabh Bachchan in Kaante
11. John Abraham in Doom
12. Hrithik Roshan in Dhoom 2
13. Aamir Khan in Dhoom 3
14. Aamir Khan in Fanaa
15. Saif Ali Khan in Kurbaan
16. Kareena Kapoor in Fida
17. Sunil Dutt in Mother India
18. Amitabh Bachchan in Deewar (partially)
19. Shah Rukh Khan in Don
20. Shah Rukh Khan in Don 2
21. Shah Rukh Khan in Fan
22. Nana Patekar in Agni Sakshi
23. Rajesh Khanna in Red Roses
24. Neil Nitin Mukesh in Johny Gaddar
25. Preity Zinta in Armaan
26. Sonu Sodu in Aashiq Banaya Aapna (second lead)
27.
Emraan Hashmi in Once Upon a Time in Mumbai
(second lead)
28. Urmila in
Pyar Tune Kya Kiya
29. Bipasha in Raaz 3
30. Priyanka Chopra in Aitraaz
The top 10 films of the above list could be – Darr, Baazigar, Gupt,
Red Roses, Agni Sakshi, Johnny Gaddar, Dhadkan,
Deewangee, Fanah and Jism.
Many times, Bollywood screen has witnessed negative characters transforming to positive characters. Very often mainstream lead actors have done similar roles. Anil Kapoor in Benaam Badsha is one such. If you find new movies to add to this category, please leave as a comment.
Read a few more miscellaneous posts on Bollywood stars and movies of today. Here is the page link. Click on the images to read.
(Visited 1,663 times, 1 visits today)