Shah Rukh Khan – 25 Years 25 Best Films
Shah Rukh Khan – the most romantic Khan of Bollywood who has fans across the world is best known for romantic roles than action and family dramas. In the mid-1990s he gave new definitions to romance on screen through his single role as Raj for DDLJ. A sudden transformation from a villain and action hero to a sweet romantic hero with good looks surprised audience a lot. Yet everyone loves his romantic 'Raj' image most, though he portrayed different shades on silver screen in the past two decades. Many roles of Shah Rukh have come and gone and most of them have been accepted by his fans. Yet which ones are his most memorable roles? SRK who redefined romance onscreen through a series of roles he portrayed onscreen completes 25 years in Bollywood in 2017.
Most of his films have been hugely successful onscreen. But which one are his best movies in terms of performances? His performances in Paheli, Swades, Dil Se and Fan have received rave reviews from critics, though were not huge hits. Also most of his fans love his innocent smile of his movies of 1990s. However his killing looks and romantic eyes remain the same though he has crossed 50. Let us check the best 25 performances

of this actor who ruled Bollywood for the last two decades, and it's my tribute to this great actor who completes his 25 years in the industry in 2016-2017.
His first released film was Deewana on 26 June 1992, followed by two more releases the same year and unreleased – Idiot, acclaimed film released on Doordarshan. Deewana bagged him Filmfare Award for Best Male Debut, and surprisingly he won four more Filmfare awards in consecutive years in three different categories including Filmfare best actor twice, best actor (Critics' choice) and best villain apart from many nominations. Thus since his early days, he proved himself to be a promising actor and showcased his talents in different kinds of roles. It can be said that like the rest two Khans, SRK too didn't have to struggle too much in the industry to place himself in the list of A-grade actors of B-Town.
I have prepared this list based the actor's performances I liked, and not based on the box office performances of his top hits. I listed the movies in the order of releasing date.
1. Baazigar – 1993
Year 1993 changed the life of a newcomer actor of Bollywood. Though he was advised by many that accepting the negative shaded Ajay Sharma could ruin his career, who is yet to fix his foot in Bollywood, Shah Rukh took risk and played the challenging role. His role as Ajay Sharma is definitely one of the highly potential and powerful roles played by lead heroes of 1990s, and despite being a negative shaded role, his acting skills were widely appreciated, and he earned his first Filmfare award in the best actor category. Currently he holds the record of most number of awards in this category aside Dilip Kumar, and Baazigar was just a beginning of his records at Filmfare. Earlier he received his maiden trophy for best debut for Deewana. Also read:
Bollywood artists who received Filmfare awards five times or more
.
2. Darr – 1993
Darr was released just 5 weeks after the release of Baazigar in November 1993. The movie also marked the successful association of Shah Rukh Khan with Yash Chopra and his production house, which played a significant role in establishing him as the biggest star of Bollywood. With two movies in a row as a negative actor, he accepted his third negative role the same year – Anjaam. Though Baazigar and Darr had positive shades of his character which touched audience, he played a pure antagonist in Anjaam, and bagged a Filmfare award in this category too. However the movie was not successful as his previous two ventures. He later too played negative roles in Don and its sequel.
3. Kabhi Haan Kabhi Naa – 1994
The movie directed by Kundan Shah earned him Filmfare award for best actor (Critics' choice) and also a nomination in best actor category. Definitely his role as a lover boy in Kabhi Haan Kabhi Naa is one of his finest roles up-to-date. The movie also achieved a cult classic comedy status. In the movie he played a boy who tries to create a drift and indifferences between two lovers, and later how he unites them. The movie definitely helped him to come out of his negative shaded and angry young man kind of roles released the previous year.
In 1992, he did one film, Raju Ban Gaya Gentleman – his first hit as a solo hero and similar to Kabhi Haan Kabhi Naa, his character transforms from a bad boy to good boy, and both these roles were well appreciated by audience. In short until DDLJ happened to him, he mostly portrayed lead hero roles with some negative traits, which was not so common in Bollywood. Yet as a newcomer he accepted those challenging roles which could have ruined his career and proved that audience accept good films and actors despite playing negative shades.
4. Dilwale Dulhaniya Le Jayenge – 1995
DDLJ – SRK's most popular film up-to-date which established him as the top star and romantic hero of Bollywood! It was his third and most successful association with his co-star Kajol after Baazigar and Karan Arjun and this single movie which continuously ran at Maratha Mandir in Mumbai for 1000 weeks placed them as the most celebrated screen pair of Bollywood. Till now, they had done 7 movies together and all of them turned to be blockbuster hits. Read more: Top SRK-Kajol movies which stole our hearts.
5. Dil To Pagal Hai – 1997
After DDLJ, SRK witnessed a few downfalls in a career till Dil To Pagal Hai was released. Though he tried angry young man roles such as Ram Jaane, it couldn't bring audience to theatres and he moved back to romantic roles. Trimurti, English Babu Desi Mem and Chahat too were terrible flops, apart from a few cameo roles in Army, Gudgudee etc. Koyla, where he appeared in a romantic-action hero image too was only an average at box office the same year.
Dil To Pagal Hai was a huge blockbuster and cemented Khan's position as romantic hero of Bollywood. The movie directed by Yash Chopra also played a significant role in establishing him as the lead actor of Bollywood. Same year he also received a handful of hits in his romantic avatar through the movies – Pardes and Yes Boss. Koyla too was an average grosser
6. Yes Boss – 1997
After Raju Ban Gaya Gentleman and Darr, it's the most successful movie of Shah Rukh-Juhi Chawla duo. This comedy film was well appreciated by audience, and Shah Rukh's romantic/comedy role earned him a huge fan following crowd too. Its lovely music by Jatin Lalit was also well received. Shah Rukh received a nomination at Filmfare Awards for Best Actor for portraying highly ambitious Siddharth who dreams to become rich. Also read: Top 10 Bollywood stars who never received Filmfare award for best actor.
7. Pardes – 1997
Pardes released the same year shares some shades with his previous release – Yes Boss. With a series of romantic hits in 1997, the year proved to be one of his career-best in the second phase of his Bollywood journey. Songs of Pardes were immensely popular, and helped him to achieve a romantic image as well. More or less, his three hits of 1997, Pardes, Dil To Pagal Hai and Yes Boss were love triangles. In fact Dil To Pagal Hai is one of the most popular love triangles ever made in Bollywood cinema.
8. Kuch Kuch Hota Hai – 1998
The movie remains my most favourite film of SRK, and also best of SRK_Kajol pair. This romantic love triangle became a rage across the nation, and was extremely popular in college campuses when it got released. The movie also achieved cult classic status over the years, and the best love triangle of King Khan after Dil To Pagal Hai.
9. Dil Se.. – 1998
Though Shah Rukh returned to a serious role through Maniratnam's Dil Se, after a series of hits, the movie was only an average grosser. Though he played an intense lover in the movie, and received rave reviews for his performance, it was definitely a new tale told in Bollywood. It can be said audience couldn't easily decode the real substance of the movie made by Maniratnam, though they loved its music.
10. Baadshah – 1999
His single release of 1999, this comedy movie directed by Abbas-Mustan received mixed response from critics. But the movie definitely owns a place in my list, as it's one of actor's finest performances in a comic role, and received a Filmfare nomination in this category as well.
11. Mohabbatein – 2000
In year 2000, Shah Rukh played lead hero in three movies, and cameo roles in three more. Year 2000 witnessed smash entry of Hrithik Roshan as the new romantic hero of Bollywood. But Shah Rukh played a fresh romantic role he played till then and earned Filmfare Critics' choice actor award. He excelled as a loyal lover who keeps the promises of his love though death separates them in Mohabbatein, a touching character he played till then. Definitely his role as Raj is one of his best roles he played till now. The movie is also remembered for the first on-screen appearance of Shah Rukh Khan and Amitabh Bachchan together, and the first movie of Shah Rukh and Aishwarya as lead pair. Surprisingly they played siblings in Josh, released the same year a few months ago.
12. Asoka – 2001
Shah Rukh was the producer of this film. Though Santosh Sivan's movie was critically acclaimed and screened at Venice Film Festival and the Toronto International Film Festival, the film remained only a moderate hit at box office. Shah Rukh acted in a periodic film for the first time in Asoka, and was also the first movie with Kareena as lead pair. A couple of months later, they worked together in Kabhi Khushi Kabhi Gham – the huge blockbuster of the year.
13. Kabhi Khushi Kabhie Gham – 2001
Bollywood never witnessed such as a huge star cast for a single film. Three celebrated lead pair actors belonging to three generation/decades came together for a single film, almost an impossible task for a filmmaker and Karan Johar made it true. It was the second association of Amitabh Bachchan with Shah Rukh Khan, after their critically acclaimed Mohabbatein, and a blockbuster too. Shah Rukh played different shades such as a romantic hero and a responsible son through his single role as Rahul, and both the avatars were well-received. It was for the first and last time, Shah Rukh and Hrithik shared screen space for a single film.
14. Devdas – 2002
Though Shah Rukh's Devdas couldn't achieve the status of Dilip Kumar classic, he excelled in his role as a heart broken lover. His screen chemistry with Aishwarya was the highlight of the film, and earned him Filmfare award for best actor too.
15. Kal Ho Naa Ho – 2003
Shah Rukh has always donned emotional romantic roles, and among his movies belonging to his genre, Kal Ho Naa Ho definitely gets the top position. Though it's a tear-jerking role of Shah Rukh, it was loved for its fresh theme, songs, dialogues and plot well executed by the lead actors through their outstanding performances. His bonding with Jaya Bachchan, who played Preity Zinta's mother, was also noted. They earlier worked together in K3G.
16. Main Hoon Na – 2004
It was one of the last movies of this kind (of typical Shah Rukh movie style) before Shah Rukh moved to a little more serious films. The movie marked successful association with his good friend Farah Khan who turned a film director with this film, and Farah gave two more Bollywood hits to Shah Rukh's career – Om Shanti Om and Happy New Year. Main Hoon Na was his first film where SRK played a Commando's role, and he played the action role and romantic role with ease.
17. Veer-Zaara – 2004
In 2004 four movies of Shah Rukh were released, including a one-decade old delayed release. He experimented with different kinds of roles in the same year, and met with critics' appreciation and commercial success too. Veer-Zaara is a testimony of his successful association with Yash Chopra, and he appeared with grey hair for the first time for a movie in Veer-Zaara, and he looked dashing in this new look too.
18. Swades – 2004
Though this critically acclaimed film was a box office flop, it's one among the finest performances of Shah Rukh as an actor, and earned him Filmfare award for best actor as well. He played the role of Mohan Bhargava, a project manager at NASA in this film.
19. Paheli – 2005
It's the single release of Shah Rukh in 2005 as a lead actor, except a few cameo roles. This fantasy film directed by Amol Palekar saw Shah Rukh in a dual role, and it's the only movie throughout Shah Rukh's career which has been sent as India's official entry to Oscars. The movie received rave reviews from critics.
20. Don – The Chase Begins Again – 2006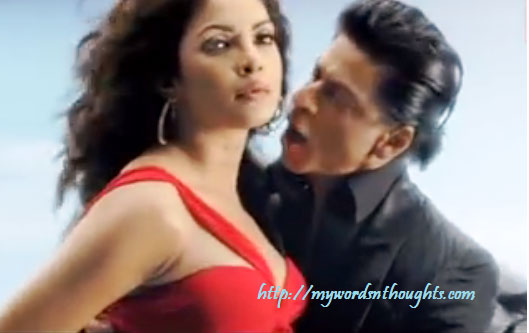 The movie was an official remake of Amitabh Bachchan's huge blockbuster – Don, by changing its climax. After Paheli – remake of the 1973 Hindi movie Duvidha, Don – The Chase Begins Again is only his second film remade from a Bollywood film. He played a negative role after a long period after Duplicate and the movie was a box office too.
21. Chak De! India – 2007
As per critics, his role as hockey coach Kabir Khan is his best role up-to-date. He portrayed the fictional role of a humiliated hockey captain who turns the coach of India's female hockey team. Chak De! India is entirely different from his stereotype romantic roles, and he had no lead heroine opposite him. Yet the movie met with critical acclaim and commercial success. It's one of the finest sports film made in Bollywood, and the first of star's movies belonging to sports movie genre.
22. Rab Ne Bana Di Jodi – 2008
Though Shah Rukh appears in his extra glamorous avatar in most of his movies, he broke his stereotype roles playing a common middle-aged man Surinder through Rab Ne Bana Di Jodi. Yet he thrilled his fans through his famous flamboyant avatar, playing the character Raj.
23. My Name is Khan – 2011
The movie told a strong social message, and marked the screen return of Kajol as Shah Rukh's lead pair after a decade. Though Shah Rukh's acting skills received both positive and negative response from critics and audience, he received Filmfare award for best actor for the film, and Karan Johar's My Name is Khan was a huge box office hit. Definitely the movie is one of the best experimental roles Khan portrayed onscreen and his character suffers a rare disease, Asperger syndrome which affects a person's behaviour and perception.
24. Chennai Express – 2013
Since the new decade, though Shah Rukh's movies make huge profits at cash counters, in terms of quality his films have shown a decline. Definitely Chennai Express stood among his best movies released in this decade. His comedy timing and chemistry with his co-star Deepika was well appreciated and the movie had an express run at box office too. It is a perfect family entertainer and one of the best comedy films made in the recent times. May be because I am a south Indian, I loved Tamil dialogues in it, and understood its meanings fully.
25. Fan – 2016
This experimental film without any songs didn't perform at box office up to expectations. But definitely Shah Rukh's dual role in Fan is one among his top 5 performances up-to-date, and his fans including me loved to see Khan of 1990s back to screen once again. It was a treat to his real fans to see that innocent Shah Rukh of 1990s onscreen again, and we loved his chubby cheeks. His mannerisms and body language too brought that 'Shah Rukh Magic' back.
It's my appeal to King Khan, though Fan's box office collections couldn't surpass Shah Rukh's horrible movies like Dilwale, it should not discourage the actor from accepting similar kind of roles. Though his movies like Swades and Fan couldn't fare at box office, as an actor, these kind of roles are counted among his best always when he completes 50 years in the industry. Shah Rukh has given dozens of commercial hits to his fans, and his fans would love him to see performing exceptionally well as an actor, though not a part of commercial hits. And once again, Thank You Shah Rukh for entertaining us throughout 25 years, and made us watch your romantic movies again and again.
Top movies which missed the list
In the above list, I have not included many huge blockbuster hits of Shah Rukh Khan. Deewana, Raju Ban Gaya Gentleman, Om Shanti Om and Jab Tak Hai Jaan are among his big hits which missed the list. Dilwale and Happy New Year were huge hits, though the movies are not up to the mark. Also read:
Worst of SRK-Kajol movies
.
Shah Rukh's Top 10 Films – My Favourite
Before I conclude, I would like to list my top favourite movies of SRK, I appreciate him as an actor and the movies which impressed me a lot when I watched for the first time. It's purely based on my personal choice. There are a few movies which I liked when I watched for the second and third time.
1. Kuch Kuch Hota Hai
2. Baazigar
3. Dilwale Dulhaniya Le Jayenge
4. Dil To Pagal Hai
5. Kal Ho Na Ho
6. Fan
7. Chak De India!
8. Karan Arjun
9. Yes Boss
10. Mein Hoon Naa /Veer Zaara
In the above list only two movies released in the past 12 years have been added. It's pretty clear Shah Rukh's movies of 1990s and first half of 2000s are the best in terms of script and quality content. Currently Shah Rukh is concentrating on to a few meaty roles rather than easy forgettable potboilers and his recent release Fan is the best example. His upcoming movies – Dear Zindagi and Raess have also elevated the expectations of his work. Hope he won't disappoint his fans who believe in quality content rather than masala entertainers.
(Visited 1,482 times, 1 visits today)